The Complete Beginners Guide To Sonos
New to Sonos? Let us explain exactly how it works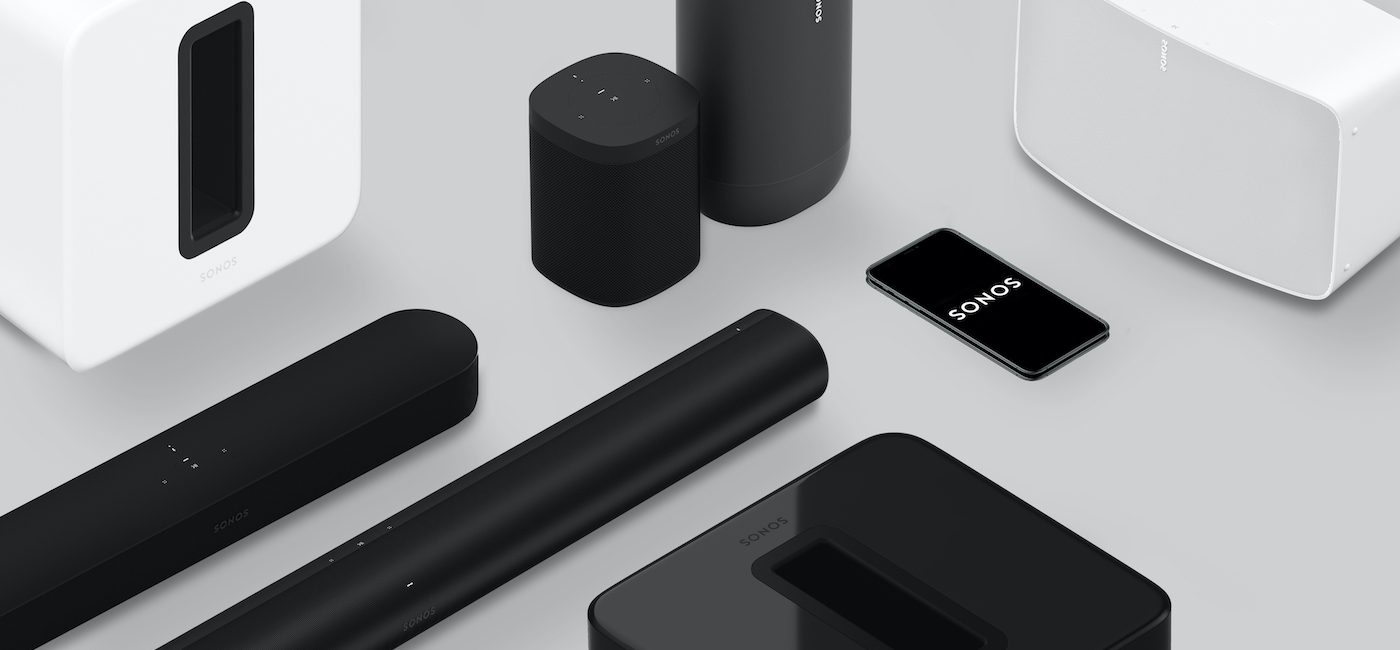 what is Sonos and how does it work?
You may have heard of Sonos Speakers, but are not sure what they are or how their products work. This is the perfect blog for you as we will explain step-by-step how they work and give a brief overview on the Sonos range.
If you have questions along the way, feel free to give us a call or email, and we'd be happy to explain further.
What is Sonos?
Sonos is the leading multi-room wireless speaker system that lets you listen to your music all around your home.
It offers a modern alternative to traditional HiFi systems that take up large amounts of space, are fiddly to use and do not take advantage of today's offering.
If you are looking for the ability to get the music to multiple rooms or you are simply wanting the best sound with complete flexibility, then Sonos is the current market leader and recently won WhatHiFi's Best premium Multi-room system for 2019.
The range includes a small variety of speakers from compact to very powerful, each with their own purpose and suitability for each of your rooms.
Let's jump right in and explore how it all works.
How does Sonos work?
Sonos uses your WiFi to stream music from more than 100 streaming services including all the popular ones like Spotify, Amazon Music and Apple Music but you can also stream free radio, podcasts or even audiobooks to your speaker.
Find your favourite music service on the full streaming service list.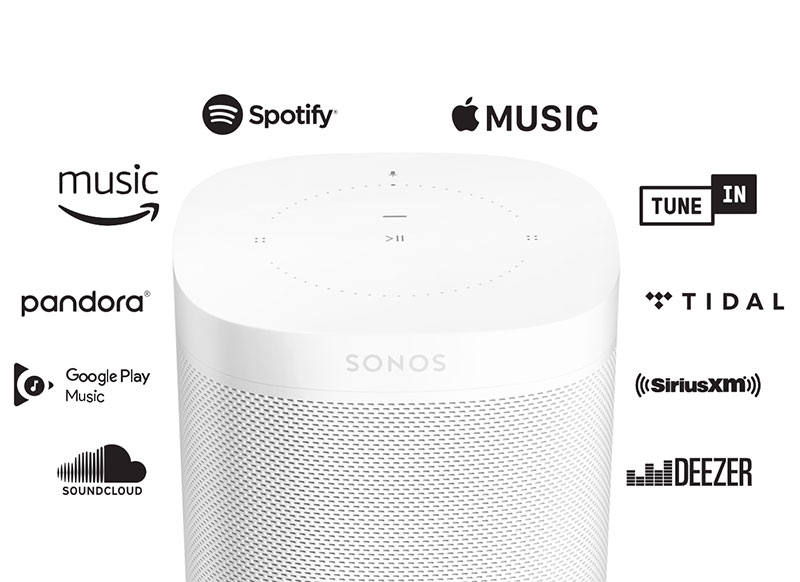 All a Sonos speaker needs is mains power and a WiFi or ethernet internet connection, and the rest is done via the free Sonos app on your phone, tablet or PC.
There are no monthly fees for using Sonos, other than the fee you may pay for your chosen music streaming service e.g. Spotify Premium.
If you have more than one speaker, you can group the same audio to all speakers at once, or you can choose to have each speaker playing something different, all from the palm of your hand. This is a big benefit of your speakers operating over WiFi.
As each speaker is given a room name, it's also straightforward to know what you are controlling at any given time.
This means that you can be watching a movie on your Sonos Beam in the lounge and your other half can be listening to the radio in the kitchen at the same time.
WHAT ARE MY SPEAKER OPTIONS
How to set up Sonos
The speakers run off your mains power, so the first thing you need to do is plug them into a power socket.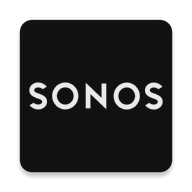 Then, download the Sonos app from any app store for free on your chosen device. This could be a smartphone or a tablet.
The app will act as your remote control for your speaker, where you can play music, adjust volume, add your music service accounts and much more.
The app takes you through the set up step-by-step and will ask to connect wirelessly to your WiFi and enter your WiFi password. This is similar to any other device in your home would connect like a laptop or mobile phone.
The whole set up of a Sonos speaker takes about 5-10 minutes.
You'll call your speaker a room name such as Dining Room and this will appear in the app under "Rooms". You'll do this for each Sonos speaker you have.
You can play the same music in every room, or each room can play their own music.
We go through the Sonos set up, step-by-step in our YouTube video below:
Read our full Sonos set up guide >>
Does Sonos support Bluetooth?
Since September 2019, Sonos now has a speaker that offers Bluetooth in addition to WiFi, named the Sonos Move.
What are the benefits? Well, of course, we don't always have access to a WiFi connection and a mains power socket. We also like to listen to music in more areas than just at home.
That's why Sonos Move was created where you can use WiFi when you're at home and switch to Bluetooth instantly when you're away from home.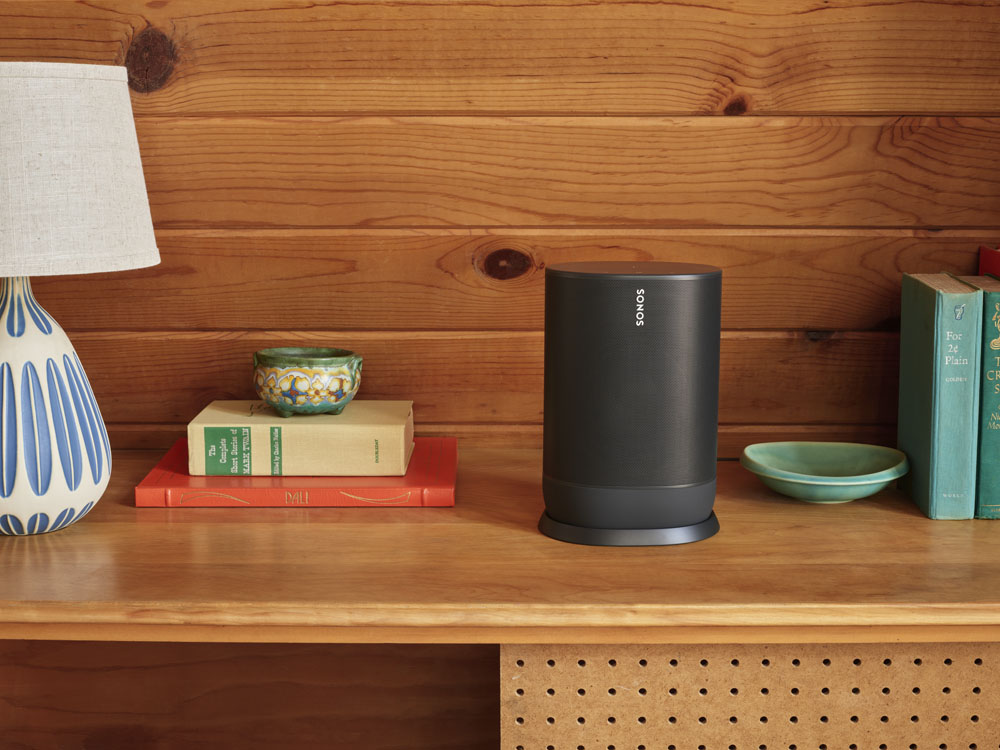 Read more about the Sonos Move >>
The rest of the Sonos range does not support Bluetooth as they are speakers specifically designed to stay at home. Bluetooth speakers are great for taking away from home, but in a home audio application, WiFi prevails. Why?
Bluetooth has range limitations (usually under 10 metres) meaning your Bluetooth device needs to be near your speaker at all times. 
Bluetooth means your speaker will play ANY audio from your device, whether that's music, push notifications, calls or any other audio you're listening to. 
Your Bluetooth device must be powered on at all times. So if your phone loses battery, the music will stop. In WiFi speakers, the music will continue to play until the end of the queue, irrespective of the device's battery you are controlling from.
What music services can I play on Sonos?
As mentioned earlier, Sonos supports more than 100 music streaming services from across the globe including the popular ones like Spotify, Amazon Prime Music (included with any Prime subscription), Apple Music and many more.
View full list of streaming services supported by Sonos >>
The chances are if you have a music streaming subscription, it will be supported by Sonos.
Sonos is also starting to support native app control. This means you will be able to control your speakers by using the official music app of your selected services to control your music. This is great for those of you who already love your current music app and don't want to be bound by the Sonos app.
Currently, native app control works with Spotify, Tidal, Deezer, Audiobooks with more planned over the next few years.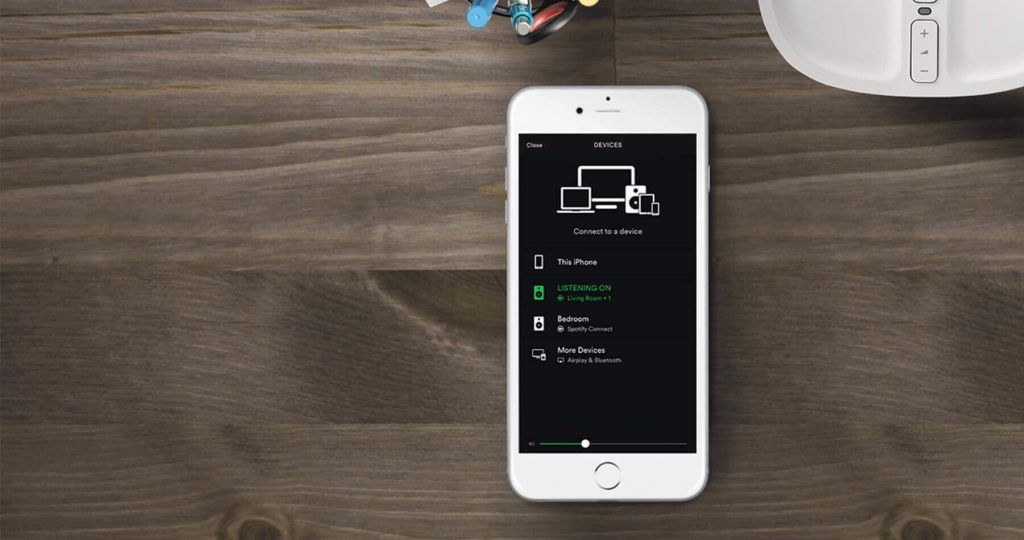 You can also stream any radio station using the built-in TuneIn radio app as well as import an iTunes library that you have at the moment.
Got a vinyl or CD collection? No problem, you can use certain Sonos products to integrate your existing HiFi with Sonos.
Find out more about using a turntable with Sonos >>

can you play tv audio through Sonos?
Yes! Sonos provides 2 dedicated solutions for TV audio. These are the Sonos Beam & Sonos Arc.
The Sonos Beam is their most compact soundbar but also the smartest, coming with voice control and AirPlay 2 (more on these later). We recommend the Beam for small-medium sized rooms at £399.
If you're looking for something extra special for your TV listening experience, then consider the Sonos Arc. Arc offers cinema-quality sound with Dolby Atmos support and is ideal for larger sized rooms or TVs over 49 inches.  The Sonos Arc is priced at £799
Similar to Sonos' music speakers, you can group the TV audio to any other Sonos speakers you may have in your home too.
On each of these TV products, they have simple HDMI ARC connections to your TV that are designed to work with almost all TV setups.
For convenience, Sonos does not provide a separate remote control - instead, you can pair your existing TV remote with the system for volume controls.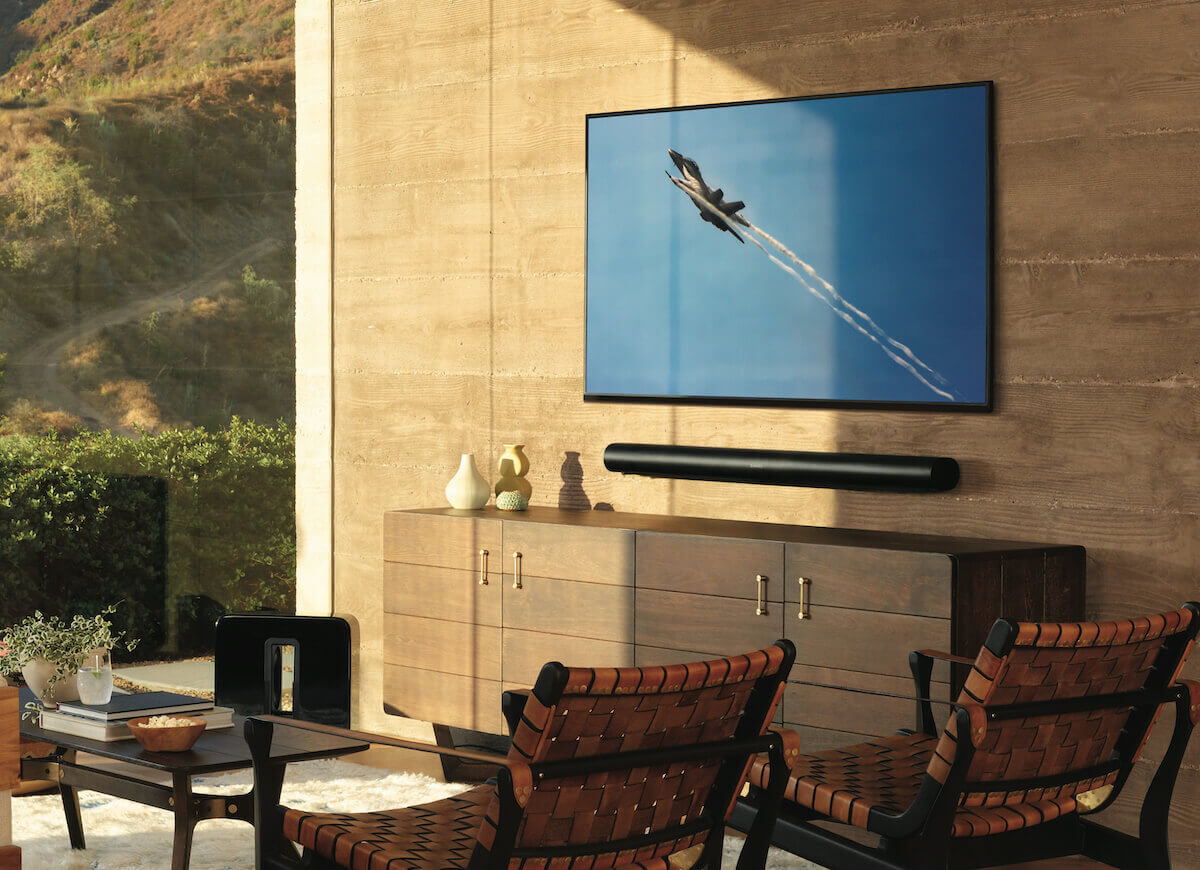 How do I control my Sonos speakers?
Sonos believes in giving maximum flexibility when controlling any of its products and offer the below control methods.
Sonos App
Voice control (Via Amazon Alexa & Google Assistant)
On-device control
Direct App control (native control from Spotify / Tidal Apps)
As listed, the main way most users control their system is with the Sonos app outlined above. The app is a breeze to use and has been focused on the end-user which is you.
It has been refined over many years and even technophobes should have no trouble setting this speaker up and using the app day-to-day.
Another way is by using your voice as a form of control. Sonos have approached voice services the same way they have with music services, by making their platform agnostic.
This means any voice service can be selected by Sonos users. Currently, Sonos supports Amazon's Alexa and Google Assistant but allows for more voice assistants to be added in the future.
Currently, four Sonos speakers have integrated voice support, the award-winning Sonos One & Sonos Move smart speakers & the Sonos Arc & Beam soundbars which all feature Amazon Alexa and Google Assistant built into the unit, right out of the box.
Another bonus is that if you have any Amazon Echo or Google Home device at the moment, you can integrate that with any Sonos speaker, not just the voice-activated ones.
Voice assistants let you use your voice to do cool things like turning your TV on and off (Beam only), play music from your Spotify or Amazon Music library, as well as using it for fun things like quizzes, stories and world knowledge - all completely hands-free.
Here's our video demonstration on using Google Assistant with the Sonos One.
Find out more about using voice control with Sonos >>
The Beam and One also have AirPlay 2 which is a way of casting audio from one device to another. This means you wouldn't even need to use the app to get the music playing. As this service is owned by Apple, you would need an iPhone, iPad or Mac to do this.
Find out more about AirPlay 2 with Sonos >>
Ok, I think I get it. Where should I start my Sonos journey?
First, consider if you are primarily looking for a soundbar for your TV or if your smart speaker will be for general music listening.
Best for compact size but powerful sound - Sonos One Gen 2 (£199)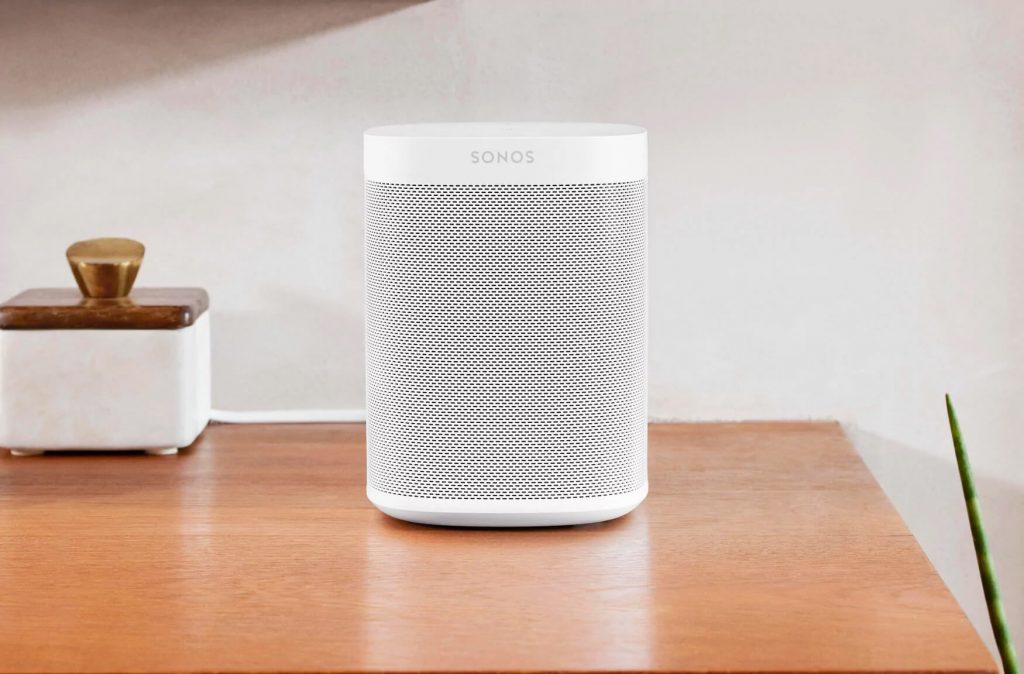 For general music listening, the Sonos One Gen2 is an affordable smart speaker which looks great, sounds great and is ideal for filling bedrooms, kitchens, studies and similar rooms with exceptional audio. It has also won numerous awards such as best gadget of the year in the 2018 T3 awards.
If you are not interested in voice control but love the appearance and size of the Sonos One, then the Sonos One SL would be perfect for you as it has no microphones built-in, but still benefits from the same sound quality as the Sonos One at a slightly cheaper price point of £179.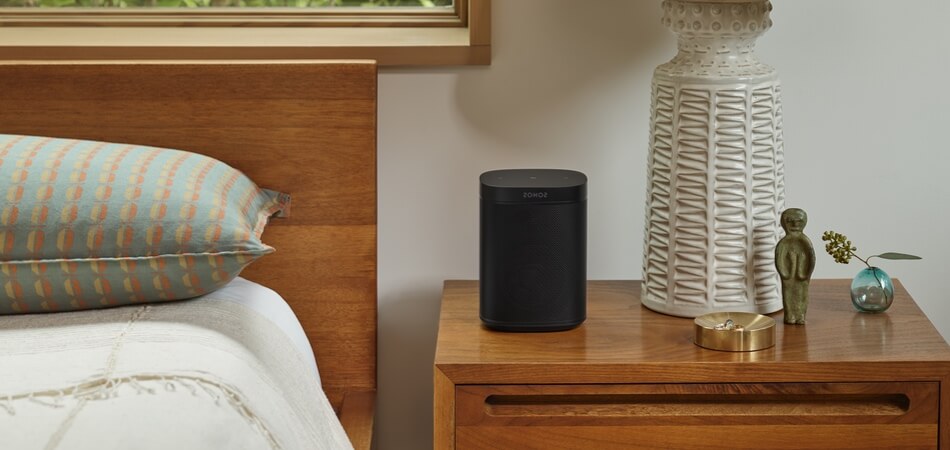 Both the Sonos One and Sonos One SL can be used one of the 3 following ways:
On their own as a single speaker
As a powerful stereo pair
As rear surrounds to a Sonos Beam, Playbar or Playbase
Best for music-lovers at home - Sonos FIVE (£499)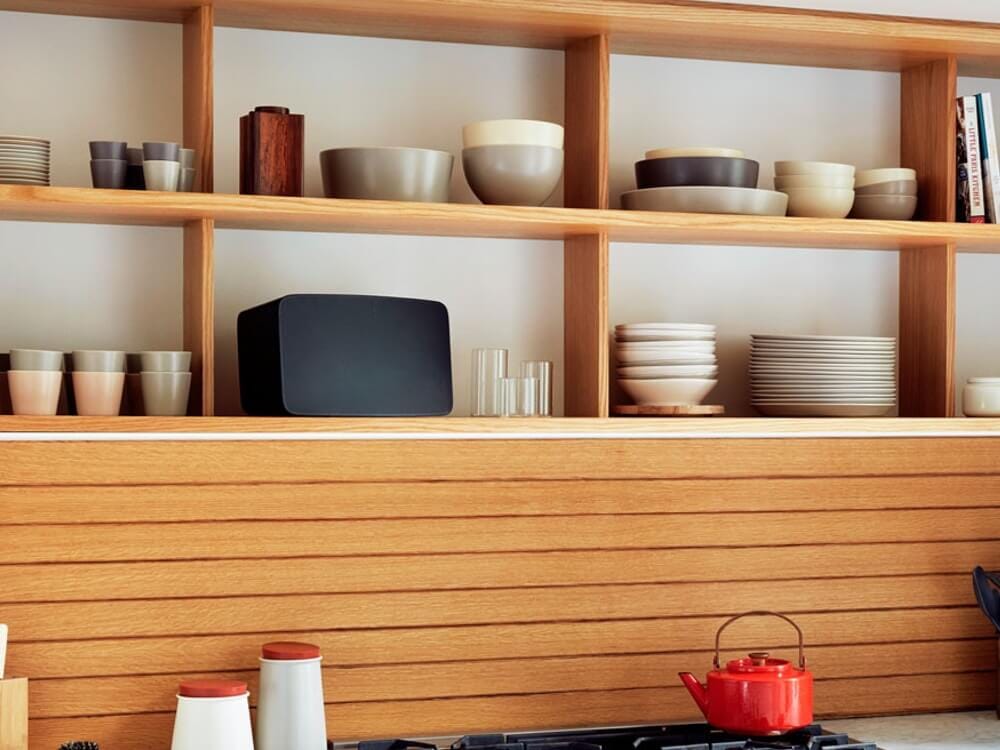 If you accept few compromises when it comes to sound quality, you're going to want to look no further than the Sonos Five
The Sonos Five is designed for large spaces and listening at loud volumes as this can fill your room easily. Thanks to its 3.5mm jack, you can also connect other devices such as a turntable or CD player via this method.
Very few speakers sound this good at this size and is one of Smart Home Sounds favourite speaker of the range for music-lovers.
Best for listening anywhere - Sonos Move (£399)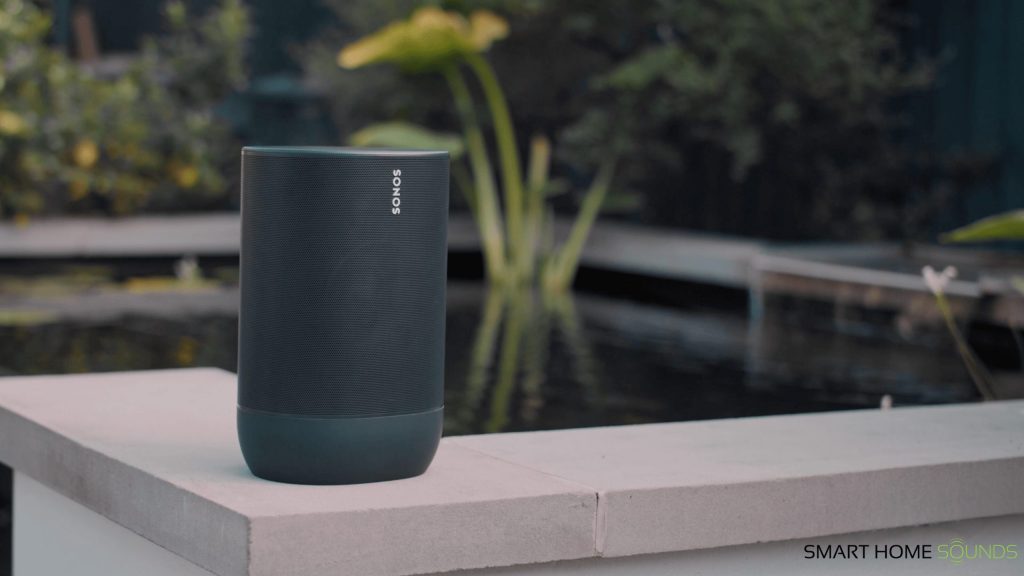 If you want the option to listen anywhere, the Sonos Move features WiFi and Bluetooth built-in so you can enjoy the best of both worlds.
With a high weatherproof rating at IP56, you can listen out loud even when the rain is pouring.
It also has 2 voice assistants built-in (Amazon Alexa and Google Assistant) and AirPlay 2 for those of you with an Apple device.
Best for TV & Music - Sonos Beam (£399)
For your TV audio, the Sonos Beam is their latest soundbar released to the market in 2018 and has already won WhatHiFi best soundbar in the £300-£500 category.
It does an excellent job of filling small-medium sized living rooms with TV audio, music and radio that is both crystal clear and far-reaching. It has received hundreds of 5* reviews from customers already enjoying the experience of significantly better TV audio.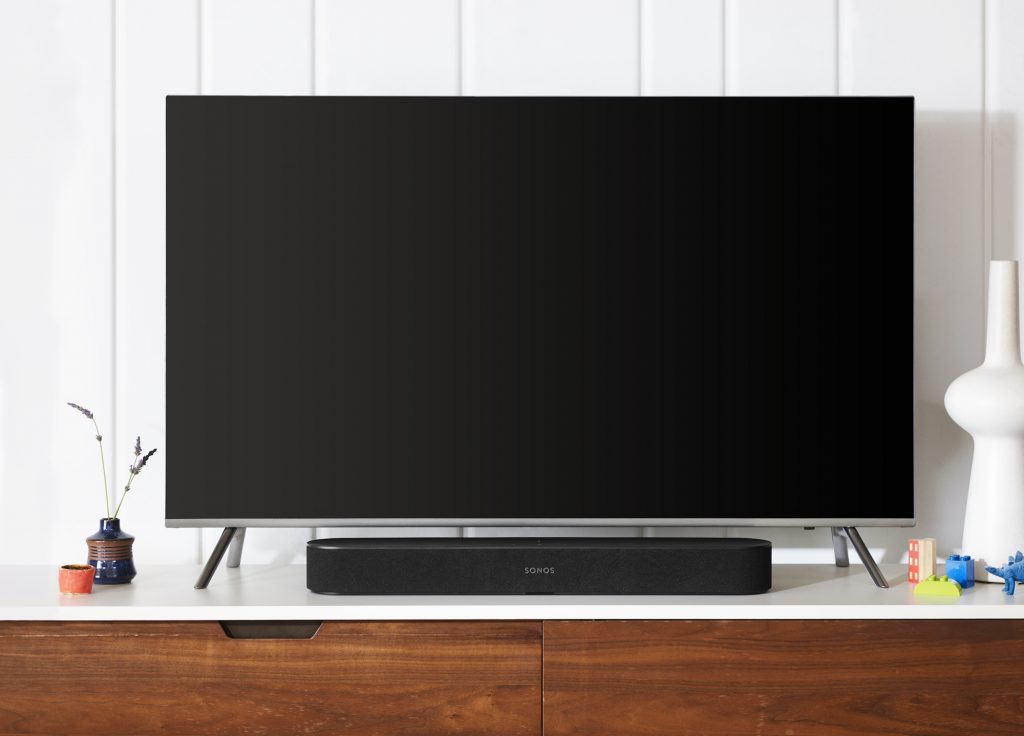 Read full Sonos Beam review >> 
Best for home cinema - Sonos Arc (£799)
If your budget is more flexible and you are in pursuit of something extra special, for example, a cinema room, consider the Dolby Atmos equipped Sonos Arc which offers a premium listening experience.
All TV speakers mentioned above have the ability to add a Sub and rear speakers for a more immersive surround sound experience. These can be added at entirely your own pace.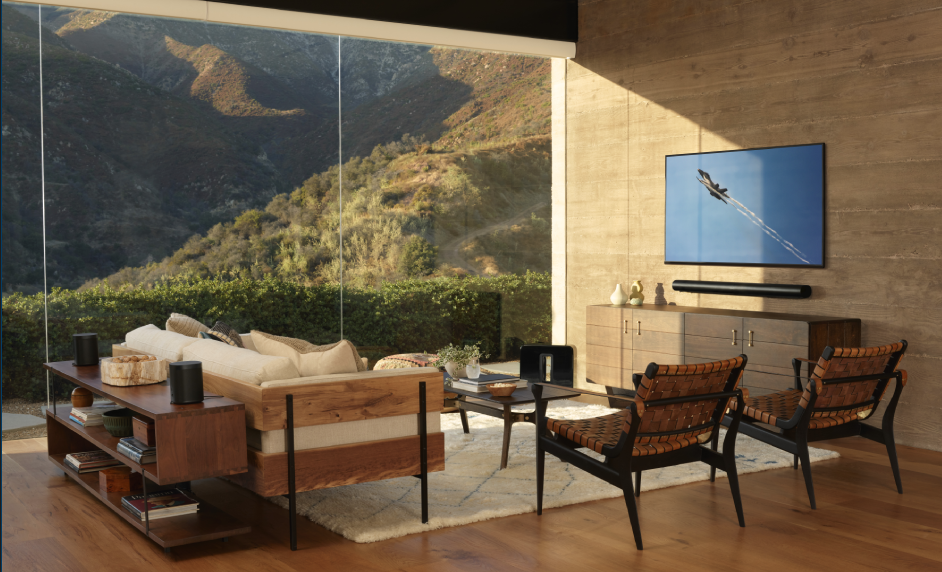 Verdict
If you love music and appreciate great sound quality, Sonos will be a perfect fit for you. If you'd like to build up an audio system in multiple rooms of your home, then Sonos is class-leading in this field and has the awards to show it.
Hopefully, you now have a general understanding of how Sonos works and it is going to be the right system for you. If you're still unsure, please feel free to get in contact and we'd be happy to have a chat with you!
Remember we offer a 30-day Listen better promise on Sonos, as we are sure you will be happy with your purchase and if not, you can return it to us.
---
Learn More
The Complete Sonos Buying Guide
What devices can I use with the Sonos App?
---
Sonos Speaker Quick Links