Sonos Beam review: The best soundbar under £500?
We discuss why we think the new Sonos Beam soundbar is a must-have companion to any TV set up.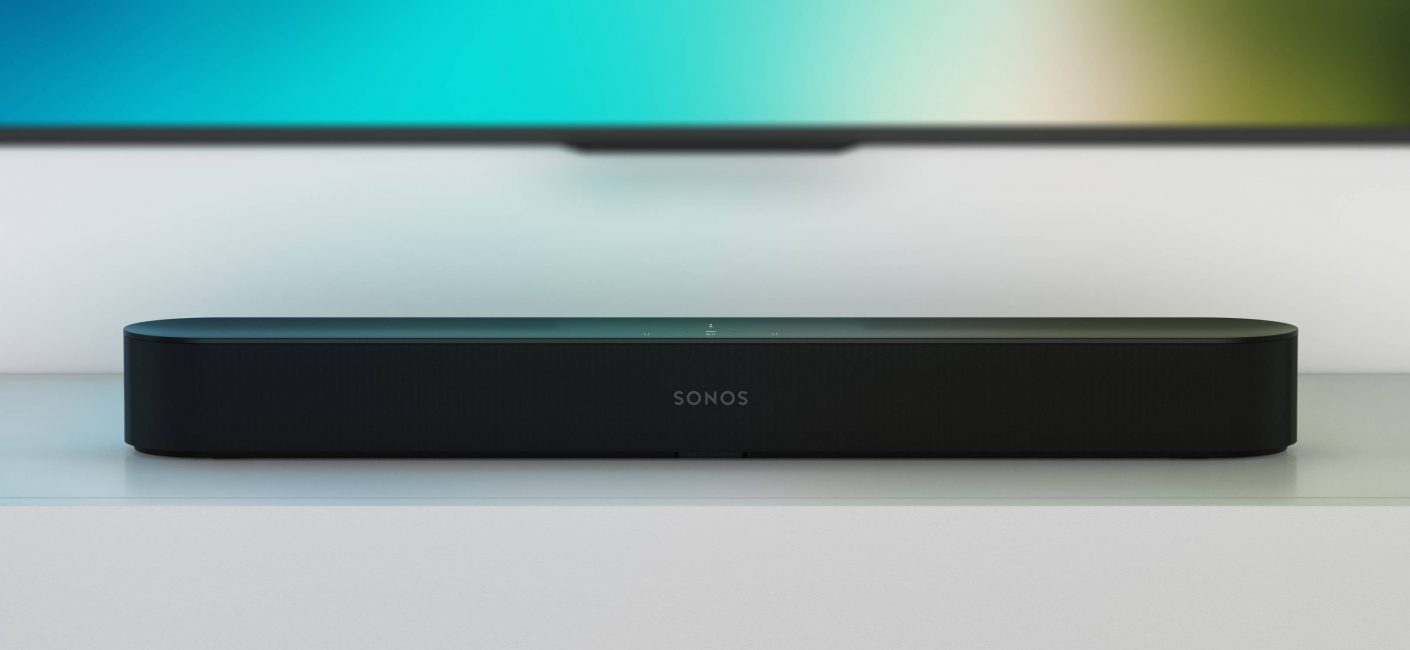 Sonos Beam soundbar - The ultimate TV speaker
In the modern world of technology, it's easy to get overwhelmed with all the choice of soundbars that companies offer. When you choose a smart speaker these days, it usually means you are shackled to the few services that the tech company lets you use - whether that's AirPlay, a specific music streaming service or voice assistant.
What if there was a speaker that offered you the choice of all your favourite services you are using now? Something your whole family can enjoy, not just one person.
Introducing Sonos Beam
The Sonos Beam breaks down these barriers and offers customers the choice, a very rare trait in a lot of tech companies.
Beam's credentials also redefine the meaning of a traditional "soundbar" from a passive bar of sound for your TV to a system that blends all of the following in one system:
Stunning TV audio quality, capable of expanding to a full 5.1 home cinema system
The most popular voice assistants, Amazon Alexa and Google Assistant, built-in with the ability to add more voice assistants in the future
Over 60 music streaming services built-in to wirelessly stream your favourite music and other audio content
... all in a single unit that costs only £399. Until now, you would have needed to buy a soundbar for your TV, a speaker for your music and a voice controlled speaker such as the Echo Dot for your home assistant.
These are 3 massive features that have resulted in needing to buy 3 separate devices. For this reason, we think Beam could be on to a big win.
See what our Sonos specialist thinks about the Beam in the video below
Appearance
Measuring only 65.1cm in width, its compact size makes it easy to place in front of the TV without encroaching into the bottom of the TV screen.
The Beam has a cloth fabric that runs all around the edge of the speaker, similar to the Playbar, with the Sonos logo prominent on the front of the speaker.
The new touch controls on the top of the speaker are similar to the Sonos One and a joy to use. The icons include volume up/down, play/pause, skip/previous and a microphone symbol to cut the power to the microphones if desired - all handy functions if you're walking past the unit and want to change track quickly.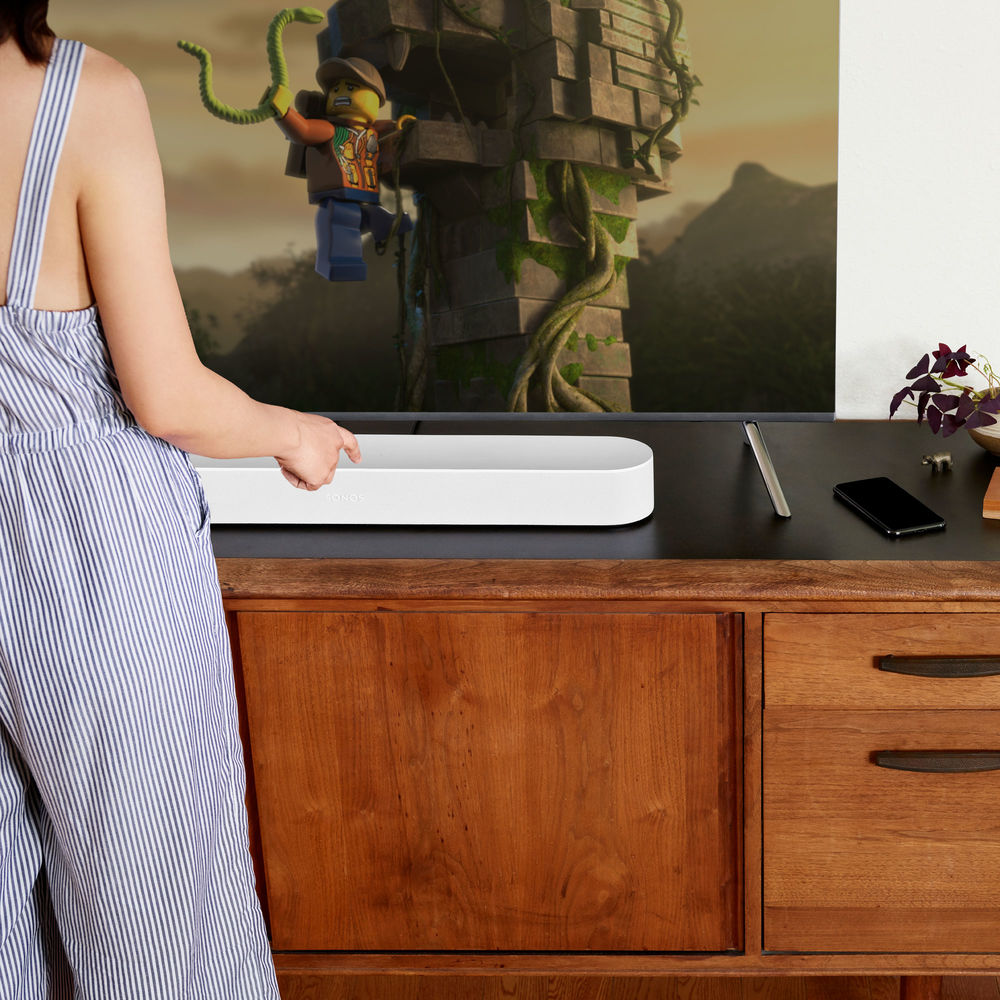 Sonos Beam Dimensions
Width: 65.1cm
Height: 6.8cm
Depth: 10cm
The Beam is designed to fit snugly into most TV setups without looking visually jarring. It's got the sound quality stats (and more) of a traditional soundbar without stealing too much attention away from the TV. We feel its aesthetics have been designed to appeal to everyone.
Like the Playbase, the Beam comes in two colour options: black and white to match the decor of your room.
Want to mount the Beam to the wall? A Beam stationery wall-mount can be picked up for £49, but if you're looking for something more advanced, Flexson offer many different solutions including the ability to mount the Beam to an existing wall-mounted TV or cantilever to connect the TV and Beam.
The Beam has only three ports on the back: power, ethernet, HDMI-ARC, plus a Connect button to set the unit up.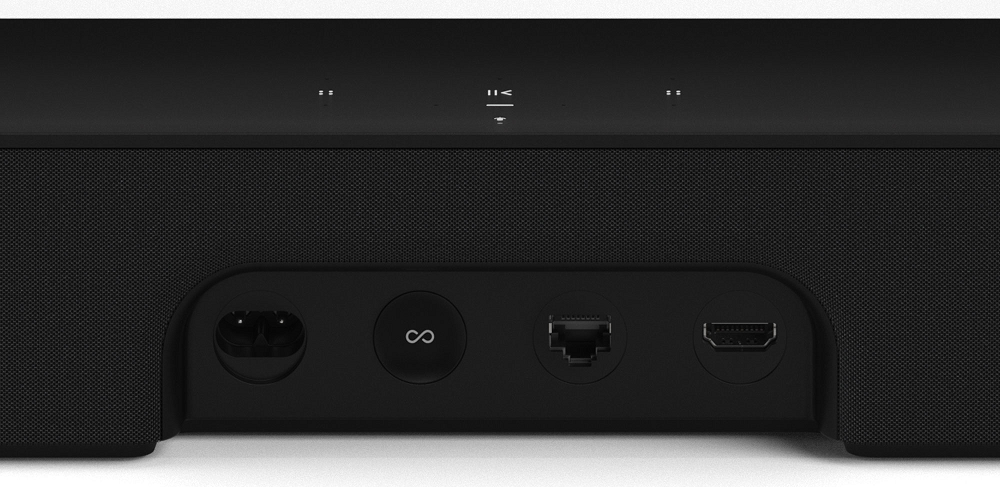 It is clear Sonos have taken its usual simplistic, stylish approach in appearance and uncluttered connections, something we can all appreciate.
Sonos Beam Sound Quality
As we now know, it is becoming more and more critical to purchase a separate soundbar for your TV. This is due to an increased demand for improved aesthetics, so screens have become slimmer at the expense of the TV speakers.
From Sonos' existing line-up of speakers, it is inevitable that any Sonos speaker will sound fantastic. From listening to the Beam in the office for around half an hour, we could tell this would fill a small to medium sized living room with relatively no effort at all.
The sound was incredibly rich, detailed and precise and appeared as if the sound was coming from a soundbar much larger. Sonos have nailed the position of the internal speakers and throws out a surprisingly wide soundstage for its size.
The vocals are also worth talking about. The Beam has a brand new tweeter that sits directly behind the Sonos logo. This was developed to enhance vocal capabilities.
Sonos also installed cylindrical instead of circular bass radiators which makes better use of the space, whilst improving its bass response. The Beam emits a vibrant, full-of-life sound that will immerse everyone in the room.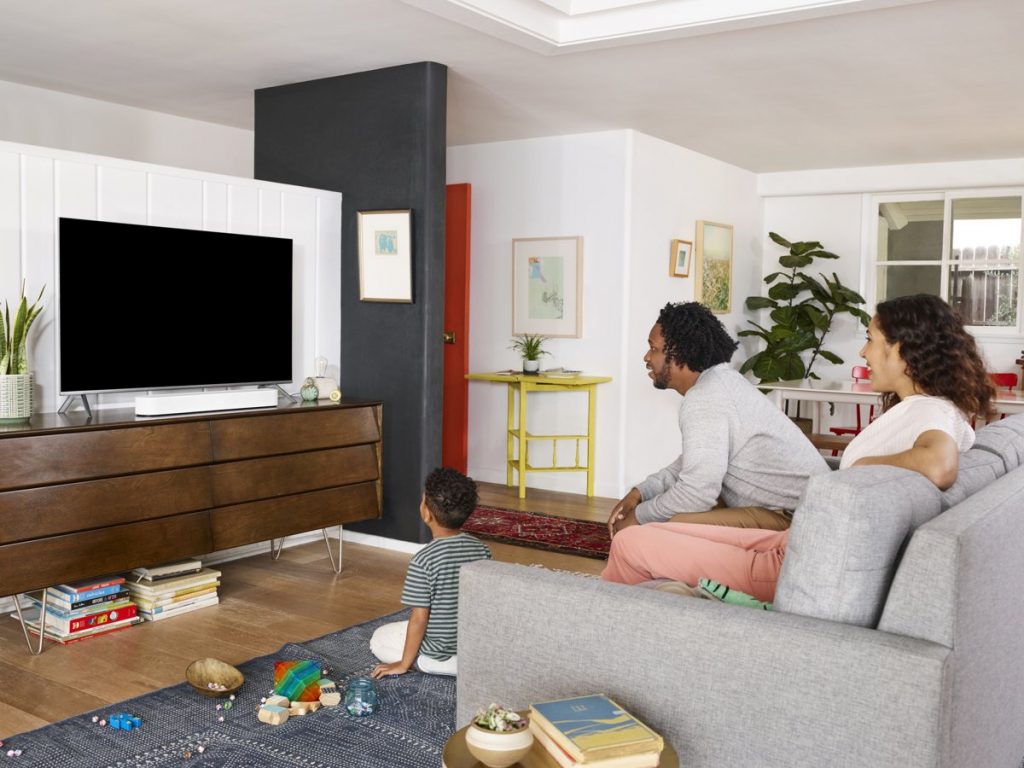 We tested a mixture of instrumental, bass-heavy and vocal-heavy music. Wow by Beck was particularly impressive, focusing on the lower ends of the Beam. Leon Bridges' latest album showed how versatile the Beam could be and even at higher volumes, it did not distort or lose clarity.
Sonos Beam Features
As well as breathing a new life into your TV audio experience, you can also use it to stream other audio content such as music, radio, audiobooks, video games and more in astounding Sonos sound quality. The Beam also packs a whole host of useful features. We name a few below.
An open voice platform essentially means the speaker can add more than one voice assistant to it in the future. At the moment, it has 2 voice assistants built in: Amazon Alexa and Google Assistant.
You can ask them to turn on your TV, tell jokes, stories, increase or decrease volume and so much more. You don't need to pick up your TV remote either; very useful for folks who have "temporarily misplaced" their TV remote!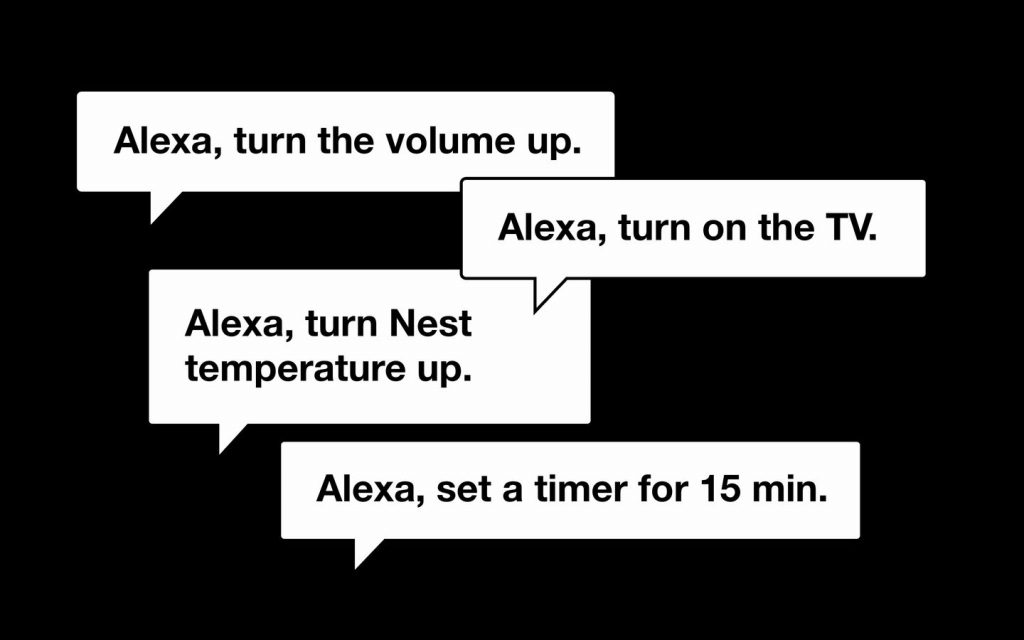 Speaking of TV remotes…
Pair your existing remote
The Beam does not come with its own TV remote. Instead, you can pair your existing TV remote with the Beam in a matter of seconds, for volume control.
If you're not aware of AirPlay, in a nutshell, it is Apple's way of casting audio from your Apple device on to a non-Apple device such as a speaker. Now in its second development, AirPlay 2 improves on the original AirPlay's stability and reliability and now will feature on your Sonos Beam, One, Play:5 Gen 2 and Playbase. Then you can group your AirPlay 2 audio, to other Sonos speakers in your home.
HDMI-ARC connection (for audio and voice control)
The Beam is slightly different to the Playbar or Playbase in the way that it connects to the HDMI-ARC connection on the back of your TV. This is to ensure Alexa or Google Assistant will be able to turn your TV on and off if commanded, something that wouldn't be possible through an optical connection.
Also, we expect to see more devices such as Sky boxes and Apple TVs with the option to use voice control, due to the advances in HDMI-ARC.
Most TVs have an HDMI-ARC connection, but if not, Sonos provide an HDMI to optical converter so you can use Sonos with the TV's optical instead.
The chances are you will experience interruptions or noises when watching a TV show. Whether that's from kids or outside, you may miss certain snippets of speech. Speech Enhancement mode is designed to amplify the vocals, so you never miss a word.
Tune your speaker to the room it's in
Sound is subjective which means it bounces off walls and furniture in your home. This means someone sitting at one end of the sofa may experience a slightly different sound to someone at the other end.
TruePlay, using your Apple device, regulates this effect and calibrates your speakers, so they are aware of their surroundings. Every room now sounds even better!
Forms the building blocks of a full home cinema system
Ever liked the idea of surround sound? Sonos uses Dolby Digital for its audio codec, the most popular codec on streaming services like Netflix and Amazon Video. Beam gives you 3.0 Dolby Digital already: a front centre, front left and front right channel.
However, adding a pair of surround speakers such as Play:1s adds two more channels, and you can finish the set up by adding a Sub. Sub gives you that deep rumble of bass which takes the lower ends of your audio to another dimension. Learn more about creating your own home cinema set up with Sonos.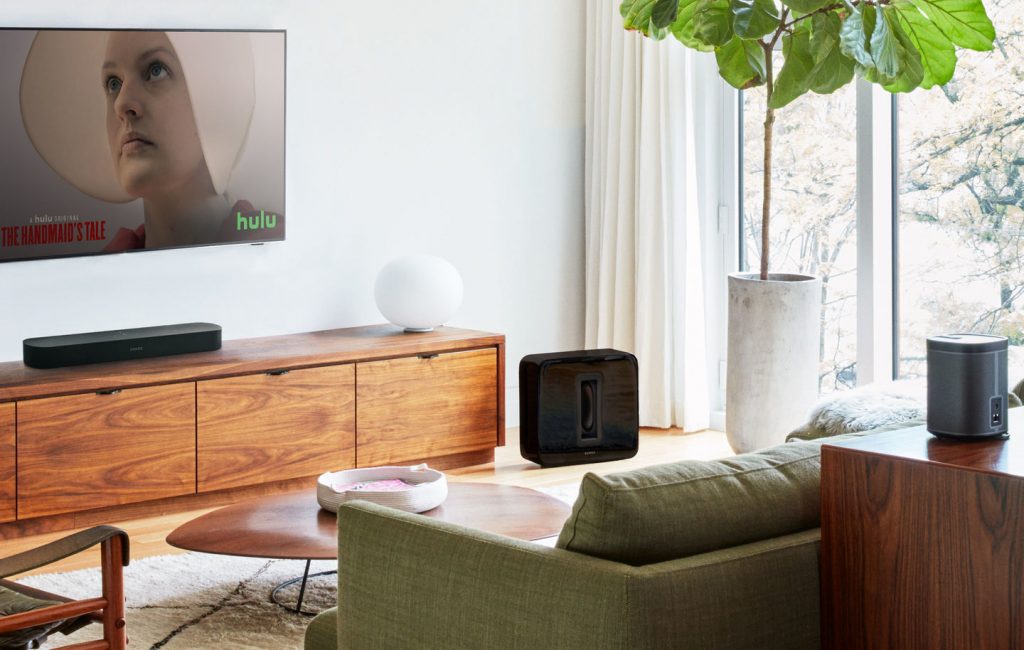 The ecosystem of Sonos allows for software updates to come through to all customers. Sometimes they are minor tweaks, but others offer excellent upgrades to the software or even the speaker's sound quality.
Also, as voice assistants add more features, your Sonos Beam will reap the benefits too.
Integrates with other smart home devices
Some skills in the Alexa app are capable of integrating with Sonos. Phillips Hue is an excellent system for controlling your lights with. Nest is also very popular for heating systems, and both of these services work with Sonos. You will also be able to integrate the Sonos Beam with Wink and Lutron systems.
Control the Beam, Your Way

Traditionally, Sonos have always been about controlling the music through the award-winning Sonos app, available for free on all app stores and PC.
Through the Sonos app, you have access to 55 music streaming services (and counting) including all the popular ones like Spotify, Apple Music, Amazon Music, Deezer, Napster and Soundcloud to name a few.
Love radio? Use the TuneIn radio app built-in to the Sonos app with access to thousands of radio stations. Are you a fan of audiobooks? The Sonos app is now integrated with Audible. Read more about how you can listen to audiobooks on your Sonos speaker. 
In addition to the Sonos app, there are now some other ways you're able to control your Sonos speaker.
If you're a premium Spotify user, you can use the Spotify app natively, without even needing to go into the Sonos app. Find out how to control your Sonos through Spotify natively.
Of course, you also have other options available to you like voice control and AirPlay 2 which we mentioned earlier.
For your TV sound, we strongly recommend enabling a feature called Autoplay. This means that if you were playing music on your Beam, then decided to watch the TV, when you turn the TV on, the Beam will automatically switch to the TV source - then back to the music when commanded.
You can also pair your existing TV remote for volume control, as mentioned earlier.
setting up the Sonos Beam
Sonos have always taken the approach to make the user experience extremely fluid and it continues with the Beam.
By connecting to your home WiFi wirelessly, there are no dropouts, no interruptions and no pairing every time you want to use the speaker.
Are you a technophobe? No problem. Just connect the Beam to an HDMI-ARC port on your TV, connect to mains power then download the Sonos app and follow the easy step-by-step instructions. We're confident you will get music playing within 10 minutes maximum.
Verdict: Is the Beam for you?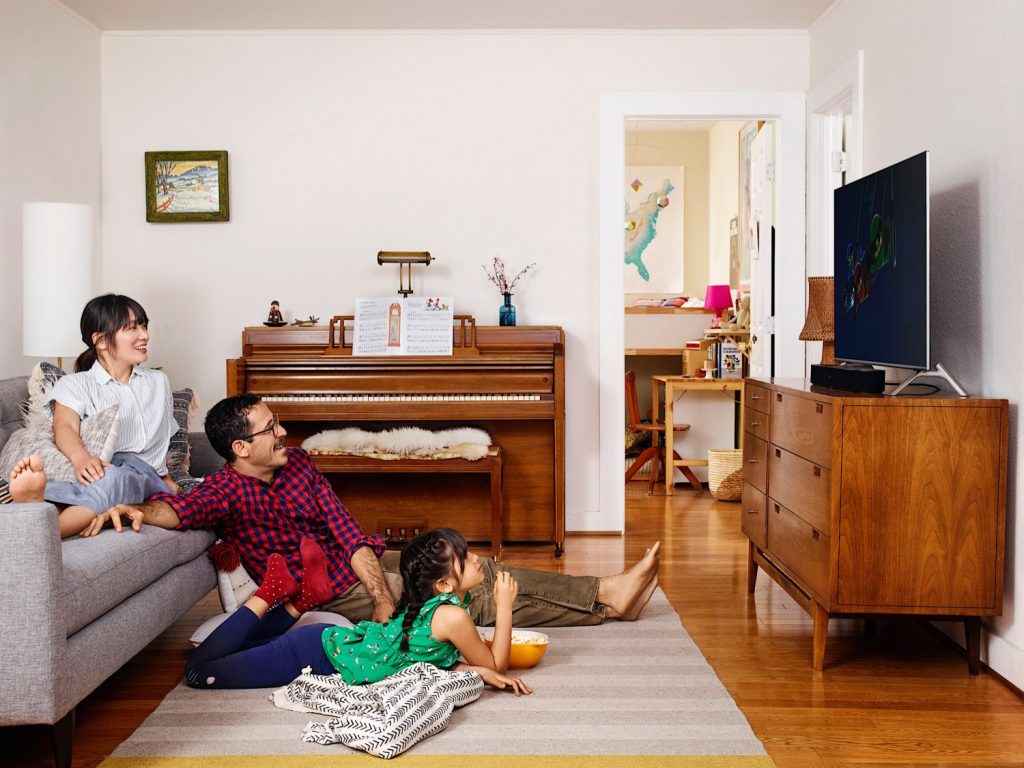 The Beam already has 2 voice assistants built in with the option to add more in the future.
The Beam lets you watch your favourite TV and movies at fantastic sound quality, as well as streaming your favourite music service, all in one stylish and easy-to-use unit. At £399 RRP, for us, this sounds like a no-brainer.
Who will the Beam appeal to? We think the Beam is the perfect TV speaker if you're new to Sonos and looking to enhance your TV audio and use it as a great music speaker too. You can add to your Sonos system at your pace, and the Sonos app will grow with you.
We also think the Beam is ideal for existing Sonos customers. Already have a Playbar or Playbase? The Beam makes a great addition to those smaller rooms with a TV in, such as a study, dining room, conservatory and bedroom.
Finally, why choose Smart Home Sounds for your Beam purchase? In addition to being Sonos experts, we offer an extended 6-year warranty on all Sonos products as standard, for your peace of mind. We don't charge a penny for next day or weekend delivery and offer interest-free pay monthly options and a rewarding loyalty scheme. Talk to one of our friendly advisors today to find out more.
---
Learn More about Beam
10 Cool Features about the Sonos Beam you'll love >>
7 Essential Sonos Beam Tips to get the most out of it >>