Create your own Sonos Home Cinema in 3 Simple Steps
We show you how to build the ultimate wireless Sonos Home Theater experience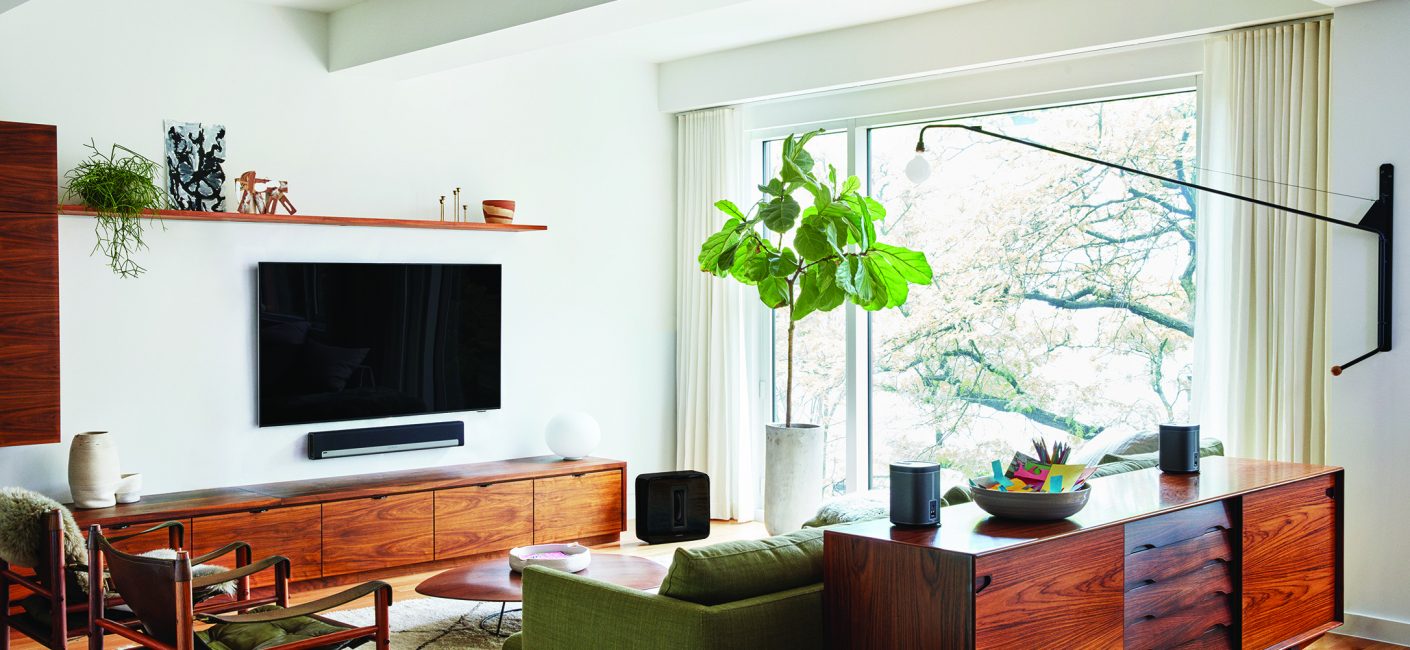 Create Your Own Sonos Home Cinema
At Smart Home Sounds, the Sonos PLAYBAR, PLAYBASE and Beam are our favourite Sonos wireless speakers. Not only are they fantastic standalone wireless smart speakers, but they also provide epic sound for your movies, TV shows and video games. With the addition of the new Beam to the Sonos family, there are now, even more, options for your TV set up. No space for a PLAYBAR but still want legendary sound for your movies? Go for the Beam. Want the widest soundstage possible with the option to wall mount? Go for the PLAYBAR. All of these products are also your first step in creating your own wireless home theatre sound system. With the PLAYBAR, PLAYBASE or Beam in place, you can wirelessly add a SUB and PLAY speakers at your own pace to achieve a full Sonos 5.1 wireless surround sound system at home.
The common problem...
My TV sound does not live up to my TV's picture quality!
The latest TVs offer jaw-dropping picture quality, and with Sky Q now offering 4K content, the picture quality is being taken to a new level of detail. Not only do the current TVs offer a stunning picture, but their design is also improving, becoming thinner and sleeker with every model refresh. The downside to these thinner TV models is that the audio is becoming compromised. It's physically impossible to fit a full range speaker into these sleek, thin designs. So, while picture quality and design are moving forward, the sound quality is unfortunately suffering. This is another reason why soundbars are seeing massive growth in the market.
I'm looking to improve my TV audio but also want a fantastic music player that connects to other speakers in my home
As mentioned, the Sonos PLAYBAR is a fantastic standalone smart speaker. It's nine integrated speakers are spread over the PLAYBAR's 900mm length. This ultimately provides the listener with a fantastic dynamic wide sound stage. Six midrange and three tweeters keep the audio crystal clear with plenty of controlled bass when required. The PLAYBAR also has an automatic equalisation system that self-adjusts for a rich, seamless result.
Read our full review of the Playbar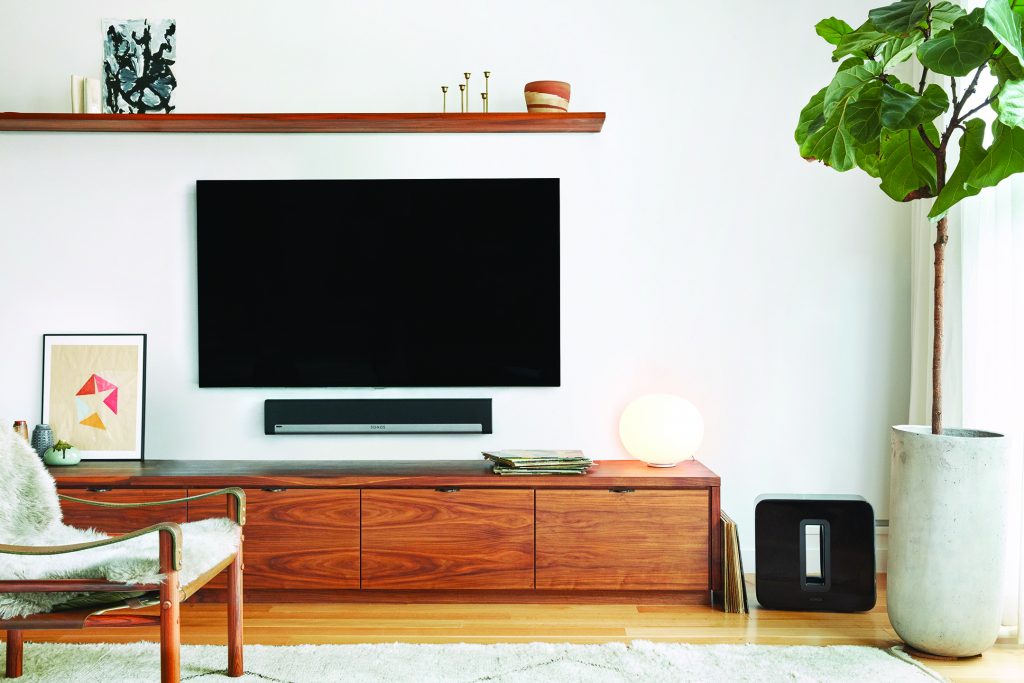 The Sonos PLAYBASE, released in Spring 2017 is the second option for TV audio. If space is at a premium and you do not intend to wall mount a Soundbar, the PLAYBASE is a very neat option. Stand your TV on top of it or slide the PLAYBASE underneath for a very aesthetically-pleasing finish. The PLAYBASE packs ten speakers inside its slim shape while still maintaining the same award-winning high sound quality of the PLAYBAR. However, the PLAYBAR is thought to offer a slightly wider sound stage due to its wider dimensions.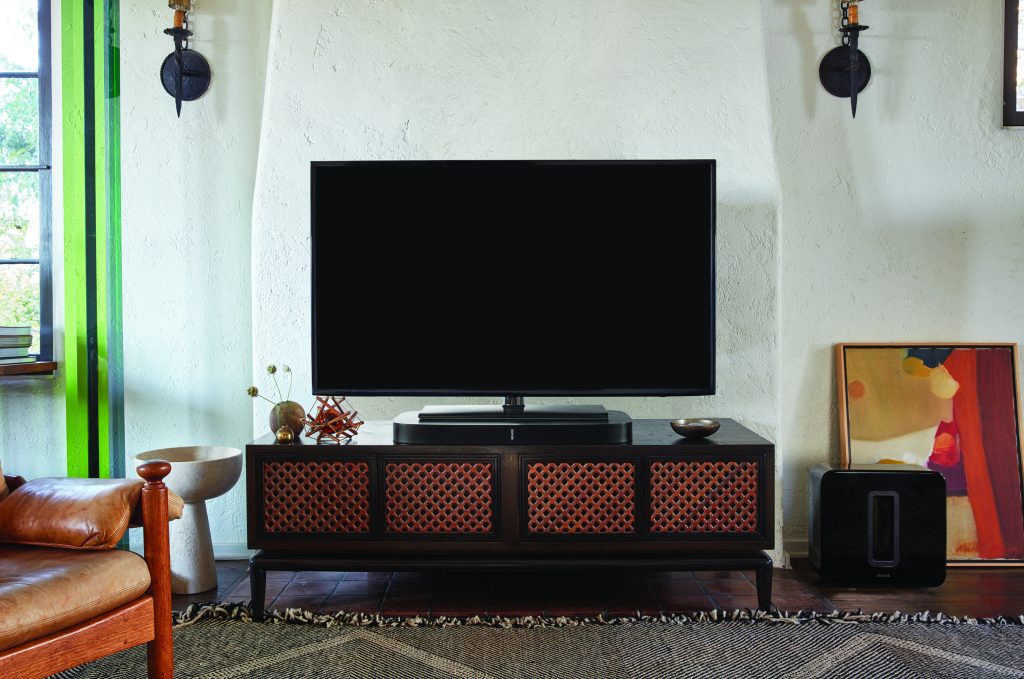 Sonos Beam: new for 2018
The all-new Sonos Beam offers customers a cheaper alternative to the Playbar or Playbase. Being a smaller unit, it can fit into smaller TV set ups but can also be wall mounted. Don't be fooled by its smaller size as it packs an incredible punch and fills the room with all-round immersive audio thanks to is outwardly facing speakers at the edge of the unit. In contrast to the Playbar or Playbase, the Beam has Amazon Alexa built in meaning you can voice control your TV, an excellent solution to modern remote controls.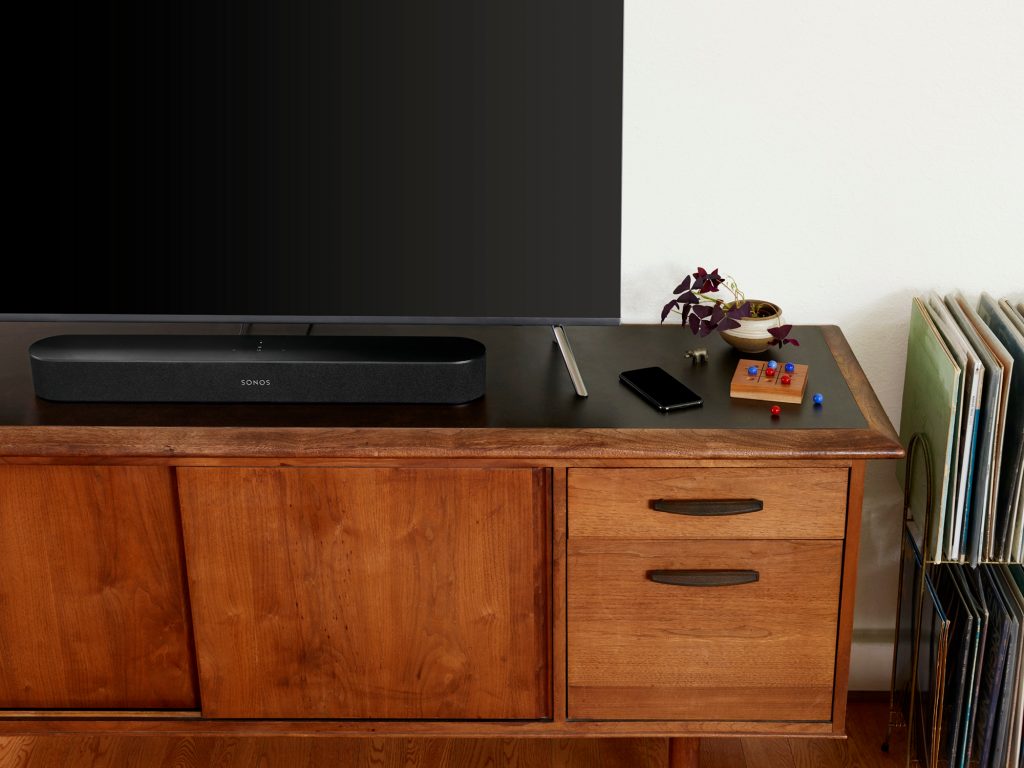 What music can I play on the PLAYBAR, Playbase or Beam...
The Sonos tagline is "All the music on Earth", and you are certainly spoilt for choice when it comes to playing music on the Sonos PLAYBAR or PLAYBASE. You can choose to play your local radio stations or any station in the world with the built-in TuneIn service. If you subscribe or are interested in music services, the list of music streaming services on Sonos keeps growing. Some big names you'll recognise right away: Spotify, Apple Music, Napster etc. Others may be less familiar, but still worth exploring. It's also possible to play from your personal collection of music downloads stored on your computer, phone, and tablet.
Home Cinema Sound In 3 Simple Steps 
Step 1. Set up & start with a sonos tv speakers
All of the Sonos TV speakers are incredibly easy to set up. A single optical cable connects from your TV to the unit or in the Beam's case an HDMI-ARC. Once this is set up, download the free Sonos app and follow the step by step instructions.
Soundstage achieved - 3.0
Hear the full range of sound effects and music from the left and right channels and crisp, clear dialogue from the centre.

Step 2. Add Sonos SUB (wirelessly)
Nothing completes movie watching or audio listening than powerful, detailed bass. Hear every explosion, crash and rumble exactly as the director intended. The Sonos SUB is added to any Sonos TV speaker and is incredibly easy to set up from the Sonos app. Simply click "Add Speaker" in the Sonos app settings and follow the simple steps.
Install tip - During SUB set up, it is possible to choose a bass level that suits your environment and listening preference.
Soundstage achieved - 3.1
Front left, right & centre channels are achieved from the front TV speaker with the .1 achieved from the Sonos SUB.

Step 3. Add 2 x PLAY Speakers as Rear Surround Speakers (Wirelessly)
Adding two rear surround speakers completes the total immersive surround sound system. Either add a pair of PLAY:1s, PLAY:3s or PLAY:5s to your PLAYBAR / PLAYBASE / Beam and SUB – and suddenly you're right in the centre of the action with vivid, dynamic sound coming from every direction.
Install tip - During the rear speaker set up, it is possible to choose the level of volume the surround sound channels will produce. We also recommend selecting pseudo music mode, so all Sonos speakers are selected when playing music.
Soundstage achieved - 5.1
Front left, right & centre channels achieved from the PLAYBAR, PLAYBASE or Beam with the .1 achieved from the Sonos SUB. Finally, the rear left and right surround channels complete the 5.1 channel surround sound.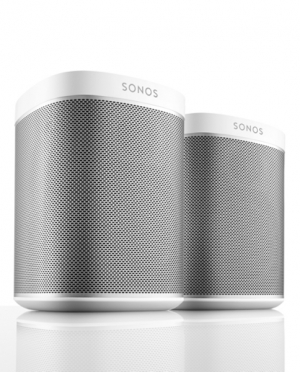 Finally…
Following the above three steps will give your home a fantastic sounding wireless home theatre experience for movies, music and video games, but don't just take our word for it...
"The sound and music are 50% of the entertainment in a movie."
George Lucas
View complete 5.1 Sonos Theater Bundle
Additional SONOS TV SPEAKER Features
Night Sound
For late night viewing, 'Night Sound' dynamically compresses the audio to avoid any bangs and crashes that could wake the family, while making quieter sounds more audible & clear.
Speech Enhancement
Boost the frequency range of the human voice, so you never miss those essential moments of dialogue.
TV Autoplay
This is a great function that will switch your TV Speaker input to TV sound automatically when it senses audio from your TV. With auto-sensing switched on, as soon as the TV is powered up, the Sonos system will switch automatically from its previous music mode to TV mode in the background.
IR Control
When setting up your Sonos TV speaker, you will be asked if you want to use an existing remote to control your device volume. This is something that you should implement, as it can be very annoying if you have to get your iPhone or iPad out every time you just want to adjust the TV volume. When following the Sonos setup, it will ask you to point your desired remote at the device and press volume up and down - this enables it to learn the IR code. Most people use their TV or Sky/Virgin remote as their main option. It also controls music volume as well as TV.
ABOUT SMART HOME SOUNDS
Smart Home Sounds is a UK Sonos specialist dedicated to filling homes with the joy of music, one room at a time!
We provide expert advice on the full Sonos range, from the voice controlled Sonos One to a Sonos wireless home cinema system with PLAYBAR, SUB, and 2 x PLAY:1s all with free next day delivery and a 6 year extended warranty.