Is the Sonos SUB worth it? | In-depth review
Is the Sonos SUB right for you, we provide all the information you need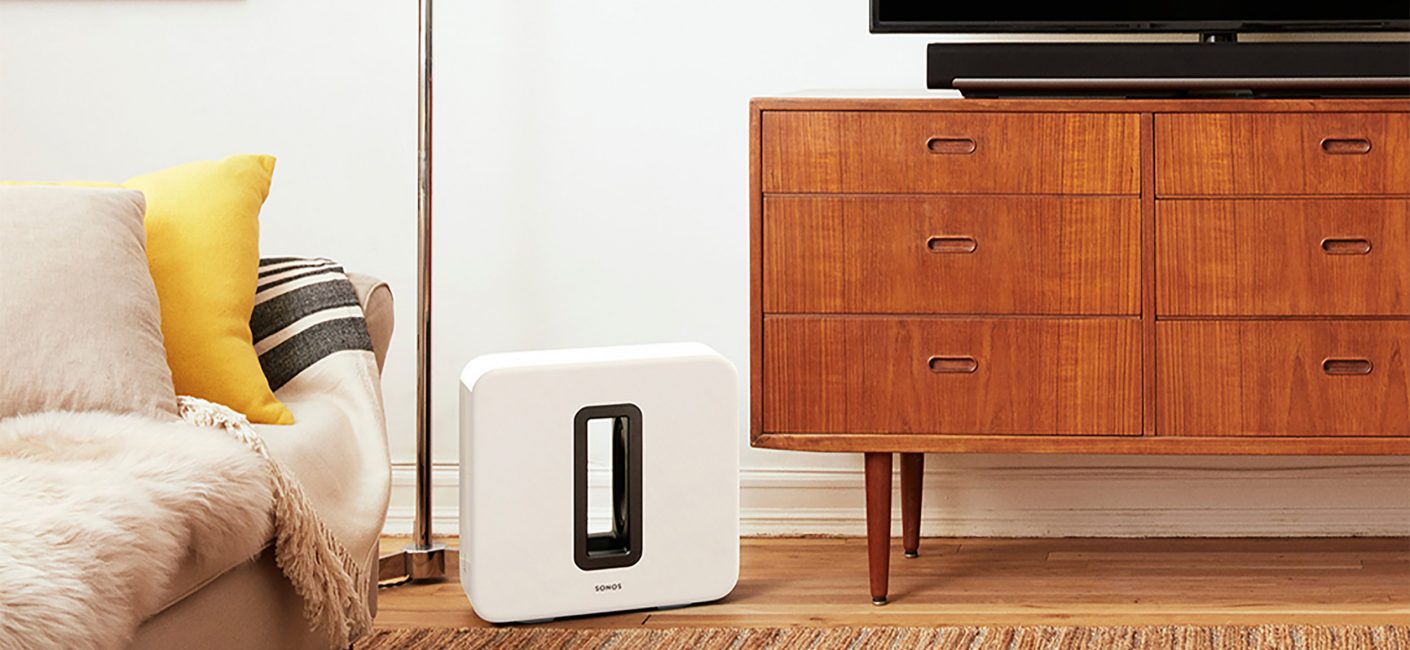 sub is Everything you expect from a home cinema experience and more
Sonos SUB. An absolute show-stopper of a piece of kit but at a price tag of £699, you may be wondering if it's truly worth it. In this blog, we explore how SUB can dramatically improve your listening experience with Sonos.
Unlike most subwoofers, Sonos SUB comes in the form of an aesthetically-pleasing box shape acting as the bass HQ for your content. The opening in the centre of the unit, passes air out of the enclosure, so you won't just hear the difference, you'll feel it.
The low frequencies of sound get converted into deep, rich bass, giving you that rumble, vibrating sound effect you might hear more clearly in a cinema.
Older subwoofers are renowned for being ugly, taking up large amounts of space in the living room, with wires running everywhere, not to mention producing high amounts of vibration and rattling if touched.
A good perk about Sonos SUB is that it's face-to-face drivers cancel out all vibration so there's zero cabinet rattle. And it's so easy to set up - simply plug it in to power and pair wirelessly with any Sonos speaker.
Now SUB is in its second generation, it's quite a good looker too. It comes with two colour choices: gloss black or the newer gloss white and has undergone a few cosmetic upgrades to the first generation, coming in the form of a newly painted oblong slit in the middle and a slightly smaller Sonos logo.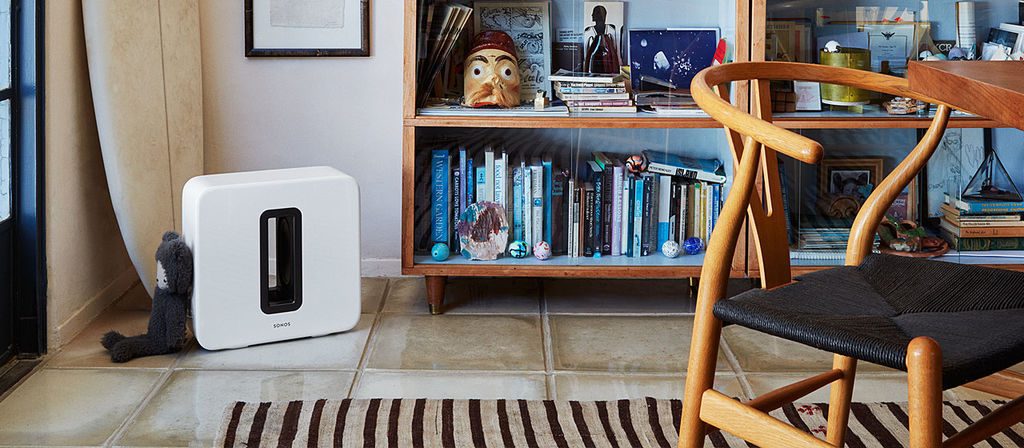 And as of 2018, you can now calibrate your SUB to your room in the initial set up. Using test tones, you can increase or decrease the "boom" of your SUB on a scale from -3 to +3.
This is particularly useful if your SUB will be positioned in the corner of the room or in a slightly awkward place.
Very easily. Simply plug it in to any power socket and pair SUB wirelessly with any Sonos speaker(s) you like, all done in a few simple steps through the Sonos app. 
All the bass that you were initially hearing from your Sonos speakers, will now come from the SUB alone, allowing for a much greater potential of bass output.
As mentioned previously, SUB will pair with any Sonos speaker you own but it pays to be smart about which speakers you pair it with. 
Stereo Pair of PLAY:1s or Ones - A pair of PLAY:1s or Ones is one of our most popular purchase choices due to them being so versatile, affordable and maintaining surprisingly powerful sound. However, the small size comes at a cost to the bass response.
Adding a SUB to this set up produces one of the highest levels of difference and your music will thank you for it. 
PLAYBASE, PLAYBAR or Beam - Sonos SUB works perfectly with any of these components. Due to them both being physically wider speakers, the soundstage is naturally better than what you'd find in a PLAY:1, PLAY:3 or PLAY:5. Couple this with the extra layer of boom you get from Sonos SUB and you're on to a winner.
This is hands down one of the best sounds you will hear, perfect for music or TV/films alike. 
Finishing off a Sonos Home Cinema - SUB provides the final 0.1 in the Sonos 5.1 Home Cinema experience. If you've got a Playbar, Playbase or Beam at the moment, maybe with a pair of Play:1s or Ones as rears, SUB will integrate seamlessly into this zone and provide the finishing touches you need for your content to sound as close to a cinema experience as possible.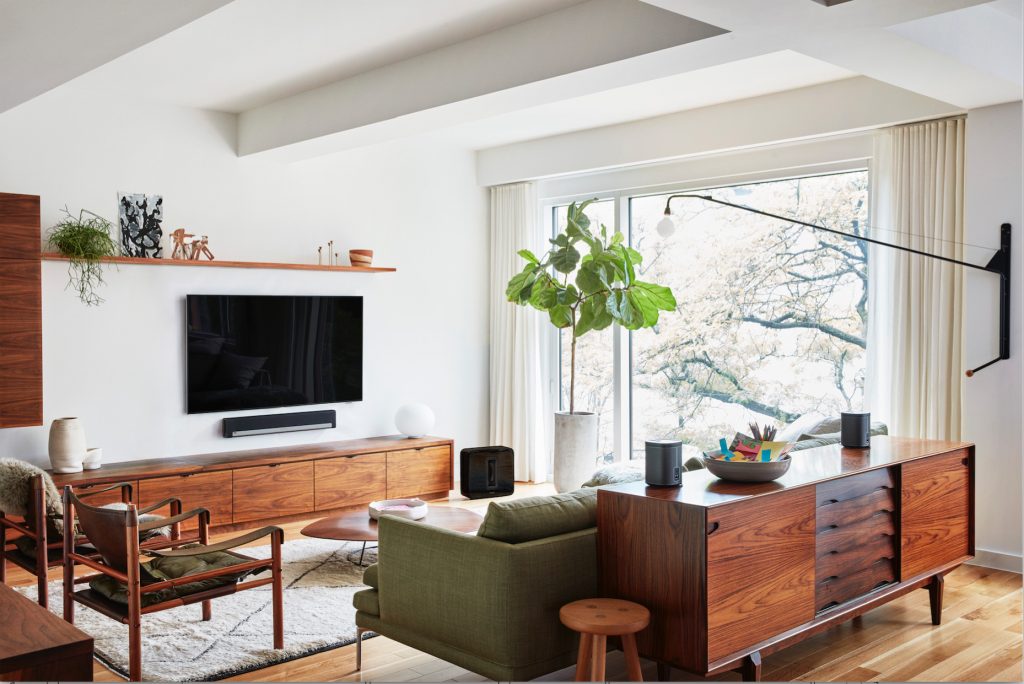 We are an honest retailer and would never want our customers to unnecessarily overspend. When we get asked this question, we say, 9 times out of 10, it's a bit overkill for most people. Unless, you are a passionate basshunter or like to throw many parties in a large area where you need killer sound, the PLAY:5s as a stereo pair would provide more than enough bass for most customers.
Sonos SUB has the added benefit of being non-directional meaning wherever or however you place the SUB in the room, has no impact on the resulting sound for that room. That means you have full flexibility to put it literally anywhere in the room, as long as it has enough clear space to push the air out from.
Most customers choose to position it standing upright on the floor, next to the TV but there is nothing stopping you from laying it flat underneath your sofa if you wanted to! Just make sure you don't hide it in an enclosed cabinet as this will limit its effect.
Sonos SUB is undoubtedly a very powerful piece of equipment which sometimes raises concerns for customers about noise, especially if it is going into an apartment. Our advice would be to try and position the unit near a wall where there are no adjoining properties to restrict the amount of bass that can be heard through the walls.
There are also settings in the Sonos app that let you adjust the volume of the SUB or apply Night Mode. This will reduce the impact of extremely low frequencies that penetrate through walls such as explosions or particularly bass-heavy parts of a track, so you don't wake the neighbours or the kids if you're listening at night.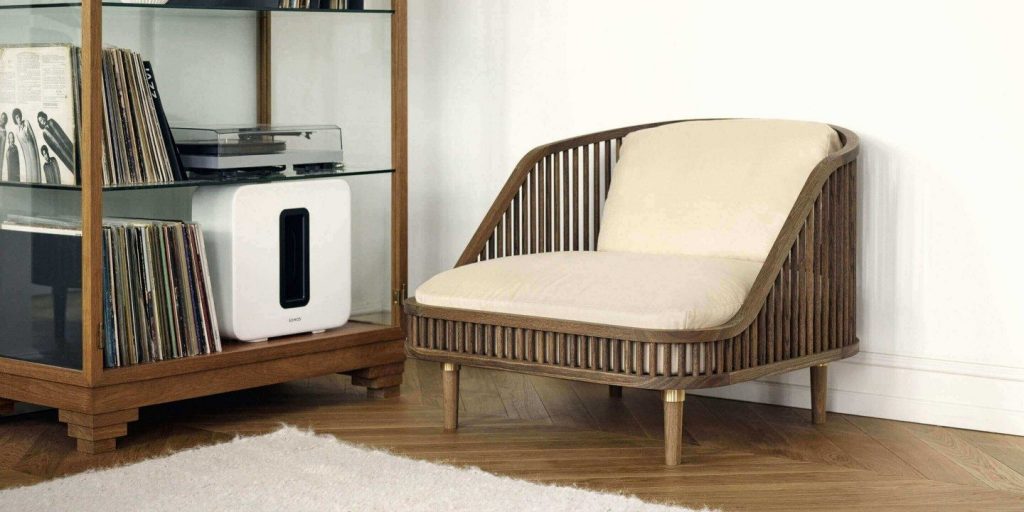 The difference you hear between a Sonos speaker with and without a SUB is drastic. Just have a read of some of the reviews of the SUB from our customers.
Granted, the SUB is £699, but it will continue to provide you with exceptional cinema-quality sound for many years to come. SUB will ensure you're getting the very best out of your Sonos speakers, and I can assure you, you won't be disappointed with what SUB can achieve.
Many customers start off with a PLAYBAR, PLAYBASE or Beam then add the SUB at a later date and round off the set up with two PLAY:1s or Ones as surround rears or vice versa. The good thing about Sonos is there is no pressure to buy all the equipment at once.
Take a look at a recent review from one of our SUB customers below:
"Yes it is expensive & yes it is a luxury item/purchase. I have been pondering buying one for a year plus now & watched the price dip, missed it, then climb.

Finally took the plunge, when they agreed to match the recent Sonos direct offer. Basically rolling the price back to where it was when I first started looking them. My word, what a piece of kit?

Makes an unbelievable difference to the sound! I thought the playbar was good, then couldn't believe the difference adding a pair of play 1's. But this is the tip of the iceberg. The depth the sub adds is immense if not incredible.

It truly can only be described as soul shaking. Anyone contemplating adding one on, don't delay, just do it; you won't regret the spend. Even if you don't have a 5.1 system for the TV, just the depth it adds to audio alone is worth it. I added mine to my bedroom play 3 when it first arrived, as the lounge wasn't ready (busy decorating) difference again beggers belief."
Why purchase your sub from smart home sounds?
Join thousands of customers signed up to our loyalty scheme, entitling them to exclusive discounts on their next Sonos purchase with us.
Talk to one of our friendly team today on 0800 677 1100, or read from our hundreds of 5* reviews
Of course, words will never be as effective as coming in and listening to it with your own ears. That's why we opened a dedicated Sonos listening pod in Cheltenham so you can come in and make your own mind up about it. Find out more about the pod here.
About Smart Home Sounds
Smart Home Sounds is a UK Sonos specialist. We provide expert advice on the full Sonos range, from a single Sonos One to a full Sonos surround system with PLAYBAR, SUB, and PLAY:1's. In addition to being Sonos experts, we offer an extended 6-year warranty on all Sonos products as standard, for your peace of mind. We don't charge a penny for next day or weekend delivery and offer interest-free pay monthly options and a rewarding loyalty scheme. Talk to one of our friendly advisors today to find out more.