Is the Sonos Sub worth it? | In-depth review
Is the Sonos Sub right for you?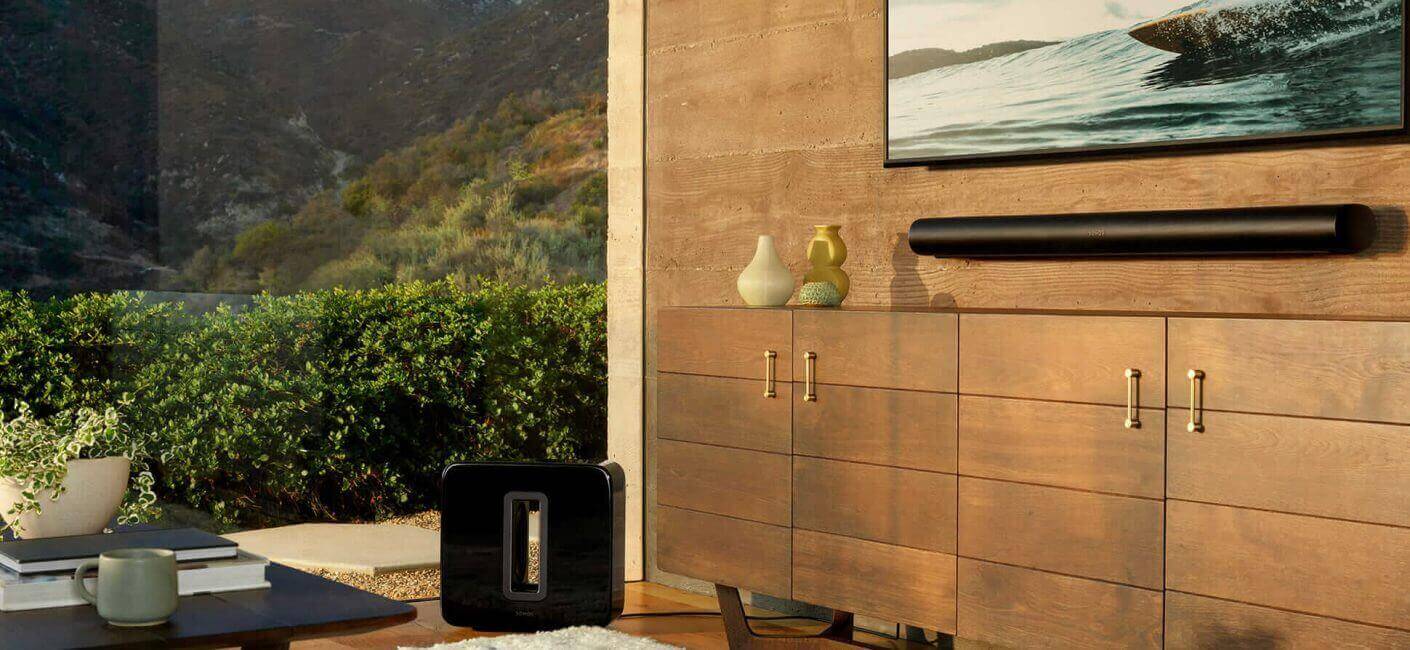 The sonos sub wireless subwoofer is Everything you expect from a home cinema experience and more
Sonos Sub Gen 3. An impressive piece of kit, but at a price tag of £699, you may be wondering if it's truly worth it and rightly so.
In this blog, we explore some of Sonos Sub Gen 3's best and worst features and ultimately tackle the question whether it's right for you or watch our Sub review below!
Sonos Sub is a wireless subwoofer that handles all the lower frequencies of your audio content, commonly known as bass. Bass is arguably one of the most important elements of a track because a track without bass would lack life and sound a bit flat.
Bass plays a large responsibility in getting those feet tapping, heads bopping and dancefloors filling! Read more about how science can explain why we love bass.
The Sub comes in the form of an aesthetically-pleasing box shape with an opening in the centre of the unit, which passes air out of the enclosure, so you'll be able to 'feel' the bass, not just hear it.
Achieving frequencies as low as 25Hz, the Sub offers deep, rich bass and can really bring your content to life.
Older subwoofers have been known for taking up large amounts of space in the living room, with wires running everywhere, not to mention potentially producing vibration and rattling if touched.
A good perk about the Sub is that it's face-to-face drivers cancel out all vibration so there's zero cabinet rattle. And it's so easy to set up - simply plug it into power and pair wirelessly with any Sonos speaker.
Now we are in the Sonos Sub gen 3 phase, its looks have also been slightly updated.
Sub comes in two colour choices: gloss black or white. Cosmetic changes to the second generation come in the form of a flushed black or white colour throughout, a more discreet Sonos logo and a more ergonomic power cord.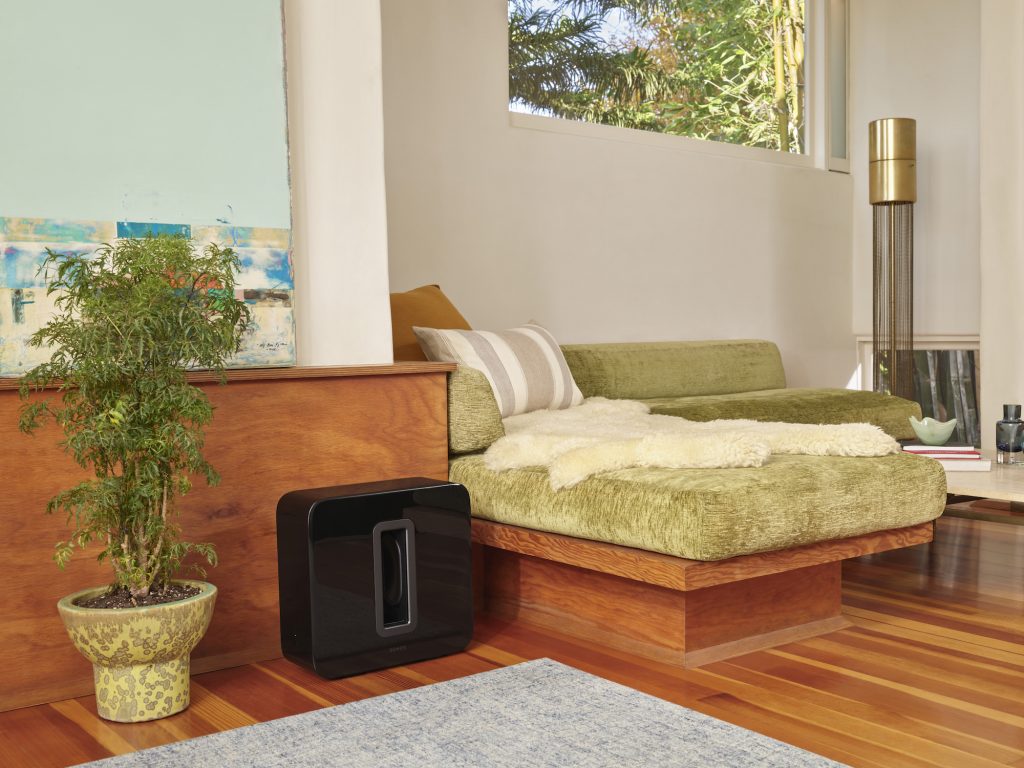 It's very easy to add the Sonos Sub to any existing Sonos speaker. Simply power the Sub up and then open the Sonos App. From the App, simply select add a new speaker and you will be done in a few minutes.
As mentioned previously, the Sub will pair with any Sonos speaker you own but it pays to be smart about which speakers you pair it with. 
A stereo pair of Sonos Ones or One SLs - A pair of Sonos Ones or One SLs is one of our most popular purchase choices due to them being so versatile, affordable and maintaining surprisingly powerful sound. However, the smaller physical size of the speaker comes at a cost to the bass response.
Adding a Sub to this set up produces one of the highest levels of difference and your music will thank you for it.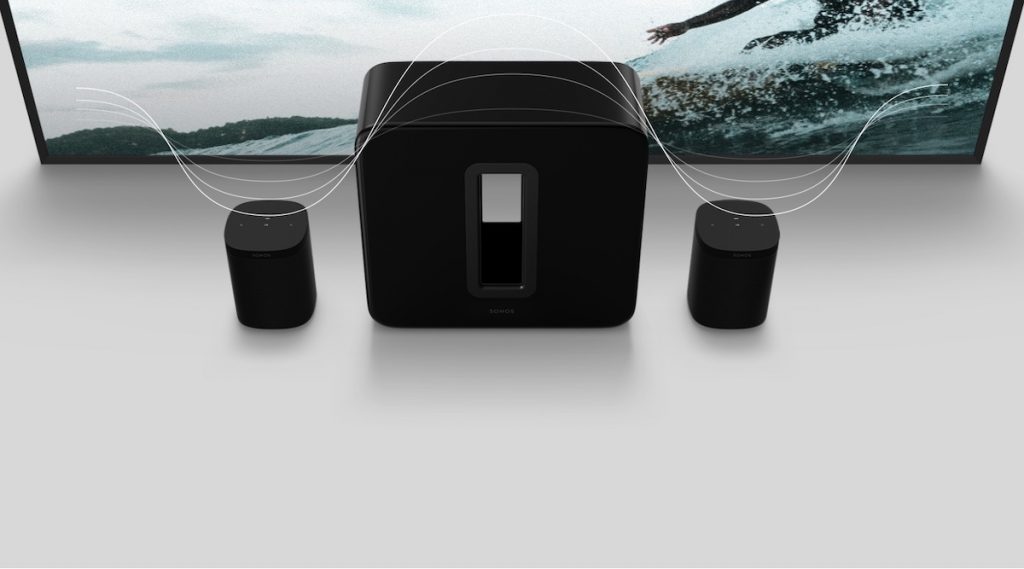 Sonos Arc & Beam - Sonos Sub works perfectly with these soundbars. Due to them both being physically wider speakers, the soundstage is naturally better than what you'd find in a Sonos One, Move or Five. Couple this with the extra layer of boom you get from Sonos Sub and you're on to a winner.
This is hands down one of the best combinations you will hear and is perfect for music or TV/films alike. 
Finishing off a Sonos Home Cinema - Sub provides the final 0.1 in the Sonos 5.1 Home Cinema experience. If you've got a Sonos Arc or Beam, maybe with a pair of Ones or One SLs as rears, Sub will integrate seamlessly into this zone and provide the finishing touches you need for your content to sound as close to a cinema experience as possible.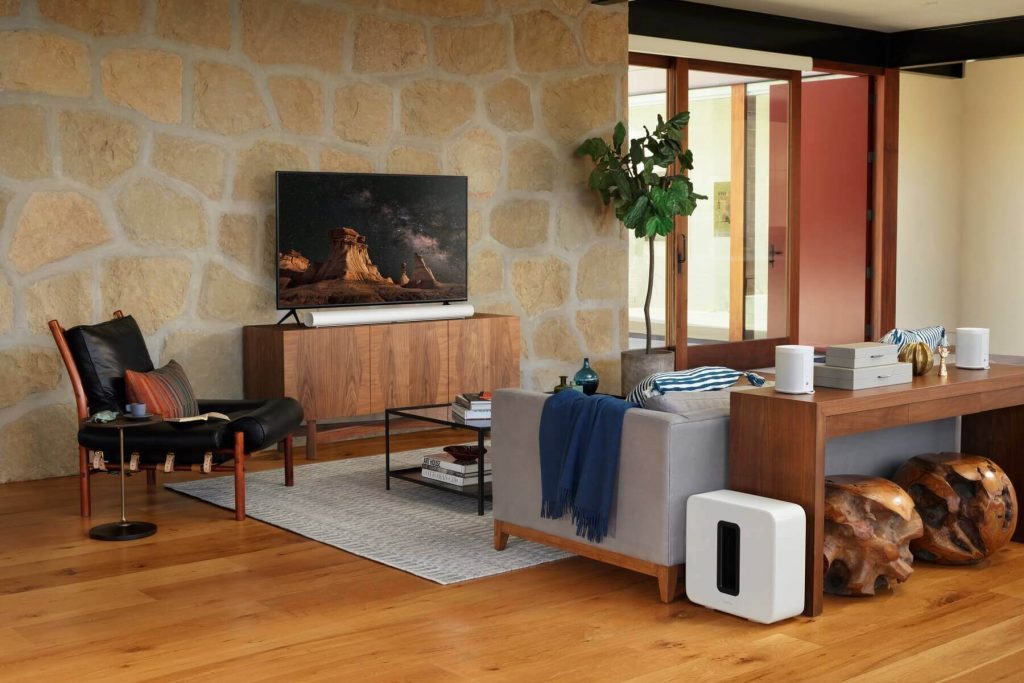 This would create a very powerful set up, especially if you had a stereo pair of Sonos Fives. We are talking enough to have a major party with high volume levels in your living room.
However, 9 times out of 10, the Sonos Five can hold its own and would not usually require a Sub unless you would like to throw some serious parties in a large area.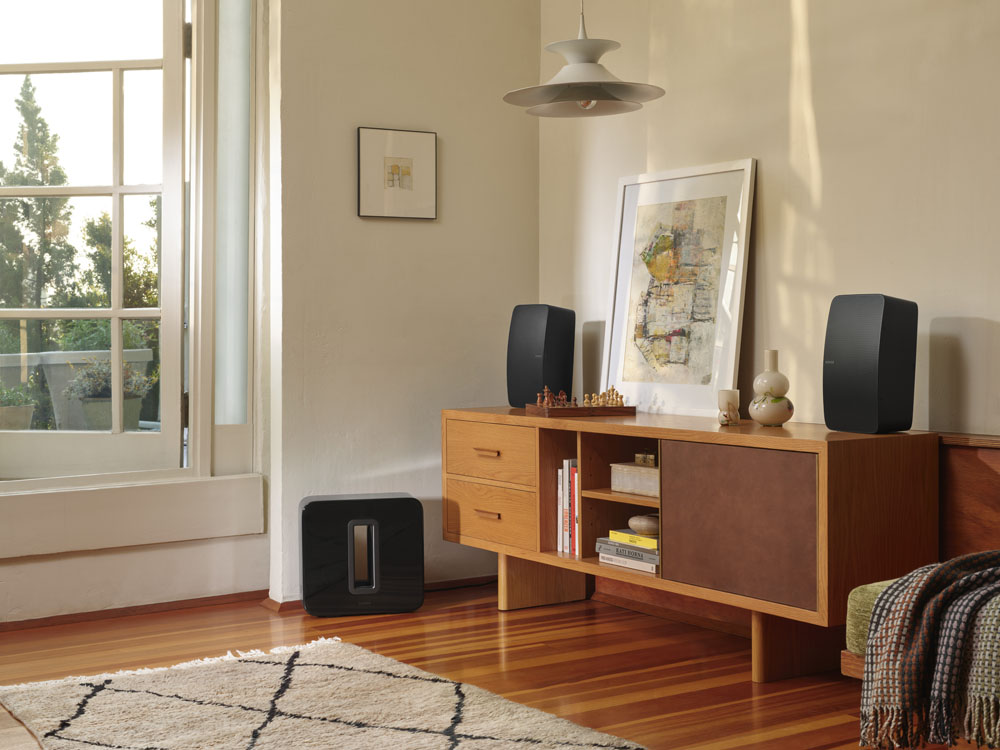 Sonos Sub has the added benefit of being non-directional meaning wherever or however you place the Sub in the room, has no impact on the resulting sound for that room.
That means you have full flexibility to put it literally anywhere in the room, as long as it has enough clear space to push the air out from.
Most customers choose to position it standing upright on the floor, next to the TV but there is nothing stopping you from laying it flat underneath your sofa if you wanted to!
Just make sure you don't hide it in an enclosed cabinet as this will limit its effect.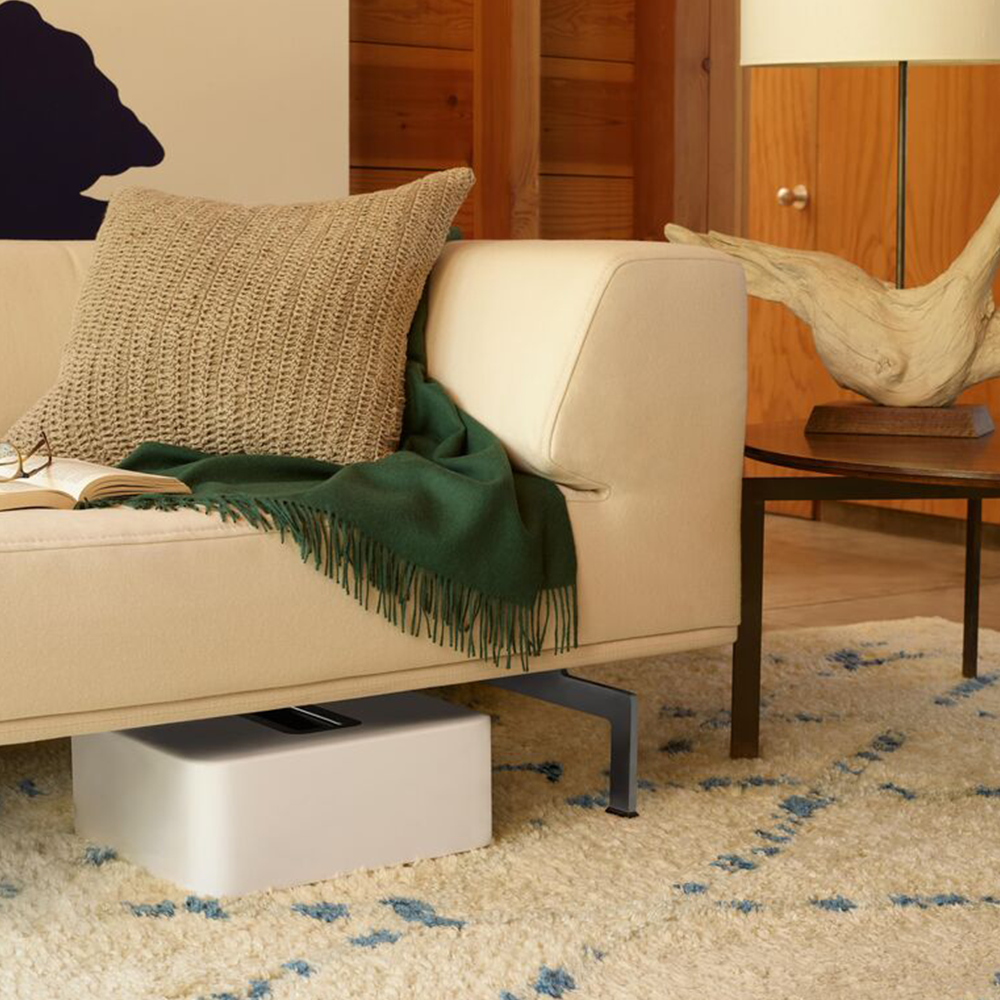 There is even a wall mount for the Sub if you can't find the floor space, manufactured by our friends at Flexson.
Sonos Sub is undoubtedly a very powerful piece of equipment which sometimes raises concerns for customers about noise, especially if it is going into an apartment.
Our advice would be to try and position the unit near a wall where there are no adjoining properties to restrict the amount of bass that can be heard through the walls.
There are also settings in the Sonos app that let you adjust the volume of the Sub itself or apply Night Mode.
This will reduce the impact of extremely low frequencies that penetrate through walls such as explosions or particularly bass-heavy parts of a track, so you don't wake the neighbours or the kids if you're listening at night.
You can also calibrate your Sonos Sub to your room in the initial set up. Using test tones, you can increase or decrease the "boom" of your Sub on a scale from -3 to +3.
This is particularly useful if your Sub will be positioned in the corner of the room or in a slightly awkward place.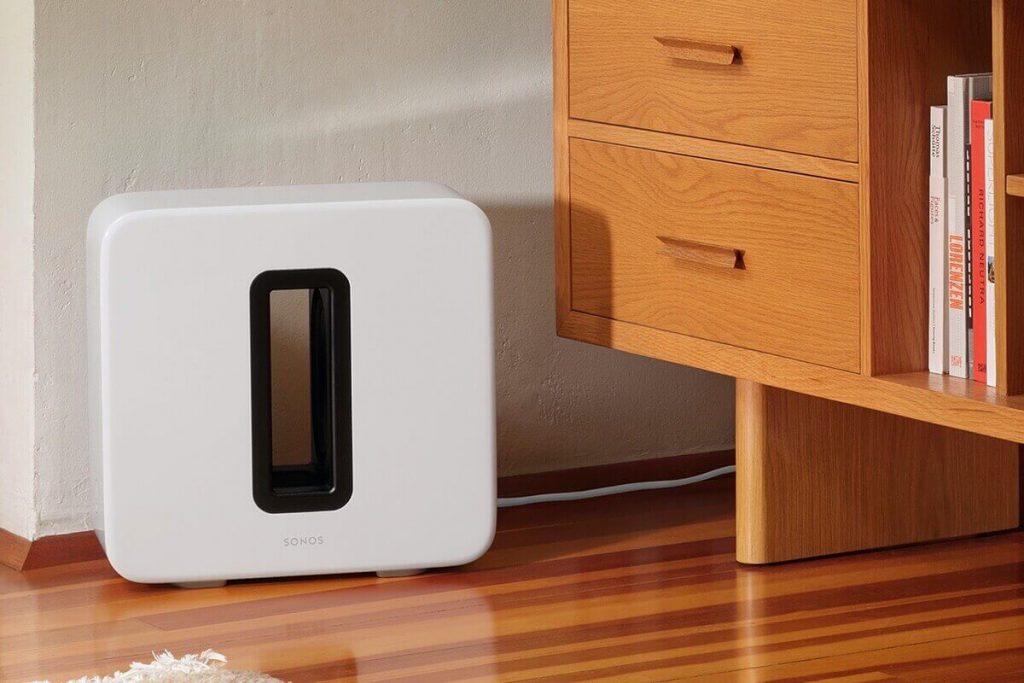 The difference you hear between a Sonos speaker with and without a Sub is undoubtedly drastic. Just have a read of some of the reviews of the Sub from our customers.
However, the price of the Sub being £699 is enough to put some people off, especially considering the Sonos Beam soundbar is £399.
If you have the budget and the space for it, it's definitely an investment in your audio and if you're looking to take your set up to the next level, this will do it.
The good thing about the Sonos system is there is no pressure to buy all the equipment at once as it is very easy to build a complete system in your own time.
Many customers start off with a Beam or Arc then add the Sub at a later date and round off the set up with two Ones or One SLs as surround rears or vice versa.
Take a look at a recent review from one of our Sonos subwoofer customers below:

Are you ready to take the plunge?
At Smart Home Sounds, we offer a 6 year warranty with all of our Sonos products as well as free next day delivery and access to our VIP loyalty scheme where you can unlock special discounts on your future purchases with us.
If you don't want to pay the whole £699 upfront, we also offer a pay monthly scheme where you can spread the payments up to 12 months, interest-free.
Find out more about our pay monthly scheme >>
---
Of course, words will never be as effective as coming in and listening to it with your own ears. That's why we opened a dedicated Sonos listening pod in Cheltenham so you can come in and make your own mind up about it. Find out more about the pod here.
About Smart Home Sounds
Smart Home Sounds is a UK Sonos specialist. We provide expert advice on the full Sonos range, from a single Sonos One to a full Sonos surround system with Beam, SUB, and PLAY:1's. In addition to being Sonos experts, we offer an extended 6-year warranty on all Sonos products as standard, for your peace of mind. We don't charge a penny for next day or weekend delivery and offer interest-free pay monthly options and a rewarding loyalty scheme. Talk to one of our friendly advisors today to find out more.