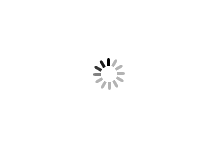 Two rooms of music or pair two together to create a stereo pair. Alternatively, use as rear surrounds with a PLAYBAR or PLAYBASE.
More details
Spend £11.00 more to qualify for payment by interest free finance.
Smart Home Sounds Promise
Lowest price promise. Seen a better price?
2 x Sonos One Bundle Pack
Sonos One blends great sound with Amazon Alexa, the easy-to-use voice service, for hands-free control of your music and more. Use your voice to play songs while you cook. Tell Alexa to turn up the volume while you're in the shower. Or even request a lullaby when you're tucking the kids into bed.
Since Alexa responds to any voice, anyone in your home can take control of the music. Kids can call out their favourite sing-alongs. Friends can skip or replay tracks, and adjust audio settings. All without accessing an app. Party guests can request their favourite songs in real-time. No matter who says it, Sonos plays it.
Start and control your music with your voice. Amazon Alexa, built-in.

Play songs, check news and traffic, manage smart devices and enjoy all those other helpful Amazon Alexa skills using a single Sonos speaker.

Combine your voice with the Sonos app to manage all your music in one place: Amazon Music, Spotify, Apple Music, internet radio and many other streaming services.

Connect wirelessly with other Sonos Home Sound System speakers to play music in any or every room.

Seamless all-black or all-white colour with smooth matte finish for a look that fits in any home.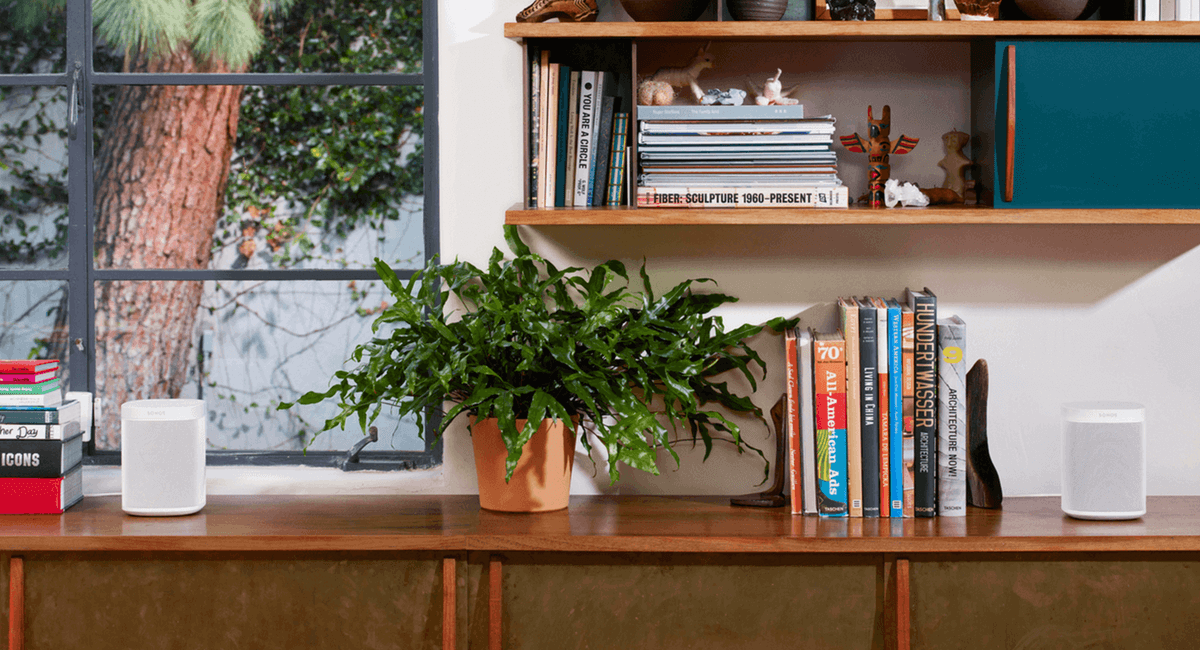 MUSIC CONTROL + EVERYTHING THAT ALEXA DOES
Play albums, check news and traffic, manage smart devices and enjoy all those other helpful Amazon Alexa skills using a single Sonos speaker.
CONTROL ANY WAY YOU WANT
Sonos One seamlessly syncs voice, app, and touch commands, enabling you to manage music with a single word, tap of the app, or swipe on the speaker touch panel. Combine voice control with the Sonos app to manage all your music in one place.
COMPLETE PRIVACY
An illuminated LED indicator light makes sure you always know when your speaker's microphone is active or turned off. Sonos One is designed with extra security: the hard-wired LED connection ensures no-one is listening when you want privacy.
CUSTOM MICROPHONE ARRAY
Sonos One is built with a custom six-microphone array to hear you from anywhere in the room, no matter how loud the music is playing. With smart voice capture and noise cancellation, the Sonos One makes sure you're heard.
RESPONSIVE AUDIO CHIME
Alexa produces an audio chime to let you know that Sonos One has heard you and is
working on a response.
PROVEN DESIGN
Built on the mini-but-mighty blueprints of PLAY:1, Sonos One is backed by a pair of Class-D amplifiers and custom-built drivers are perfectly tuned to the speaker's unique acoustic architecture.
TOUCH CONTROLS
Tap to turn up the volume. Swipe to skip a track. Mute the microphone for privacy. Sonos One's touch controls are always a tap away.
TRUEPLAY SPEAKER TUNING
Trueplay fine-tunes Sonos One to ensure you get the very best sound in any room, no matter where you put it.
MULTI-ROOM LISTENING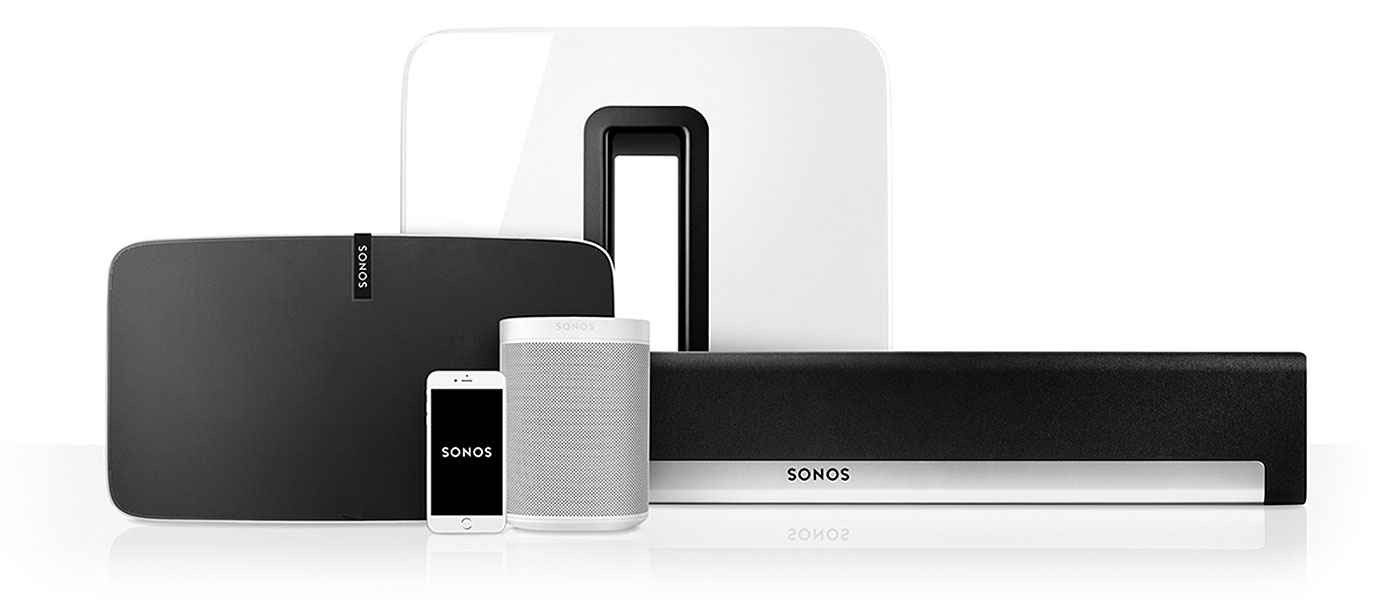 Sonos One wirelessly connects to Sonos speakers in additional rooms, allowing you to expand your home sound system when you're ready.
SEAMLESS DESIGN
Seamless all-black or all-white colour, smooth matte finish, and durable metal grille for an appearance that fits in any home.
STEREO SOUND OR HOME CINEMA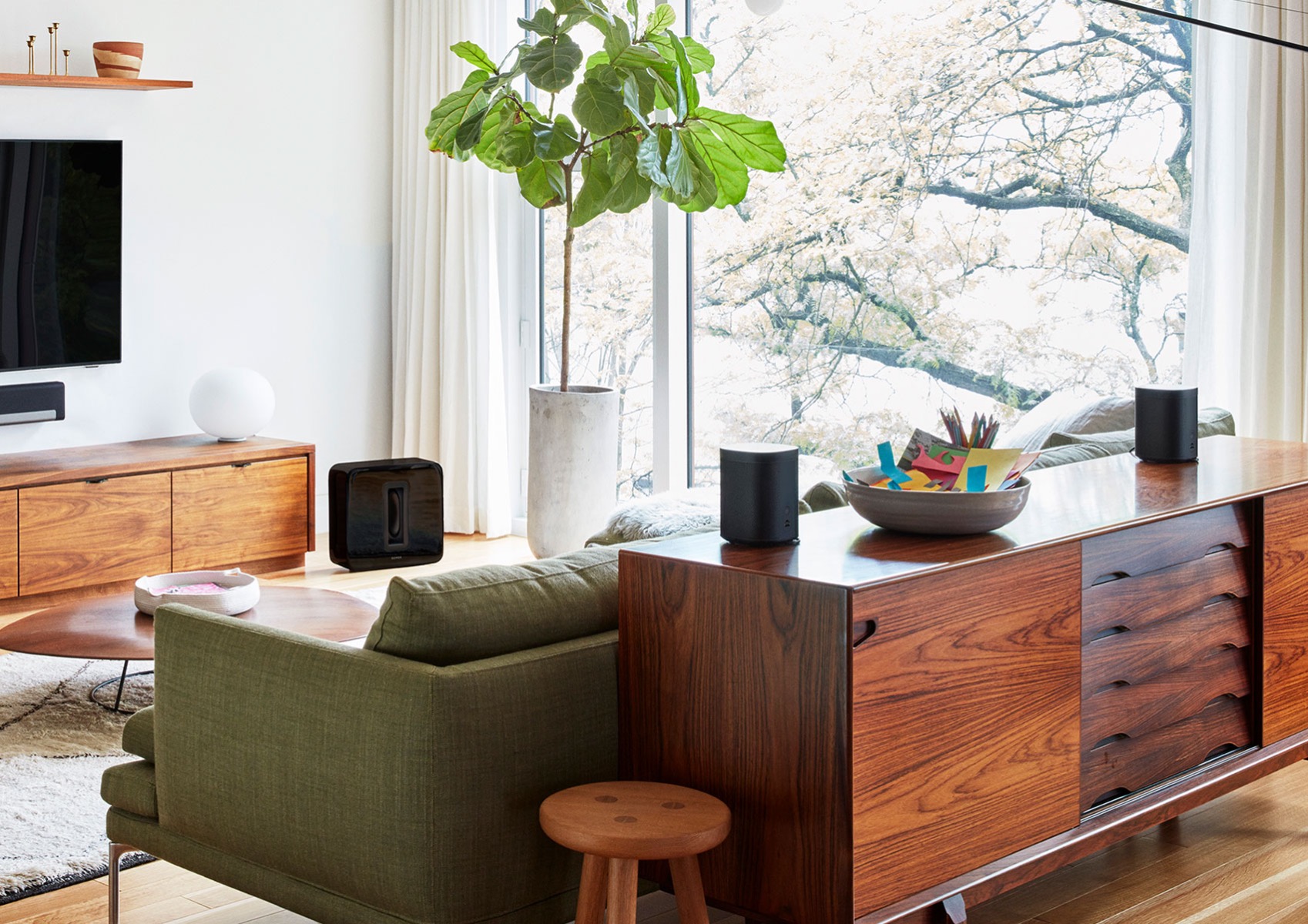 Pair two Sonos Ones together in the same room for instant stereo sound. Add a SUB for deeper bass. Or pair with your TV's Beam, PLAYBAR or PLAYBASE for epic home cinema surround sound.
More Information

| | |
| --- | --- |
| Weight (Kg) | 5.0000 |
| Brand | Sonos |
| Warranty | 6 |
| Width | 119.7mm |
| Height | 161.45mm |
| Depth | 119.7mm |
| In the box | Sonos One, power cord, flat Ethernet cable, Sonos One QuickStart Guide, and Legal/Warranty information. |
| Finish | White with white matte grille; black with black matte grille. |
| Connectivity | WiFi, not Bluetooth Connects to your home WiFi network with any 802.11b/g, 2.4 GHz broadcast-capable router for uninterrupted wireless streaming. |
| Networking | One 10/100 Mbps Ethernet port. Wire directly to your router to operate your Sonos if WiFi is unstable, or use the Ethernet port to provide Internet accessibility to non-wireless devices if you're using BOOST setup. |
| Microphone array | Six far-field microphone array, used for advanced beamforming and echo cancellation. |
| Top-panel | Capacitive touch control for volume up/down, previous/next track, play/pause, microphone mute. LED indicates status, mute status and voice feedback. |
| Privacy | Complete Privacy Two built-in microphones to enable future enhancements of Trueplay tuning. |
Purchased a pair of Sonos One's to provide cover throughout the house and I am not disappointed. Sleek looking speakers with superb sound quality. The associated Sonos app also complements the set up being very user friendly. 10 out of 10!
Sound quality very good however difficulty in getting Alexa working properly; only works on one of the two speakers.
Hefty items in small packages, with a heavy sound to boot. Alexa functionality is great - please look on Sonos site to get the most of them.
My sonos one's are now paired with my sonos beam and sound great, in fact I doubt I actually need the woofer.
I bought these as a present for my other half, he was shocked and surprised. As he's quite fussy with sound quality I was worried that they wouldn't be very impressed. Needless to say, he was very impressed, absolutely loves them and the pairing in stereo function. There was a bit of an iffy moment when trying to use spotify through Alexa, but you can set it as your primary music source which irons out any kinks. All in all, he's in love with them and I have a lot more free time on my hands as he spends all his time playing with them!!
The sonos one speaker have brilliant sound and I can play all my music service on them and the Alex voice service helps to use them with out needing to get your phone out all the time only problem is they do not always hear you but after the beta program finishes I think they will have sorted this out thanks smart Home sounds