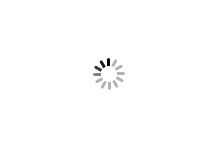 Sonos Beam
Compact Smart Soundbar with Voice Control
The smart, compact 3-in-1 TV speaker the whole family can enjoy. Now available.
More Details
0% Finance: Spend £1.00 more to qualify.

Lowest price promise. Seen it cheaper?
Sonos Beam
The Smart soundbar to Enhance your TV Audio
The Sonos Beam brings all of your audio content to life, whether that's your favourite music, TV shows, movies, games, audiobooks and more – with the bonus of Sonos' heritage sound quality. Combine this with four different types of control, this is Sonos' most advanced and most ambitious Soundbar at an affordable price point.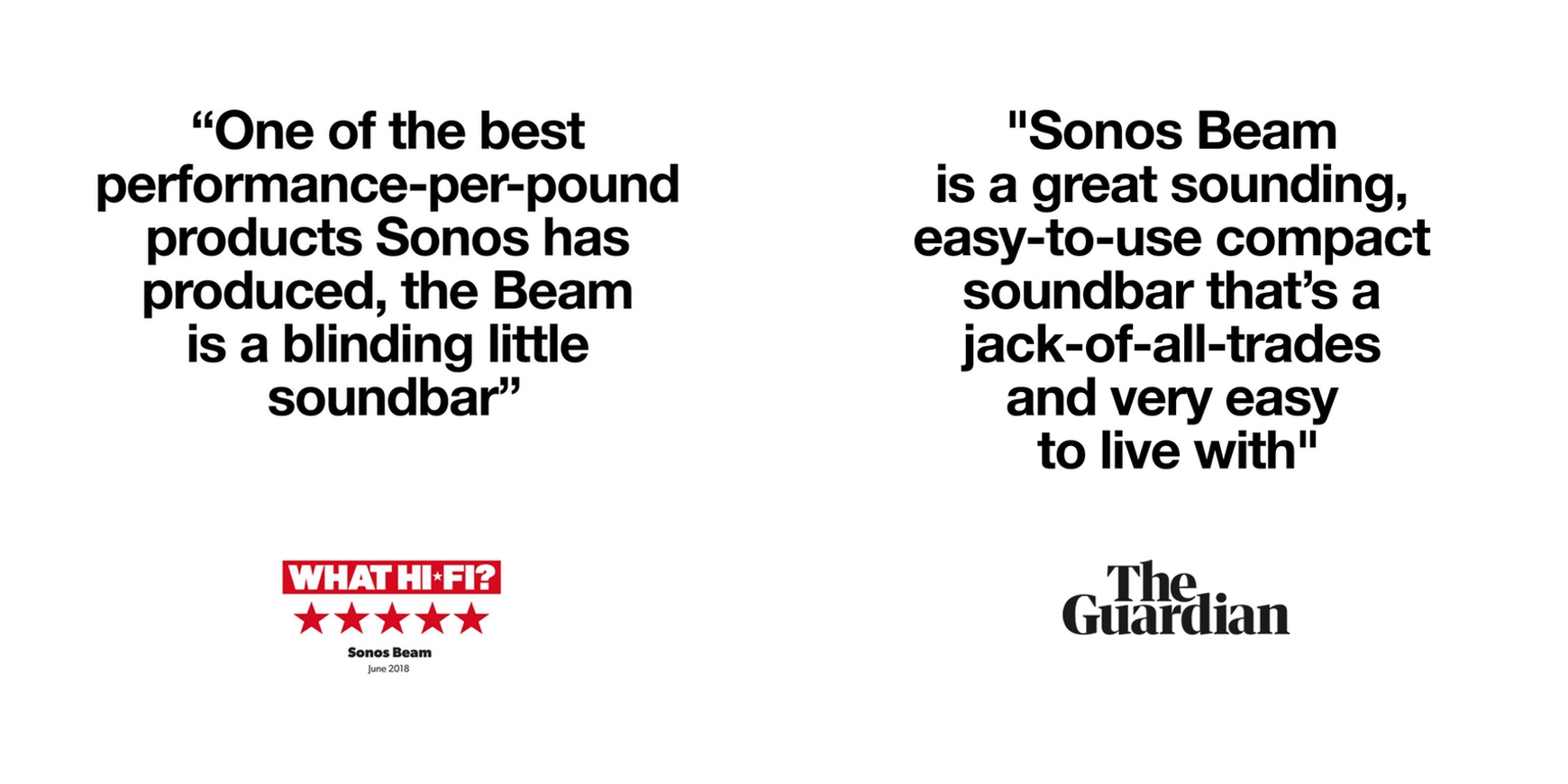 Listen to music, TV, movies and more – all from a single, compact speaker
The Beam is simplistic in design but not in performance. Not only does it dramatically enhance the sound from your TV content, the Sonos ecosystem is well established as one of the best on the market. With quick access to your own music library and over 50 streaming music services available through the Sonos app, the Beam gives you limitless choice with what you'd like to stream.
Engaging, cinema-quality sound
With four full-range drivers and a tweeter, the Beam emits a crystal clear sound. The nature of the speaker's design also pushes the sound wider, giving you a soundstage that carries further and fills more of the room. To make sure that action-intense movies provide 'edge of the seat' thrills they are produced for, three passive radiators supercharges the bass so it's always there when it's needed.
Award-winning voice control – just ask Alexa
Ask Alexa to search for any artist or song, playlist or music that Alexa think you might like based on your listening history and playlists. With five, far-field microphones built-in, Beam can hear your commands from the opposite side of the room, even when the music is playing loud.
Control much more
Play songs, check news and traffic, manage smart home devices and enjoy all of the Alexa skills as they are added over time on your Beam. The Beam will get smarter over time and there is no need to replace the product every few years.
Manage your privacy easily
Sonos respects that privacy is paramount. For this reason, when the microphone LED is on, Alexa is ready for voice commands. When the light is off, the microphone is disabled and all power is cut to the microphone.
Easy setup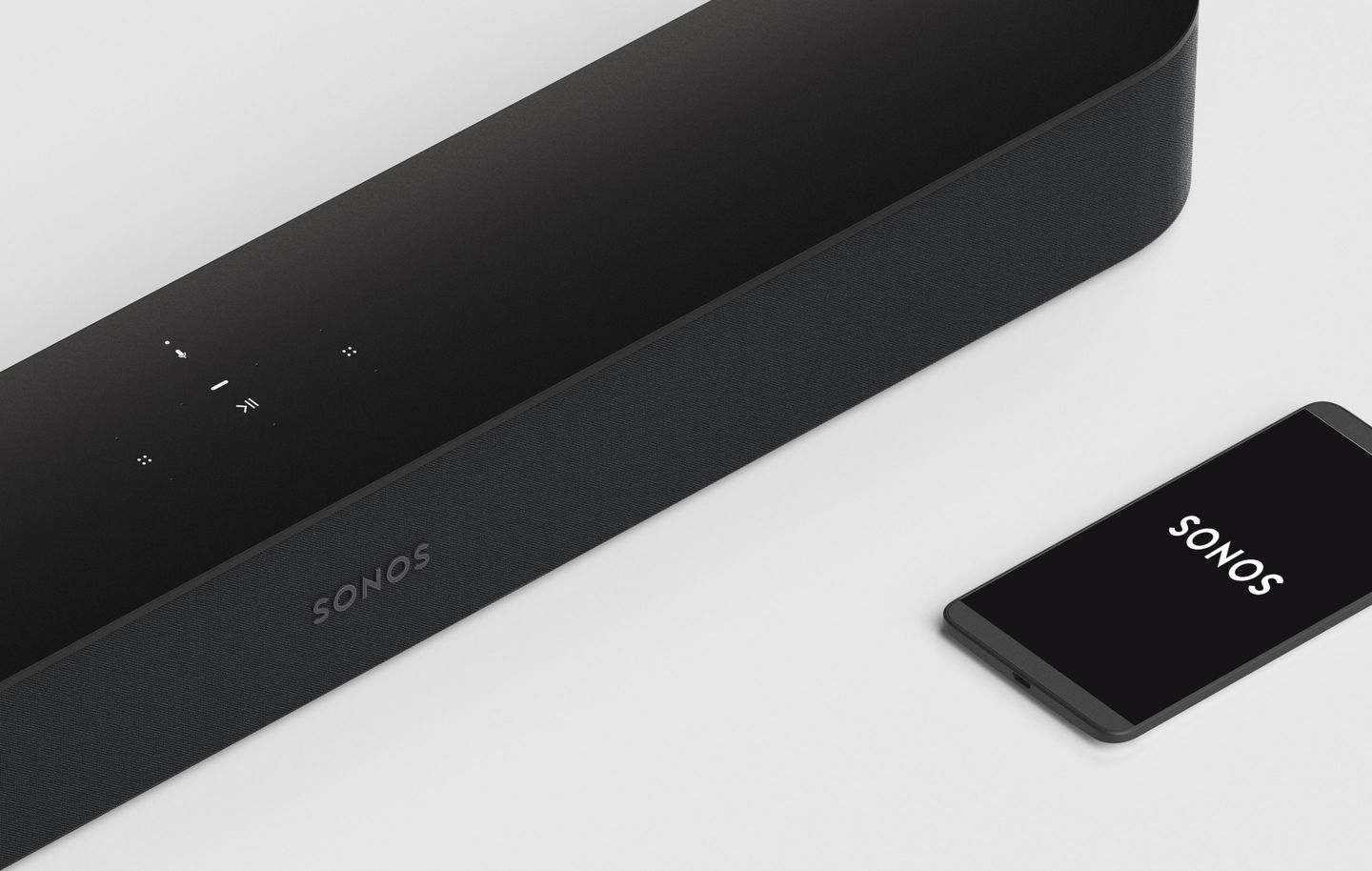 Adding the Beam to your system is easy. Simply connect to the mains then plug in your TV via HDMI-ARC. In contrast to more traditional home cinemas, you save on wires and also set up time.
Compact size to fit any room
At just 651mm wide, the Sonos Beam can fit snug in spaces where ordinary soundbars won't fit. Slim height and depth dimensions also make the Beam visually and physically unobtrusive, making you focus on the TV content you're watching, not on the speaker.
The wireless home sound system that gets better over time.


Easily expand your Sonos network by adding speakers to different rooms wirelessly to create a home sound system that brings every room and everyone closer together. Regular software updates means your product is constantly improving and striving to be better.
Add surround sound without wires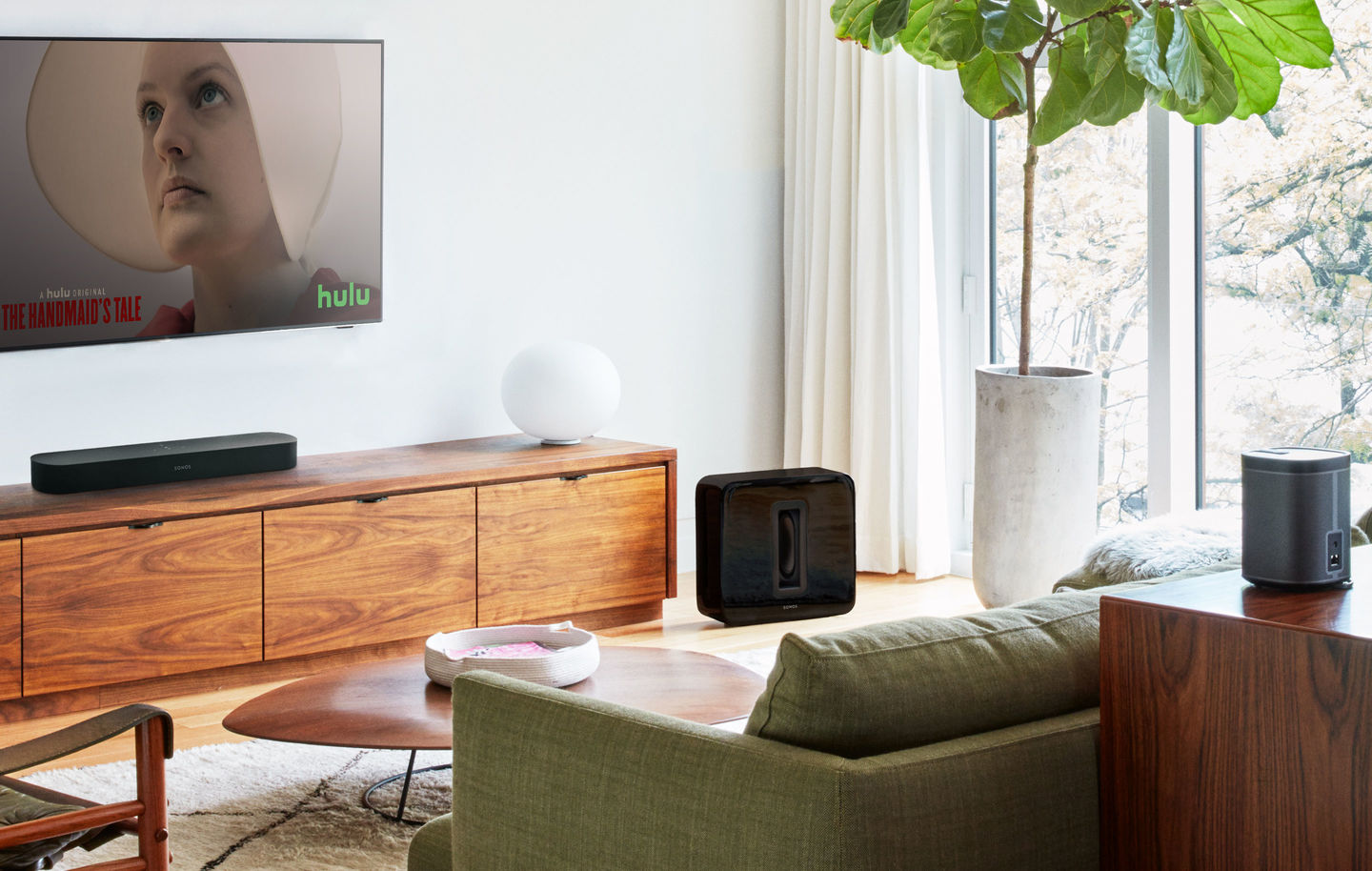 The Beam is capable of performing as part of a full 5.1 wireless home cinema system when you wirelessly add a pair of rear speakers and a Sub. Please see our Beam 5.1 surround sound package
Find out More...
10 Cool Features about the Sonos Beam you'll Love>>
Which Sonos TV Speaker is right for me?>>
More Information

| | |
| --- | --- |
| Product Subheading | Compact Smart Soundbar with Voice Control |
| Weight (Kg) | 2.8000 |
| Brand | Sonos |
| Manufacturer | Sonos |
| Warranty | 6 Years |
| Width | 651mm |
| Height | 68.5mm |
| Depth | 100mm |
| In the box | Sonos Beam, power cord, HDMI cable, Optical Audio Adapter, Sonos Beam QuickStart Guide and Legal/Warranty information. |
| Cable Length | 1.5 meter HDMI cable - 1 Power Cord - 2 meter |
| Connectivity | Connects to your home WiFi network with any 802.11b/g, 2.4 GHz broadcast-capable router for uninterrupted wireless streaming. Connects directly via rear surrounds or Sonos Sub to 5 GHz broadcast. |
| Networking | One 10/100 Mbps Ethernet port. Wire directly to your router to operate your Sonos if WiFi is unstable. |
| Top-panel | Capacitive touch control for volume up/down, previous/next track, play/pause, microphone mute. LED indicates status, mute status and voice feedback. |
| Digital Assistant | Amazon Alexa, Google Assistant |
| Music connectivity | Airplay 2, Spotify Connect |
At Smart Home Sounds we pride ourselves on customer satisfaction and want our customers to be 100% happy with their purchase.
We offer 30-day hassle-free returns and personalised service from real live people. If an item doesn't meet your expectations, simply return your item to us in its original condition and packaging within 30 days for a full refund or exchange.
Want to return a faulty or damaged product? Don't worry Smart Home sounds will arrange a collection or exchange should this be necessary.
Nice piece of kit, looks and sounds great. Setup not as easy as expected with Panasonic TV and Netflix but sorted in the end.
Excellent service, arrived the next day as promised, guarantee is great and the device is excellent too. All round very good service.
I was a little sceptical about purchasing the Sonos Beam but I'm very happy with the sound quality it produces. Far better than my Sky Soundbox
Purchased the Sonos Beam along with 2 x Sonos One (Gen 2) for a three rooms set up - great quality product and sound quality is excellent. Looking forward to expelling the system in future.
Having redecorated my living room and removed all the wires for the speakers. I wanted a sound bar that would do the job but it something huge which would be bigger than my existing tv and stand. I've always used an surround sound amplifier and speakers so I wasn't expecting this to be up to much in comparison. My wife always says how she doesn't get all this sound stuff. But I plugged the Sonos Beam in and although you really need some surround speakers, the sound was pretty good for such a small device. We sat down just to watch some normal tv and from that could still here things we hadn't noticed before. My wife actually commented that the sound was so much better. A few movies from Netflix and we were very impressed. It could maybe do with a bit more bass. But I can't fault it for price/features.
I am very pleasantly surprised and impressed with the overall quality of the Beam. The build quality is very high and gives confidence it will last. It seems expensive at first, but when you factor in all its features, the build quality, it's great sound quality and the way it can be the start of a multi room system I can happily recommend it. We effectively down graded from a top of the range Samsung sound bar and sub from a few years back. My partner was not over keen with the size of the bar and especially the sub which was massive. So we decided to compromise and purchased the Beam , our first Sonos item. I was not expecting any miracles from the Beam, but don't be fooled by the size, as the Beam produces a lovely, wide sound stage with surprising bass and power. One of the best features (apart from Alexa and Spotify integration) was the way it made speech sound so very clear! One of the problems with many sound bars is the way dialogue can disappear into the background, especially during action scenes. This never happens with the Beam. Dialogue is always clear and this is with the standard settings. I'm glad we bought the Beam and don't miss our larger and supposedly more powerful predecessor. This is my first Sonos purchase and quite likely not my last!
Better sound than I expected for a compact sound bar. Will add the Sonos one speakers as surrounds as soon as funds allow.
Absolutely awesome. High quality sound and plenty of it. We have one open plan living area, 8m x 10m. This fills the room. Very easy to set up and use. Alexa voice control is tremendous and the Alexa and Sonos apps work well. It's not often that I buy something which exceeds my expectations. This does.
Easy to install and teamed with two Sonos Ones the Sonos Beam gives excellent surround sound with downloaded or DVD movies.
Excellent product and very simple to install
A great performing compact sound bar with my 2 x sonos ones and sub I can't fault it easy to set up via the app great crystal clear sound alexa works great honestly can't fault it. It was a toss up between Bose 700 system with sub and this I listened to both before making a choice and I must say the sonos out performs the dose in every way also the bose is terrible to set up and the bose app in my opinion is useless.
Simply a wonderful box of sound and tricks!
Good sound quality like all sonos products
Excellent supplier. Quality of goods and service not to be faulted.
I purchased this item on the back of several recommendations from work colleagues and although I'm happy with everything I would be wary of buying this item if you don't have an ARC connection on your TV as this seems to be central to how the whole system works. Alexa seems to work ok, but I don't have a yardstick on which to measure this as it is the first device in my house that has this feature. The only thing I had trouble with was getting it to connect to my wifi network as the Sonos app wouldn't allow me to search for it until I'd switched on one of my other already connected Sonos devices. The other difficulty I had was that another one of my Hdmi devices was causing a conflict with connecting to my TV so had to disconnect everything to find the offending item!! Apart from this, all seems good.
Sounds good, Alexa not as forthcoming as a dot.
The sound from the Sonos Beam is excellent however if you are thinking of purchasing it, do some research as to whether your TV can pass through Dolby Digital mine doesn't. There are lots of issues with the ARC hdmi on numerous TV's mine is an older(!) 2015 Samsung - optical is a workaround but not satisfactory. Hopefully my next TV will solve any issues.
Love it, Easy setup, replaced my Play 3
Sounds better than i thought and alexa is very useful. Top marks.
This was set up on my Tv with 2 play 1 speakers. Very easy to set up straight out of the box. Once set up I spent a few minutes tuning and then refining the balance of the speakers in the room. What an amazing sound you get from this setup. I would've definite recommend the play bar especially paird with 2 play 1's, excellent purchase.
I live in a flat so have not fully tested its limits, but it was very easy to connect and setup. You have to download the Sonos app to do this and the Alexa app if you want to join any Alexa device to the Sonos. This only takes a few minutes and it tells you what you are required to do.
Best product ever . Amazing sounds . Very easy to set up .
Same review as previous item. 5 star service
A great addition to my sonos 3. Impressed. Fits neatly at thr front of my tv
Brilliant sound quality. Really easy to set up.
Note: I paired mine with 2 Sonos Ones as surround sound and cannot comment on the Beam when used by itself. The whole set-up however sounds incredible, speach comes from the beam in the centre of the TV but when watching action movies etc the surround sound just makes watching a film so much more enjoyable and intense! Love Sonos products and this is no different - brilliant sound, good bass, perfect for music and Alexa, especially if you have Philips Hue lights etc - just seamless!
Happy with Sonos Beam but wonder whether buying a Sonos One and a separate sound bar would have been the better option for the price.