Sonos Beam Gen 1 vs. Sonos Beam Gen 2: Is it worth the upgrade?
We cover the key differences between the Sonos Beam Gen 1 and Sonos Beam Gen 2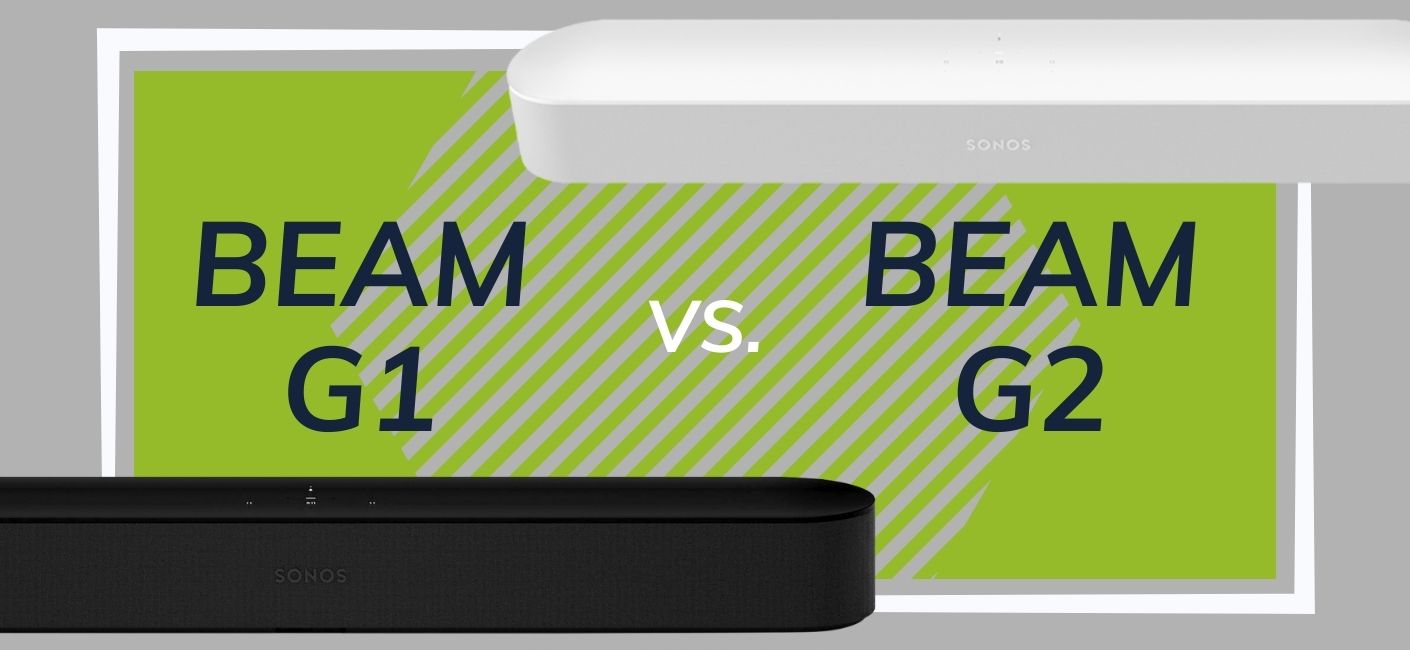 The Sonos Beam Gen 1 and Sonos Beam Gen 2: Your Questions Answered
Like many Sonos fans, we were excited to hear of the newly announced updates parcelled up in the Sonos Beam Gen 2 (RRP £449). One of our biggest questions about the new Beam was of course how it compares to the original Sonos Beam Gen 1 (RRP £399), so we've pitted these two products against each other to see what else you get for your money with this brand new iteration.
Article Breakdown
Sonos Beam G1 vs. Sonos Beam G2: The Key Differences
| | | |
| --- | --- | --- |
| Key Spec | Sonos Beam G1 | Sonos Beam G2 |
| Size | 651mm x 68.5mm x 100mm | 651mm x 69mm x 100mm |
| Price | £399 | £449 |
| Surround Sound Codec Supported | Dolby Digital 5.1 | Dolby Atmos |
| Internal Drivers | Four mid-woofers, one tweeter, 3 passive radiators | Four mid-woofers, one tweeter, 3 passive radiators |
| Speaker Arrays | 3 | 5 |
| Amazon Ultra HD | ✓ | ✓ |
| Dolby Atmos Music | ✖ | ✓ |
| Connection to TV | HDMI ARC | HDMI eARC |
| Speaker Grille | Fabric | Polycarbonate |
| Voice Assistant | Amazon Alexa or Google Assistant | Amazon Alexa or Google Assistant |
| Trueplay Tuning | ✓ | ✓ |
| Apple Airplay 2 | ✓ | ✓ |
| Spotify Connect | ✓ | ✓ |
What's the difference between Dolby Digital 5.1 and Dolby Atmos? 
Dolby Digital is the direct predecessor to the new Dolby Atmos format, offering a maximum of 5.1 surround sound channels compared to the 5.1.2 or 7.1 offered by Dolby Atmos. Both are surround sound codecs, but Dolby Atmos incorporates height and space channels that Dolby Digital cannot to make the overall listening experience more 3D and immersive. 
The best example of this would be a Helicopter or Aeroplane flying overhead on screen, through Dolby Digital this experience can only be replicated through front firing drivers in the Beam Gen 1. With the Dolby Atmos-enabled Beam Gen 2, you'll feel this sound as if it was coming from above you, making the audio experience truer to the director's intention.
Dolby Digital
Dolby Atmos

A speaker-based surround sound system, splitting audio between the maximum of 5 speaker channels to best represent movement and sound impact.
Content recorded in Dolby Digital 5.1 is the maximum surround sound that will be supported by a Dolby Digital soundbar. Any Dolby Atmos content being watched will be downgraded to 5.1 to be played on the Beam Gen 1.

A 3D, object-based surround sound system that utilises height channels and bases sound output on where the object (source of sound) is on screen.
Is still able to handle Dolby Digital 5.1, but gives you the possibility of Dolby Atmos surround sound when watching compatible content.
Adds height elements, so can better represent the sensation of something flying or moving overhead in comparison to standard Dolby Digital.
Is the flagship surround sound codec, so offers the best of the best for home cinema use.
How does the Beam Gen 2 support Dolby Atmos?
Both the Beam G1 and Beam G2 boast the same acoustic architecture, meaning they use the same four elliptical mid-woofers, one tweeter and three passive radiators to produce sound. This means that all the changes allowing Beam Gen 2 to handle Dolby Atmos surround sound are to do with its processor. 
Beam G2 has a 40% faster CPU than its predecessor and a five-channel array compared to the original Beam's three. This makes it capable of handling the additional height and space channels that are parcelled in with Dolby Atmos without needing an additional pair of upward-firing speaker drivers. Advanced audio processing localises, moves and best times specific sounds throughout the soundstage to offer a more lifelike audio experience.
Trueplay is particularly important for Dolby Atmos on the Beam as this allows Beam G2 to map the dimensions and features of your room, so that the internal processor knows how far to throw height and surround channels.
Do I need eARC to enjoy Dolby Atmos on the Beam Gen 2?
Sonos have said that in order to process Dolby Atmos and a variety of other audio formats (Dolby TrueHD, Dolby Atmos (True HD), Multichannel PCM and Dolby Multichannel PCM), your Beam Gen 2 needs to be connected to the TV's HDMI eARC connection point. Saying this, however, some later TV models with HDMI ARC are able to process Atmos information, so it would be worth checking with your supplier to see if your TV is capable.
The original Beam supported connection via Optical and HDMI ARC. Both of these connection options are still available through Beam Gen 2, but Optical will automatically rule out Atmos.
How have vocals changed?
One thing that surprised us during our testing was the increased clarity of vocal performance when comparing the Beam Gen 2 to the original Beam Gen 1. This does make a notable improvement as vocals are at the heart of storytelling in film and TV.
This new change doesn't overpower the rest of the performance but just adds an extra layer to your viewing experience even when watching standard Dolby Digital content.
Will I need a Sub and/or Rear Speakers?

Adding a Sonos Sub or rear speakers (e.g. Sonos One SLs) frees up the Beam Gen 2's internal processor to concentrate fully on height and space channels. The Beam Gen 2 will offer a great performance on it's own, but adding these extra pieces elevates your listening experience and allows the Beam to concentrate on what it does best. Your experience will be even more immersive with a Sub and/or Rears.
Does the Beam Gen 2 look the same as the Beam Gen 1?
Keeping the same slim 651mm-long profile and capacitive touch controls, it's difficult to see any difference between Gen 1 and Gen 2 at first glance. The only aesthetic change is the grille, seeing the original fabric cover replaced with a perforated polycarbonate the same as that used for the Sonos Arc. This makes the Beam Gen 2 feel even more premium, and makes it easier to dust or clean.
What has stayed the same?
Most press releases surrounding the new Beam G2 have focussed heavily on the new feature set it offers, but if you're looking to upgrade your Beam or expand your Sonos system, it's worth noting what's stayed the same. Much like the rest of the Sonos S2 system, you'll benefit from Airplay 2, Spotify Connect and Trueplay tuning; but below are some features specific to the Beam G1 that have been carried across to the new Beam G2:
✓ Same five internal drivers - Four mid-woofers & one tweeter along with 3 passive radiators. It's just the processor that has been changed allowing this acoustic infrastructure to handle Dolby Atmos 
✓ Voice Assistant - The same far-field microphone array has been built into Beam G2 to give you excellent microphone clarity over either Amazon Alexa or Google Assistant
✓ Speech Enhancement and Night Sound - You'll benefit from these in-app audio presets which raise the vocal volume or suppress louder sounds when needed on either Beam G1 or Beam G2.
✓ Simple Set-up - but NFC integration has made this even easier
✓ Amazon Ultra HD streaming - Technically this hasn't stayed the same as it's brand new for both Beam G1 and Beam G2, but Amazon Ultra HD lossless streaming up to 24-bit/ 48kHz can be accessed on both iterations.
Is it worth upgrading from Sonos Beam Gen 1 to Sonos Beam Gen 2?
The all-important question. It's hard to answer definitively due to the many different factors that shape whether someone may think the upgrade was necessary, but we've collected our thoughts below:
Worth the Upgrade to Beam Gen 2
Stick with Beam Gen 1

✓ You want to make the move into Dolby Atmos surround sound, but don't want to overpower a smaller room with the Sonos Arc

✓ You're interested in spatial audio and new Dolby Atmos Music which is only available on the Beam G2 and Arc

✓ Sonos don't suggest that an upgrade from the Beam Gen 1 is necessary, but if you wanted to expand your system into other rooms you could opt for the Beam Gen 2 in your most-used TV watching space, such as your lounge, and then move your Beam Gen 1 into a secondary space.

✖ TVs that don't support eARC or compatible HDMI ARC won't benefit from the move into Dolby Atmos. Particularly if the TV you have only supports standard Optical connection. 

✖ The TV content you enjoy at home is largely recorded in standard stereo or Dolby Digital. If you don't have the facility to play Dolby Atmos recorded content, there's no reason to upgrade to Beam Gen 2. 

✖ If you only have one TV or you have nowhere to put your original Beam, there's no need for upgrade!
We hope you've found this comparison helpful. If you're still unclear about whether the Sonos Beam Gen 2 is for you or wanted any more information, our friendly customer service team are on hand to help. You can reach us via the following channels:
| | |
| --- | --- |
| | info@smarthomesounds.co.uk |
| | Live Chat on our Website |
| | 0800 677 1100 |