Best TV Surround Sound Setups for Every Budget
Surround systems for all budgets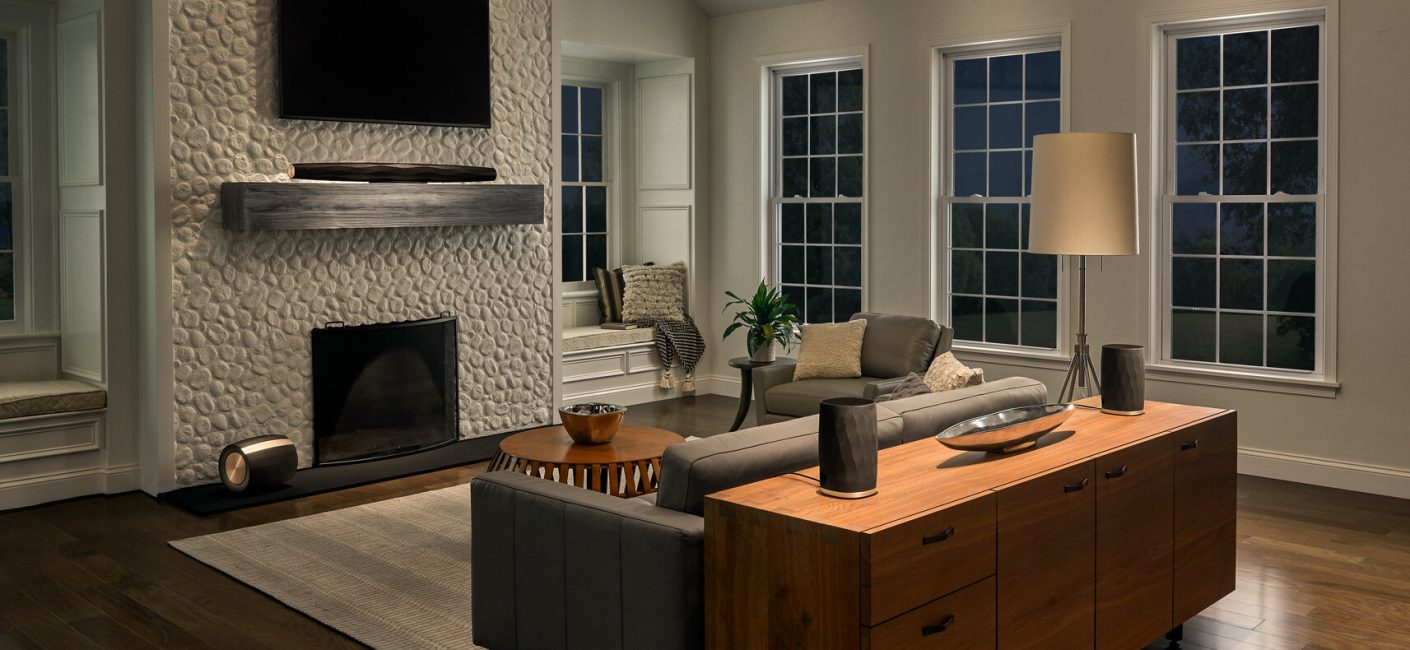 We make it easy to find the best surround sound set up for your budget
Choosing the right surround sound set up for your living room is not always an easy task.
You may have a fixed budget in mind but not sure exactly how to make this go as far as possible for your home cinema. 
This blog will provide some TV surround sound packages where all items included work wonderfully together.
We have endeavoured to keep within specific budgets from value to high-performance solutions but, please check our Sonos bundles page for the most up to date pricing.
Best surround sound set up for £500
Sonos Beam - £399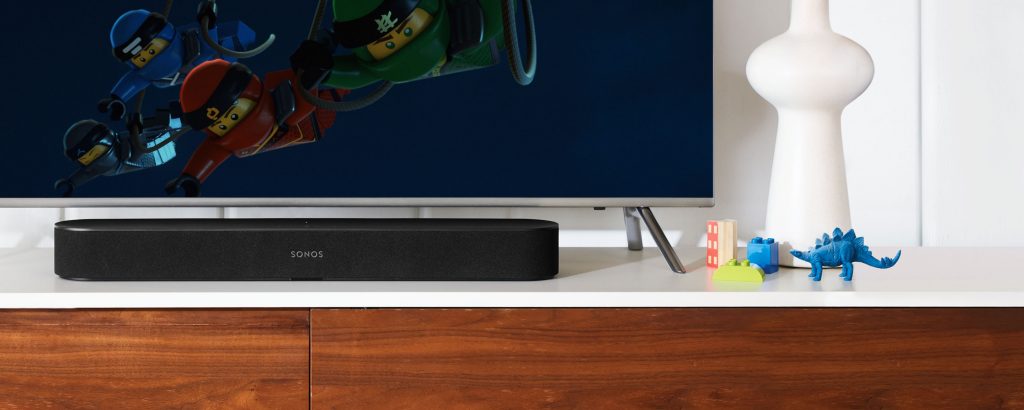 This set up is actually £399 so well within the £500 budget. It's the WhatHiFi award-winning Sonos Beam smart soundbar which provides the front centre, left and right channels in a 5.1 set up.
It comes with Amazon Alexa and Google Assistant on board so you can use your voice to complete any skills you like, whether that's turning the TV on or playing your favourite playlist.
What we love most about this soundbar is that it will grow smarter over time with the latest software updates. 
The Beam is a great starting point if you're looking to supercharge your TV audio but not quite ready to invest in subwoofers and surround speakers just yet.
These can always be added at a later date, easily through the Sonos app.
Is the Sonos Beam the best soundbar under £500? Review >>
Best surround sound set up for £750
Sonos Beam & 2 x One SL - £757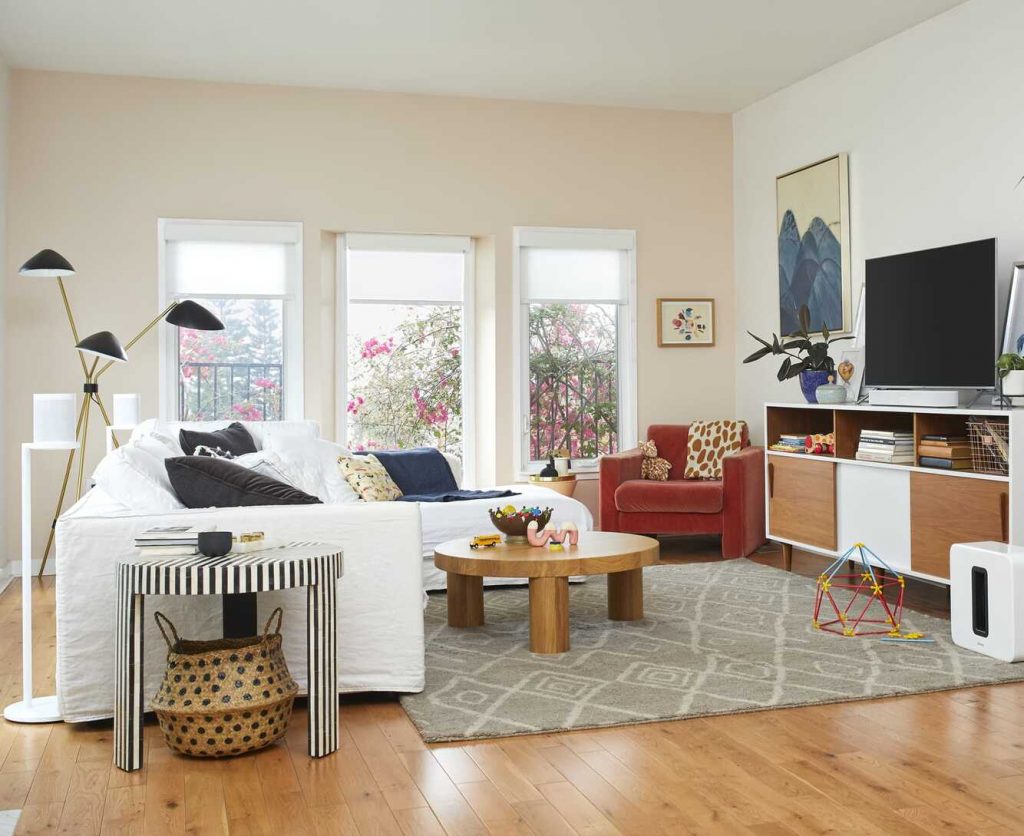 Following on from the Sonos Beam at £399, the next level up would be to add a pair of Sonos One SLs to use as rear surrounds.
This would give you 5.0 Dolby Digital surround sound and put you in the centre of the action.
This set up is particularly impressive for action movies, sport and streaming music as you'll be able to hear sounds from behind you, exactly as the director or artist intended.
There are a range of accessories available such as floor stands and wall mounts so if you're concerned about finding space in your room for the surround speakers, there should be a solution for you.
FAQ: what's the difference between the Sonos One Gen 2 and the One SL? 
The only difference between the Sonos One Gen 2 and the One SL is that the One Gen 2 has Amazon Alexa and Google Assistant voice control built in. 
They are exactly the same speaker otherwise, therefore, as the Beam has voice control built in anyway and you plan to use these speakers as rears, you can save some pennies and go for One SLs as opposed to One Gen 2s.
Best surround sound set up for £1000
With this budget, our options are starting to widen a bit more so we actually have 3 options for you.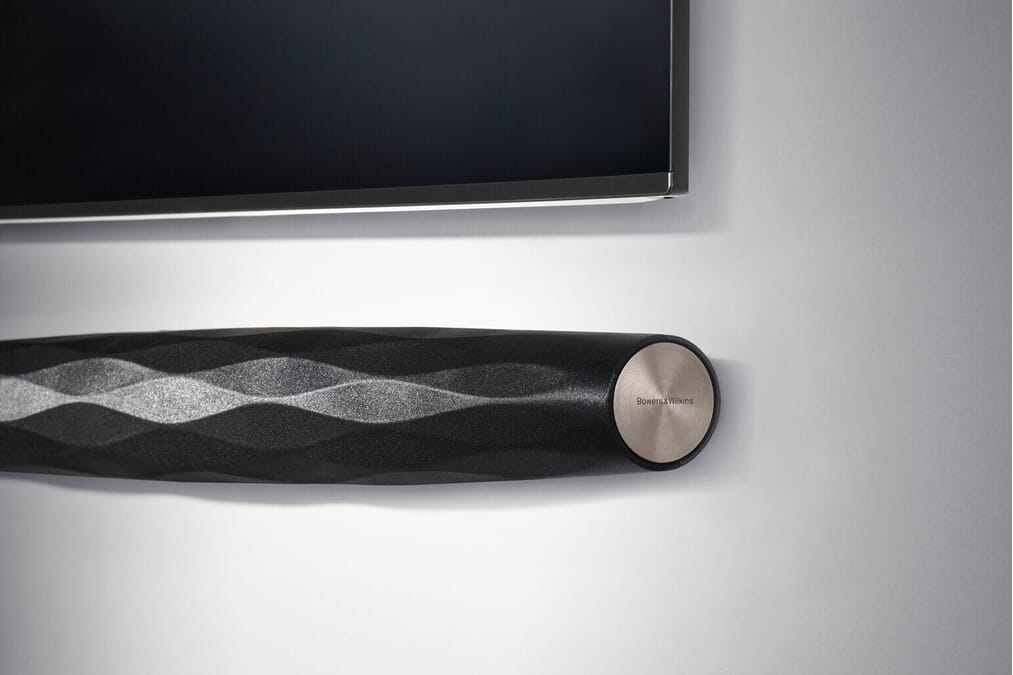 The Bowers & Wilkins Formation range is the legendary brand's first ever wireless, multi-room solution - and it does fantastically well.
The Bar offers users both a more premium aesthetic and sound quality that works in a similar way to Sonos.
This product would be suitable for 55" TVs and above as it is quite wide, but facilitates a higher number of speakers for a more realistic experience.
Like the Sonos, you can also add the Formation Bass and a pair of Formation Flex over time for 5.1 Dolby Digital surround sound.
For a budget of £1000, you may wish to consider adding a Sonos Sub to the Beam, instead of surround speakers to give you a 3.1 set up. 
The Sub makes an enormous difference to any content you are listening to as all of the bass will be diverted to the subwoofer, where you can expect a much deeper and room-filling sound.
The Sub is non-directional so can be positioned anywhere in the room without any negative effects and can be fully customised to your listening taste in the Sonos app.
Sonos Amp & Bowers & Wilkins 607 bookshelf speakers (£998)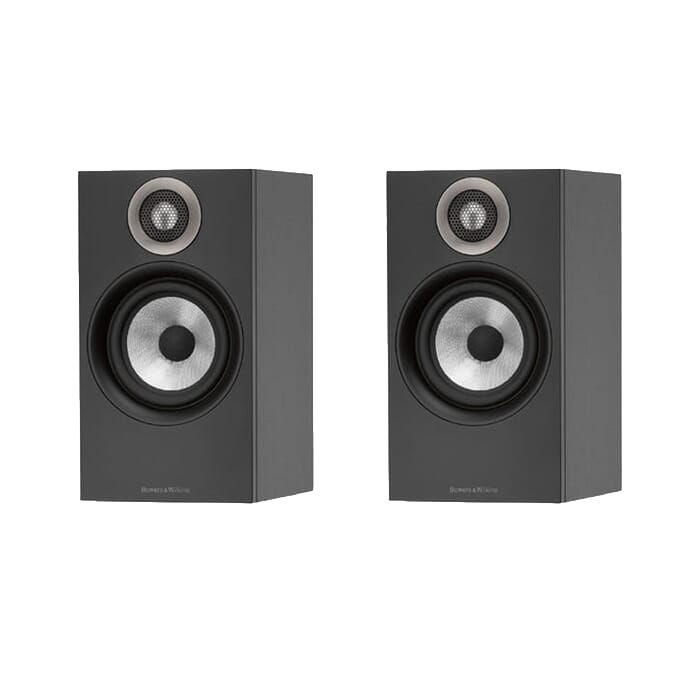 If you prefer the look and feel of more traditional HiFi set ups, you may want to consider a pair of bookshelf speakers either side of your TV for a 2.0 set up.
We love Bowers & Wilkins most recent, compact bookshelf speakers the 607s, which were commented on by WhatHiFi as having no negatives at this price, which is no mean feat. 
Powering them with a Sonos Amp would unlock wireless control from your devices so you can stream until your heart's content.
The Sonos Amp also comes with an HDMI-ARC input for simple connection to your TV, an IR sensor for remote control pairing and a phantom centre channel so the sound does not feel like it's coming too much from the left or the right.
Want to go one step further with this set up? Add a second set of 607s powered by another Sonos Amp for rear surrounds, or add a Sonos Sub for earth-shaking bass.
Best surround sound set up for £2000+
If you accept no compromises with your home cinema and spend a lot of time watching movies, then we have some exceptional high-end set ups for you.
Bowers & Wilkins Formation suite (£2696)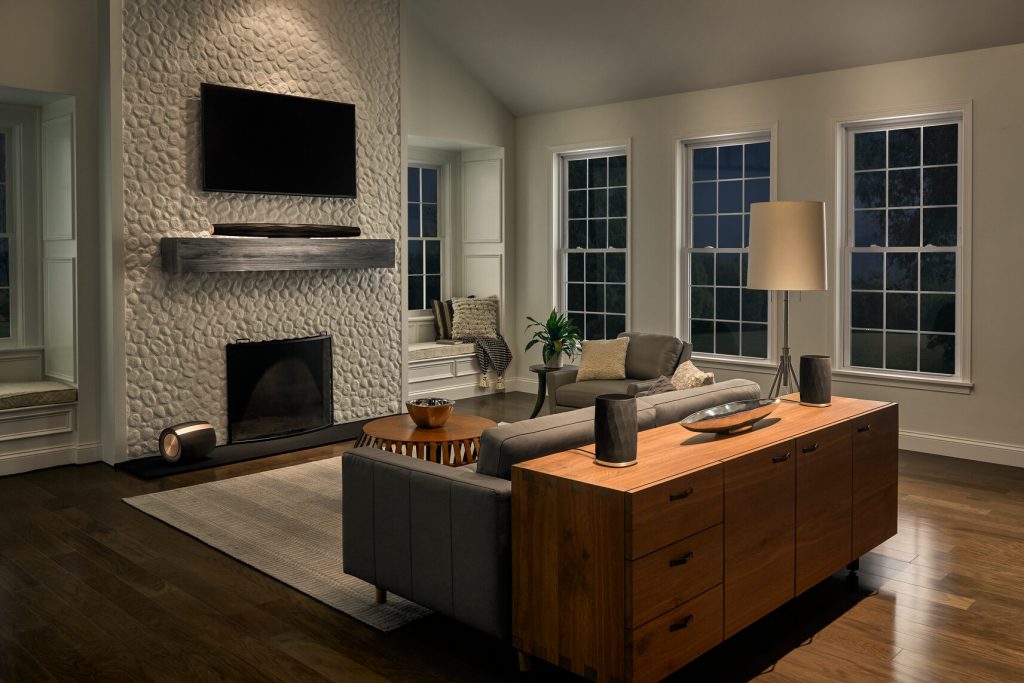 We were truly wow'ed when we witnessed the sound of the new Bowers & Wilkins Formation 5.1 system. 
Similar to Sonos in function, but offering a unique styling and even closer to audiophile-grade sound, the Formation 5.1 Dolby Digital set up is the best of the best of wireless home cinema.
Comprising of the Formation Bar, Bass and 2 x Flex speakers, this system has been designed for 55" TVs and above due to the width of the soundbar containing 9 high-performance drivers.
Stream music in the highest possible quality (24/96 bit) from your Tidal HiFi, Deezer Elite or Amazon Music HD subscription or use AirPlay 2, Bluetooth, Spotify Connect or Roon.
Want to add music to other rooms too? Add a Formation Flex or even Wedge for wireless multi-room control and enjoy your music in perfect harmony.
Sonos 4.1 system with Monitor Audio in-ceiling or in-wall speakers (£2038)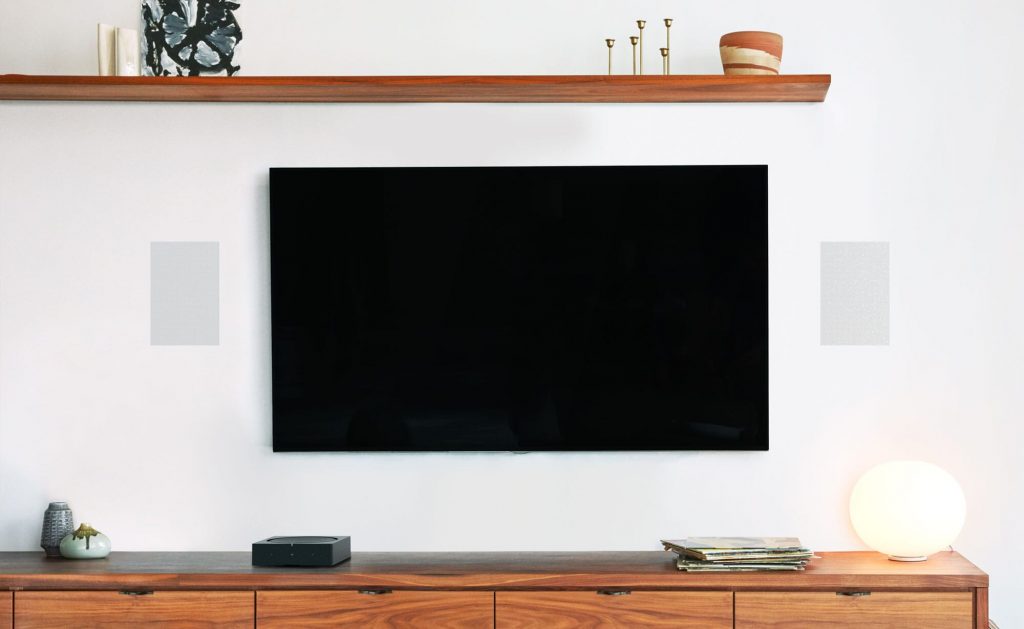 Discreet, built-in systems are becoming more and more popular due to the increase of homeowners renovating or extending their home, as opposed to moving home. 
This opens up possibilities to install a discreet home audio system using speaker cabling behind the wall or ceiling. 
If you're looking for great sound but without speakers taking up space and drawing unwanted attention, you may prefer ceiling speakers or in-wall speakers powered by Sonos Amps. 
In this set up, you would have a pair of in-ceiling or in-wall speakers to act as the front left and right channels, powered by 1 Sonos Amp. We recommend the Monitor Audio C265-IDC due to the 3-way tweeters in this model offering a wide dispersion.
You would then have a second Sonos Amp to power the rear left and right, perhaps using a pair of Monitor Audio C265-FX which were custom-built for surround sound.
This would create a discreet 4.0 Dolby Digital system and could be finished off with a Sonos Sub for 4.1 enjoyment.
Which set up is right for you?
Do any of these set ups take your interest? Or perhaps you still have questions. We would love to have a chat with you.
Get in contact with one of our friendly specialists or use the quick links below to find the products you want.