How to Connect a Sonos Soundbar to a Projector
Every detail you'll ever need to know on connecting a projector to your Sonos soundbar for the ultimate home cinema experience.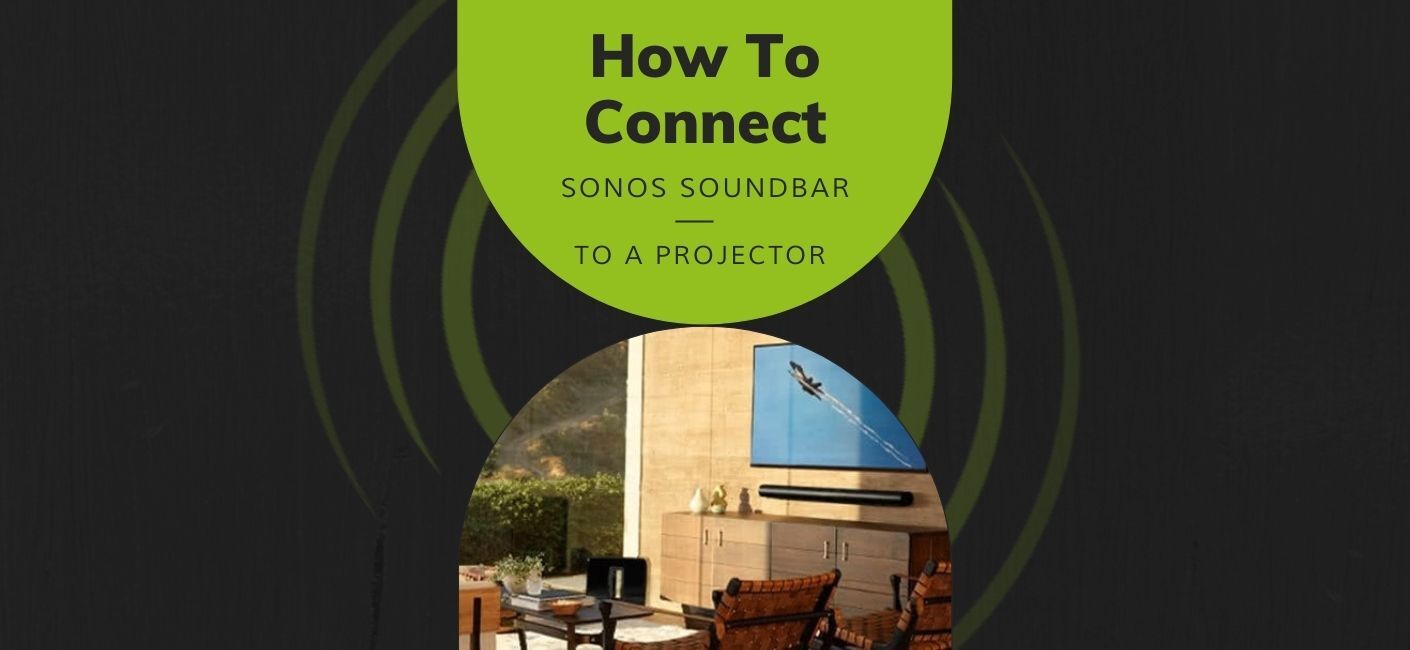 Enjoying your Projector and Sonos TV speaker with an HDMI Matrix
Whether bringing clarity to tense dialogue, scattering a ricochet of bullets across the room, or delivering justice to a soundtrack's anthemic score, there is a Sonos TV speaker for everyone to enjoy.
And if you choose either the Sonos Arc or Sonos Beam, connecting to a TV and upgrading its sound has never been easier. But is it possible to use either the Arc or Beam with a projector? 
Despite what the naysayers may tell you, it is possible to enjoy a Sonos soundbar with a projector display, and in this guide, we show you how. 
Jump to - 
---
Using a Projector with Sonos
This section shows how each of Sonos' latest soundbars connect to a projector, for which you'll need the following components: 
A Sonos soundbar, such as the Arc or Beam

A projector with HDMI video inputs

HDMI video sources, such as Blu-ray player, Firestick or set-top box

An HDMI matrix switcher

HDMI cables (1x cable comes supplied with both the Arc and Beam)
Unlike a TV that receives video and audio in one feed from your streaming service or media player, a projector solely focuses on displaying video. Whereas a TV handles both the video and audio feeds simultaneously, in the case of a projector, you will need an external device for splitting the audio from the video, such as an HDMI Matrix Switch. 
What is an HDMI Matrix Switch?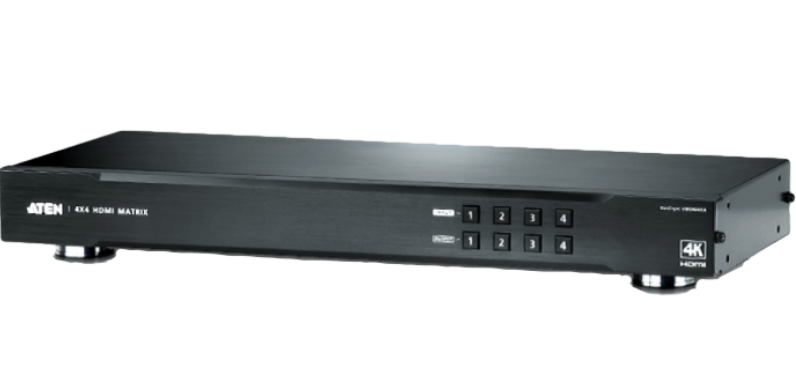 An HDMI matrix switch is a standalone box that handles various incoming HDMI video sources and allows you to swap between them. The matrix features the main video output to connect to a display, such as a projector in this case.
Matrices offering specs such as 4x2 or similar mean that the switch accepts 4x incoming HDMI video sources and outputs to 2x receiving HDMI-equipped displays. A good number are available with remote controls, whereas some feature voice control for use with Amazon Alexa. 
When choosing an HDMI matrix switch, ensure that it also features an audio outlet in the form of either an HDMI-ARC/eARC connection or an optical output. This is important for the matrix switch to pass audio to your Sonos soundbar. 
---
Connecting a Sonos Beam or Sonos Arc to a Projector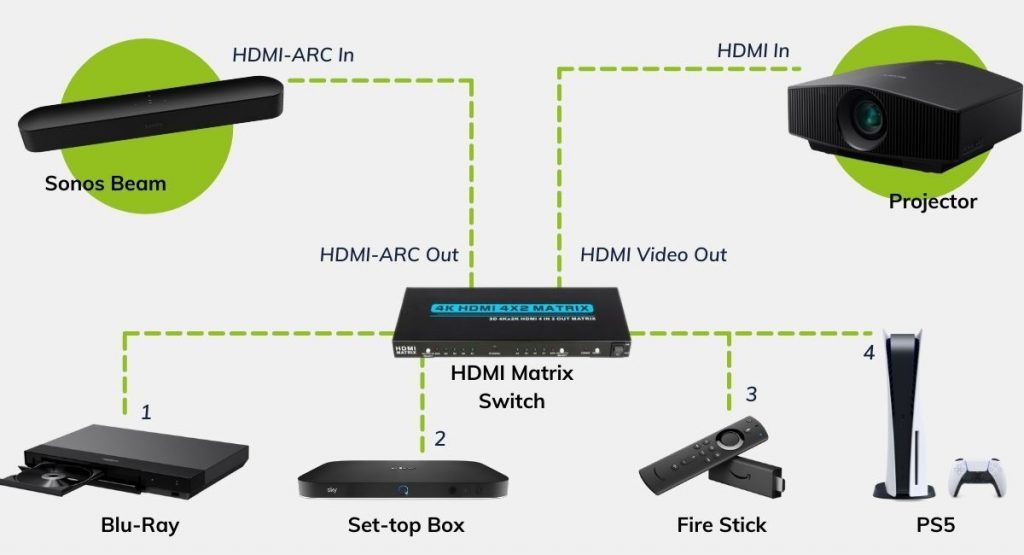 Here's How to Connect your Sonos Beam or Sonos Arc to your Projector
Plug your HDMI video feeds into the HDMI inputs of your matrix switch.
Connect the main video output of the matrix to your projector's primary video input.
Use the provided HDMI cable with the Sonos Arc and Sonos Beam to connect the matrice's HDMI-ARC (Audio Return Channel) output to the input of your Sonos soundbar.
If your matrix switch doesn't have an HDMI-ARC connection, but features an optical audio jack instead, use the Sonos HDMI-to-optical converter supplied with both soundbars to connect them to the matrix switch. 
The above configuration allows for Dolby Digital Plus audio to be reproduced by either the Sonos Beam or Sonos Arc, allowing for up to 5.1 surround sound when used in conjunction with a pair of Sonos One SL and a Sonos Sub.
But for Dolby Atmos audio when using a projector with the Sonos Arc, you'll need to refer to the following configuration instead.
---
Enjoying Dolby Atmos with a Projector and the Sonos Arc
The Sonos Arc delivers a 3D surround sound experience by providing height channels found in a Dolby Atmos surround mix, all thanks to the Arc's additional upward-firing speakers. 
Due to the extra information in Dolby Atmos audio feeds, the Sonos Arc uses the latest HDMI-eARC standards. However, most matrices only support optical connections or standard HDMI-ARC, and so you would only benefit from Dolby Digital when using either of these connections with the Sonos Arc.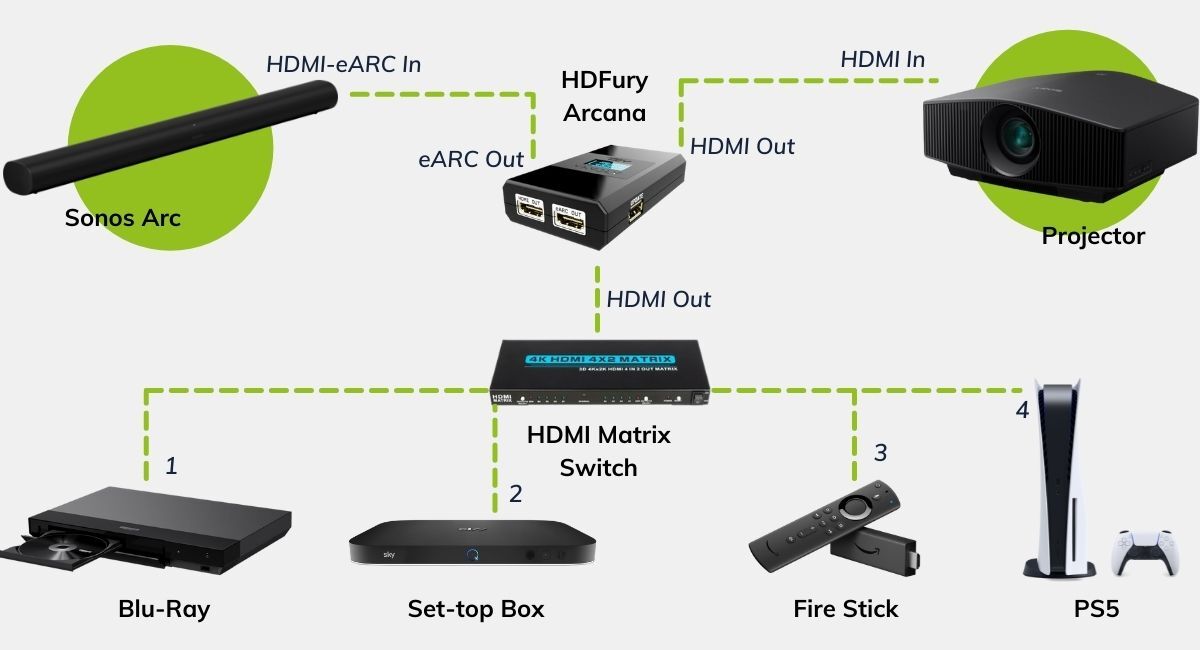 In which case, you will need to either use an eARC matrix switch or you can use a handy device called the HDFury Arcana. This clever gadget splits an e-ARC feed and sends video to the receiving projector, but with a separate e-ARC bypass output to send Dolby Atmos to the Sonos Arc. 
You can either use this in place of a matrix switch if you have a single video source or connect it to the main video output of the matrix switch instead. The Arcana allows the projector to receive video whilst delivering Atmos-encoded audio to your Sonos Arc, free from troublesome lip-sync issues. 
---
Connecting the Sonos Amp to a Projector
With its impressive 125 watts per channel, it's easy to see why the Sonos Amp makes for a great home theatre sound system, especially given it features an HDMI-ARC port on the rear. 
However, you cannot use the older Sonos Connect Amp with a projector as it doesn't feature an HDMI-ARC connector.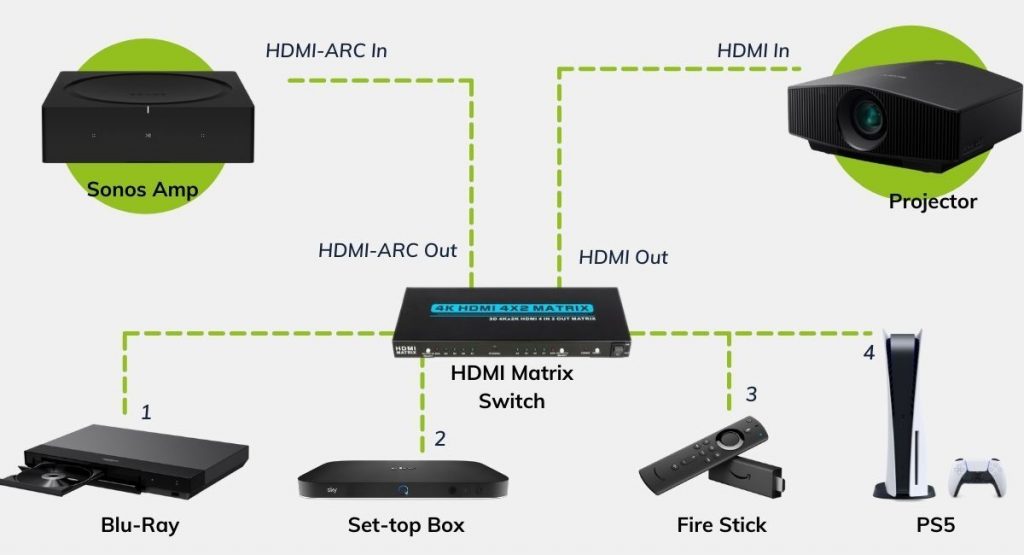 Here's How to Connect your Sonos Amp to your Projector
Wire all of your video sources into the matrix switch.
Send the master video output to the receiving projector.
Link the Amp to the matrix with an HDMI cable (not provided with the Amp).
If HDMI is unavailable, use the Sonos optical to HDMI converter.
---
Connecting a Projector to a Sonos Playbar or Playbase
If you're currently enjoying the sound from either of these classic Sonos TV speakers, but don't want to upgrade to the Sonos Beam or the Sonos Arc, then the good news is that either is compatible with projectors too. 
Instead of using HDMI, both the Playbar and Playbase rely on optical audio connections, so it's best to ensure that your matrix switch features an optical outlet. The matrix then connects to either the Playbar or Playbar through an optical audio cable. 
---
Fixing Lip-sync Errors
Some users may be concerned that splitting the output signal of their chosen video source between a separate display and speaker could cause synchronisation problems. 
In most cases, there are never usually any problems. But if you are unfortunate enough to experience any latency issues, the good news here is that Sonos has your back with these simple fixes.
When Audio is Ahead of the Video
| | | | |
| --- | --- | --- | --- |
| Open the Settings page in the Sonos app. | Select System and choose the room with your Sonos soundbar.  | Scroll down through the available options to select TV Dialog Sync.  | Use the slider to adjust the audio delay on your Sonos soundbar.  |
| | | | |
When Video is Ahead of the Audio
This is usually rare but is often solved by performing the following steps: 
Reset your video playback device, as their onboard digital processors may need refreshing. 

Ensure that your TV/projector and playback devices are running the most up to date firmware. Consult the owner's manual if in doubt. 

Check the latency settings in your TV/projector's settings. You may need to consult your owner's manual or contact the manufacturer if you're unsure.

Consider using the HDFury Arcana as this device also helps overcome lip-sync issues by carefully matching the timing of the video and audio outputs together. 
---
In Summary
As filmmaker David Lynch quotes, "...Films are 50 percent visual and 50 percent sound...". So whether you decide on a projector or a TV, strike the balance right and unleash the full potential of your favourite movie's soundtrack with either the Sonos Beam or the Sonos Arc. And here's a video to show how the Sonos Arc works with other Sonos speakers for the full surround sound experience. 
But if you don't have room for a projector yet still require excellent picture quality for enjoying movies and shows at their best, our Sony Bravia Full-Array LED and OLED TV range could be of interest instead. More information about Sony Bravia's 2021 line-up can be found here.
Like to know more or discuss which Sonos soundbar is best for your projector? Feel free to get in touch with our friendly customer service team at info@smarthomesounds.co.uk or give us a call on 0800 677 1100.