How To Build Your Perfect Home Cinema with Smart Home Sounds
Join us as we take a look behind the scenes on creating an immersive home cinema system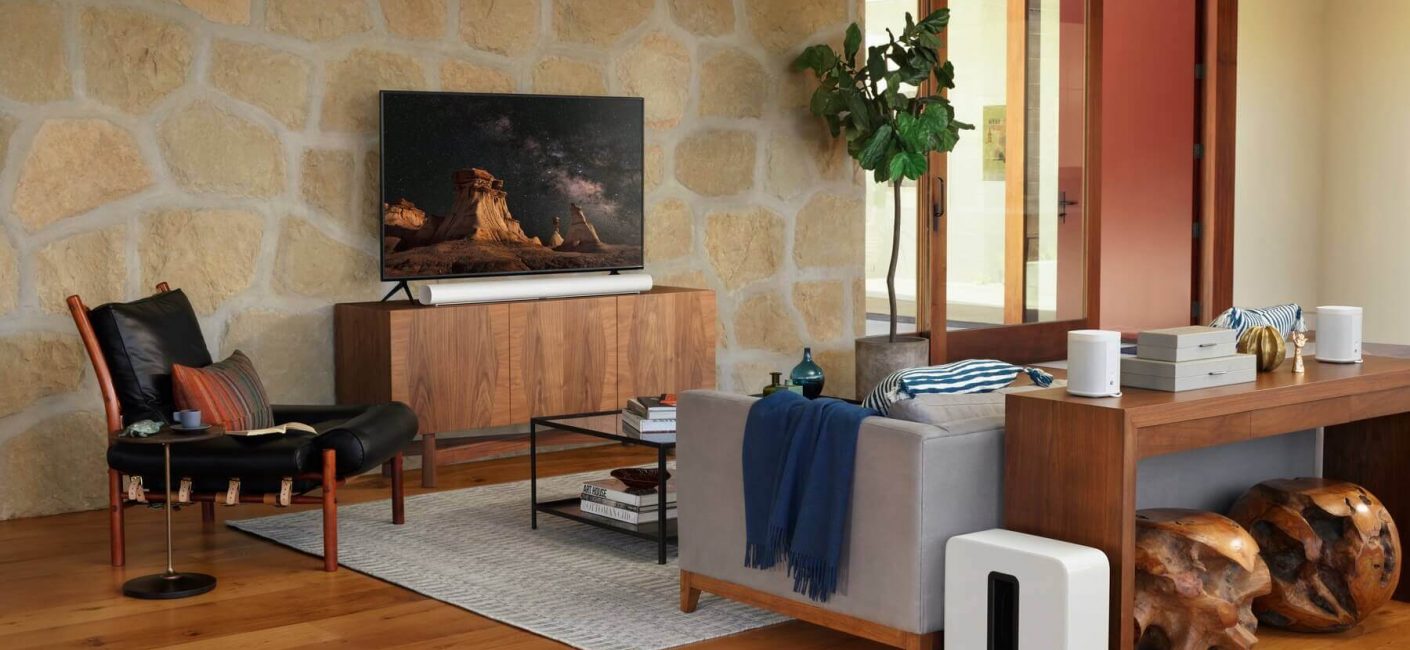 Our definitive guide To creating your own incredible home cinema SYSTEm
From TVs to projectors, and from surround sound to soundbars, you definitely won't need a Fistful of Dollars to bring the magic of cinema into your very own living room. There's something available for everyone to enjoy, regardless of budget.
With free admission, grab some popcorn and take to your seats as we put you in the picture on all there is to know about creating your very own home cinema system.
ON LOCATION - Where to Locate your Home Cinema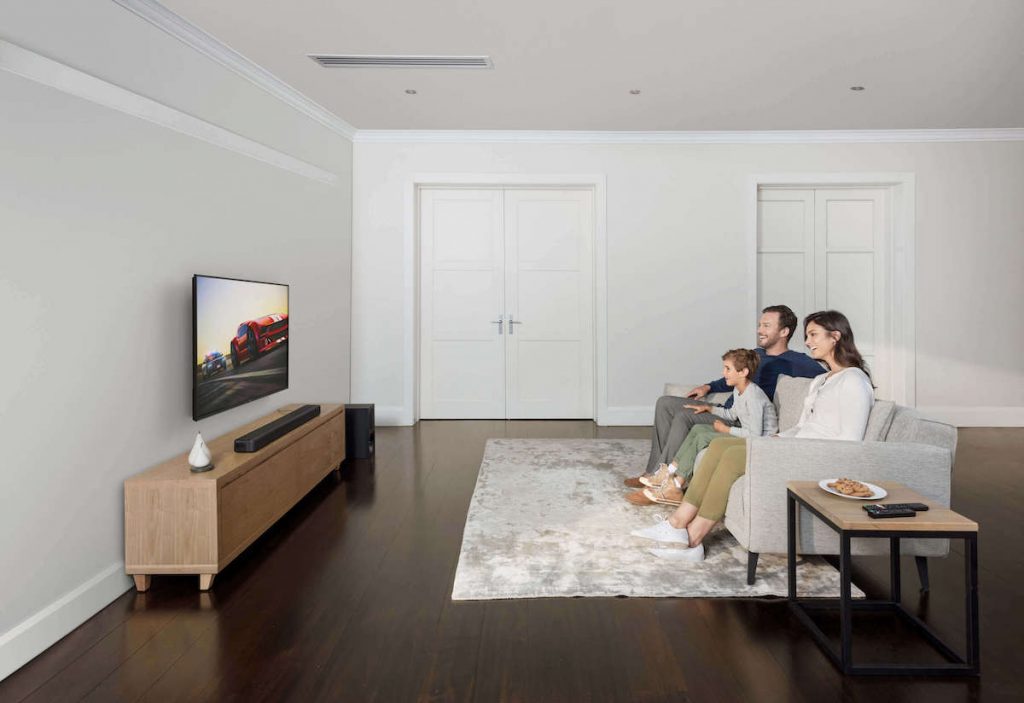 Cinemas feature purpose-built auditoriums which are naturally more rectangular in shape. This shape allows audiences to sit further away and take in all of the pictures and hear all the details from the surround sound system. However, we all know that everyone's rooms aren't always built to an ideal shape for home cinema. But as you'll see, careful consideration of TV size and type, as well as speaker configuration, helps to overcome this. 
In most cases, it is best to have the screen at the same height as where you'll be seated, which ensures you don't strain your neck by looking too high up. Also having the screen dead ahead of you is usually best, but should this not be possible, many TVs now offer wide-angle viewing features to help compensate. 
Picture Perfect - Finding Your Ideal TV
When it comes to finding the right screen for you and your family, it can prove overwhelming with all of the different sizes and levels of technology available. First and foremost, one of the most important decisions is that of the screen size itself. However, remember the golden rule that bigger doesn't always mean better. 
Whilst larger TVs are becoming more commonly available for sensible money, a larger screen in a smaller room could mean that you sit too close. This means picture quality may be affected if you sit too close, as you'll be able to see individual pixels more easily.

That said, you can sit slightly closer to some newer TV screens, thanks to greater detail and lesser picture distortion seen in newer 4K models. However, choosing a TV too small for your room may cause you to focus harder on the picture than necessary, which means you may miss the more intricate details of the image. 
But don't worry too much if you can't decide now on which TV screen size is best for your room, as our other guide - How To Find the Perfect Screen Size for You - has some handy hints and tips on what to consider. 
Which TV Is Right for Me?
Never before have movies, shows and games looked so good! And it's all thanks to the high-definition content that studios, broadcasters and streaming services produce. Whilst TV production technology continues to thrive, it comes as no surprise that TV brands also strive on developing TVs capable of reproducing our favourite content in its very best form. 
With each brand's technology encrypted in hard-to-decipher terms like OLED, QLED and LED, we can all be left wondering what does it all stand for? And above all else, what does it mean for you? Thankfully, our headache-free TV Screen Types guide will put you fully in the picture. 
However, although greater TV technology yields a better overall picture, certain features allow some TVs to excel in different areas than others. Although your chosen TV will work well with most types of content, sometimes it's good to know which screen type offers you the best performance for your intended purpose. 
And in relation to our Sony Bravia range at Smart Home Sounds, here are some questions to help find which model may be suited to your requirements. Also, for even further information, why not check out our 2020 Buying Guide for Sony TVs?
"Which TV gives the best performance for enjoying movies?"
Recommended
- Sony Bravia A8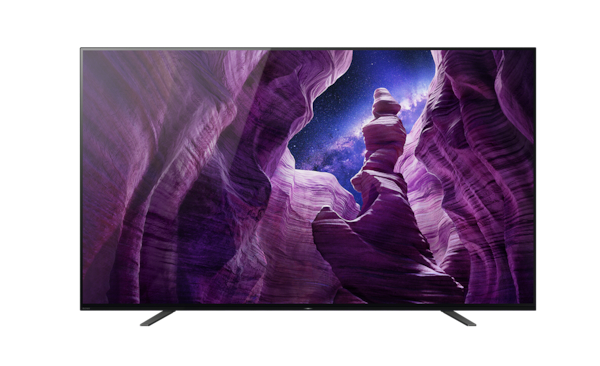 First and foremost, this OLED TV offers Pixel Contrast Booster technology to take care of reproducing vivid and lifelike colours. Meanwhile, Sony's Ultimate X1 processor ensures this TV keeps up with all the action, providing viewers with stunning pictures that are always sharp and free from motion blur. 
But proving it's the best for getting every last detail from your movies, the A8 is also certified as IMAX enhanced. Plus, Sony's unique 'Lens to Living Room' technology sees this premium TV calibrated for Netflix too.
Also Consider
-
Sony Bravia XH90

If you're looking for something that also offers exceptional performance, but without the expense of an OLED panel, then the XH90's Full-Array LED screen offers considerable advantage over the competition. This one's also calibrated for Netflix streaming, too! 
"Which TV is the best for gaming and sports?"
Recommended - Sony Bravia XH95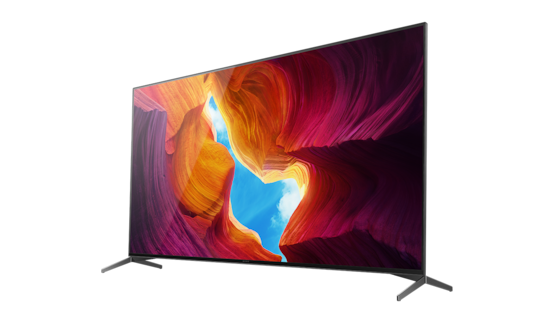 The bigger brother to the XH90, the XH95 features Sony's uprated X1 Ultimate processor for superb control over picture colour and clarity. Not only does this prove useful for the thrills of gaming, but its X-Motion Clarity technology provides the ultra-smooth picture needed to keep up with all the action. 
Similarly suited to sports, if you're enjoying the big game with a roomful of people, Sony's X-Wide Angle technology also means that you don't miss out on any aspect of the picture quality, regardless of your viewing position in the room. 
Also Consider - Sony Bravia XH85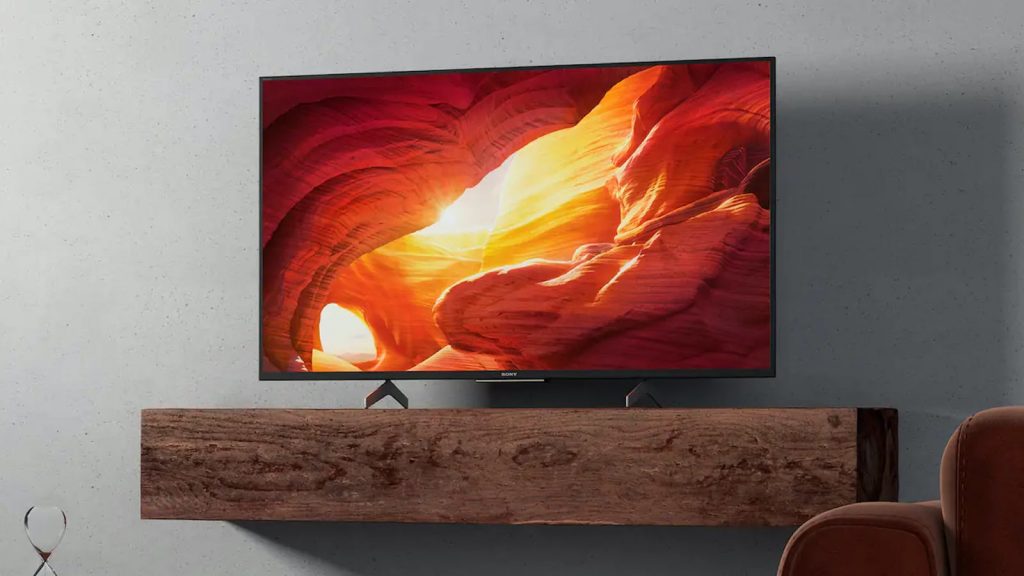 If you still need a TV with a quick processor - but in a smaller range of screen sizes (43" and 49") - then the XH85's 800Hz Motionflow XR chipset has no trouble keeping up with your content, and is enhanced even further with this TV's 100Hz native display panel too. 
"Which TV will be the most future proof?" 
Recommended - Sony Bravia ZH8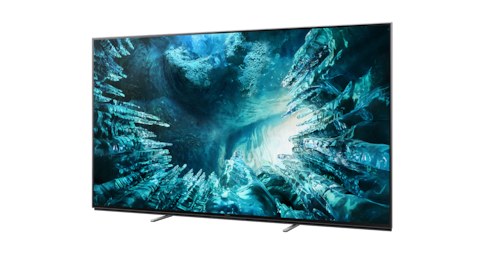 Remaining one step ahead of the range, the Sony ZH8 comes equipped with the latest 2.1 standards of HDMI, making it ready for any enhanced connectivity options that come its way. And with 8K technology promising the highest form of resolution that the human eye can see, the Sony ZH8 is ready to embrace the highest level of picture quality ever.
Although 8K content isn't readily available from UK broadcasters and streaming services, Japan already has a dedicated 8K broadcasting service live on air. So how long will it be before 8K reaches our shores? At least with the ZH8, you'll be ready for when that beautiful day comes. 
Projectors
Whilst there is a TV to suit almost all applications, what if you require a screen size of at least 100" or more? Although some 100" + TV options are available for an eye-watering price tag, another way to gain a large screen is by using a projector.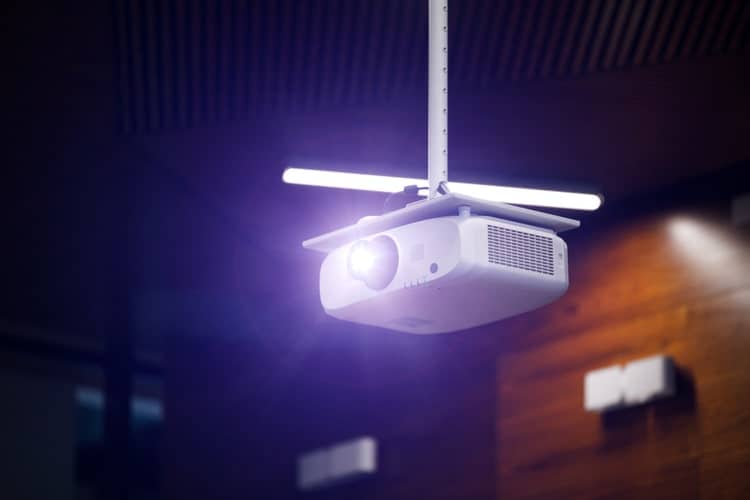 Projectors cast their images onto white walls or retracting screen surfaces, creating large-scale displays, with the ability to display content up to 4K in resolution. However, you'll need a darker room so that the resulting picture looks at its best. 
Not to mention, projectors require you to have a sound system in place. And we suggest that it needs to be a good one too, especially when noisy cooling fans in certain projectors prove both annoying and obtrusive! Thankfully we have a useful guide on how to wire your Sonos soundbar for use with a projector, as can be seen here. 
Surround Sound
"Films are fifty percent visual and fifty percent sound"- David Lynch
Although TVs come equipped with their own internal speaker system, in most cases the sound they produce is often incredibly underwhelming, and no match for the action on screen. Thankfully, there are lots of options to choose from when it comes to maximising your listening experience.
AV Receivers

Virtually both a switch for your AV sources and a high-performance amplifier in one, the AV-Receiver (AVR) pulls and processes surround audio codecs from your media sources, such as Dolby Digital and DTS, and then sends the amplified sound to wired speakers around your room. 
Speaker configuration types are often denoted in a ratio of numbers, such as 5.1 and 7.1. Although it sounds confusing at first, the '5' means five surround speakers are present in the system, and the '.1' means a single subwoofer is present. 
How 5.1 Surround Sound Works
2x Front Speakers (Left & Right) -

Two main speakers sit either side of the TV, just like a regular pair of stereo speakers. 

1x Centre Channel -

A centre channel speaker typically sits beneath the TV, which solely reproduces dialogue. 

2x Rear Surround Speakers (Left & Right)

- A smaller set of speakers designed for delivering ambient effects from the surround sound mix. 

1x Subwoofer -

The subwoofer delivers an extended bass response to compliment the overall surround sound system, and is represented as the '.1' in 5.1 the setup.

7.2 (and above) -

More advanced systems like 7.2 offer a similar setup, but this time there are 7x main speakers (includes an additional 2x side surround speakers) and a total of two subwoofers.
Dolby Atmos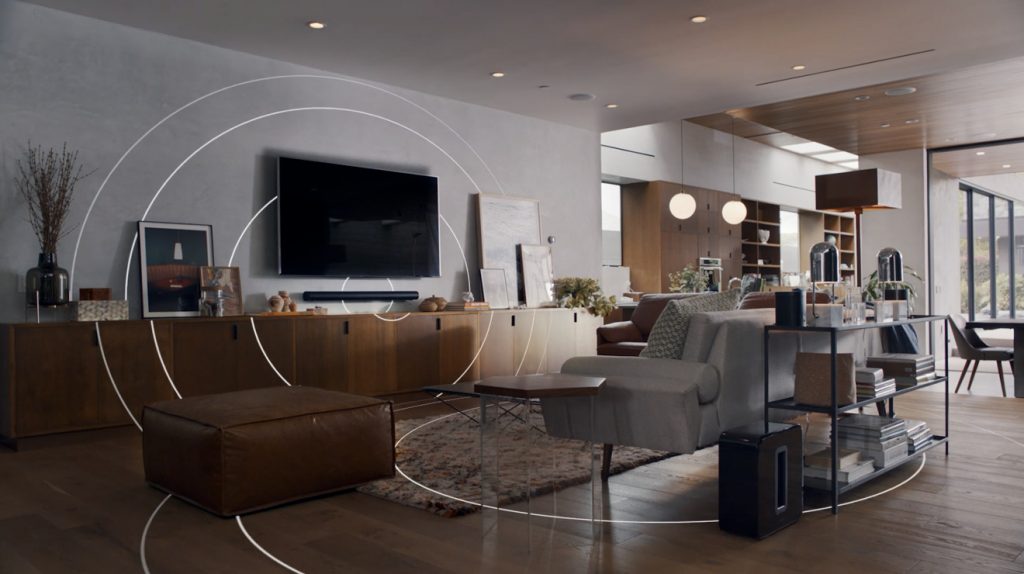 The relatively new Dolby Atmos codec promises a 3D sound experience, which uses even more speakers still. A typical Dolby Atmos configuration may appear as 5.1.2, which denotes 5x main speakers, 1x subwoofer and 2x Atmos channels are present.  
An excellent example of an Atmos-equipped AVR is the Sony STR-DN1080, and when it's paired with such speakers as the Monitor Audio Bronze series -which includes the Atmos-ready Bronze AMS speakers - you'll be in for a treat of highly immersive surround sound. 
AVRs are ideal if you're looking for a more permanent solution, and one which allows you to change out the speakers should you need to at a later date. However, as all speakers connect back to an AVR over physical speaker cable, this is where soundbars often provide a more straightforward solution overall. 
Soundbars
As their name suggests, soundbars feature a bank of speakers enclosed in a rectangular casing and are designed to sit beneath your TV. Instead of wiring individual speakers back to a dedicated AVR, soundbars contain integrated amplifiers and speakers, which means less hassle. 
Soundbars receive and process a direct audio feed from your TV set, and then distributes sound to each of its dedicated speaker drivers. So whether you're streaming a film, watching a live broadcast, using a Blu-ray player or even if you play music, your soundbar reproduces the sound of almost any source it receives. 
Smart Soundbars are also becoming more commonplace, and these types of soundbars are enhanced for embracing all that modern technology has to offer. Whether it's Apple Airplay connectivity, voice control or multiroom capabilities, smart soundbars bring greater possibilities to your home cinema experience. 
For TVs up to 50"
Recommended
-
Sonos Beam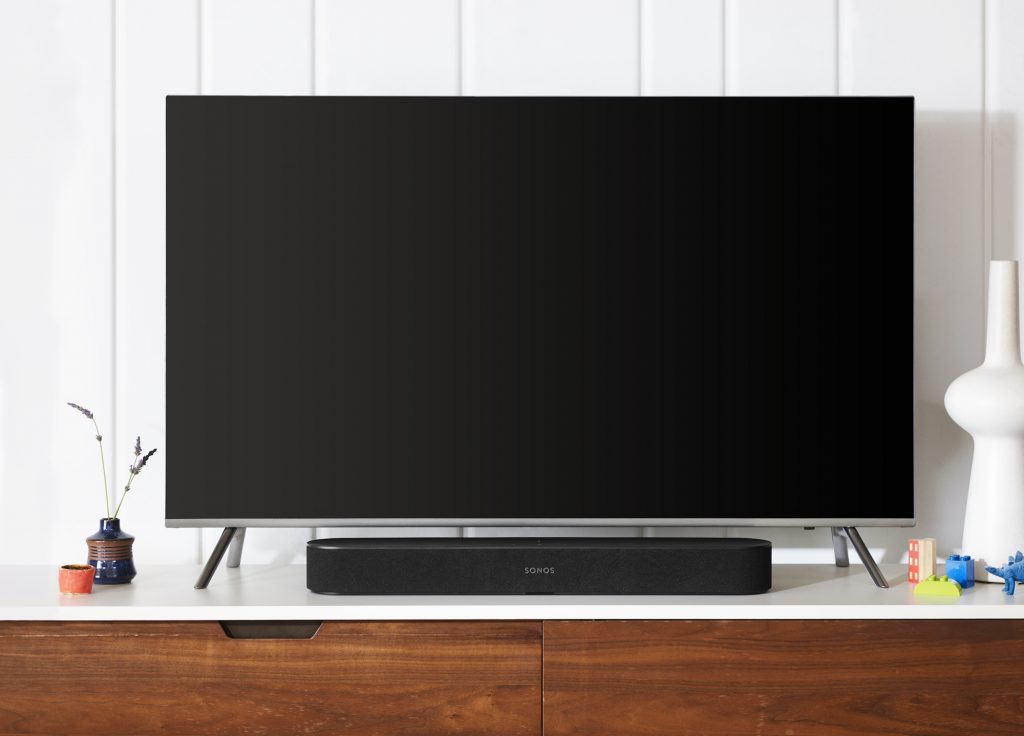 The Sonos Beam is an award-winning soundbar which gives a performance that belies its compact dimensions. Capable of delivering 3.0 sound on its own, the Beam sounds even better when paired with additional Sonos speakers and a Sonos Sub for 5.1 
Also Consider
- Sony HT-G700
Packed with features and options for connectivity, the HT-G700 is capable of 3.1 audio and comes complete with a separate subwoofer. It even handles DTS and Dolby Atmos too!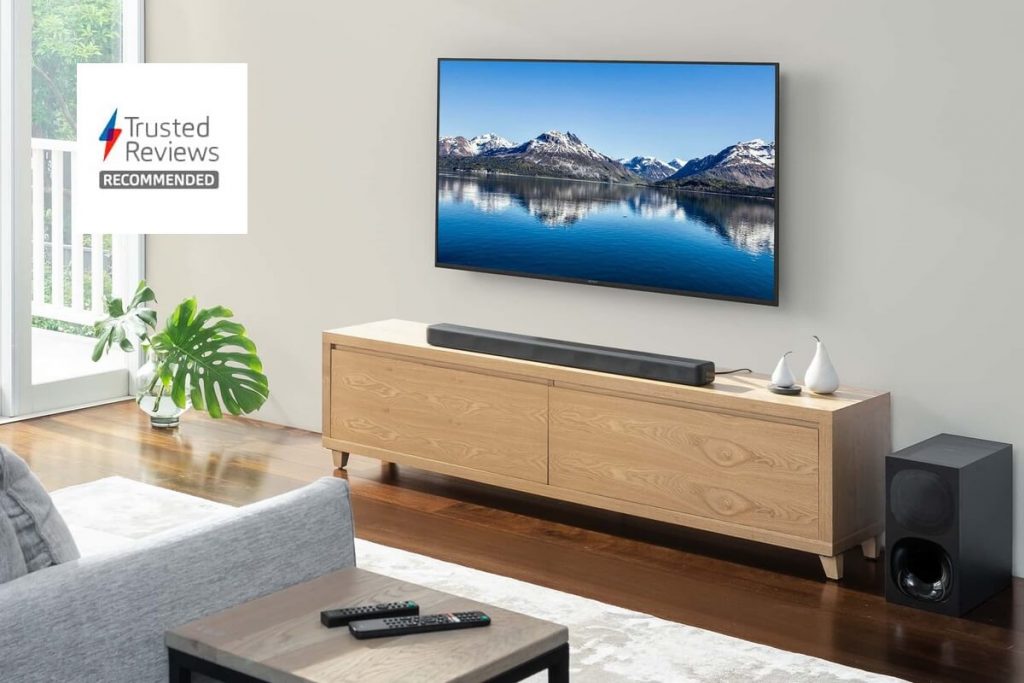 For 55" TVs or More
Recommended - Sonos Arc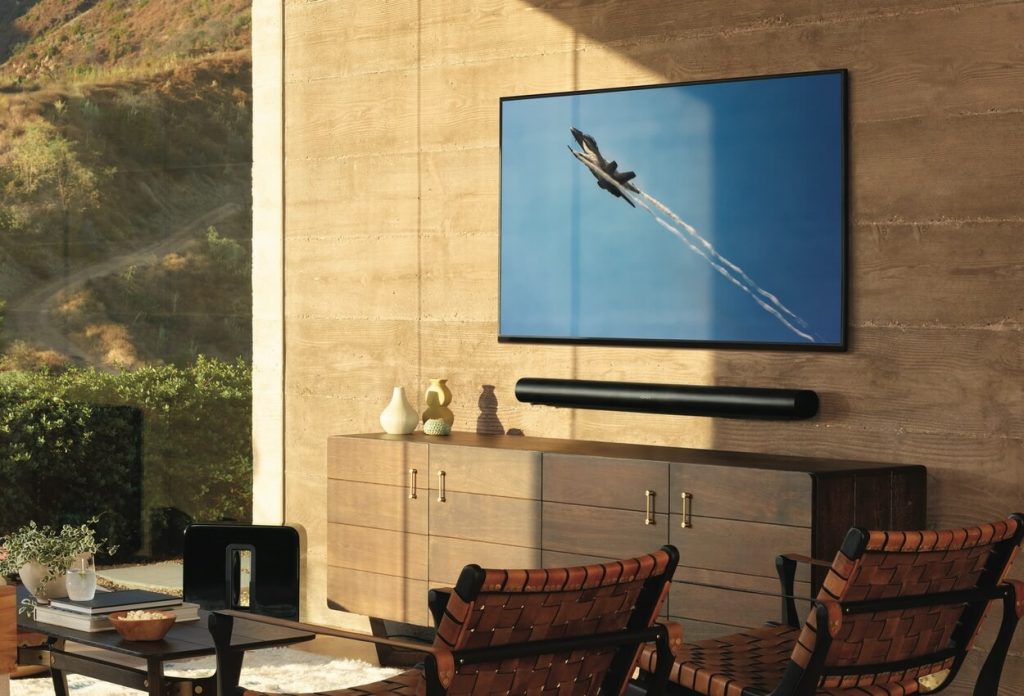 The Arc is Sonos S2 ready and packs a mighty punch, thanks to its phased array of multiple drivers and powerful amplifiers. But due to its additional upward-firing drivers for height channels, the Arc is also ready to handle the exciting 3D sound experience of Dolby Atmos. And for those films with hard to hear dialogue passages, both Arc and Beam feature speech enhancement options selectable via the Sonos app. 
Also Consider
-
B&O Beosound Stage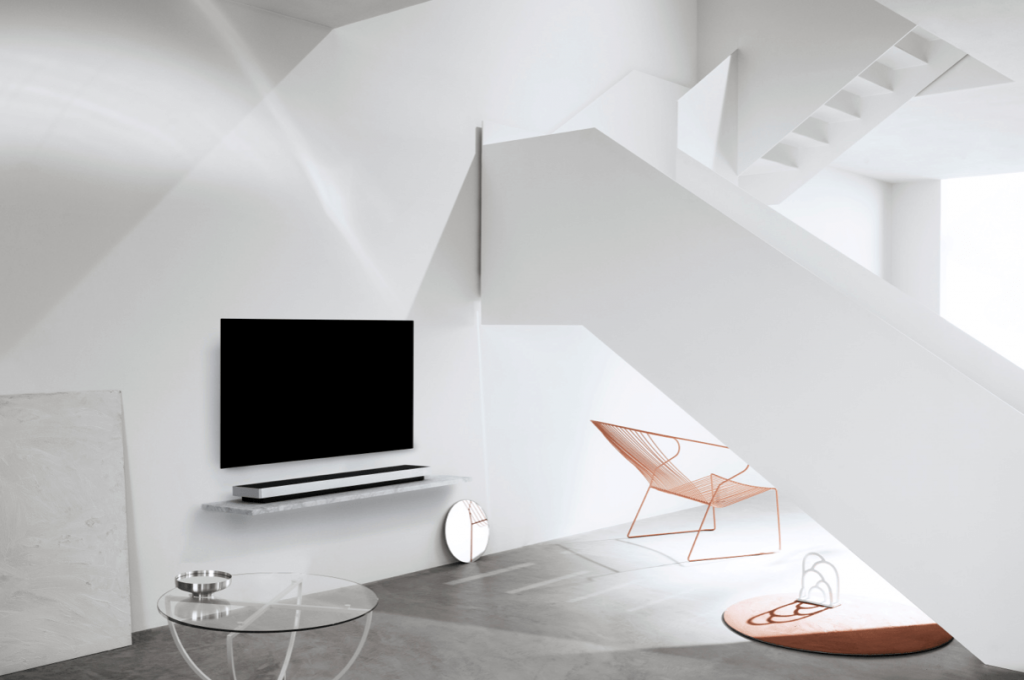 Not just beautiful to look at, but also stunning to listen to, B&O knows a thing or two about combining gorgeous Scandinavian styling with an explosive performance. And with its Bluetooth 5.0, Airplay 2 and Google Chromecast connectivity, it's a truly versatile soundbar too. 
Providing a 3-channel sound system made-up of 11x internal speakers and an integrated subwoofer, the Atmos-ready Beosound Stage is ready to get the best from your soundtracks and music. 
Ceiling & In-Wall Speakers
Should you need a surround sound system that delivers exceptional performance, but one which remains discreet at all times, then in-ceiling and in-wall speakers could be for you. 
Architectural speakers are designed to recess into ceiling or walls, and they wire back to an AV receiver via speaker cable. But should you want to use a Sonos Amp for surround sound with ceiling or wall speakers instead, please feel free to learn more in our Sonos Amp Review.
But if you're unsure which ceiling speakers are best for your home cinema installation, then our Top 5 In-Ceiling Speakers for Surround Sound is definitely worth a look. 
In Summary
We hope that you've enjoyed learning of all the options currently available to help you build your ideal home cinema system. However, we can certainly understand that not all requirements are the same, and so please feel free to refer to our blogs listed below for further help and information.
But should you have any questions on the TV and audio solutions we keep in stock, please feel free to get in touch so that we can offer additional help and our impartial advice.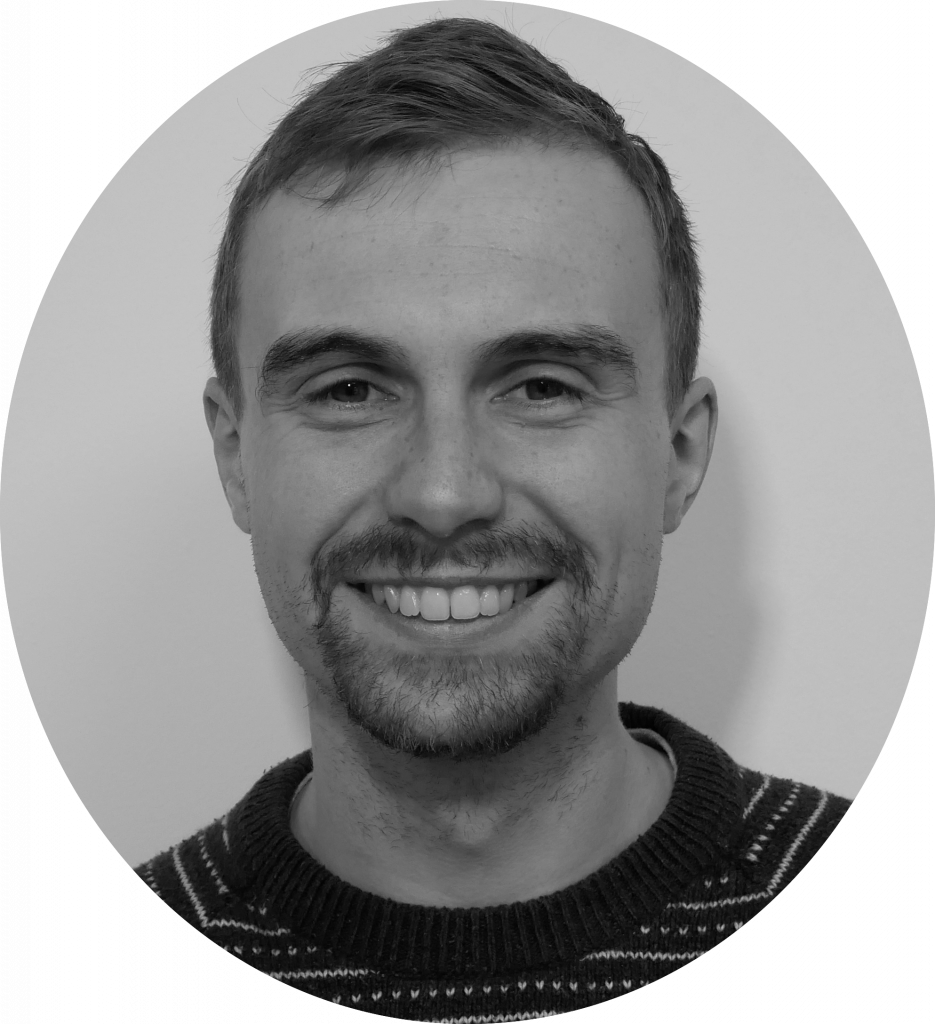 By Tom Parker, Sales & Customer Service 
---
Learn More...
How To Find the Perfect TV Screen Size for You >>
TV Screen Types - LED, OLED, QLED What does it all mean? >>
Best TV Surround Sound Setups for Every Budget >>