In-Ceiling Speakers vs Wireless Speakers - which are right for you?
Wireless speakers vs in-ceiling - everything you need to know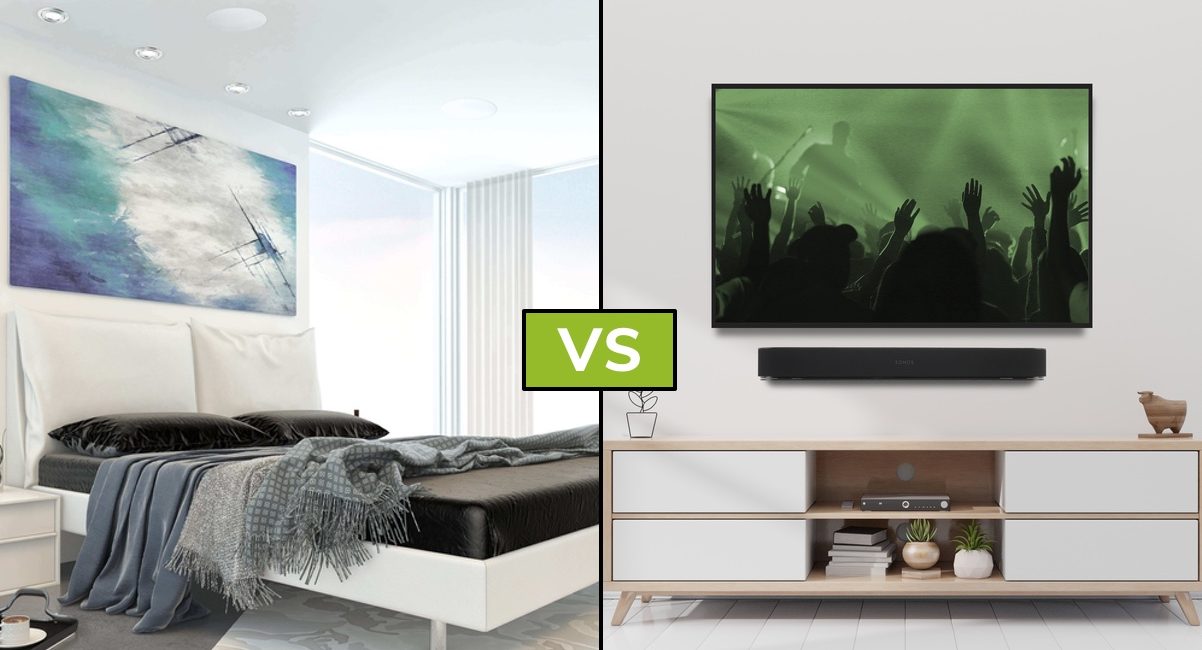 How to decide between wireless speakers and in-ceiling speakers
At Smart Home Sounds, we are often asked which would be more suitable for a certain install - in-ceiling speakers or traditional on-wall speakers.
This blog will cover the benefits of wireless speakers and in-ceiling speakers so you can be sure which are worth investing for you.
There are benefits and drawbacks to each approach so it is not uncommon that customers use a combination of both (more on that later).
To compare them, we first need to understand the definitions of each speaker and exactly what we are referring to.
In-Ceiling Speakers: speakers that are built in to the ceiling and wired back to an amplifier with speaker cable that runs behind the wall / ceiling.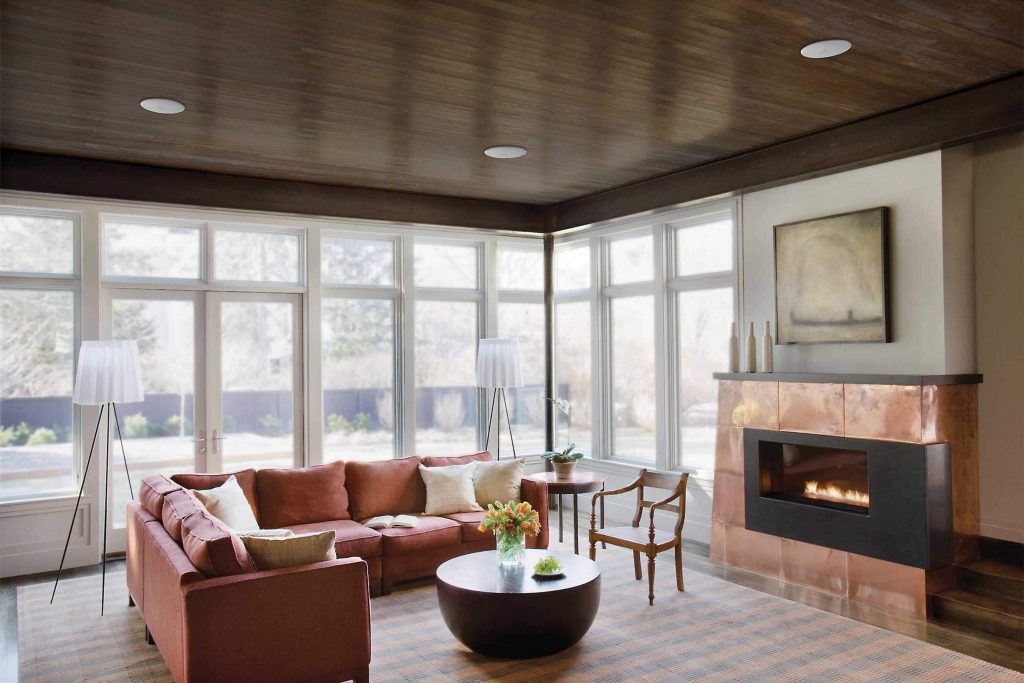 Wireless speakers: speakers that just require mains power and can be positioned anywhere (shelves, surfaces or on the wall). The term wireless refers to the way in which they can be controlled wirelessly from another device, not the fact it uses a power cable.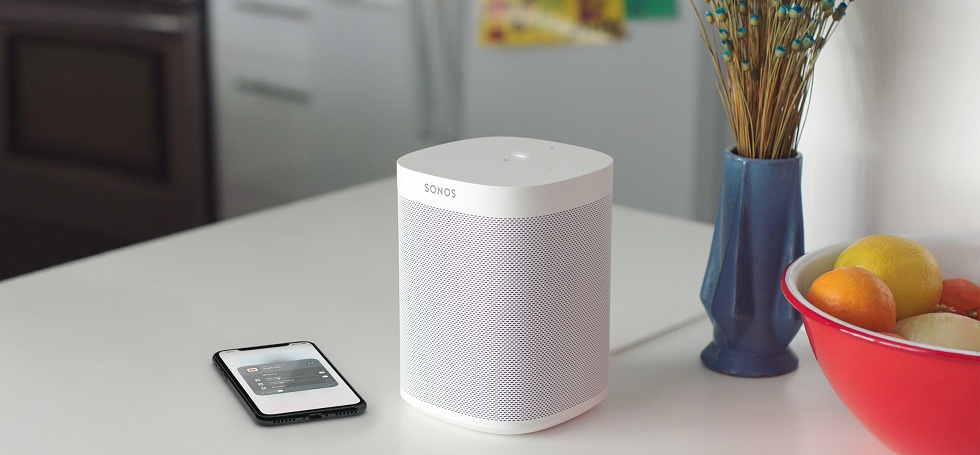 Have a look at the benefits of each type of speaker below and determine which benefits are most important to you.
Benefits of Wireless Speakers
They don't require a professional installation and are quick and easy to set up
They don't require any separate amplifiers or speaker cable
They are normally much less costly overall
There is more potential for them to sound better than a ceiling speaker
Benefits of in-ceiling speakers
You don't need to find space on a surface or shelf and the ceiling acts as a blank canvas for positioning, optimising sound consistency
They are more aesthetically-pleasing than wireless speakers
They are completely "child-proof" and cannot be knocked over and damaged
You can choose which amplifier to use to power them making them customisable for how you like to listen to music
One of the most important things to know about ceiling speakers is that they require access behind the ceilings to install the speakers and cable. 
It is very difficult to retrofit ceiling speakers in existing ceilings and we would encourage you to consider wireless speakers over ceiling speakers if your ceilings are already up. 
On the other hand, ceiling speakers can be a perfect choice for people undergoing an extension or renovation works or even building a home from scratch as the ceilings are accessible from the start.  
I want to integrate a TV - can this work with ceiling speakers?

While it is possible for ceiling speakers to be used with a TV via an input on the amplifier, we would advise against using ceiling speakers as the only source of TV audio if you are a big fan of your TV and movies.
The reason for this is that due to the sound coming from above you, it's great for music, but it's not a natural listening experience for TV audio.
You'll get much more out of using a soundbar such as a Sonos Beam or Formation Bar as these are custom-built for TV audio and as you place them at listening height, the audio will be more true-to-life. 
If you are not keen on the appearance of soundbars, you may wish to consider in-wall speakers which are like in-ceiling speakers except they are built into the wall. This means you'll get the dual benefit of them being aesthetic and at listening height.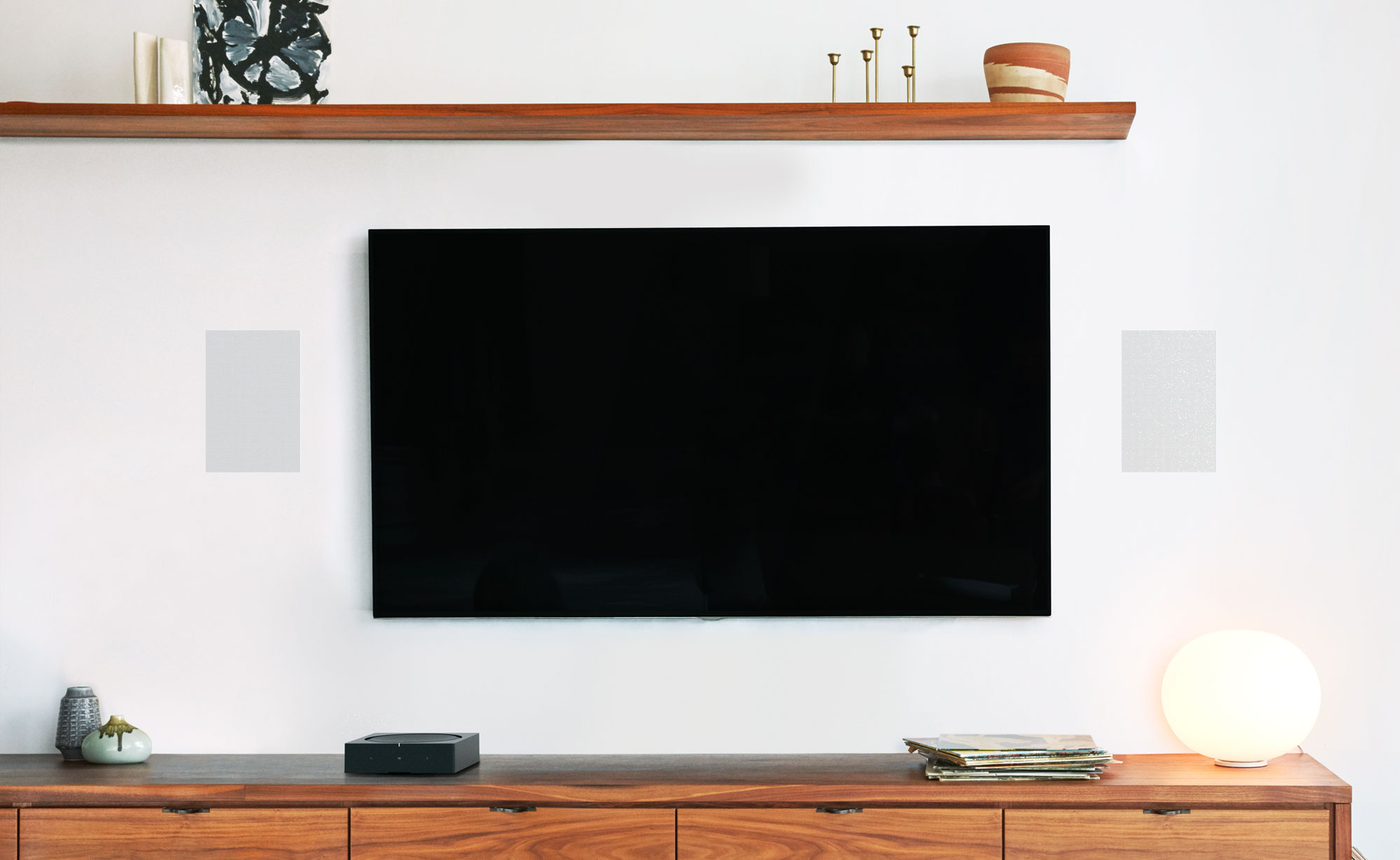 Ceiling speakers do make great options for surround speakers as much of the sound that is passed through the surround channels is quite ambient anyway.
Our top tip for a whole home of audio
For any rooms that you have open access to the ceiling, maybe because you are having an extension built, or even a new build home, it may make sense to at least pre-wire for ceiling speakers to future-proof yourself. It could even add value to your property!
We can help with ideal speaker positioning so you can get the most out of your ceiling speakers in your property, no matter how awkwardly shaped your layout may be! Submit your floor plan today.
For any rooms that you are looking to get a TV in, you may wish to consider either a combination of a soundbar and ceiling speakers, or a Sonos home cinema, or Bowers & Wilkins Formation system consisting of all standalone products, for the reasons mentioned in the previous section.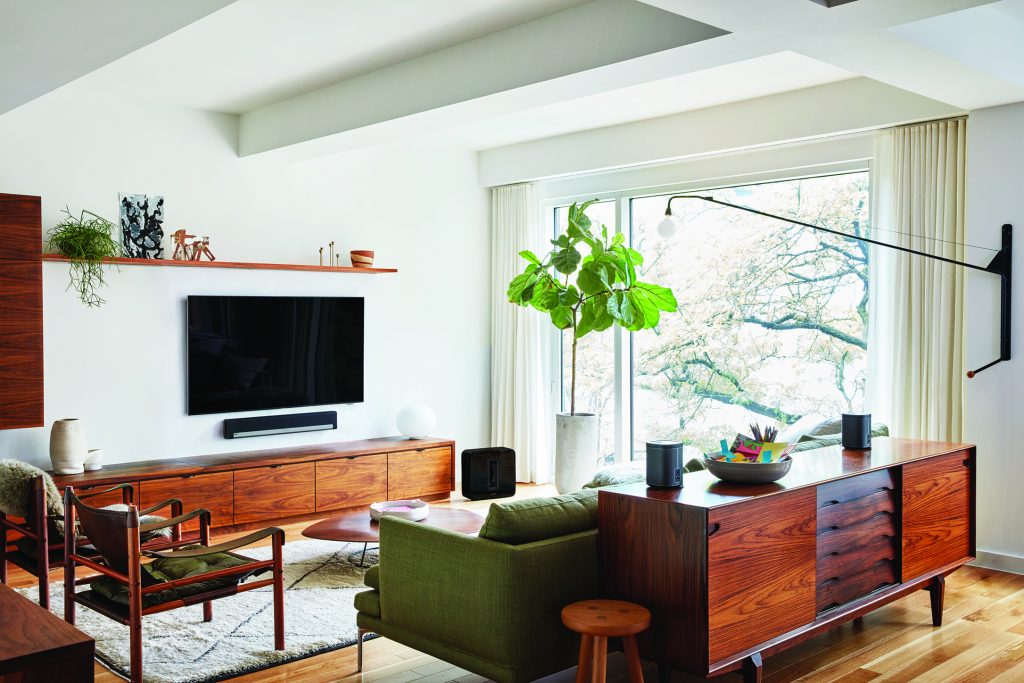 And finally, what about those rooms that are pre-existing with no access to the ceiling? Add a couple of Sonos Ones, Marshall speakers or even the portable Sonos Move which all just require mains power only and these will all integrate with your ceiling speakers over WiFi (if powered by the Sonos Amp). 
That means, music can be grouped to all rooms at once or each room can be independently playing music from another. This is all achieved in the simple-to-use Sonos app. Get the Beginner's Guide to the Sonos app
Verdict
So to answer the question of which option is right for you out of wireless speakers and in-ceiling speakers, they shouldn't be seen as mutually exclusive. Rather, in most cases, we see a combination of both methods wherever applicable. 
In-Ceiling speakers make great options for extensions, new builds and renovations, and wireless speakers are ideal for other rooms you'd like to enjoy music in, maybe those where access to the ceiling is not possible.
Would you like help with your project?
It's very important to get your ceiling speaker project right because once the wiring has been completed and the ceiling speakers are in, we don't want any nasty surprises later on down the line.
We'd love to help with your project and you can contact any one of our specialists any time and we'll get back to you within 24 working hours.