A Complete Beginner's Guide to Ceiling Speakers for your Home
There are many different factors to a ceiling speaker: size, shape, mono vs stereo and more. We make it easy to decide between them.
Helping you choose the perfect ceiling speaker for you!
You may have read about the benefits of ceiling speakers and whether they're right for you in our previous blog and now it's a case of which ones will be ideal for your particular project.
Ceiling speakers are a long-term audio solution and will provide you with room-filling sound for decades to come. That's why it's so important your speaker choice is carefully aligned to how much sound quality you want to get from your speaker in that specific room.
Is it for ambient music or do you want to be able to throw the odd party on occasion? Or is it somewhere in between?
As a general rule, the rooms where you spend the most time in should have the more powerful models. Other areas that would primarily serve as background music would suffice with either smaller or less costly models.
As a result of this, it is likely your ceiling speakers will vary in size, shape, power and cost for each room.
All ceiling speakers need to be powered by an external amplifier which is connected to each ceiling speaker using speaker cable. For the best multi-room solution, we recommend the Sonos Amp.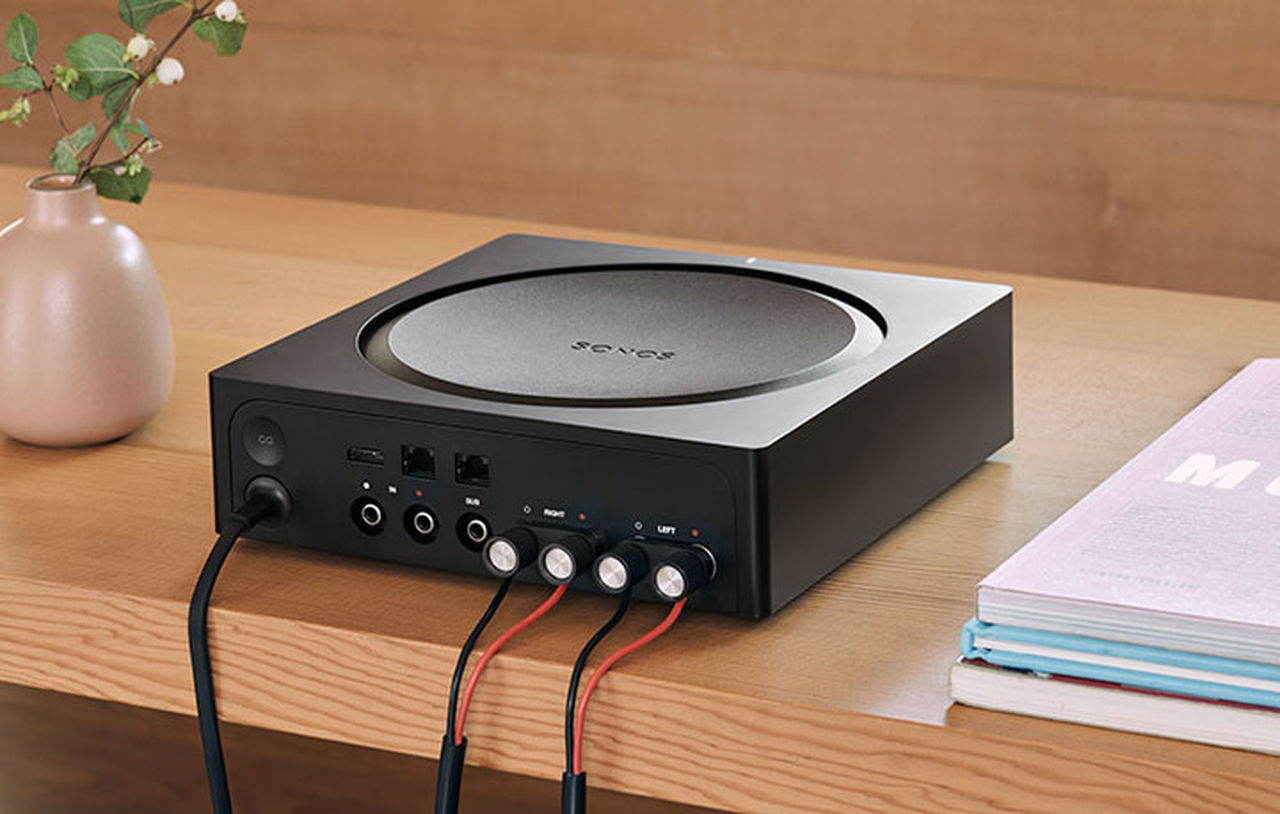 We cover all the important factors you should consider in your ceiling speaker choice below.
Brand
Smart Home Sounds have been extremely careful and meticulous in selecting its ceiling speakers to feature on the website. All of our speaker brands are tried and tested brands that come with a proven heritage of supplying great audio to its customers over a long period of time.
We also consult with our install team who fit hundreds of pairs of speakers per year for feedback and suggestions. This ensures we can offer you the best possible speaker available for your needs.
Speaker Type
In-ceiling speakers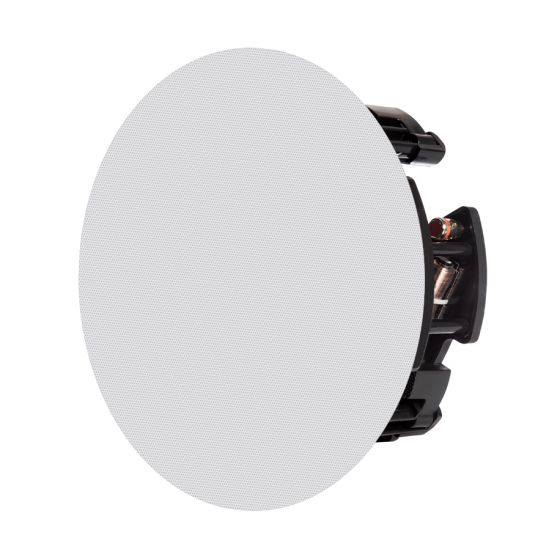 These are for those of you who are looking for the most discreet audio install possible. Ceiling speakers are cut and mounted into the ceiling above your room.
The quality of in-ceiling speakers can range from background listening options to full audiophile level speakers. Please get in touch with one of our friendly advisors to ensure we make your budget go as far as possible.
Mono vs Single Stereo ceiling speakers
IMPORTANT: Most conventional ceiling speakers are described as "mono" meaning it outputs either the left or the right channel of sound. This means they should only be used in conjunction with a second mono ceiling speaker to create a left and right stereo pair.
However, customers commonly report that ceiling space is simply too limited or impractical to install a pair of ceiling speakers. Installing one mono speaker would sound awful due to the speaker only outputting either the left or right channel of the music.
That's why the single stereo speaker was introduced, a single ceiling speaker with a left and right channel built-in. This means you can install just one speaker into a smaller sized space and still receive stereo sound.
They are generally also better value than buying a pair of monos but bear in mind the stereo separation will not be as great as two separate monos. We would only recommend opting for a single stereo speaker where you have a limited space.
For installers: Single stereo speakers require two speaker cables that will need to run to each speaker, so you can only install a maximum of 3 single stereo speakers or 6 mono speakers, per Sonos Amp.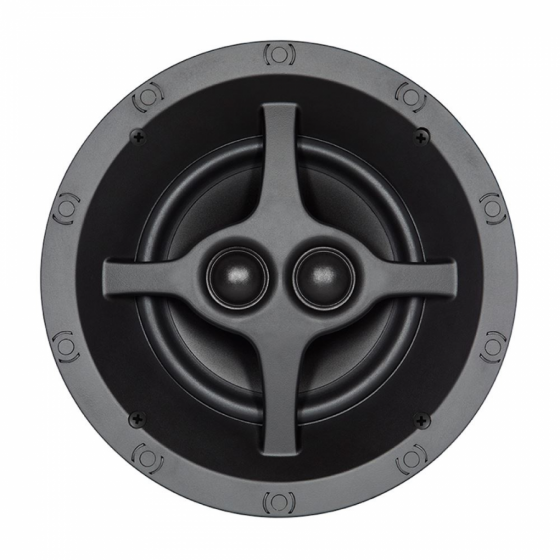 In-wall speakers
These speakers have the same options as in-ceiling speakers but instead, are normally mounted to the room's walls instead of ceilings. This option can be used for a superior TV surround sound experience, as the sound will be at listening height as opposed to a ceiling speaker where the sound comes from above.
In-wall speakers are also great in situations where ceiling mounting is not possible, but a discreet audio solution is still required.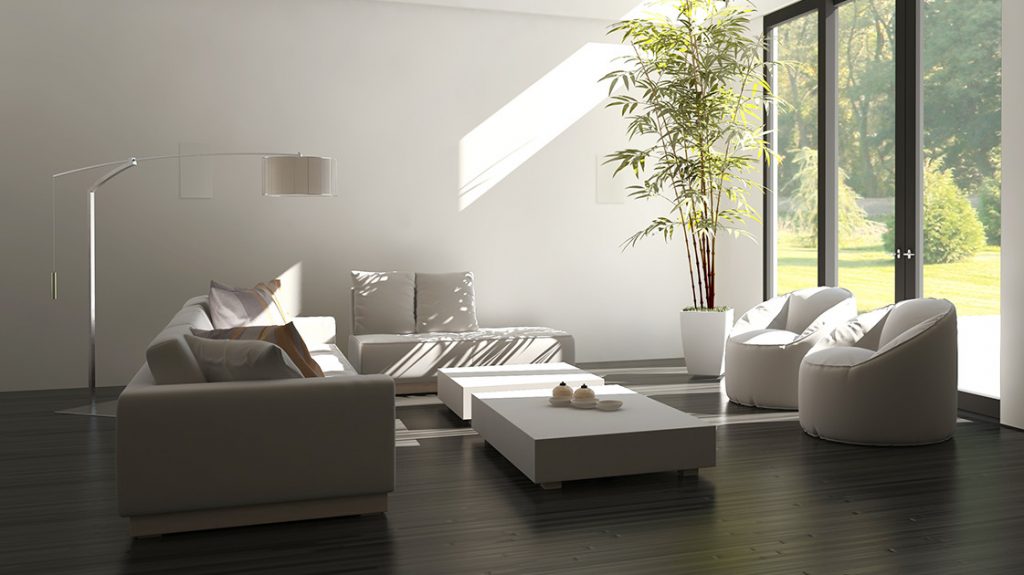 Outdoor ceiling speakers
These ceiling speakers have been custom-designed to provide audio to any external space in your home. All of our outdoor ceiling speakers have been tested to withstand the harshest of outdoor environments to make sure you have fantastic outdoor audio all year round.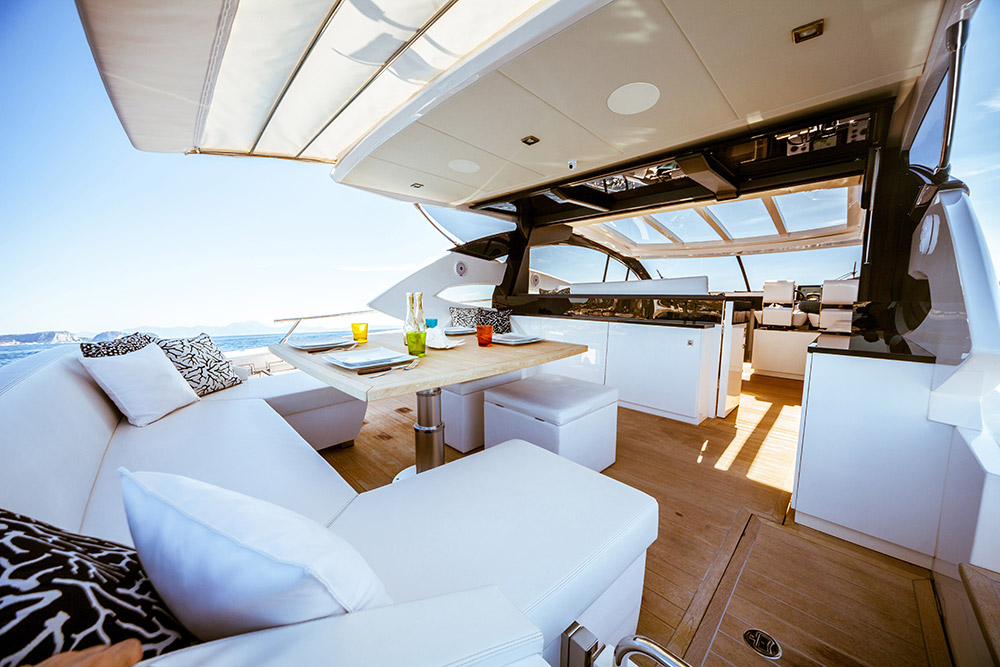 Speaker Depth
This can be a critical element to your in-ceiling or in-wall install. The measurement given is the depth (space) that is required behind the finished ceiling or wall's plasterboard. We offer a complete range of different depths of speakers to suit all situations.
Ultra slim in-ceiling speakers are typically more expensive than standard depth models of the same quality. This is because more expensive parts are required to give great sound from a slim form factor.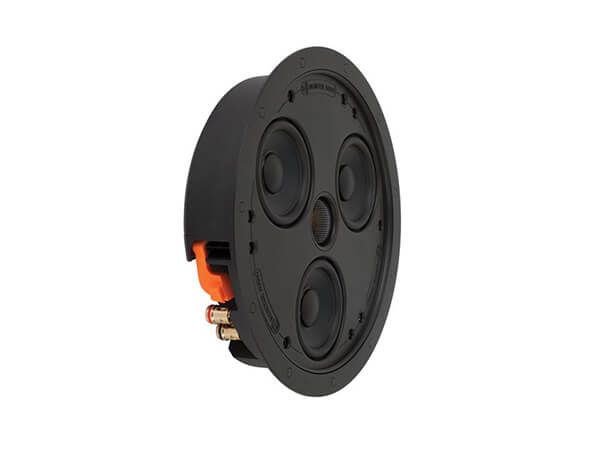 Speaker Size
The most common sizes of ceiling speaker are either 6.5 or 8-inch. The size refers to the size of the cone, not the overall size of the speaker. The 6.5-inch makes for a very practical and versatile speaker and is ideal for small to medium-sized spaces.
However, when you upgrade to an 8-inch, it makes a considerable difference to the bass. With bigger drivers, the ceiling speaker can push out more air which enables the sound to travel further in the space.
That is why we recommend as the size of the space increases, start considering upgrading from 6.5 to 8-inch speakers so that the sound can be heard clearly from a larger proportion of the room. Be aware that 8-inch speakers will be more visually noticeable than a 6.5-inch.
We also supply 3-inch speakers which are designed to blend in with halogen lights but being smaller speakers, the depth of sound will be limited here. Consider whether you prefer your speakers to be out of sight or output superior sound clarity.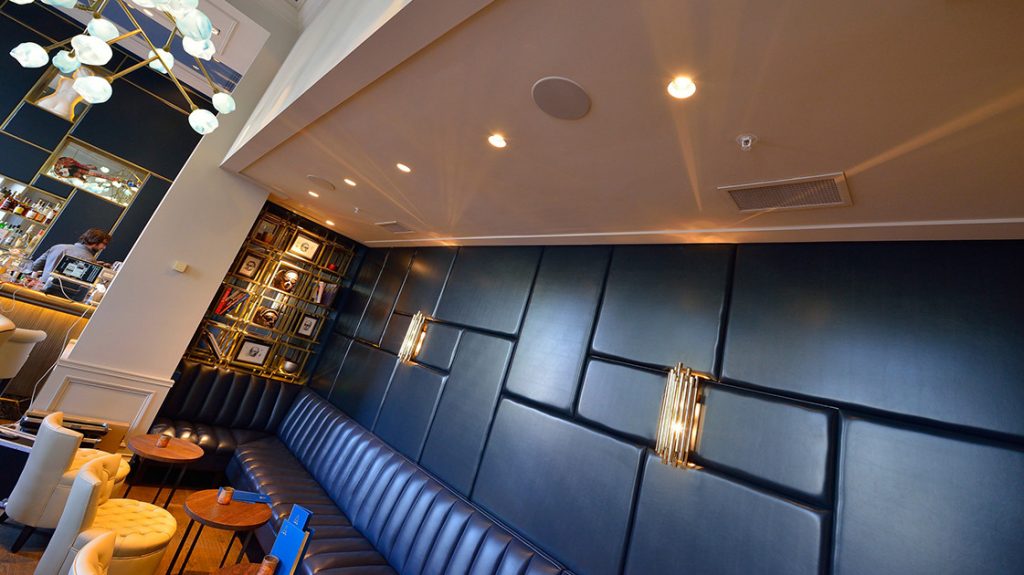 Colour
All ceiling speakers are supplied with a white grille, but most can be painted to suit your taste or surroundings. Our outdoor speakers come as either black or white.
Speaker Shape
The two variants in shape are round and square. Round is normally the preferred shape, but it may be worth considering installing a square finish if you have installed square downlights or have a very angular design to your room.
However, there are no differences in sound quality between round and square speakers, so it is a case of personal preference in appearance.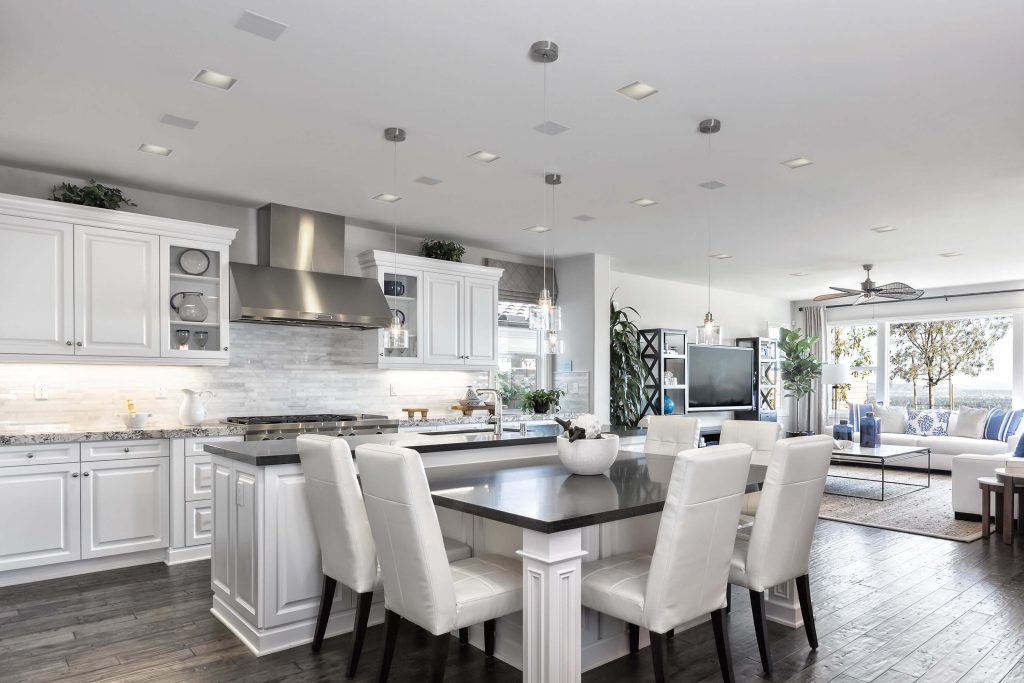 Quantity of ceiling speakers for your room
How many ceiling speakers is a common question at Smart Home Sounds. This goes hand-in-hand with the size of the room, but the consistency of sound plays a massive role here.
To give you an example, imagine you were hosting a social gathering with some background music and a pair of 6.5-inch speakers in the living room (say about 15 sqm). Late into the night, you decide to turn the volume of the music up higher.
As you are only using a pair of speakers, you will need to turn the volume up higher to compensate for the fewer quantity of speakers. This makes it uncomfortable for the guests standing directly underneath these speakers due to the proximity to them.
Solution
Consider installing four 6.5 inch speakers in the same space, evenly positioned in a square configuration for this scenario, as the sound can be dispersed more evenly and the higher volume does not need to act as compensation to having fewer speakers.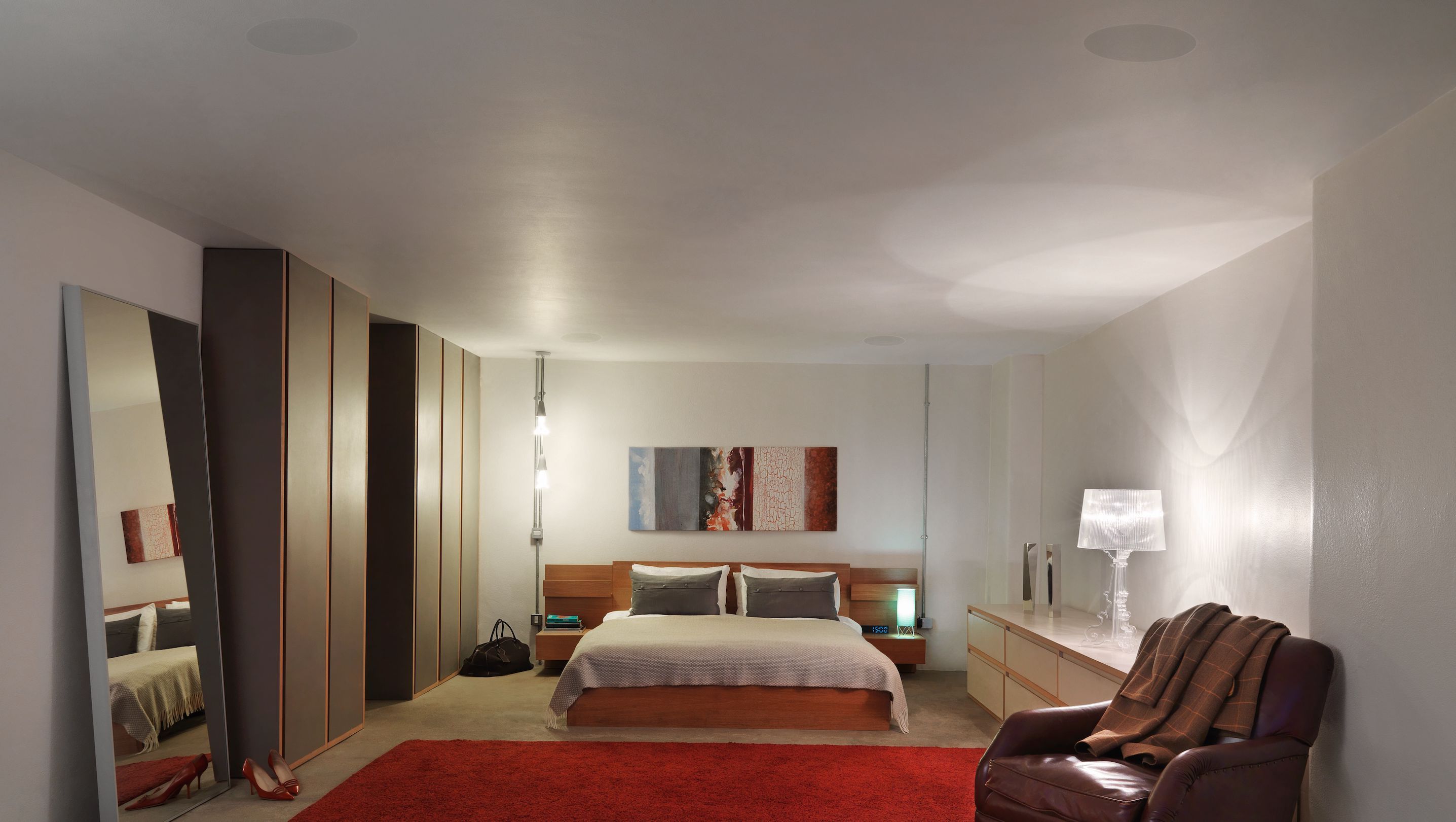 Alternatively, use a pair of 8-inch speakers instead which will disperse the sound with less effort and also provide a deeper bass output due to its larger physical dimensions.
It is recommended to seek bespoke advice on your ceiling speaker project to ensure you will get the most out of it. Please don't hesitate to contact one of our friendly specialists about your ceiling speaker project, or use our handy speaker filters to find the right speaker within your budget.

---
Learn More
How much will my ceiling speakers project cost? >>
How to choose the perfect ceiling speakers to use with Sonos >>
Sonos & Ceiling Speakers for your extension or new build >>
10 Things you need to know about ceiling speakers before you install >>
ABOUT SMART HOME SOUNDS
Smart Home Sounds is a UK Sonos specialist dedicated to filling homes with the joy of music, one room at a time!
We provide expert advice on the full Sonos range, from the voice controlled Sonos One to a Sonos wireless home cinema system with PLAYBAR, SUB, and 2 x PLAY:1s all with free next day delivery and a 6 year extended warranty.