How much will my Ceiling Speakers project cost? (and how to cost-save)
A comprehensive guide to the cost of ceiling speakers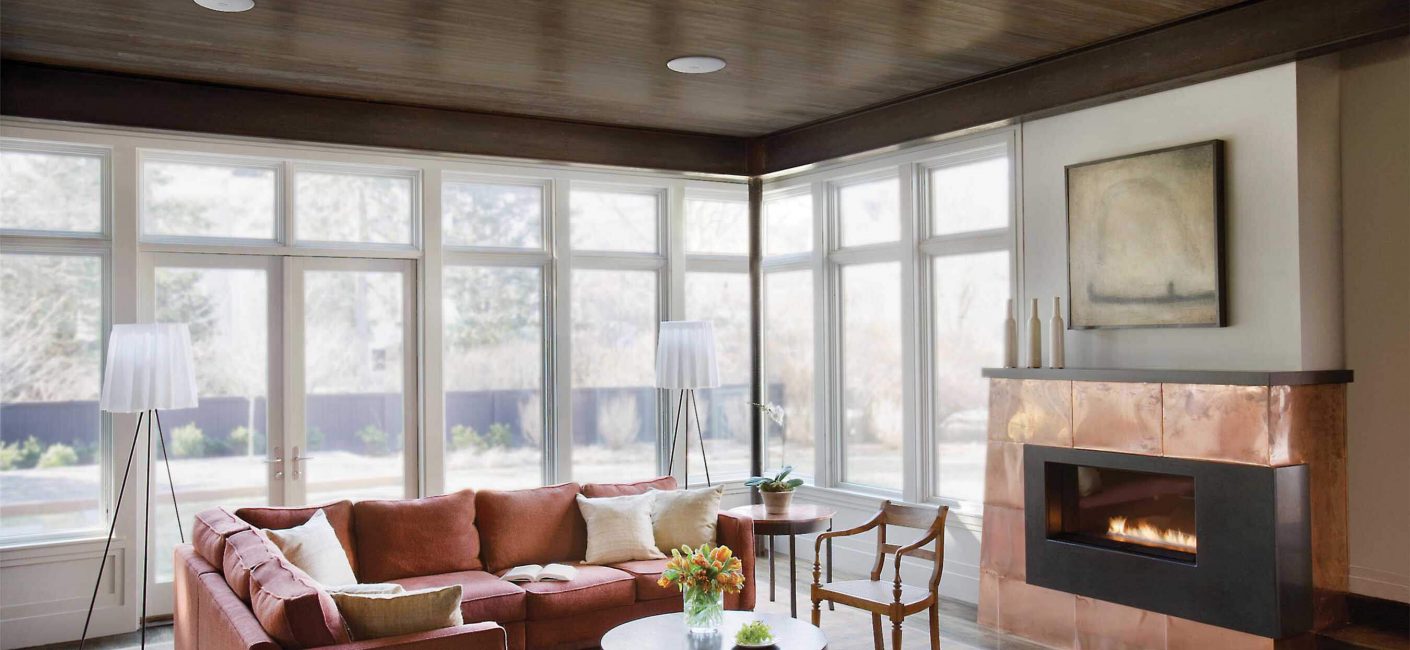 A Guide to Ceiling Speakers and their costs
Are you thinking about taking advantage of the benefits of ceiling speakers in your home or commercial environment?
One of the first questions on your mind might be how much this is all going to cost.
The purpose of this article is to speak honestly and openly about how much ceiling speaker projects cost, what factors drive the cost up and down as well as provide some example quotes.
By the end of this article, I hope you will have a basic understanding about what type of ceiling speakers are going to be right for you and also an indication of how much this will cost.
I'll also be sharing some of our best tips and tricks so you don't unnecessarily overspend on your project.
All I need now is a few minutes of your time.
So how much do ceiling speakers cost?
The not-so-good news is that this question is much the same as asking how long is a piece of string. It depends.
We have supplied for projects ranging from a single room extension costing £300 to a whole home full of ceiling speakers costing in excess of £5000. 
As you may have read on the web already, there's SO many different options when it comes to ceiling speakers and every home is different.
DISCLAIMER: Ultimately, we don't want to drive the cost down so much so that you won't be happy with your ceiling speaker install. We want you to have the information you need so you're able to find the speakers that are right for you, instead of simply the cheapest.
What costs are involved in a ceiling speaker install?
A full ceiling speaker installation would typically include the following:
The ceiling speakers themselves
Amplifiers
Subwoofers (optional)
Speaker cable
Fire hoods (optional)
Installation cost
We will touch on all of these in more detail later.
How many zones am I looking to install ceiling speakers in?
The first thing you'll need to work out is how many "zones" you're looking to install ceiling speakers in.
It's important to understand the difference between a "zone" and a "room". 
For every area you would like the ability to listen to different music to another, this would be a separate zone.
For example, although a bedroom and an ensuite are two different rooms, you may not ever need to listen to different music in the bedroom to the ensuite.
Therefore, you could wire these two rooms up on one amplifier and save the money on an additional amplifier (more on amplifiers later).
This is also highly applicable to open-plan extensions where one area is segmented into smaller areas such as a kitchen, dining area and seating area.
It's likely you'll want to install all ceiling speakers on the same amplifier (providing the amplifier is able to power that many ceiling speakers).
Here's an example in the image below (the green dots resemble ceiling speakers).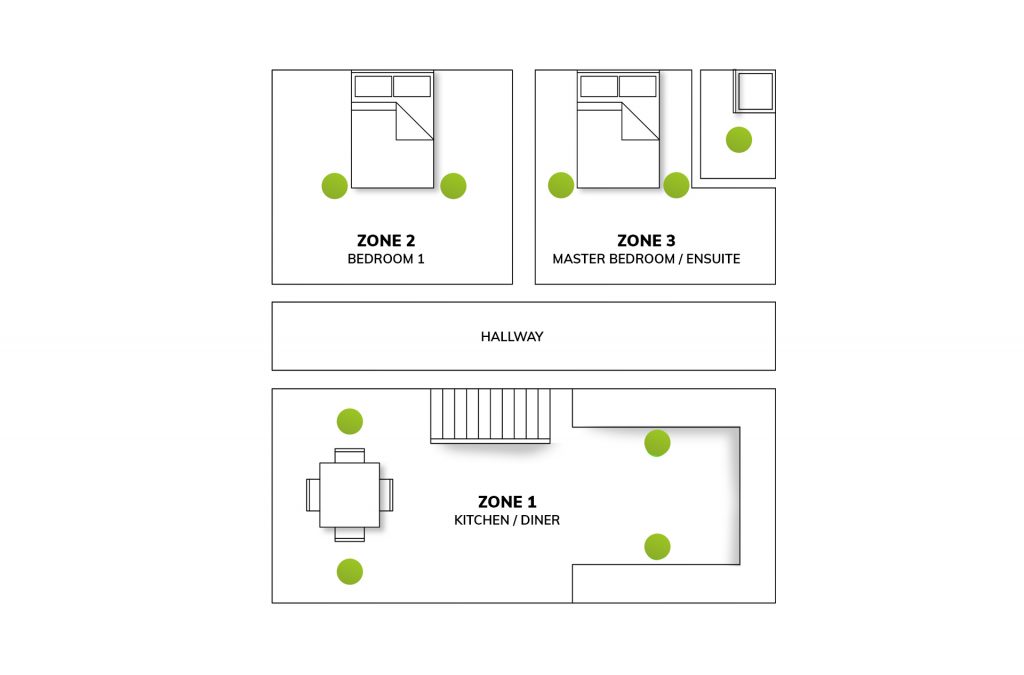 As can be seen in the image, there would be three zones in total, so they can be independently controlled from each other, providing a separate amplifier is used.
Most customers keep multiple amps in a storage cupboard so all the ceiling speakers are wired back to one central place.
Our best value single-room ceiling speaker bundle starts from £699 including a Sonos Amp. Additional pairs of ceiling speakers start from £183. 
What is an amplifier and how to decide on one?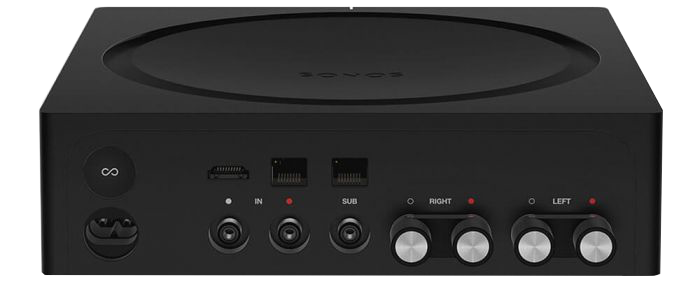 Rather surprisingly, in most cases, the ceiling speakers themselves are not the most expensive part of a ceiling speaker installation. It's the amplifiers that drive them.
Most ceiling speakers are passive, which means they rely on a separate amplifier to power them via speaker cable (More on this later).
Some amplifiers such as the Sonos Amp (£599) and Bluesound Powernode 2i (£799) are smart, meaning they can be controlled wirelessly and conveniently from an app on your phone, while others are controlled by the physical buttons on the amplifier itself for a more traditional set up.
Smart amplifiers connect to your WiFi and offer a wealth of features such as the ability to group multiple rooms together on the fly, play different music in different rooms or even integrate with your smart home devices via voice control.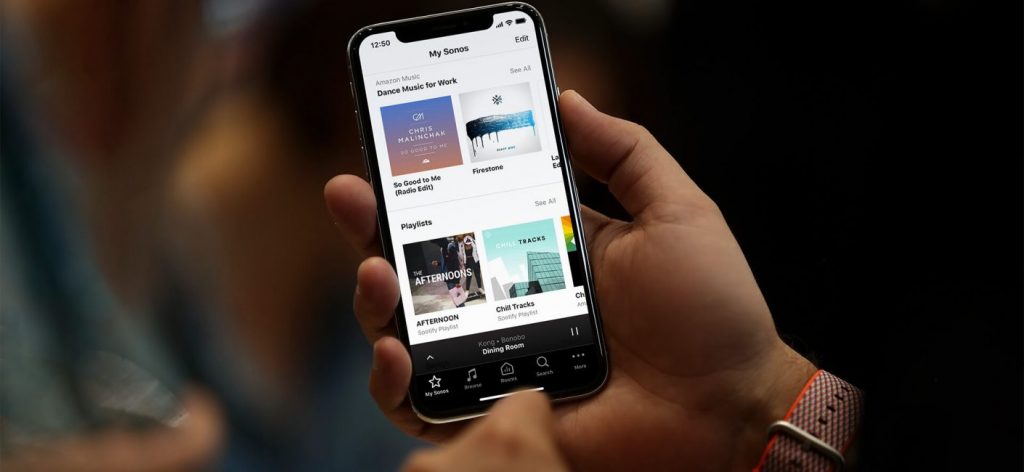 Different amplifiers also output different levels of power (wattage) which usually means they are able to offer a better quality of sound.
However, try not to base your decision on the power of the amplifier, as there are a variety of other factors that impact sound such as the DAC (digital to analogue converter), the layout of your room and the actual ceiling speakers you choose.
The amplifier can be likened to an engine in a car. You can put a V8 engine in a small, city car but without all the other components, the experience as a whole would be poor.
Do I have to have an amplifier for every room?
Every amplifier you have should be seen as another place to play different music to somewhere else.
Some brands allow you to control different zones on the same amp such as the Denon and Heos combination, which are great if you're on a tight budget and want to take advantage of multi-room control, but are simply not up there with Sonos for the same usability and features.
We recommend, for the simplest and most popular solution, Sonos Amps. While they are one of the most expensive options on the market for multi-room audio, they are also the industry experts and if budget allows, always gives an exceptional experience.
Music can be played on all ceiling speakers at once or individual rooms can play their own music, combining the aesthetics of ceiling speakers with the wireless, multi-room control of Sonos.
This wireless method of control takes advantage of what is available to us these days. No longer does using an amplifier need to involve taking up large amounts of space with trailing wires.
Find out more about the Sonos Amp
How to set a budget for ceiling speakers
When deciding on the right ceiling speaker models to choose, you first want to ask yourself what level of sound quality are you looking to achieve?
Are they for ambient background listening? Are they for throwing parties with or having guests over, or are they somewhere in between?
As a very rough guide, see below our recommendations for setting your budget:
✓ Ambient background listening - £200 per pair
Example product
✓ A balance between ambient and high-volume listening - £200-£500 per pair
Example product
Bowers & Wilkins CCM665 (pair) - £300
✓ High-volume listening (throwing parties) - £500+ per pair
Sonos in-ceiling speakers (pair) - £599
See our video guide below which goes much more in-depth about choosing the right ceiling speakers for you.
What makes a ceiling speaker project more expensive than others?
There are quite a few factors that can drive the cost of a ceiling speaker up or down. We list the factors below, as well as an example for each giving the most accurate comparison.
1. Ceiling Speaker Size
Standard ceiling speakers have 6.5-inch drivers (the cone), however you can also get 8-inch drivers which provide more bass than a standard-size ceiling speaker at a slightly higher price point.
Example
Monitor Audio C165 (single) (6.5 inch) - £115
Monitor Audio C180 (single) (8-inch) - £145
2. Mono vs single stereo ceiling speakers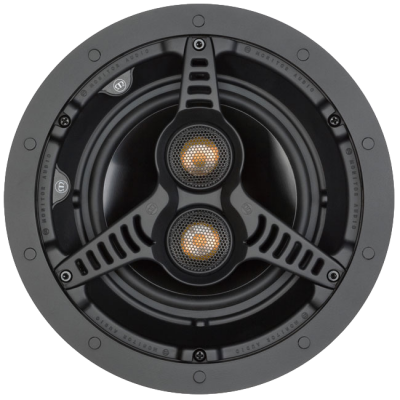 Most ceiling speakers are designed to be purchased as a pair, so one speaker would be the left channel and the other speaker would be the right channel. These would be installed in the same room. 
However, if the space between each ceiling speaker is going to be less than around 2 metres, you may want to start considering a single stereo ceiling speaker. This has 2 channels of sound built in so it can output both the left and the right channel out of one speaker, making it ideal for small spaces such as a bathroom.
A single stereo ceiling speaker often costs more up front so purchasing a left and right stereo pair works out better value per speaker.
Example
Monitor Audio C165-T2 (single stereo 6.5-inch) - £145
Monitor Audio C180-T2 (single stereo 8-inch) - £180
2 x Monitor Audio C165 (single 6.5-inch) - £230
3. Ceiling Speaker Slimness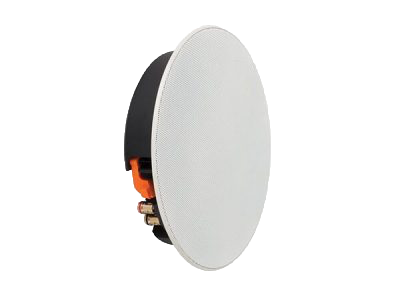 You'll need to ensure you have enough space in your ceiling void to install the ceiling speakers you would like. All of the mounting depths are listed on each ceiling speaker so you know how much space they need.
The average mounting depth you'll need is 100mm but some ceiling speakers have been designed to output the same level of sound quality at a slimmer form factor.
Example
Monitor Audio C265 (single 6.5-inch) - £165
Monitor Audio CSS230 (super-slim 6.5-inch) - £250
4. Ceiling Speaker Weatherproof rating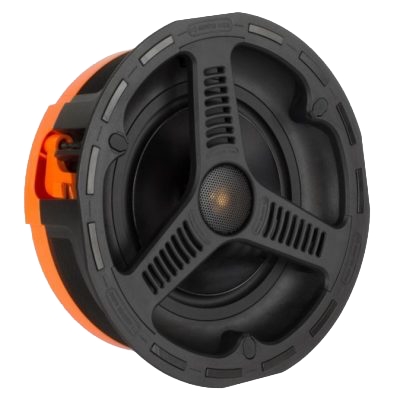 If you intend to use ceiling speakers in an environment where there are exposure to elements such as water or humidity e.g. bathroom, steam room or outdoors, you're going to need a ceiling speaker with an IP-resistance which do come at a premium.
IP44 is the minimum requirement for bathrooms but we recommend at least IP56 level if installing in a steam room or an outdoor environment.
Example
Monitor Audio C265 (single 6.5-inch) - £165
Monitor Audio AWC265 (single 6.5-inch) weatherproof - £225
5. Adding Fire Hoods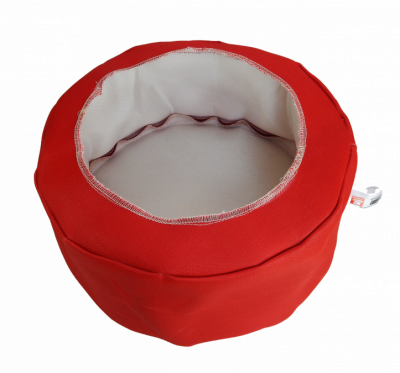 Fire hoods engulf the part of the ceiling speaker that is installed into the ceiling void. They protect the integrity of your ceilings in the event of a fire by casing the ceiling speaker with a layer of fire-retardant material, preventing any further spread of fire. 
The law is that wherever there is a habitable room above the room you are looking to install ceiling speakers in, they are a legal requirement.
They also act as an acoustic barrier, preventing a certain amount of sound from leaking into the room above.
A fire hood can be added as an option from £42.99 per ceiling speaker.
Read our full article on fire hoods
6. Adding a Subwoofer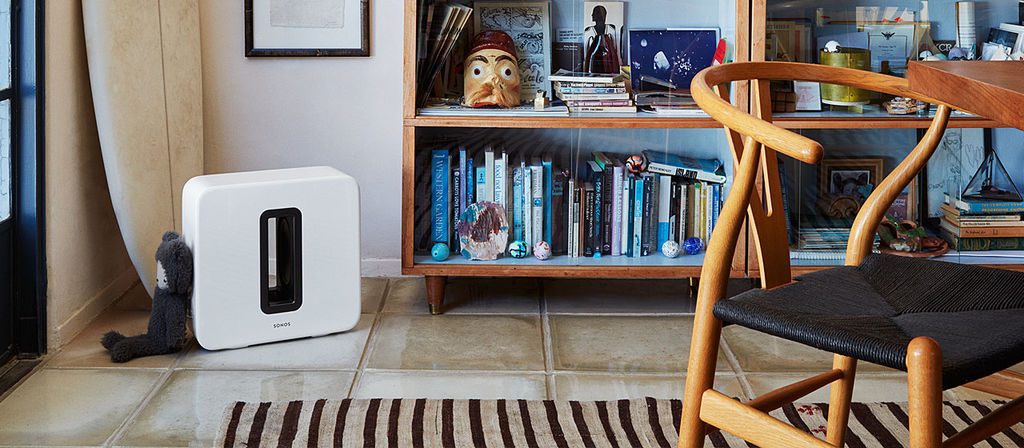 Due to their smaller driver sizes, ceiling speakers naturally cannot provide the same listening experience as a traditional hi-fi set up. While they can still be crystal-clear, the bass is not going to make you fall off your chair.
However, by adding a Subwoofer to a ceiling speaker zone, you can go a long way to making up for the bass. When all the lower frequencies are diverted to a dedicated subwoofer such as the Sonos Sub, you can still host a good party with ceiling speakers.
The Sonos Sub (£699) can be paired wirelessly with the Sonos Amp.
7. Adding Voice Control
As the Sonos Amp is a smart amplifier, it can integrate with two voice assistants (Amazon Alexa and Google Assistant) meaning you can ask your device to play music on a specific room (as well as hundreds of other tasks) and it will do this automatically, without lifting a finger.
All you need to do is add an Amazon Echo device, Google Home device or a Sonos voice-activated speaker (One or Beam) and enable Sonos as a skill in the voice assistant app.
From this point, you can ask Alexa or Google Assistant to play the music on any Sonos zone you choose.
Cost-saving methods for ceiling speaker Projects
1. Consider a speaker switch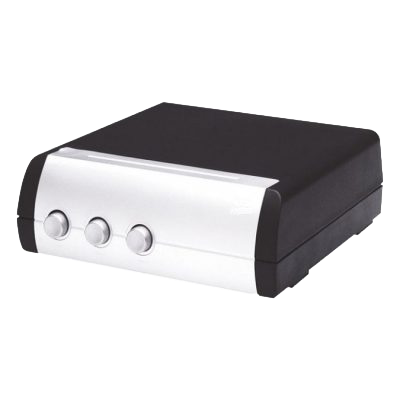 Most amplifiers allow you to install more than one pair of ceiling speakers but this usually means you would be listening to the same music on all ceiling speakers at once.
What if you had a kitchen with an outdoor zone and wanted to install all ceiling speakers on the same Amp to avoid paying for 2 Amps.
Well, you surely wouldn't want the sound to play outdoors when everyone is indoors!
This is where you could install a speaker switch which will temporarily cut the power to any one pair of ceiling speakers you choose.
This is a manual switch that is physically controlled as opposed to using within the app, but offers a cost-saving solution to having a separate Amp.
Note: a speaker switch only lets you turn off one zone to another. It would not let you play different music on different zones.
Speaker switches are relatively inexpensive at £69 for a 2-way switch (up to 2 pairs of ceiling speakers) and £75 for a 3-way switch (up to 3 pairs of ceiling speakers).
2. Avoid using top-of-the-range speaker cable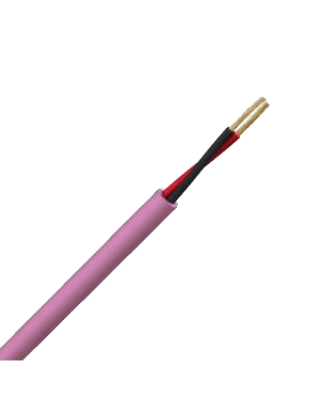 I would be vigilant when receiving advice that the quality of the speaker cable you use will directly affect the sound quality you hear. 
While this can be true in some cases, for the majority of installs, using industry-standard cable (16 gauge 2 core speaker cable) will give exactly the same results.
What you do need to be careful of with speaker cable is the distance you are running from any ceiling speaker to the amplifier. 
As a general rule of thumb, if there are any cable runs more than 35 metres in length, you should upgrade to 14 gauge cable (the quality increases as the numbers go down). This is a thicker cable and will avoid any loss of signal over long distances.
To give an idea of cost, we sell speaker cable in 50 metre reels for £47.50, however some people may source this directly from an electrician or purchase it by the metre from a DIY store.
3. Swap out a zone of ceiling speakers for a wireless speaker
For those rooms you don't want to go to the effort of installing ceiling speakers in, but still want music in, you may wish to consider swapping a zone of ceiling speakers for a traditional, wireless speaker.
Brands such as Marshall, Sonos and more offer a range of wireless speakers that simply require mains power and can be controlled via Bluetooth, WiFi or via an app.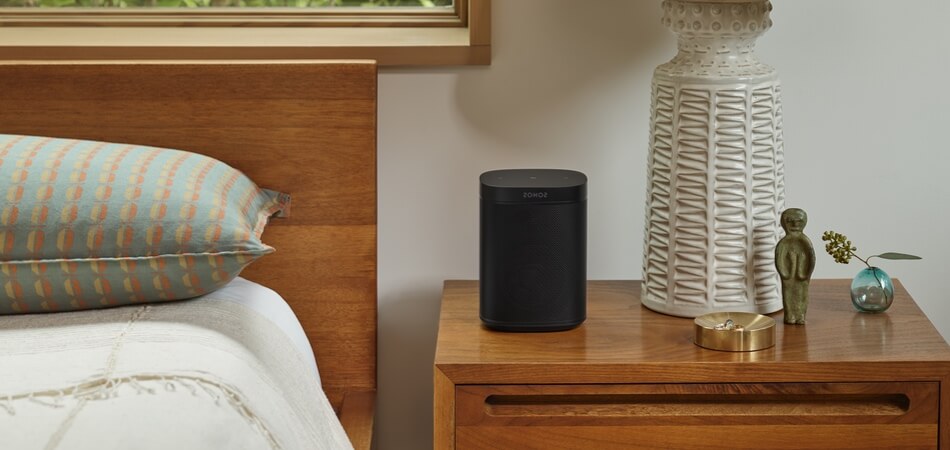 The beauty of Sonos is that if you're powering your ceiling speakers with Sonos Amps and you also have other Sonos Speakers such as the Sonos One, they can all be centrally controlled in one straightforward app.
Example quotes
Below is an example of what we may quote for a single room of ceiling speakers.
| | | |
| --- | --- | --- |
| Item | Quantity | Price (£) |
| Sonos Amp | 1 | 599 |
| Sonance C6R ceiling speaker (pair) | 1 | 183 |
| Blucube Acoustic Fire Hood | 2 | 85.98 |
| | Total | 867.98 inc VAT |
| | | Notes: includes 6 year Sonos warranty and next day delivery |
If we take the example from earlier in the post with our 3 zones consisting of kitchen / diner, bedroom and master bedroom / ensuite, below is a quote consisting of mid-range ceiling speakers (good for mid-high level listening).
This configuration would allow the user full, independent control between the three zones. The master bedroom and ensuite can be turned off at any one time with the speaker switch.
The kitchen/diner has been quoted with better quality speakers than those in the bedroom, as this is where the occasional social gathering may occur where the volume can be louder.
The Sonos Sub in this area can provide a new world of bass and will ensure everyone will "feel" the music as well as just hear it.
| | | | | |
| --- | --- | --- | --- | --- |
| Room | Item | Quantity | Unit Price (£) | Total (£) |
| Kitchen/diner | Sonos Amp | 1 | 599 | 599 |
| | Bowers & Wilkins CCM663 (pair) | 2 | 500 | 1000 |
| | Sonos Sub | 1 | 699 | 699 |
| | Blucube Acoustic Fire Hood | 4 | 42.99 | 171.96 |
| Bedroom 1 | Sonos Amp | 1 | 599 | 599 |
| | Bowers & Wilkins CCM665 (pair) | 1 | 300 | 300 |
| Master Bedroom / Ensuite | Sonos Amp | 1 | 599 | 599 |
| | Bowers & Wilkins CCM665 (pair) | 1 | 300 | 300 |
| | Bowers & Wilkins CCM664SR (single stereo) | 1 | 250 | 250 |
| | QED 2-way Speaker Switch | 1 | 69 | 69 |
| General | 16 gauge 2 core speaker cable (50 metres) | 1 | 47.50 | 47.50 |
| | | | | Total: 4634.46 inc VAT |
| | | | | Notes: includes 6 year Sonos warranty and next day delivery |
Of course, either of the quotes above can be tailored to match your requirements and budget and does not take into account any package pricing.
Is there a much cheaper option?
If you're thinking all of this is way out of budget, don't panic. We can remove certain items or reduce the quality of certain items to keep costs down.
Alternatively, if you love the idea of ceiling speakers but you're only looking to install in one room for example and on a tighter budget, something like the Lithe Audio range may be of more interest.
These speakers do not require any separate amplifiers or speaker cable so they just need to be plugged into mains power either via a lighting circuit or mains power.
You can use Bluetooth to control them or they also offer multi-room WiFi versions which utilise an app, however do be aware this app is not quite as refined as the Sonos App.
Lithe Audio speakers start from £199 each for the Bluetooth version, and you can buy a pair for £269.
The WiFi versions controlled by an app can be obtained for £399 per pair.
Each speaker can be switched to either mono or stereo version so there's no need for a single stereo version and there are also IP44-rated versions for bathrooms.
See the diagram below so you can see the various installation options for Lithe Audio.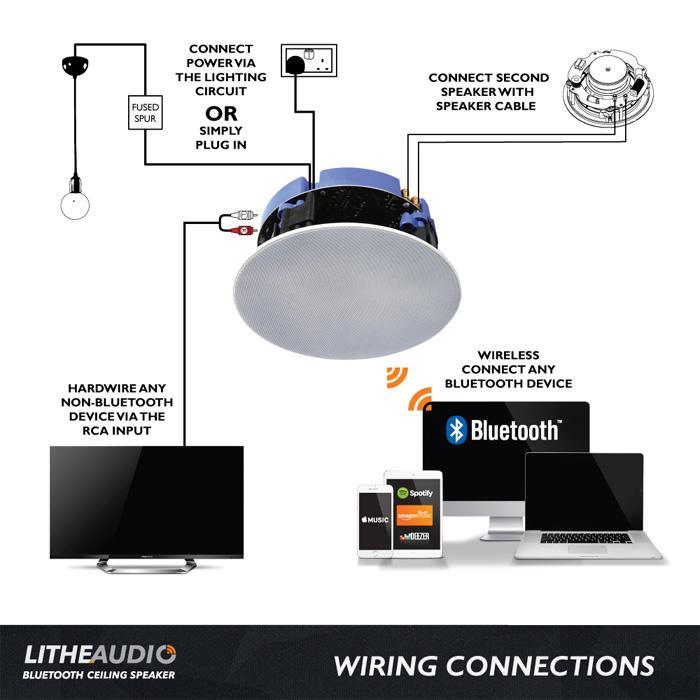 Do we offer installation?
No, unfortunately we don't offer an installation service.
Ceiling speaker installation is usually completed by a qualified electrician and prices will vary depending on the company.
Please contact your installer directly for an installation quote.
We'd love to hear from you!
It is great that you've got this far and we would love to continue the conversation with you about your particular project.
We offer a FREE mark-up service of your floor plan so we can help with speaker positioning, models, and an indication of cost.
We will do our very best to make your budget go as far as possible and answer any questions you have along the way (no question is a silly question!).
Contact Form
"*" indicates required fields
Or get in touch via info@smarthomesounds.co.uk

Jonathan, Sonos Specialist
Other helpful resources
E-book
We have made a comprehensive written guide to ceiling speakers in the form of a free e-book.
Please request a copy if you would like to get this delivered to your inbox so you can digest even more information about ceiling speakers.
YouTube channel
We have also put together a 3-part ceiling speaker series on YouTube starting off with a beginners guide, then finding the right speakers for you, then rounded off with our best tips, tricks and most common mistakes!