How to Choose the Perfect Ceiling Speakers to Use with Sonos
In this blog, we explain the advantages of ceiling speakers in a Sonos set up and help you understand what's right for you.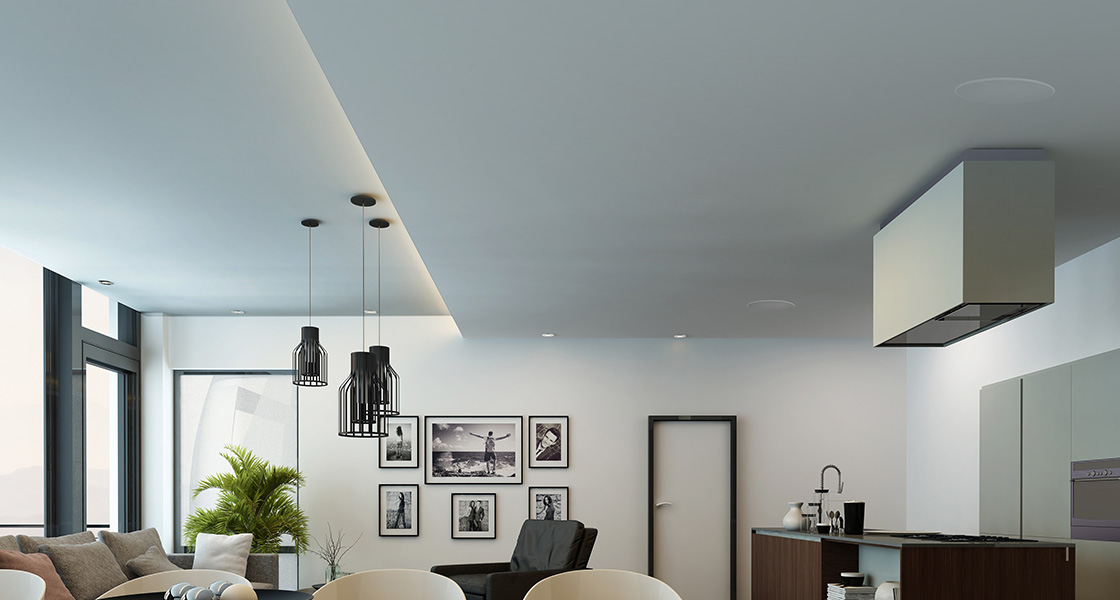 Why use in-ceiling speakers with sonos?
Ceiling speakers are becoming an increasingly popular audio solution as the market is turning away from big, bulky amplifiers and floor-strewn cables that are an eye-sore for most. Not to mention, the cost of these components can be significantly more.
The market is demanding a neater solution and that's why Sonos and ceiling speakers work so well. Stream all of your favourite music, podcasts, radio stations and audiobooks wirelessly to any or every speaker using Sonos Connect:Amps - stream different music to different rooms at the same time or group the same music to every room, from anywhere in your home at the tap of a button on your phone.
You can even go one step further and add a Sonos One or an Echo device to start music playback on any of your ceiling speakers using your voice for a truly hands-free experience.
Customers have the choice of many different brands, sizes, quality and price point of ceiling speakers. However, all this choice could leave you feeling a little bit lost.
How do you know which ceiling speaker is suitable for which room?
How do you know how much to spend?
How many would be enough for my room?
We help bust the jargon and clear the mist when it comes to understanding the right ceiling speakers for you and your room.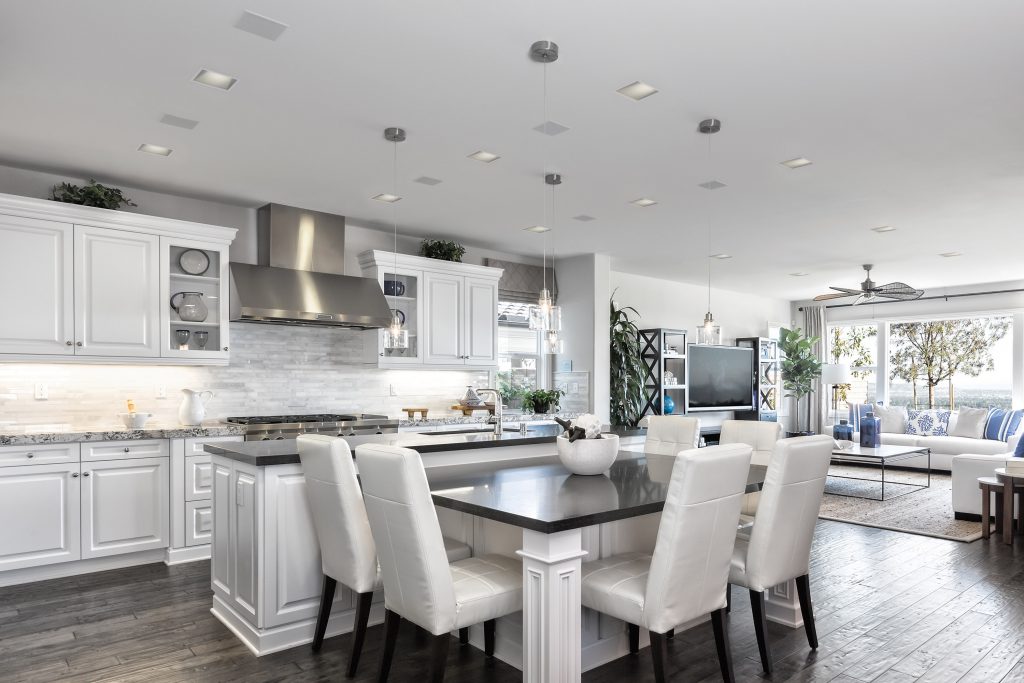 What are the benefits of in-ceiling speakers?
Ceiling speakers take the form of being in-set in the ceiling and as a result, come with a number of benefits.
1. Save space, zero clutter. Being installed into the ceiling means they take up no floor space at all. You also don't have to worry about finding space on a cabinet, shelf, or avoiding paintings and decorations on the wall.
2. Position them anywhere. As they do not use mains power like a traditional speaker, you are free to position them in the perfect spot in the room's ceiling, optimising sound quality.
3. Aesthetic visuals. As the wires are concealed within the ceiling, not only are they nice to look at, there are no exposed wires or cables and therefore, no accidents. Yes, I'm talking to you, parents with little ones!
4. No need to spend a fortune. You don't have to spend a second mortgage to get a good in-ceiling speaker set up. There are many cost-saving methods to both optimise sound quality while keeping costs low.
5. Small speakers with big sound. Ceiling speakers may be small in size, but not in sound quality. The way ceiling speakers are designed and the vacuum in the ceiling, makes a great partnership to produce surprisingly impactful bass and treble.
If you already own a Sonos system, ceiling speakers connected to a Sonos Connect:Amp will appear in the Sonos app as their room name. This means your entire audio set up across your home can be centrally controlled and music can be started or changed as quickly as possible in each room. Group your music together or send different music to different rooms, however you want. We believe this is the most modern and practical way of listening to music.
Choosing a ceiling speaker for your room
You could get very technical with a ceiling speaker, and there is a lot of complicated jargon that doesn't need to be explained. There are some things however, you will need to think about before selecting your ceiling speaker for your application.
The most important factors to think about are room choice, speaker shape (most common are square and circular), size (6 or 8 inches) speaker type (mono or single stereo), frequency (a bigger range of Hz results in better depth and balance of sound) and impedance (look for 8 ohms to match that of the Sonos Connect:Amp). We cover room size in more detail below.
Room size - Smaller spaces such as a bathroom or small kitchen do well with just one single stereo speaker. This type of speaker has a combined left and right channel for greater stereo separation, and being one speaker aesthetically suits smaller rooms. As the aforementioned rooms can produce a lot of steam, heat or moisture, it's important your speaker has resistance to these elements! Smart Home Sounds recommends the Monitor Audio C180-T2 or Sonance C6R SST which are both steam and moisture resistant.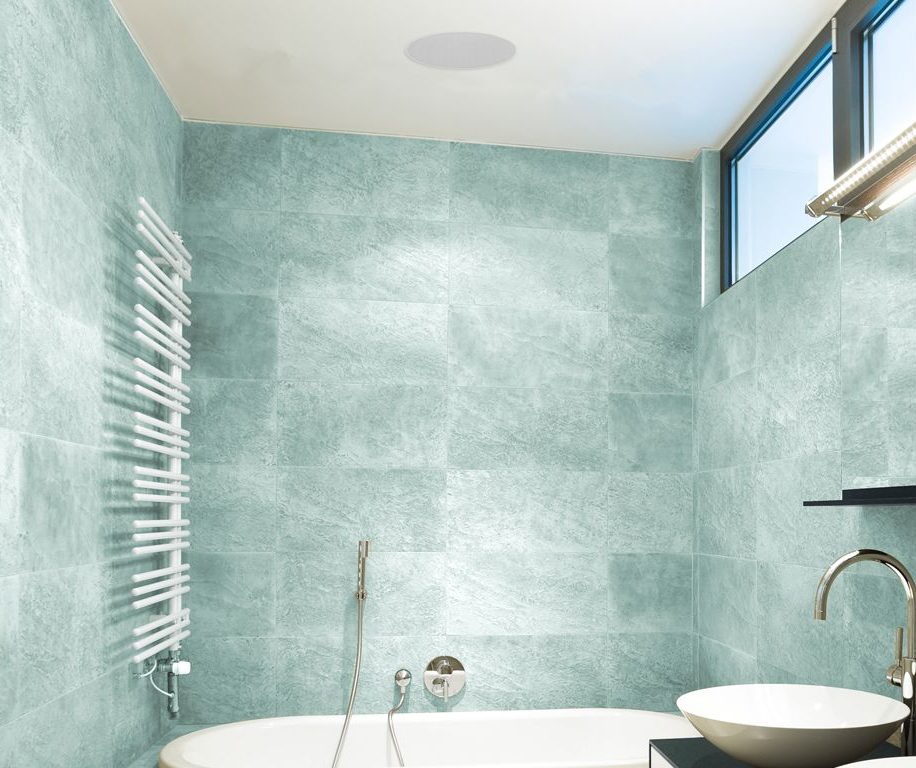 Install Tip: Even though a single stereo speaker is only one unit, you must wire it with two speaker cables. This is the same as a left and right stereo pair but to the single location of the single stereo speaker. (See wiring diagram further down the page)
Slightly larger size rooms such as an office, bedroom or dining room would benefit more from a stereo pair of speakers. This is because, with two separate speakers, the stereo separation effect is much greater.
A good all-rounder between quality, price and aesthetics would be the Monitor Audio C165 or KEF CI130.2CRs and these are ideal for most medium-sized spaces. Another option would be a pair of Sonance C6R 6 speakers which offer fantastic value for money.
Large rooms such as a living room or an open plan layout such as a kitchen/diner, are best suited to either a pair of larger sized speakers (8 inches) or 2 pairs of medium sized (6 inches). The latter 6-inch option is great for homeowners who are trying to evenly distribute their audio in a large space.
If you are looking to occasionally use the space as a social gathering, dinner party etc. or are simply looking to achieve the best possible audio; we recommend installing a larger (8-inch) speaker such as the Monitor Audio C280s. Being a physically larger driver, it can push out more air and thus provide deeper bass than a similar 6-inch model.
Can I use in-ceiling speakers as the rear surround sound channels to a PLAYBAR or PLAYBASE?
It's important to note that if you have a Sonos PLAYBAR or PLAYBASE in your living room already, it is possible to use ceiling speakers as your rear speakers. If using ceiling speakers, we recommend choosing ones that have angleable tweeters to ensure the sound is pointing towards where you sit.
In-wall speakers are also a great alternative to standalone rear speakers as they too sit flush, but instead in the wall. To configure either of these options correctly, the Connect:Amp and PLAYBAR must be wired directly to your router using an ethernet cable. Alternatively, the Connect:Amp can be connected directly to the ethernet port in the back of the PLAYBAR, whichever option is more convenient. Your Connect:Amp's settings must also be configured slightly differently. You can find instructions on how to do this by checking out the Sonos community article. 
What's the correct way to wire my room or house for an in-ceiling speaker set-up?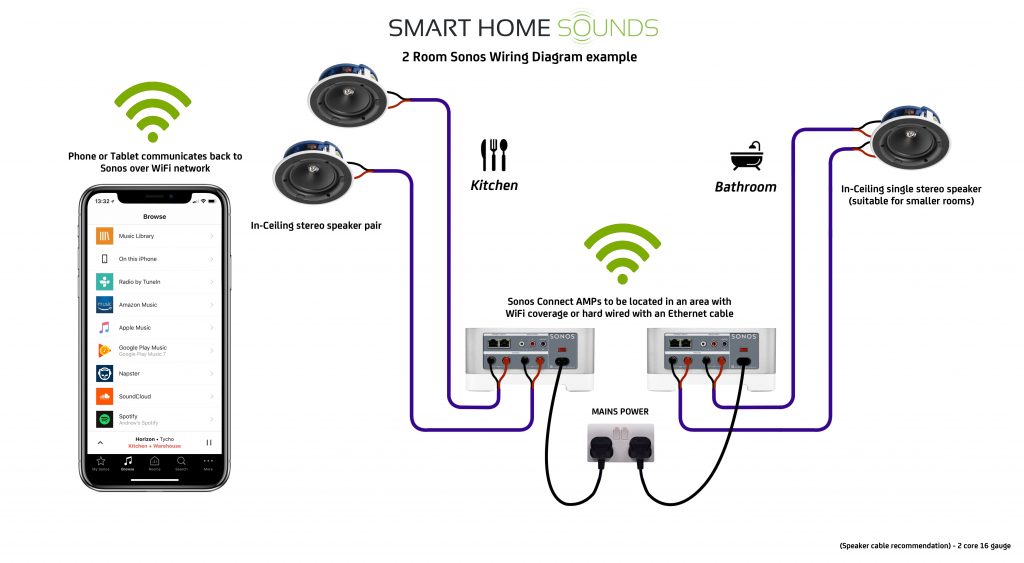 The three components that are needed are the ceiling speakers themselves, an amplifier to power the ceiling speakers and speaker cable. We supply various bundles at the best price with these components included so you don't need to shop around for multiple components.
Ceiling speakers are generally passive speakers, meaning they need an external source of power to fire them up. When it comes to the selection of an amplifier to use in conjunction with in-ceiling speakers, we whole-heartedly recommend the Sonos Connect:Amp.
This smart piece of kit is compact, versatile and is human in its representation of how we listen to music today. Wirelessly stream your favourite music from music streaming services such as Apple Music, Spotify, Deezer and many more. If you love radio, it is possible to listen to stations from all over the world with the built-in TuneIn service.
When using a Connect:Amp, control of your music and in-ceiling speakers is achieved via the free Sonos app. If you've got multiple zones or rooms of ceiling speakers, you can group the music wirelessly together on each room or independently control each room with different music selection.
How many Connect:Amps do I need?
A very common question here at Smart Home Sounds and a very important point.
For every room you want independent volume control and music selection, you will need a separate Connect:Amp.
Each Connect:Amp can power up to two pairs of ceiling speakers so if, for example, you had a bedroom with ensuite and you didn't need independent music and volume control between these two areas, you'd only need one Connect:Amp. This is where you can cost-save. However, it's likely that you'll want independent control between two different bedrooms. So here, you would need two Connect:Amps.
If you're using multiple Connect:Amps, the most practical solution is to have all your ceiling speakers wired back to a central location where you can store your Connect:Amps in a storage cabinet/rack or wall mount them using Flexson's latest solution. You could choose to pay for an electrician to install the ceiling speakers as they are set into the ceiling with speaker cable running behind the walls and ceilings and into the amplifiers. However, this can easily still be a DIY job, and full instructions are provided with the Connect:Amp and ceiling speakers.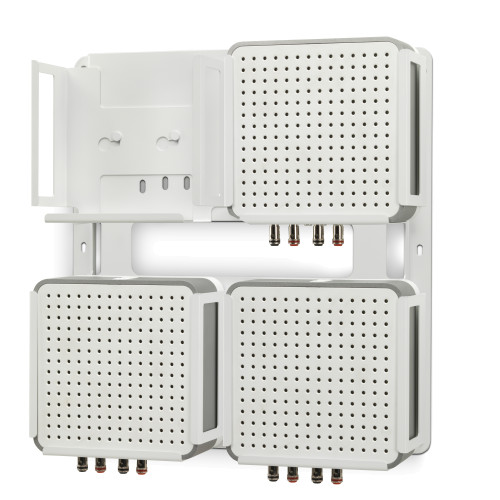 Can I use a Subwoofer with ceiling speakers?
Adding a subwoofer to your set up will do wonders for the depth and rumble of the sound. We recommend using the Sonos Sub as it is a walk in the park to add to your existing set up - simply just plug the Sub into mains power and then "Add a Sub" to your chosen room in the Sonos app and follow the steps.
It is also an extremely powerful Subwoofer for the price you pay. However, if you'd prefer to use a different Subwoofer, the Connect:Amp also contains a Sub Out for direct connection to your own Subwoofer.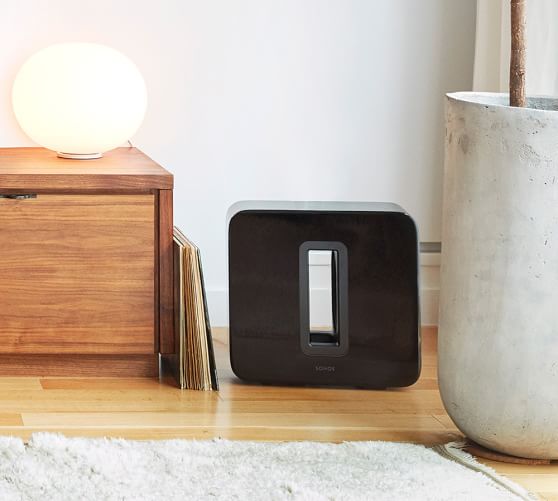 If you'd like to know whether the Sub is worth it for you, you can check out our handy blog. 
Conclusion
To wrap up, ceiling speakers are a very practical, discrete choice to effortlessly stream your music around your home from your phone or tablet. They are compact, neat and the choice of ceiling speakers is wide. Our ceiling speaker filters on our ceiling and outdoor speaker page will help you find the perfect ceiling speaker for every room and space in your home within your budget. If you would like to discuss your requirements further, please get in touch with one of our friendly specialists.
---
10% off all Ceiling Speakers in our online shop
Exclusive Blog Offer: For a limited time only, we are offering all readers of this blog an exclusive 10% off all ceiling speakers from our online shop
Use Discount Code: cs1 at checkout
(Limited time only, excludes bundles and not to be used in conjunction with any other offer)
---
ABOUT SMART HOME SOUNDS
Smart Home Sounds is a UK Sonos specialist dedicated to filling homes with the joy of music, one room at a time!
We provide expert advice on the full Sonos range, from the voice controlled Sonos One to a Sonos wireless home cinema system with PLAYBAR, SUB, and 2 x PLAY:1s all with free next day delivery and a 6 year extended warranty.