Sonos One (Gen 2)
Powerful wireless smart speaker with voice control built-in.
Second generation version of the award winning Sonos One with built-in voice control
More Details
0% Finance: Spend £190.00 more to qualify.

Lowest price promise. Seen it cheaper?
Sonos One (Gen 2)
The powerful smart speaker with built-in voice control
Sonos One (Gen 2) delivers rich, room-filling sound and has Amazon Alexa built right in for simple voice control of all your favourite music and much more.
Play all your favourite music, radio, podcasts, and much more
Amazon Alexa voice control with Google Assistant coming soon
Apple AirPlay 2 compatible with iOS devices
Gen 2 model to include an updated processor, increased memory & BLE
Award-winning superior, room-filling sound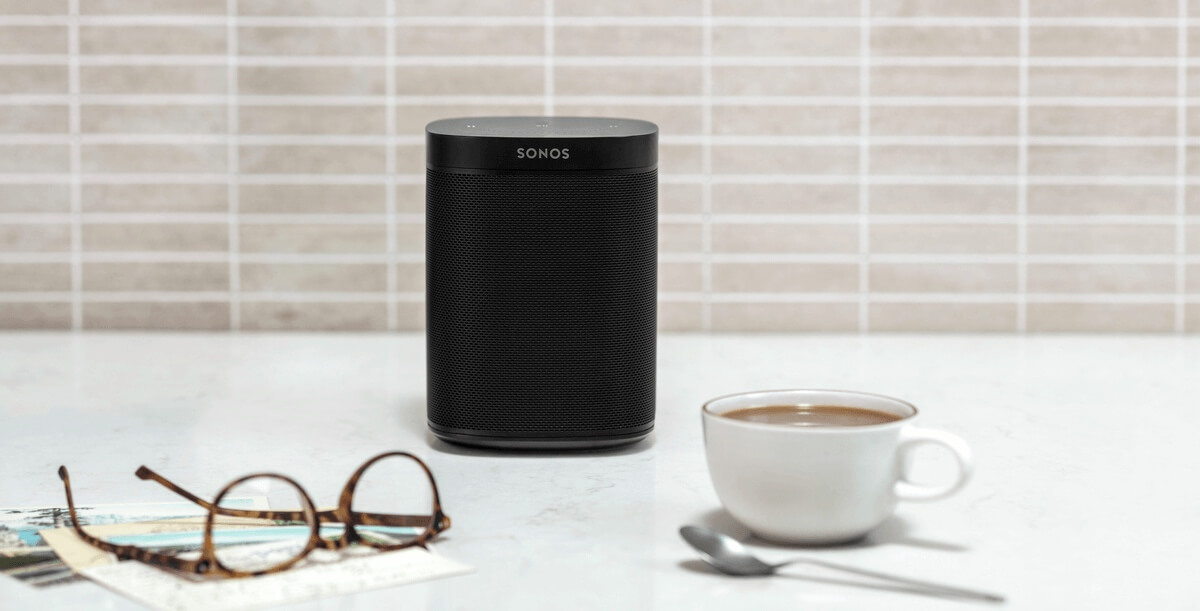 Sonos and Alexa – the smart partnership
As the current leading voice assistant, Amazon Alexa has been a smash hit. Sonos One provides all your favourite music, at your command.
Simply speak the word "Alexa" and give her your commands. This could be something like "Alexa, play chill hits." or even something more specific like, "Alexa, give me a recipe for spaghetti bolognese."
Alexa simplifies your life and day-to-day tasks. When built in to this award-winning, powerful speaker, it offers a product with a feature list and performance well beyond its price.
Music for every moment with over 100 music streaming services
Search for any artist, song, genre or playlist and let your music service personalise itself for you over time. (Requires premium account of streaming service).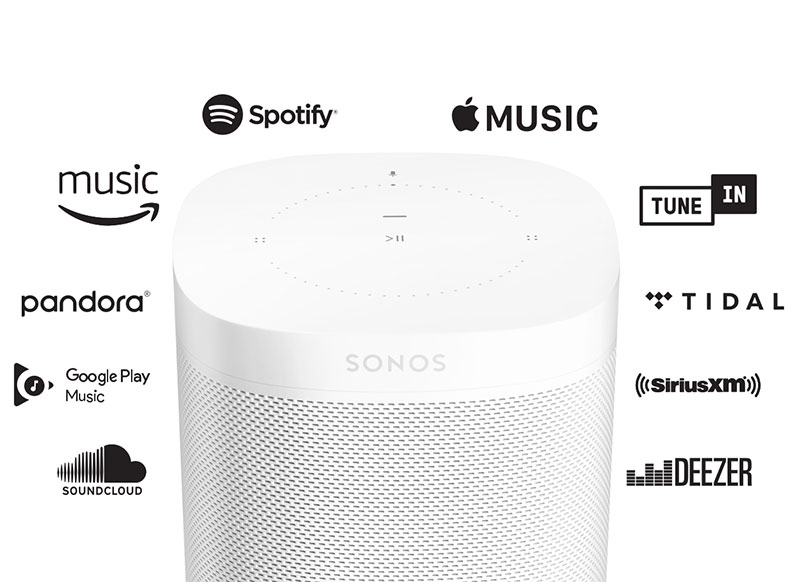 Control much more
Play your favourite music, get news and traffic updates, manage smart home devices and benefit from the hundreds of Amazon Alexa skills available to you, with just one Sonos One speaker.


Apple AirPlay 2 built-in for casting audio from your Apple device to your speaker
With AirPlay 2 on board, stream anything you want directly from your Apple device or ask Siri voice assistant to play your favourite tracks from Apple Music throughout your home.


Control your way
Sonos One blends together voice control, wireless app control, AirPlay 2 and touch control, enabling you to manage music with the methods you've always known and loved. Use voice control with the Sonos app to manage all your music in one central place.


TRUEPLAY gives you tailored sound to the room it's in
Sonos One (Gen 2) also features the exclusive TRUEPLAY technology built in. TRUEPLAY calibrates with the walls and layout of your room, and then optimises the speaker for a custom listening experience. Whether your room is small, large or awkwardly-shaped, the One adapts to give the most natural and objective sound possible.
Gets smarter over time
With its sleek and timeless appearance, the Sonos One is designed to take pride and place in your room for many years to come. Sonos have designed the speaker with longevity in mind coupled with the ability to grow smarter over time with free software updates.
Now with increased memory and more processing power, the One is equipped with the latest technology and completely future-proofed.


Unparalled ecosystem
The Sonos home sound system is one of the market's best-designed, most reliable and versatile system there is. There is no need for a BRIDGE or BOOST, as they are capable of connecting to your home WiFi wirelessly.
An Ethernet port gives you the option to take advantage of the reliable Sonos 'Mesh' system, should you wish to.


Built to last
Made from robust materials, the One is also ideal for use in high-humidity rooms with fluctuent temperature changes - such as conservatories or bathrooms. The solid composition with no vinyl wrap or wood veneer to peel will keep the speaker looking as it did when you bought the speaker.

Now with an even quicker set up, better internals for the future and with the same impressive sound, sleek styling and functionality as ever, the Sonos One is leading by example in the smart speaker industry.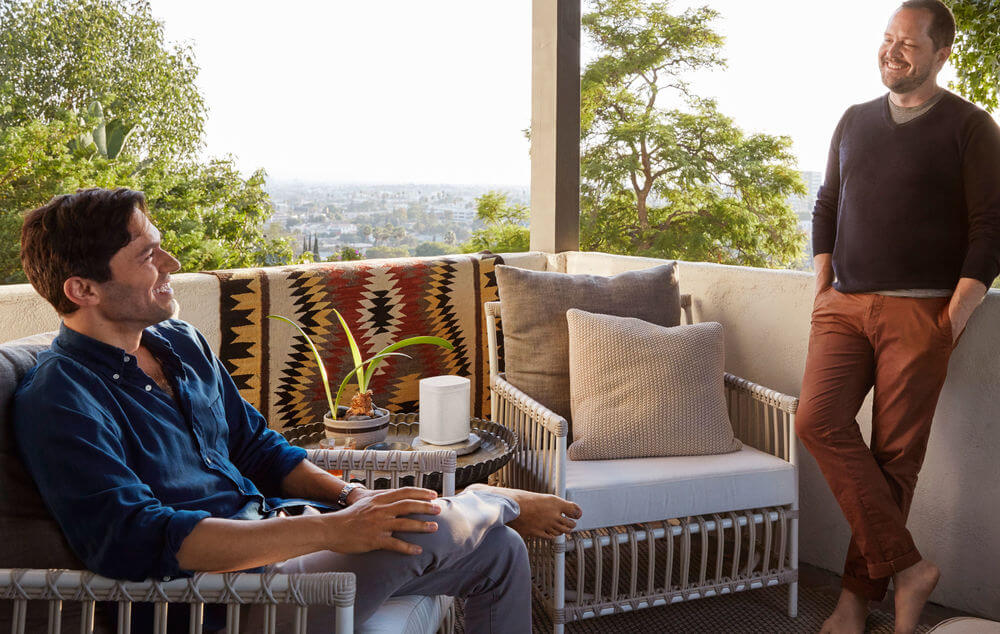 Sonos One Gen 2 FAQs


Q. Sonos One (Gen 2) vs Sonos One (Gen 1)?
A. Currently, there is no audio or feature differences between Sonos One (Gen 2) and the original version. The original Sonos One will continue to support all its current features, and more, in the future. However, over time the increased memory, Bluetooth Low Energy, and processing power may allow for new product experiences on the Gen 2 version that the original will not be able to support. Sonos have stated there are no specific Gen 2-only features planned at this time.
Q. Can I stereo pair a Sonos One (Gen 2) with a Sonos One (Gen 1)?
A. Yes. You can stereo pair 2 Sonos Ones of any generation, but you cannot stereo pair a Sonos One with a Play:1.
Q. What is BLE on the Sonos One (Gen 2)?
A. BLE stands for Bluetooth Low Energy but is currently only used for the initial set up of the Sonos One, to make it super quick and easy to set up.
Q. Are there any appearance changes in the Sonos One (Gen 2)?
A. The only visual difference is the Gen 2 logo on the base of the Sonos One.
More Information

| | |
| --- | --- |
| Weight (Kg) | 1.8500 |
| Brand | Sonos |
| Manufacturer | Sonos |
| Width | 119.7mm |
| Height | 161.45mm |
| Depth | 119.7mm |
| In the box | Sonos One, power cord, Sonos One QuickStart Guide, and Legal/Warranty information. |
| Finish | White with white matte grille or black with black matte grille. |
| Connectivity | WiFi, not Bluetooth Connects to your home WiFi network with any 802.11b/g, 2.4 GHz broadcast-capable router for uninterrupted wireless streaming. |
| Networking | Ethernet port One 10/100 Mbps Ethernet port. Wire directly to your router to operate your Sonos if WiFi is unstable. |
| Top-panel | Top-panel features Capacitive touch control for volume up/down, previous/next track, play/pause, microphone mute. LED indicates status, mute status and voice feedback. |
| Digital Assistant | amazon, google |
| Music connectivity | Airplay 2, Spotify Connect |
Simply brilliant. Great rich sound quality. Easy to set up and works straight from the box.
Top quality speaker that fits the use of our purpose. Would recommend as an upgrade to any Amazon Alexa device user.
Robust sound, great looks, solid build quality and seamless integration into your sonos and smart home environment.
Works so well with the beam , wish I had got them sooner
Amazing speaker that pack a punch! Great clarity and looks good too.
This is my first Sonos One. I have six other units but this is my first with Alexa. Always a dream to set up and install via the iPhone app. Easy and quick. I might need to buy more Sonos One's now!
Great speaker to go with my Sonos Beam and a pair of Play ones. Looking forward to Google Assistant download in July.
I now have 2 of these in different rooms very versatile and sound great.
My new Sonos One (Gen2) is simply brilliant. Great sound for such a small device & so versatile with the connectivity options.
Very happy with Sonos One. Good quality. Good sound.
The SONOS one has an amazing sound quality for a small wireless speaker. It looks good and seems solid and built to last. The setup was extremely easy with no issues. Although the built in Amazon Alexa works very well it still needs some tweaks. With Google assistant compatibility due this year, great sound quality & easy setup this is superb little speaker.
Astonishing little speaker, although I wasn't surprised as I have another Sonos device. Powerful crystal clear sound. Alexa is brilliant. Amazingly easy to set up and pair with my Sonos Beam. In my view these devices are incredibly good value for money and exceed expectation.
Excellent speaker. Easy to set up and sound is amazing. I now have two of these paired in stereo mode and it's fantastic.
Great sound.... to be honest we are new to this type of listening to music and probably need a bit of time to explore some more but the digital radio now seems so yesterday. So far though we are truly gobsmacked by the quality
Top quality speaker, easy to set up and use. Beautiful sound quality.
I'm using these as surround speaker for my home cinema with the sonos beam and sub and there perfect I can't fault there performance and set up is so easy via the sonos app which I a fantastic app very easy to use and well thought out. It was a toss up between Bose 700 system with sub and this I listened to both before making a choice and I must say the sonos out performs the dose in every way also the bose is terrible to set up and the bose app in my opinion is useless.
Excellent supplier. Quality of goods and service not to be faulted.
I have have two sonos play 1 and decided to purchased this because of Airplay and Alexa. So happy with my purchase. Sound quality is really good and will definitely be purchasing another one soon.
Excellent little speaker with great functionality. Bought 4 and use as 2 stereo pairs. Easy setup from pc as long as windows firewall settings changed to load in. Alexa, Apple air play all work pretty well.
Brilliant little speaker. Much louder than you'd expect it to be. A lot of clarity and decent lows.
My friend had these already therefor I knew What I was getting. Love the product.
Best new gadget in our house!
Everything I wanted it to be. Great sound. I'll be buying more to expand my sound system.
Sound quality amazing Ease of use amazing Alexa lets it down a little, didn't know you didn't get full Alexa use.
At Smart Home Sounds we pride ourselves on customer satisfaction and want our customers to be 100% happy with their purchase.
We offer 30-day hassle-free returns and personalised service from real live people. If an item doesn't meet your expectations, simply return your item to us in its original condition and packaging within 30 days for a full refund or exchange.
Want to return a faulty or damaged product? Don't worry Smart Home sounds will arrange a collection or exchange should this be necessary.