Sonos Buying Guide | Which Sonos Speakers are right for me?
Which Sonos speaker bundle should you buy?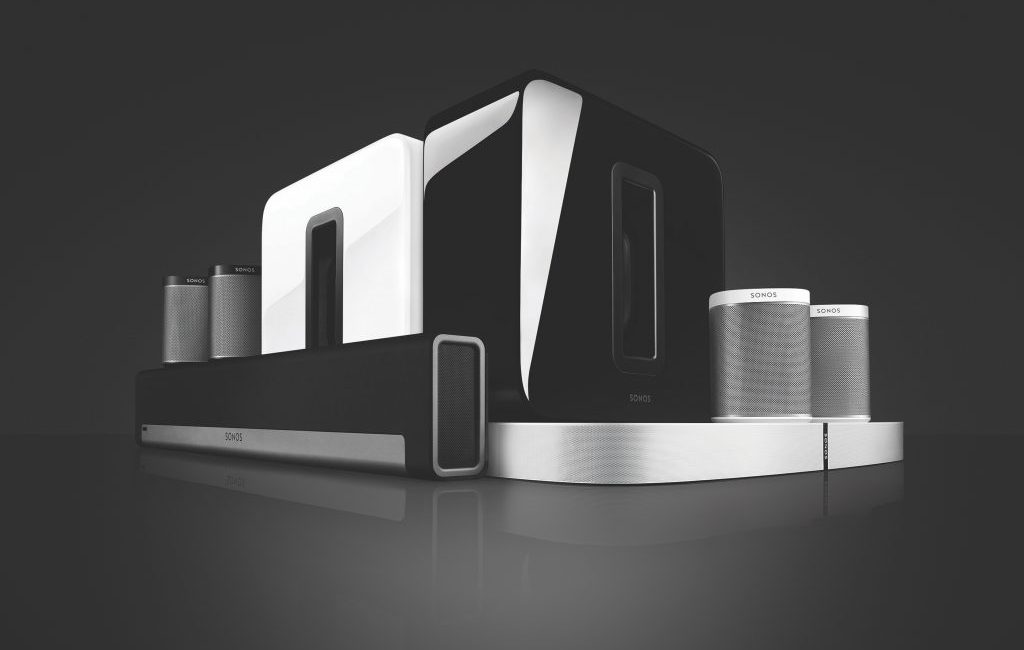 Find the right Sonos speaker for you
Interested in Sonos speakers but not sure where to begin, or just looking for the best deal on your next Sonos bundle purchase?
We provide a great place to start by recommending some of our most popular Sonos bundles as well as their best features.
Important things to know about all Sonos speakers
1)  They connect to your WiFi wirelessly. The Sonos Home speakers do not support Bluetooth for many reasons, primarily because WiFi provides a superior experience in a home audio application.
2) Music is streamed to the speakers on the Sonos app via either a paid music streaming service, free radio, AirPlay 2 (on some speakers only) or an imported iTunes collection.
3) Each speaker is assigned a room name, so you know what you are controlling if you have multiple speakers. You can then group the same audio to multiple speakers at the same time, or you can assign each room its own music.
4) Sonos is the leading company for multi-room audio. If you would like to get music in multiple rooms, Sonos' software is completely robust, simple to use and sounds fantastic.
Discover what Sonos is and how it works >>
Best Sonos Bundle for Surround Sound on a Budget
If you're looking for a high-quality surround sound system that's less complicated, wireless and most importantly, affordable, then look no further than the Sonos Beam + 2 x Sonos One SL speakers.
The new Sonos Beam soundbar released in July 2018, has won WhatHiFi best soundbar in the £300 - £500 price point for 2 years running (2018 and 2019).
Prior to July 2018, the cheapest Sonos soundbar was the Playbar or Playbase, both at £699 each. Sonos recognise this is an extra premium price for a soundbar, but they are still popular because of their superior cinema-quality sound and integration with your wider Sonos system.
Sonos wanted a cheaper alternative to offer customers in the soundbar market, hence the Sonos Beam.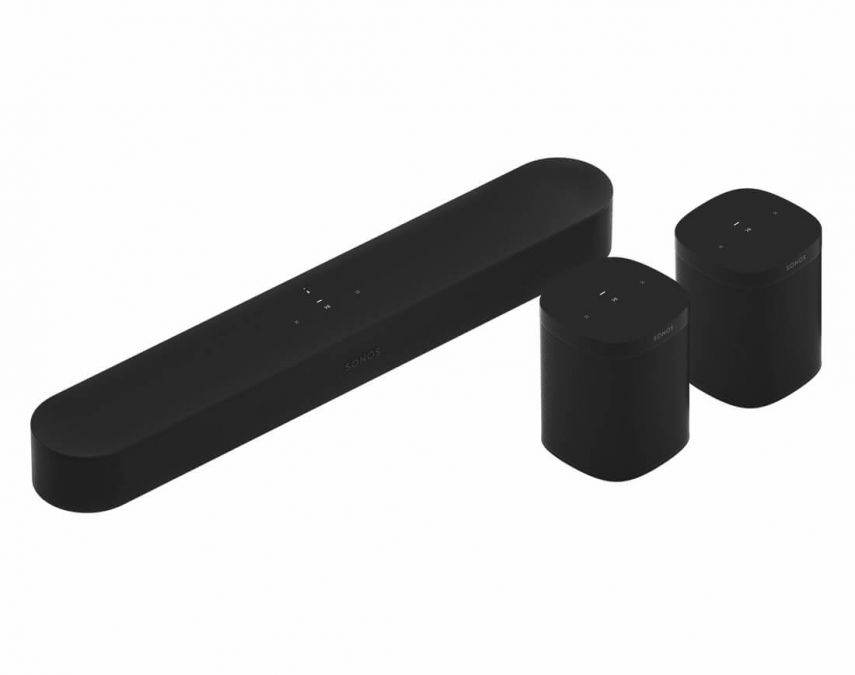 The sound quality of the Sonos Beam still beats many other soundbars on the market as well as offering award-winning software through the easy-to-use Sonos app.
Being smart too, it also has Amazon Alexa voice control built-in and AirPlay 2, which is ideal for Apple users who are able to cast audio straight from an iPhone or iPad to the Beam.
How to use AirPlay 2 with Sonos >>
When you add 2 x Sonos One SL to the Beam for surround sound, it comes to the same price as a Sonos Playbar, meaning you can benefit from wireless surround sound for less.
Best features of Sonos Beam & 2 x One SL
AirPlay 2 built-in
Amazon Alexa and Google Assistant built-in
Speech Enhancement
Night Mode
Best Sonos Bundle for parties
If you love to throw a party on occasions or regularly host, we've got just the bundle for you.
2 x Sonos Play:5s as a stereo pair is one of our most revered and sought after bundles, providing deep bass and a sound that really gets the party going.

It can easily fill a large size open plan area and is exceptionally versatile. Crystal-clear at low volumes but zero distortion at higher.
These speakers are really all you need if you accept no compromises on sound.
AirPlay 2 built in also lets other guests put on any music from their iPhones if they want to.
Best features of 2 x Sonos Play:5
AirPlay 2 built-in
Line in to connect a laptop, phone, turntable or CD player
Best Sonos Bundle for vinyl enthusiasts
Love vinyl? We do too. It offers a sense of ownership and emotion in music that streaming services will simply never be able to achieve.
Whether you want to upgrade an existing turntable or start from scratch, we offer two different Rega turntable bundles each with their own purpose.

Why Rega? We feel there is no brand out there that offers this level of build quality in this price bracket. With many years of experience under their belt, they really know how to build stunning turntables.
We offer a Rega Planar 1 PLUS & Sonos Play:5 bundle which includes both the award-winning turntable and Sonos Play:5 smart speaker.
Already got speakers or an amplifier? Have a look at our Rega Planar 1 (or 2) inc pre-amp bundle which contains everything you need to connect to a line level component such as a Sonos Play:5, Connect or something else you might have.
Best features of Sonos vinyl bundle
Plug and play with Sonos
Extremely simple to set up and use day-to-day
Sleek turntable appearance which would make a beautiful centrepiece in your room
Best Sonos Bundle for discreet audio
If you want room-filling sound but don't want your room filled with audio equipment, then in-ceiling speakers might be the solution for you.
These are ideal if you are planning an extension or your home is in first fix stage as speaker cable runs behind the walls and ceilings to receive the power from the amplifier.
Read this important article before installing ceiling speakers >>

Just like any other Sonos speaker, you can set your ceiling speakers up as an additional Sonos zone, capable of grouping audio to or from other speakers or playing its own music.
Following the release of the new supercharged Sonos Amp in early 2019, we have many bundle deals available consisting of a Sonos Amp and a pair of in-ceiling speakers.
Watch video review of Sonos Amp >>
Best features of Sonos & ceiling speakers
Aesthetic audio with no visible wires
Ideal for families with kids who don't have to worry about speakers on the floor
AirPlay 2 for easy, wireless control
Best Sonos Bundle for dedicated 5.1 home cinemas
Looking to replace your old home cinema system with the latest offerings of today, or wanting to build one from scratch?
Sonos supports up to 5.1 Dolby Digital from 3 speakers plus a Sub. As they all require mains power only, there is no spaghetti cabling and look and sound exceptional.
Put yourself in the heart of the action whether that's TV, movies, gaming, music, podcasts and audiobooks, all controlled via the easy-to-use Sonos app and your own remote control.
You can use either the Sonos Beam, Playbar or Playbase as your soundbar for the front 3.0 channels. Then add a Sub and 2 x Sonos speakers for full 5.1 Dolby Digital surround sound.
Which Sonos TV speaker is right for me? >>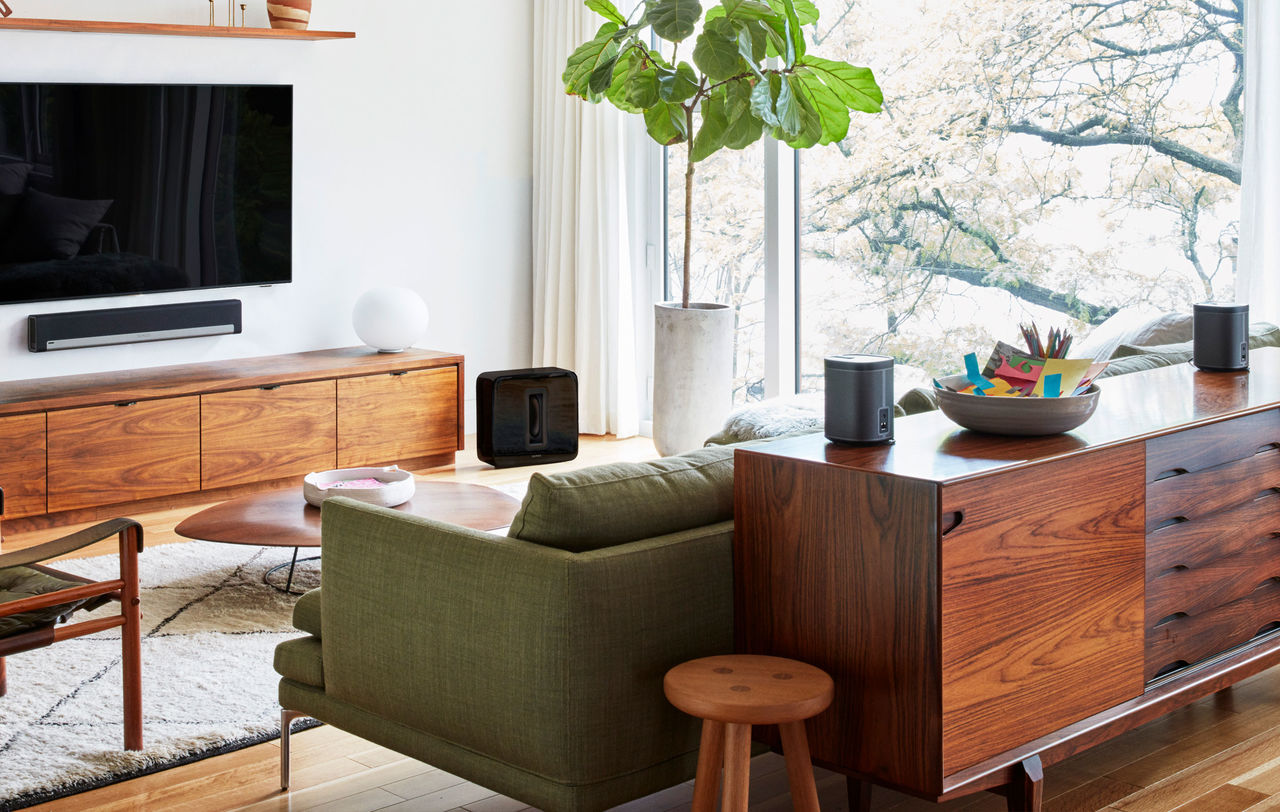 Best features of Sonos Home Cinema
Highly immersive sound, no matter what you're watching or listening to
Never need to revisit the cinema, by bringing it to you!
Amazon Alexa voice control built into the Sonos One rears
Can receive or send audio from your other Sonos speakers in your home
Smarter over time through software updates
Best Sonos Bundle for smart features on a budget
Now in its 2nd generation, the Sonos One is small in size but mighty in sound. When you pair two together as a stereo pair, you'll really notice just how well these speakers can fill a room.
Crystal-clear and can even go loud when you need it to.
With AirPlay 2 and Amazon Alexa built into the speaker, this is truly a smart speaker and with the ability to get smarter over time.
The Sonos One (Gen 2) is the smart speaker that's all about choice. If you're looking to fill a room with music where their performance is well beyond their price, plus a selection from over 100 music streaming services, 2 Sonos Ones have got you covered.