Sonos Ray vs. Sonos Beam Gen 2 vs. Sonos Arc: How to decide
Unsure whether the Sonos Ray, Sonos Beam Gen 2 or Sonos Arc is best for your space? Read on for the answer...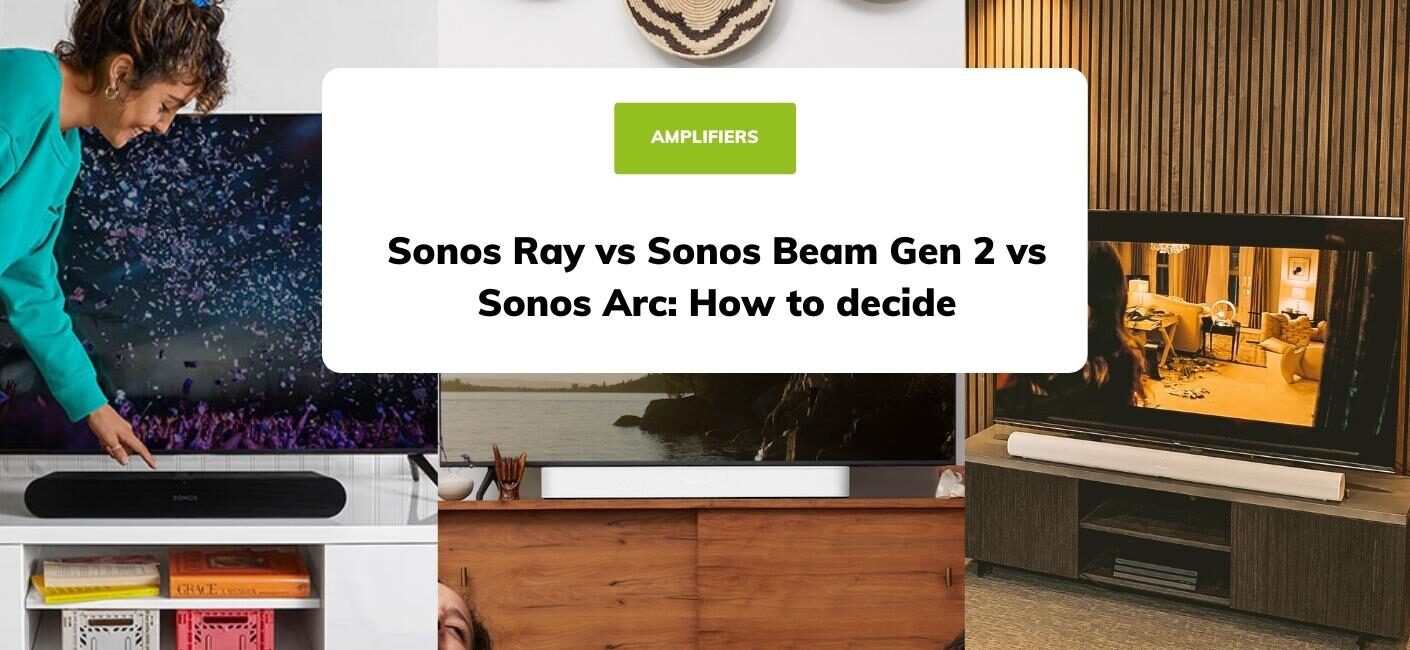 How does the Sonos Ray compare to other Sonos Soundbars: The Beam Gen 2 and Arc?
With a new arrival to the family, we aim to answer the ultimate question: Which Sonos Soundbar is right for you? Announced in May 2022, the new Sonos Ray (RRP £279) offers a more compact and lower cost Dolby Digital alternative to the Dolby Atmos-supporting Sonos Beam Gen 2 (RRP £449) and flagship Sonos Arc soundbar (RRP £899).
For more on the brand new Sonos Ray, please check out Our Comprehensive Sonos Ray Review or watch our Youtube video below:
So let's get into this Sonos soundbar comparison. To start off with here are the key spec differences between the Ray, Beam Gen 2 and Arc:
Sonos Soundbar Key Specs:
| | | | |
| --- | --- | --- | --- |
| | | | |
| | Sonos Ray | Sonos Beam (Gen 2) | Sonos Arc |
| Dimensions (WxHxD) | 557mm x 70mm x 93mm | 651mm x 69mm x 100mm | 1141.7mm x 87mm x 115.7mm |
| Price (RRP) | £279 | £449 | £899 |
| Surround Sound Codec Supported | Dolby Digital, Stereo PCM | Dolby Atmos, DTS, Dolby Digital, Stereo PCM | Dolby Atmos, DTS, Dolby Digital, Stereo PCM |
| TV Connection | Optical SPDIF | HDMI eARC | HDMI eARC |
| Driver Design | Two centre tweeters and two high-efficiency mid-woofers | Four mid-woofers, one tweeter, 3 passive radiators | Eight elliptical mid-woofers including two upward-firing drivers and three angled silk-dome tweeters |
| Upward Firing Drivers | ✖ | ✖ | ✓ |
| Amplifiers | 4x Class D Digital Amplifiers (one per driver) | 5x Class D Digital Amplifiers (one per driver) | 11x Class D Digital Amplifiers (one per driver) |
| Amazon Ultra HD | ✖ | ✓ | ✓ |
| Dolby Atmos Music | ✖ | ✓ | ✓ |
| Voice Assistant | ✖ | Amazon Alexa, Google Assistant & Sonos Voice | Amazon Alexa, Google Assistant & Sonos Voice |
| Trueplay Tuning | ✓ | ✓ | ✓ |
| Apple Airplay 2 | ✓ | ✓ | ✓ |
| Spotify Connect | ✓ | ✓ | ✓ |
Spec differences are all well and good, but it's likely more important for you to know how each soundbar looks, sounds and performs in day-to-day use. We've put these 3 soundbars head-to-head in our testing to share all the key differences you need to be aware of.
SHS Testing:
As soon as we got our hands on the Sonos Ray, we were keen to pit it against its bigger brothers. We've outlined our findings below, but if you'd like to hear how the Ray fared for yourself please listen to our SHS Sound Test below:
Sonos have done a fantastic job in making the sound profile of each soundbar very similar, but the quality and depth of sound are improved as you go up the range. As you upgrade from the Ray to the Beam or from the Beam to the Arc, the mid-range, bass and breadth of the soundstage are noticeably more impressive.
Vocals: 
The Sonos Ray sports dual tweeters as opposed to a single central tweeter in the Beam and three dedicated tweeters in the Sonos Arc. Sonos haven't published details about the size of each tweeter driver, but we were pleasantly surprised that the Sonos Ray offered a very similar performance to the Beam and Arc in terms of vocals. 
Like the Beam Gen 2 and Arc, the Ray can also be optimised using the Speech Enhancement feature on the Sonos App. This will boost the audio frequencies associated with the human voice and make dialogue even easier to hear.
Mid and Bass Performance:
For the size of the speaker and number of internal speaker drivers, we were never expecting the Sonos Ray to outperform the Beam and Arc when it comes to bass, volume and impact. It performed as we expected given its form factor but we weren't blown away. Compared to the Sonos Beam, Ray offers in our opinion around a 10-15% decrease in bass performance at normal listening levels. In saying this though, the bass performance does extend further when listening at louder levels. We found in testing that the Ray clips the bass at those higher volumes to protect the internal drivers.
The Arc's wider soundstage and greater number of internal drivers further extend the reach of its bass performance, with greater nuance added to details in the soundtrack.
Surround Sound:
Having tried the Sonos Ray both on its own and with a Sonos Sub Gen 3 and 2x Sonos One SL rears, we were really impressed with the Dolby Digital Surround sound we got out of it. The experience took us back to the days of the Beam Gen 1, Sonos' first Dolby Digital Beam iteration and we feel this set-up would be perfect for a smaller living room.
But how does it compare to the experience of listening to either the Beam Gen 2 or Arc as part of a surround sound set? As with any surround set-up, the addition of extra components takes the onus off the front speaker to deliver the full soundstage performance and leaves the soundbar a little more room to breathe. With the Sub taking on the bulk of the bass performance and the Sonos One SLs creating a more enveloping audio experience, each soundbar focuses its efforts on what it does best - those front LCR sound channels. We got a true representation of the Ray's vocal and high performance in this test, with problems we'd found causing the Ray to sound a bit distant or withdrawn compared to the larger soundbars lessened greatly by the introduction of the One SLs and Sub.
Of course, when compared to the Beam Gen 2 and especially the Arc, these larger soundbars offer a wider performance and more three-dimensional sound, particularly when watching Dolby Atmos content.
Smart Speaker Features:
The most notable smart feature missing from the Sonos Ray is of course voice control. Without an inbuilt microphone array, it's not possible to use the Ray with either Amazon Alexa or Google Voice Assistant without one of their separate Echo or Google Home devices. This also means you won't be able to access Sonos' new voice assistant technology when it's rolled out over the coming months. 
Aside from voice control, most of the features native to the Beam Gen 2 and Arc are found in the Sonos Ray. Notably, Apple Airplay 2, Spotify Connect and fan-favourite Trueplay Acoustic Tuning are all available making the Sonos Ray intuitive and easy to use as part of a wider Sonos ecosystem. You'll be able to group the Ray with other speakers in the Sonos lineup as well as create a surround sound system with rears and a Sub (as mentioned above). For more on setting up a Sonos system, please read our Complete Beginners Guide to Sonos.
One thing that's missing from the Sonos Ray at launch is any support for the rumour that Ray could be mounted vertically as part of a stereo pair for use as surround rears to an Arc or Beam. It may be that Sonos will release this function in a future software update, but we'll just have to watch this space. (Rumour courtesy of The Verge).  
Design:
Much like the Beam Gen 2 and Arc before it, the Ray is made of matte, polycarbonate material and sports a perforated front speaker grille. Unlike the older Beam Gen 1 and Playbar, the Ray has no fabric parts meaning it's less prone to collecting dust or snags over time. As with the other Sonos soundbars, you are able to wall-mount the speaker using Sonos' mounting apparatus (sold separately).  
As the Ray has no sideways or upwards firing drivers, it can be completely recessed into a media unit. This is perfect for a smaller space or anywhere that you'd like to tuck the speaker out of the way, as the Beam Gen 2 and Arc require some clearance around the top and sides for optimal performance. 
The Sonos Soundbar Showdown
We've considered each Sonos Soundbar in turn based on how they perform in different situations. Being the best of the best is all well and good, but there isn't much point in using the Sonos Arc with an older TV that doesn't support Dolby Atmos. Narrow down on the best speaker option for you with our Sonos Soundbar Showdown:
Best for a smaller or secondary room: Sonos Ray
Sonos' smallest and cheapest soundbar to date is perfect for a smaller room or space like a bedroom, office or gym. In these rooms, it's likely a bit of a waste of money to employ one of Sonos' top of the range Dolby Atmos soundbars. Easily recessed onto a shelf or in a media cabinet, the Ray can be tucked away as the perfect solution for your TV and music listening.

Best for a cinema set-up: Sonos Arc
If you're truly serious about building a cinema set-up, you can't go wrong with the Sonos Arc. With 11 internal drivers, the Arc offers a superbly wide and detailed soundstage, with the option of Dolby Atmos audio for a more immersive cinema experience. 
Best for Atmos on a budget: Sonos Beam Gen 2
The Beam Gen 2 deserves a special mention when it comes to home cinema, as although only capable of offering simulated Atmos sound, in a more compact living room or with a sub-55" screen it's a brilliant choice.
Further to this, at £450 less than the Sonos Arc it's easy to see why the Beam is a popular choice for a lot of us and delivers a lot of bang for your buck.
Best for an older TV: Sonos Ray or Sonos Beam Gen 2
If your TV is older and doesn't have the correct HDMI Arc/ eARC connection to support Atmos, or you just don't see yourself watching Atmos content, the Sonos Ray is an ideal choice for improving upon your TV's native speaker performance. Using Optical connection as standard, the Ray is perfect for older screens.
When it comes to Sonos Ray vs. Beam, it might seem counterintuitive to include the Beam Gen 2 in this section seeing as it has the potential for Dolby Atmos sound, but it's worth noting that the Beam Gen 2 has the same internal acoustic architecture as the original Beam Gen 1. This makes it more than capable of delivering a great Dolby Digital performance and gives you the futureproofing for Atmos if you ever decide to upgrade your TV in the future.
Best for a larger room or larger TV screen: Sonos Arc
There's just no beating the Sonos Arc for a big room. Its greater number of drivers, internal woofers and wider footprint make it perfect for pushing the audio around a larger space. Using upward-firing drivers the Arc is also capable of creating a 3D sound experience that envelopes the room, with sidewards firing drivers also on hand to fill every corner with surround sound.
Our Verdict:
As with most things, when it comes to the Sonos soundbar line-up you'll find a greater range of features and better overall sound quality as you move up in price. But do you really need it? Sure, if you're looking to create a cinema set up for your main TV watching space, we'd totally recommend stepping up to at least the Sonos Beam or even the Sonos Arc depending on the size of your room. If it's a smaller room like a Bedroom you're looking to add a soundbar to, and you don't require top-of-the-range Dolby Atmos sound, the Sonos Ray could well be for you.
There's definitely freedom in choice, so it's great to see Sonos prioritising the needs of a wider range of customers and giving users a variety of options. For more on all three of the soundbars we've discussed, please check out the range of resources we've released below: 
---
If you're at all unsure about which Sonos Soundbar is right for you, or you have any other questions about the products we sell, please reach out using the below communication channels: