Sonos Beam Gen 2 Announcement: First Look
Curious about the updated specs and changes made for the new Sonos Beam Gen 2? Read on to find out more.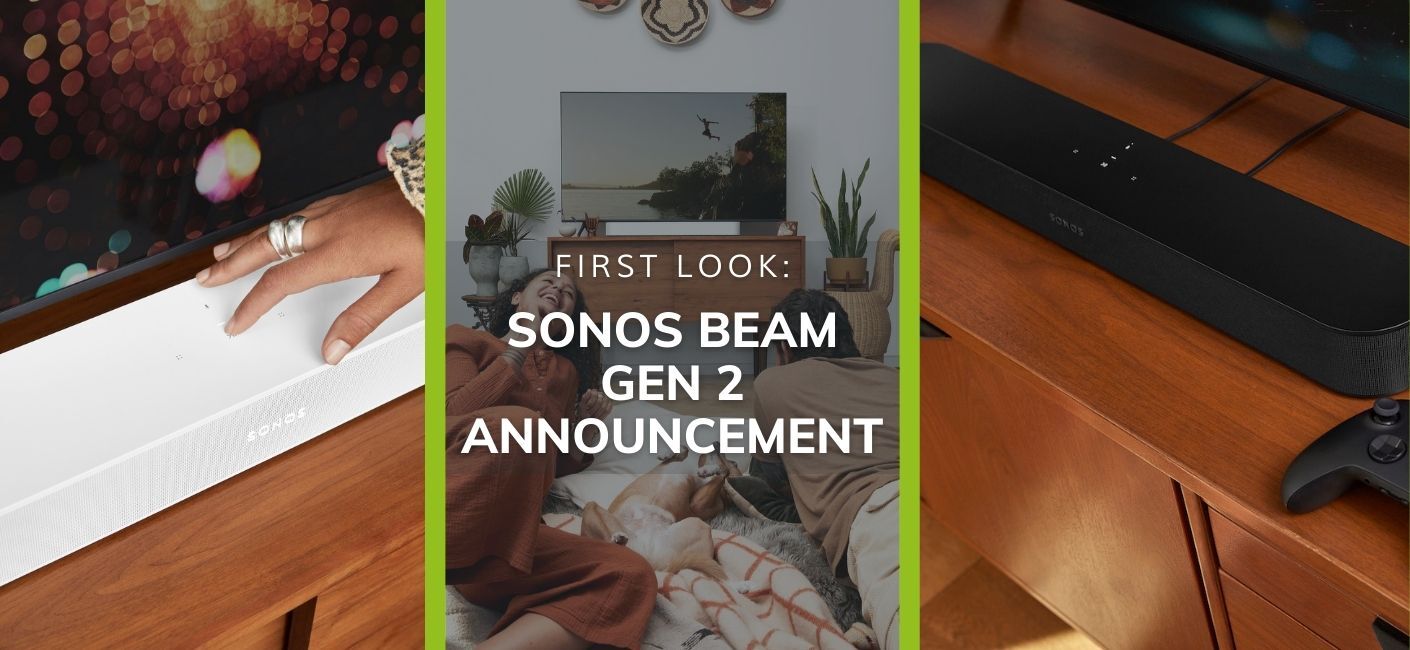 Everything we know so far about the new Sonos Beam Gen 2
Join us as we go through all the new features revealed as part of the recent Sonos Beam Announcement. Say hello to the Sonos Beam (Gen 2), with freshly upgraded acoustic features and support for Dolby Atmos surround sound.
From the outside, the new Beam G2 looks very similar to its Gen 1 counterpart but there are some important internal changes, as well as a premium polycarbonate speaker grille, that make it capable of much more. 
How does Sonos Beam G2 compare to the Beam G1?
| | | |
| --- | --- | --- |
| Specification | Sonos Beam Gen 1 | Sonos Beam Gen 2 |
| Maximum Surround Sound Codec Supported | Dolby Digital 5.1 | Dolby Atmos |
| Internal Drivers | Four mid-woofers, one tweeter, 3 passive radiators |  Four mid-woofers, one tweeter, 3 passive radiators |
| Speaker Arrays | 3 | 5 |
| Amazon Ultra HD | ✓ | ✓ |
| Dolby Atmos Music | ✖ | ✓ |
| Connection to TV | HDMI ARC | HDMI eARC |
| Speaker Grille | Fabric | Polycarbonate |
| Voice Assistant | Amazon Alexa or Google Assistant | Amazon Alexa or Google Assistant |
| Trueplay Tuning | ✓ | ✓ |
| Apple Airplay 2 | ✓ | ✓ |
New features for Sonos Beam Gen 2 - Your Top 5 Questions Answered
1. How does Dolby Atmos for the new Sonos Beam work?
The most highly anticipated feature gracing the new Sonos Beam G2 is the addition of Dolby Atmos integration, something Sonos fans have been waiting to see in a compact, more affordable soundbar. Thanks to a 40% faster CPU processing chip, the same acoustic structure from the original Beam - four elliptical mid-woofers, one central tweeter and 3 passive radiators to enhance low-end - can now handle Dolby Atmos surround sound. This is because the new Beam Gen 2 has five speaker arrays compared to the original's three. These two additional arrays are dedicated to processing surround and height information making your audio more spacious and providing a separation between ear level and overhead audio.
What is Dolby Atmos? -
If you've been following Sonos for a while you're probably aware of the
Sonos Arc
, released in 2020, which introduced Dolby Atmos to the Sonos system. Compared to the traditional Dolby Digital surround codec seen in the old Playbar or Beam Gen 1, Dolby Atmos is all about height and space. Imagine a helicopter whirring overhead or
a car screeching towards you
, you'll feel that from above as well as to the front and sides.
2. How Does the new Beam G2 connect to my tv?
A necessary component for Dolby Atmos, the connection has been upgraded for Beam Gen 2  to HDMI eARC. Capable of transferring more data from TV to soundbar at higher speeds, eARC gives the Beam G2 everything it needs to know to process the Dolby Atmos sound codec. Dolby TrueHD, Dolby Atmos (True HD), Multichannel PCM and Dolby Multichannel PCM have also been enabled thanks to HDMI eARC. Support for DTS Digital Surround Sound is announced to be coming soon.
3. What are Amazon Ultra HD and Dolby Atmos Music for Sonos Beam?
Parcelled in with the new Beam Gen 2 announcement is the promise of an upgrade to wireless music streaming with the arrival of Amazon Ultra HD and Dolby Atmos Music. Amazon Ultra HD integration marks the arrival of the highest quality lossless audio up to 24-bit 48kHz. Dolby Atmos music marks a leap into spatial audio that more accurately pinpoints each beat, vocal and bass note within the room to give you a 3D, immersive listening experience.
4. Does the Sonos Beam G2 look different to Beam G1?
Though the Beam G2 looks quite similar to its predecessor at first glance, this new Dolby Atmos version of the soundbar has been built with an updated speaker grille. This refreshed polycarbonate grille uses the same design as the award-winning Sonos Arc, with the small perforations in the grille acting to perfectly disperse the sound.
5. What price is the new Sonos Beam Gen 2?
One thing you may have noticed that's new about Beam Gen 2 is the increased price - now coming in at £449. For £50 more, however, this new version of the Sonos Beam does jump into the Dolby Atmos surround sound sphere and gives you access to new music streaming possibilities with Amazon Ultra HD and Dolby Atmos Music. Whether it's worth the upgrade from Beam Gen 1 to Beam Gen 2 remains to be seen, but this new iteration does offer more for your money if you're new to the product.
Is it worth upgrading from the Sonos Beam Gen 1 to Sonos Beam Gen 2? - 
It depends on how you use the product. The new Beam G2 has exactly the same internal drivers as the G1, it's the more powerful CPU that makes the difference and allows you to enjoy Dolby Atmos sound. If a lot of what you watch is in standard stereo or Dolby Digital 5.1, you won't see much difference. If you're looking to take the leap into Dolby Atmos content but don't want to overpower a smaller room with the flagship Sonos Arc an upgrade to the Beam G2 could be for you.
This is something we're keen to explore at in greater depth as soon as we've been able to review the new Sonos Beam G2!
Hopefully, you've found this run-down of the top new features announced as part of the Sonos Beam G2. If Youtube's more your thing, check out our Announcement Video to learn even more about the new Sonos Beam Gen 2. We'll also be releasing an in-depth Beam Gen 2 video review as soon as we've been able to get our hands on the new Beam for testing, so make sure you've subscribed for that. 
Our Sonos Beam Gen 2 First Look Video
As ever, if you have any queries about the new Sonos Beam Gen 2, or anything else that we sell, please feel free to get in touch at info@smarthomesounds.com, using Live Chat on our Website or on 0800 677 1100. One of our customer service team will be more than happy to help.