Introducing Sonos Ray: The New Mini Sonos Soundbar
It's finally here! The Sonos Ray, Sonos' new Mini Soundbar has arrived and we tell you everything we know so far.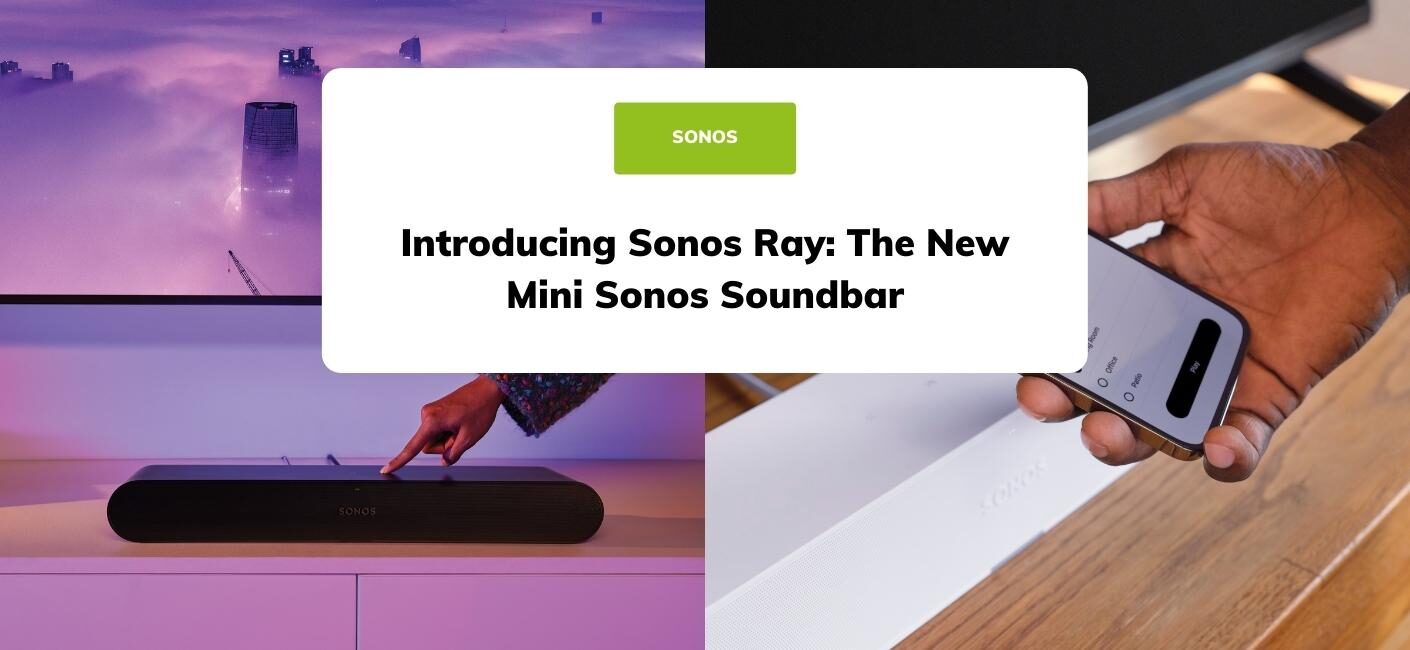 The latest DETAILS on the new Sonos Ray Soundbar
Excitingly, Sonos has just announced their new Sonos Ray Mini Soundbar, revealed to the public on the 11th of May 2022. 
So what do we know so far? Compared to its closest relative, the Sonos Beam Gen 2, the Sonos Ray slashes the RRP massively to £279 - making it a really attractive option for those looking for an affordable soundbar. A large proportion of worldwide soundbar sales are under £300, showing Sonos is trying to break into this popular, lower-cost soundbar market. 
With the success of lower-cost speakers such as the Sonos Roam and One SL under their belt, we see this move into the less expensive soundbar market as a good one - opening up the Sonos system to a wider audience.
Key Spec Comparison:
Sonos speakers are renowned for their sharp audio performance and award-winning multi-room ecosystem. Below we've outlined the key information you need to know about the new Sonos Ray side by side with both the Sonos Beam and the flagship Sonos Arc to show you how it fairs in comparison.
| | | | |
| --- | --- | --- | --- |
| | | | |
| | Sonos Ray | Sonos Beam Gen 2 | Sonos Arc |
| Dimensions (W x H x D) | 557mm x 70mm x 93mm | 651mm x 69mm x 100mm | 1141.7mm x 87mm x 115.7mm |
| Price (RRP) | £279 | £449 | £899 |
| Surround Sound Codec Supported | Dolby Digital | Dolby Atmos | Dolby Atmos |
| TV Connection | Optical SPDIF | HDMI eARC | HDMI eARC |
| Driver Design | Two centre tweeters and two high-efficiency mid-woofers | Four mid-woofers, one tweeter, 3 passive radiators | Eight elliptical mid-woofers including two upward-firing drivers & three angled silk-dome tweeters |
| Amplifiers | 4x Class D Digital Amplifiers (one per driver) | 5x Class D Digital Amplifiers (one per driver) | 11x Class D Digital Amplifiers (one per driver) |
| Amazon Ultra HD | ✖ | ✓ | ✓ |
| Dolby Atmos Music | ✖ | ✓ | ✓ |
| Voice Assistant | ✖ | Amazon Alexa or Google Assistant | Amazon Alexa or Google Assistant |
| Trueplay Tuning | ✓ | ✓ | ✓ |
| Apple Airplay 2 | ✓ | ✓ | ✓ |
| Spotify Connect | ✓ | ✓ | ✓ |
4 things we know so far about the Sonos Ray.
1. No Dolby Atmos or Voice Assistant
Unlike the Sonos Arc and now the Sonos Beam Gen 2, the Sonos Ray isn't capable of processing Dolby Atmos audio and will automatically compress and downgrade any Atmos soundtracks to Dolby Digital or Stereo. The maximum surround sound codec the Ray is able to reproduce is Dolby Digital, much like the older Sonos Beam Gen 1 and Playbar before it. 
This is in part due to its Optical connection method which can't reproduce this more evolved surround sound codec, and partly because there's little point in reproducing Atmos through such a compact soundbar with four internal drivers as you wouldn't get the full impact anyway. 
Again unlike the Beam and Arc, the Sonos Ray can't be used with Amazon Alexa or Google Assistant voice services* as it doesn't have an inbuilt microphone array. 
* Can be used if paired with an Alexa or Google device
2. Buildable System with Rears and a Sub
Like other Sonos soundbars before it, it will be possible to connect a Sub and pair of rear speakers (such as the Sonos Ones) to the new Sonos Ray.
If you're looking for a cheaper alternative to the Beam and want to build up to a full surround system, the Ray could be the perfect starting point. Also, given the rumours circulating about a new Sonos Sub Mini (more on this here), we could finally be seeing a full Sonos cinema system for around £1000 - music, or surround sound, to the ears of many we're sure!
3. Four driver acoustic design
Unlike the Beam and Arc which have a single central tweeter, the Sonos Ray has two dedicated central tweeters to match its two high-efficiency mid-woofers. Though this won't provide quite as much impact as a Beam or Arc, you're sure to notice the difference when compared with your TV's internal speakers - particularly if your screen is older or a lower-spec model.
The Sonos Ray also uses Sonos' patented Bass Reflex System. This utilises a low-velocity port design to both minimise distortion and round out low-end frequencies, making for a well-rounded bass sound.
4. Workaround for line-in?
This is something we'd like to test before commenting on its success, but thanks to Ray's optical connection, designed for TV, you would be able in theory to use this as a line-in for HiFi. Providing you're able to run an optical connection from your turntable, CD player or another HiFi source, this will be playable through the Sonos Ray which can, in turn, be grouped with other components in your Sonos system.
Though it's been possible to do this with the Beam and Arc for a while now, the Ray's £279 price tag might make it an attractive line-in option as this actually places it cheaper than the Sonos Port, Sonos' wireless streamer, which comes in at £399. 
Again, it's not something we've tried at this stage but make sure to drop back in towards the start of next month when we'll be publishing our full Sonos Ray review.
Who we see using the Sonos Ray
If you're the sort of person who wants to create a premium surround sound system, particularly if you're interested in streaming Dolby Atmos content, the Sonos Ray probably isn't for you. The Sonos Beam G2 and Sonos Arc are very good at what they do, so if this soundbar is for a main room in your house we'd suggest investing the extra money and getting something with some more oomph behind it. 
The Sonos Ray is perfect for a variety of uses though, and we can see it being a brilliant choice in these scenarios:
 ✓ Bedrooms: The Sonos Ray's 559mm length and Optical connection make it perfect for use with a smaller TV in a Bedroom or secondary room. You're not likely to be watching your favourite blockbusters up here, but if you want to enhance the sound in a smaller room the Sonos Ray is a great choice to enhance your TV audio.
 ✓ Hearing Speech: If you're not looking for a premium surround sound but want to bring out the vocals in your favourite content, the Sonos Ray would be a brilliant option. Its four drivers will enhance and bring out vocals, making it much easier to hear what's being said on screen over any background noise or special effects. If enhancing speech is of particular importance, you'll be able to use the same TV-specific EQ features as available for the Beam and Arc: Speech Enhancement to bring out that central vocal channel and Night Mode to suppress louder noises whilst still bringing speech to the fore.
SHS Verdict
It's hard to make a judgement on the Sonos Ray as we've not had a chance to properly test or review it yet, but we certainly like what we see so far. It's great to see Sonos develop a product that will appeal to a wider audience and open up the Sonos Ecosystem at a more affordable price point. A Ray on its own would be a great solution for a bedroom TV and we can see a Ray and 2x Sonos One SLs bundle proving a popular surround sound option for a smaller living room or a kitchen.
We'll be sure to offer our in-depth review as soon as we're able and have thoroughly tested the new Sonos Ray. Check back in the coming weeks to see our thoughts on the Sonos Ray, or head over to our Youtube channel for more. We have a video dedicated to the Sonos Ray here if you're interested:
If we can offer any more assistance, please get in touch using the following channels: