Sonos Arc vs Bose 900: Battle of the Dolby Atmos Soundbars
We put the Sonos Arc and Bose 900 head-to-head so that you can decide which soundbar is the best option for you.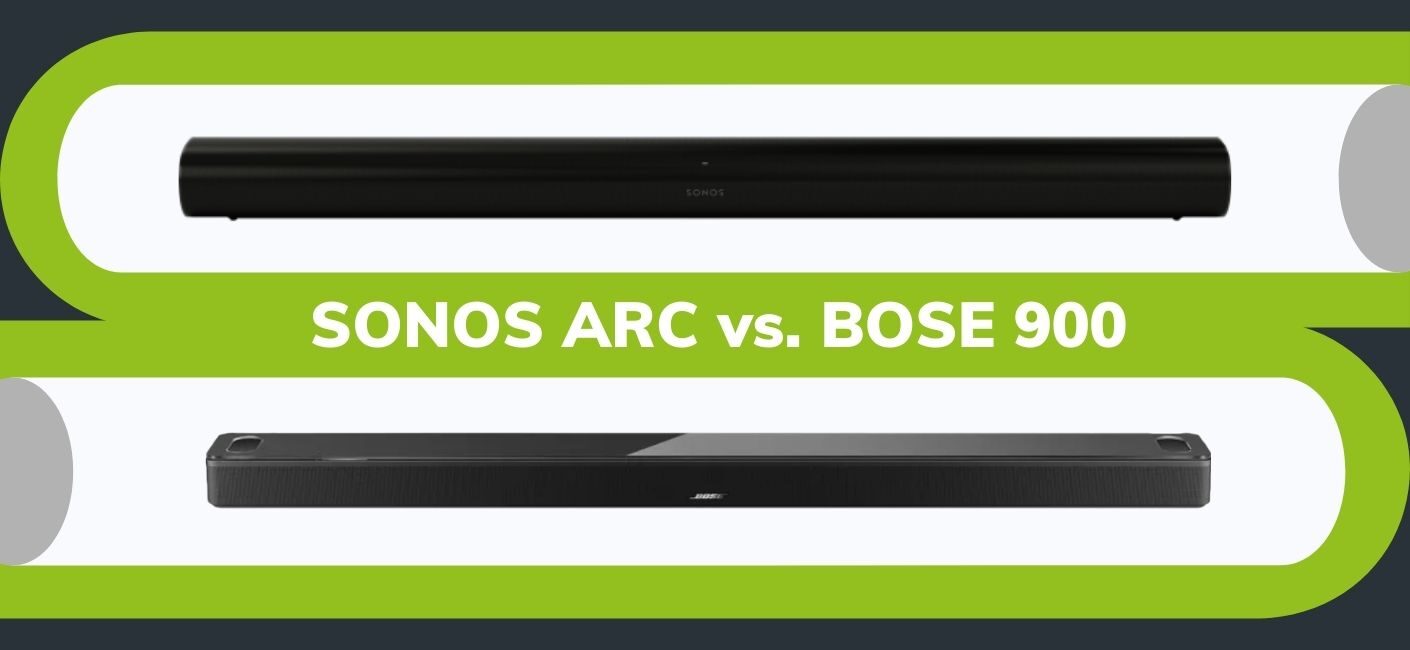 ▶Comparing the Sonos Arc with the Bose 900
Bose and Sonos are famous in the world of multi-room audio, so it's no surprise there's a battle between these two Dolby Atmos enabled soundbars. The Sonos Arc and Bose 900  have been extremely popular since the time of their release, leaving customers with a big question, what is the best bar for me?
Before we get into this, I must say both offer outstanding performance, though depending on what your requirements are one will meet your needs better than another. If you already have one multi-room ecosystem around your home and you're happy with it, I would stick to that brand to further your multi-room audio system.
Article Breakdown: 
For more information on both the Sonos Arc and Bose 900, feel free to check out the below videos: 
Sonos Arc vs. Bose 900: Direct Comparison
BOSE 900
SONOS ARC
£

RRP: £849

Can add surrounds and bass

  Dolby Atmos Enabled

Alexa & Google Assistant

Wi-Fi & Bluetooth ᛒ 4.2

£

RRP: £899

(view latest price)

Can add surrounds and bass

Dolby Atmos Enabled

Alexa & Google Assistant

Wi-fi 
---
Design
Both soundbars support a sleek premium appearance and are available in black and white. The Bose soundbar is slightly shorter at  104.5cm and features fewer drivers, though don't let that fool you, as it still certainly packs a punch! The Bose 900 does have a stylish glass top, though it's worth pointing out that could be a bit of a pain to keep clean. There are clear differences in the shape, with the 900 being a lower soundbar that may better suit lower TVs than the more cylindrical Arc. 
BOSE 900
SONOS ARC
✓

9 drivers

✓ Black OR Arctic White

✓ Microphone array for voice control

✓ Ideal for TV's 49" and above great for medium-large sized rooms.

✓

11 drivers

✓ Black OR White

✓ Microphone array for voice control

✓ At just over a metre in length, the Arc is ideal for TV's 49" and above.
WINNER: I'm sorry to say we'll have to start off with a draw. While the 900 has fewer drivers, we still think it makes up for it with the sound. While testing we did find having a glass top a pain to keep clean and finger-print-free, though others found the glass top very classy. The Arc could be considered intrusive in certain TV's though we know a lot of people wall mount or have TV's with multi-position stands, so we don't think this will be an issue for most.
Q&A
▶ Q.

 What are the dimensions of the Bose 900?

A.

5.81 cm H x 104.5 cm W x 10.7 cm D
▶ Q.

 What are the dimensions of the Sonos Arc?


A.

8.7 cm H x 114.17 cm W x 11.57 cm D
▶ Q.

 Can both bars be wall mounted?

A.

Both soundbars can be wall-mounted, accessories for the Sonos Arc can be found

here.
---
Sound
Both soundbars offer a detailed sound that's both engaging and excel in providing a full cinematic experience. The Arc in our opinion does sound better straight out of the box though both bars could be improved with additional tuning and I'll let you know our recommendations below;
Our settings for the Bose 900 - We turned up the bass to 50, increased the centre channel to 30 and performed the Adaptiq tuning process.
Our settings for the Sonos Arc - We used an Apple device to Trueplay
The Arc has dedicated upwards and sideways firing drivers, which allow you to enjoy a 3D sound experience even when Atmos isn't available.
Likewise, with the Bose 900, TrueSpace technology is utilised to add in virtual height channels while retaining its horizontal soundstage to give a similar effect.
BOSE 900
SONOS ARC

✓

Multi-directional sound

✓ Dolby Atmos enabled

✓ Adaptive tuning headset

✓ Can adjust centre channel

X No sideways firing drivers, limits the soundstage

✓

 

Multi-directional sound

✓ Dolby Atmos enabled

✓ Trueplay (Apple users only)

✓ Sideways firing drivers allow for a wider soundstage

X Can't adjust centre channel
WINNER: Both still offer their unique signature sound so if you're already a fan of either brand, you won't be disappointed! However we think the Arc provides more detail and a wider soundstage as well as a more natural experience when listening to music, so our winner this round is SONOS.
Q&A
▶ Q.

 What is Dolby Atmos?

A.

Dolby Atmos is a surround sound format that is object-based rather than channel-based. Its unique coding means you benefit from a more immersive, yet true-to-life experience
▶ Q.

Does my TV support Atmos?

A.

The best way to check is either looking at your TV spec online, or you could look at the ports on the back of your TV. If you have a HDMI output labelled eArc you're all good to go!
▶ Q.

Will I get Atmos over a HDMI ARC connection?

A.

We do find in some cases that you're still able to get a compressed version of Atmos over an ARC connection when streaming through apps on your TV. If you're using external boxes like a BluRay player or Apple TV, you'd need an eArc to receive Atmos.

Even without an eArc, both bars will make the most out of their multi-directional soundstage to give you an immersive experience.

If Atmos is important to you and you're unsure of your TV's capabilities please contact your TV manufacturer who will be able to give you a definitive answer.
---
Connectivity
As you can see below, I think the main difference when it comes to connectivity will be Bluetooth. Now as a Sonos user, I've never missed Bluetooth, though I'm also an Apple user so Airplay 2 is the simplest solution (along with Spotify Connect). Though I know some people much prefer having the option and with Bose, you do get an option of Bluetooth on top of AirPlay and Spotify Connect.
BOSE 900
SONOS ARC

✓

Bluetooth 4.2

✓ Wi-Fi

✓ Chromecast (coming in Jan 2022)

✓ Apple AirPlay 2

✓ Spotify Connect

✓ Voice control

✓

Wi-Fi

✓ Apple AirPlay 2

✓ Spotify Connect

✓ Voice control

X No Bluetooth
WINNER: While I think it's easy to live without Bluetooth these days, Bose is still the winner as it's always useful to have additional connectivity. As well as this, the introduction of Chromecast in January 2022 makes this soundbar even more inclusive.
Q&A
▶ Q.

 What is Bluetooth 4.2?

A.

Bluetooth version 4.2 was introduced in 2014 and comes with a wireless range of 30 metres. 
▶ Q.

Does the Arc come with a remote?

A. No, but the good news is the Arc will sync with your TV remote, so there are fewer remotes to worry about losing! If you need more information about this please read here.
▶ Q.

Does the Bose 900 come with a remote?

A.

Yes, though it may be possible to have your current remote sync with the soundbar.
---
Bundle Options
Both soundbars come with the great option of adding wireless components, such as a subwoofer and surround sound rears.
| | |
| --- | --- |
| | |
| BOSE | SONOS |
To provide a powerful 5.1 experience, shop the Sonos Sub & Sonos One SL's.
---
Sonos & Bose App
Both brands feature a mode to ensure dialogue is heard clearly so for anyone who's hard of hearing, this feature can really help you to get away from subtitles and enjoy what you're watching uncompromised. The EQ is easily changeable on both bars, which is great as I think both can be optimised out of the box. Finally, it would be great to see more music services on the Bose App, but it's not necessarily a massive downfall, as you can connect over Bluetooth and Airplay to listen.
BOSE 900
SONOS ARC
✓

Can change the EQ

✓ Dialogue Mode

X Music services are limited on the app

✓

Can change the EQ

✓ Speech Enhancement

✓ Night mode
WINNER: Sonos do still have a more refined App in our opinion that is more user friendly. This isn't to say this is the way things are always going to be, as both brands are often giving free software updates to carry on improving things and making them better.
What's in the Bose 900 box

What's in the Sonos Arc box

Bose Smart Soundbar 900

Remote control with 2 AAA batteries pre-installed

Cleaning cloth

ADAPTiQ headset

Optical cable

HDMI cable

Power cable

Quick-start guide

Sonos Arc

Power Cable

 HDMI Cable

HDMI Optical Audio Adapter

QuickStart Guide

Legal & Warranty Information
Verdict
So here's the big question, who do we think is the overall winner? Maybe this answer will be a bit disappointing, but we think they're both winners and the ultimate question to be asked is really which one is going to be better for you? If you need Bluetooth go with the Bose 900, if you want a nice user-friendly interface with everything in one place, you can't go wrong with the Sonos system. We also think Sonos performs better when listening to music, so it's all about weighing up what features are more important to you. Ultimately everyone's ears are different and both bars are fantastic in their own right so we can't imagine anyone would be disappointed with either!
| | |
| --- | --- |
| | info@smarthomesounds.co.uk |
| |  Live Chat on our Website |
| | 0800 677 1100 |