Sonos announce Sonos Arc, new soundbar with Dolby Atmos plus a new Sonos Five and Sub upgrade
A Sonos Soundbar with Dolby Atmos? Yes please.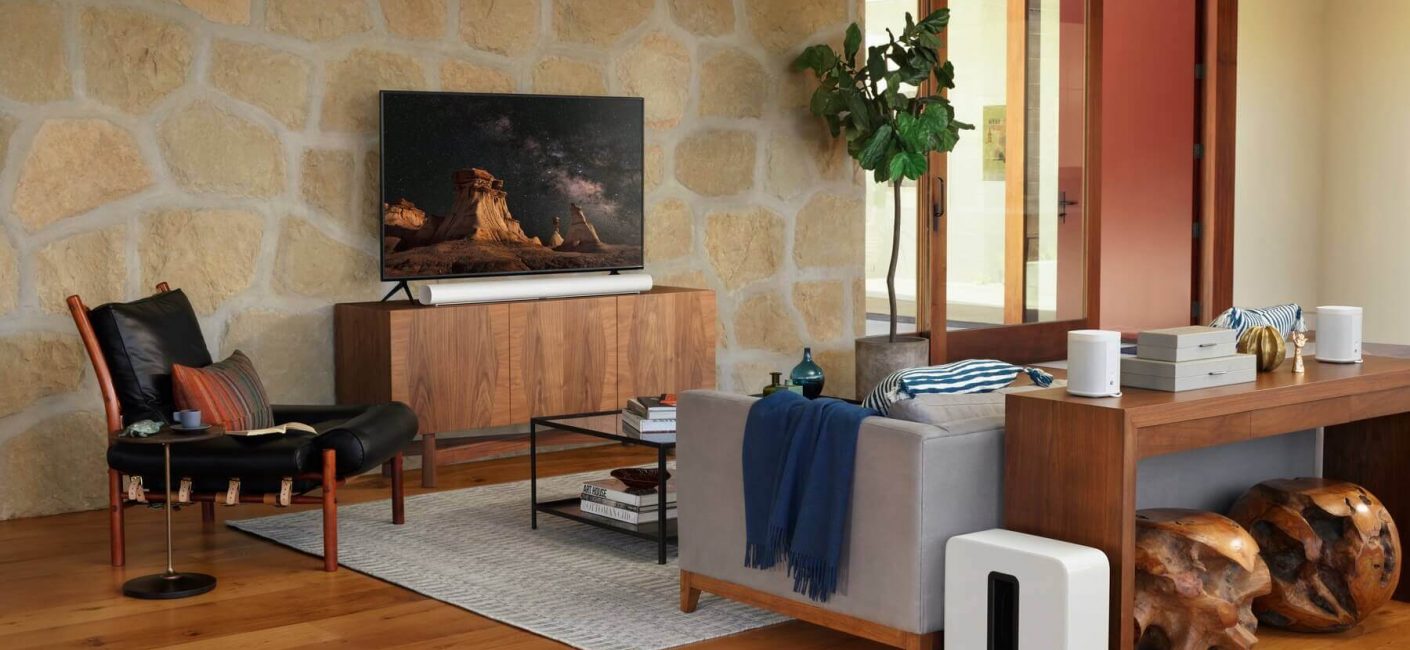 Sonos announces 3 new products and we're excited!
Sonos fans rejoice, as 3 brand new products are coming: the Sonos Five, the Sonos Sub (Gen 3) and their new soundbar, the Sonos Arc.
We will tell you everything we know about these products including some information we've gathered from Sonos ourselves. 
First of all, we will be accepting pre-orders for all 3 new Sonos products from 13th May 2020 for delivery on release date which is 10th June. You'll get the benefit of our 6-year warranty and interest-free options should you wish to spread the cost.
So what's new?
The Sonos Five is an upgraded and refreshed version of the Sonos Play:5 the most powerful speaker in their range.
The Sonos Arc is a completely new soundbar with impressive features including support for Dolby Atmos and modern design. 
The Sonos Sub Gen 3 is the third iteration of their popular subwoofer. 
Let's cover each one in a bit more detail.
Sonos Five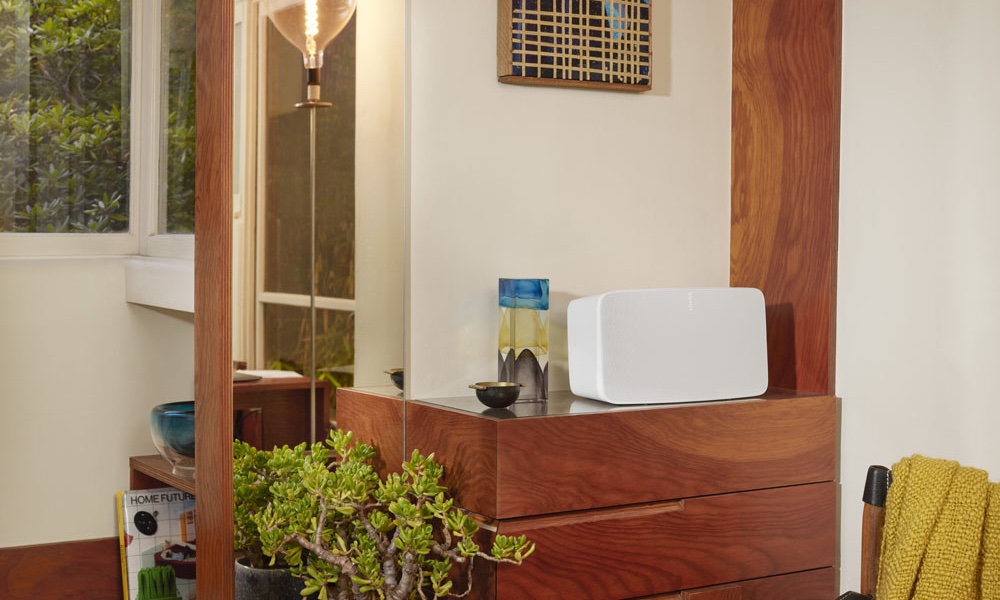 The Sonos Five is the third generation of the Sonos Play:5 and will retail at the same price of £499 RRP. 
Soundwise, you will still experience the same bold sound as the Play:5 with the same 3 custom-designed woofers to deliver rich bass and a sealed architecture to help eliminate any reverb or echo. 
However, internally it's received an update. The new Five has future-ready computing hardware, increased memory and processing power and upgraded WiFi hardware. It also offers BLE (Bluetooth low energy) and NFC (Near Field Communication) which hints at improved set-up options to come in future Sonos updates.
Design-wise there will be some differences from the old Play:5. The Sonos Five's appearance has an overall more modern and refreshed design, with a more discrete logo and a refined aesthetic that is more in line with the most recent products from Sonos such as the One SL and the Sonos Move. 
It still comes in two colours, black and white but these now have colour matched grilles which provide a more sleek and stylish finish. 
Overall the small cosmetic changes really enhance the look of the Sonos Five especially in the all-white design, but we feel the real improvements will come when the new S2 Sonos App launches. 
With rumoured high-resolution audio support, we can see why Sonos is using the strapline "Listen to Studio-Quality Sound with Sonos Five".
Sonos Arc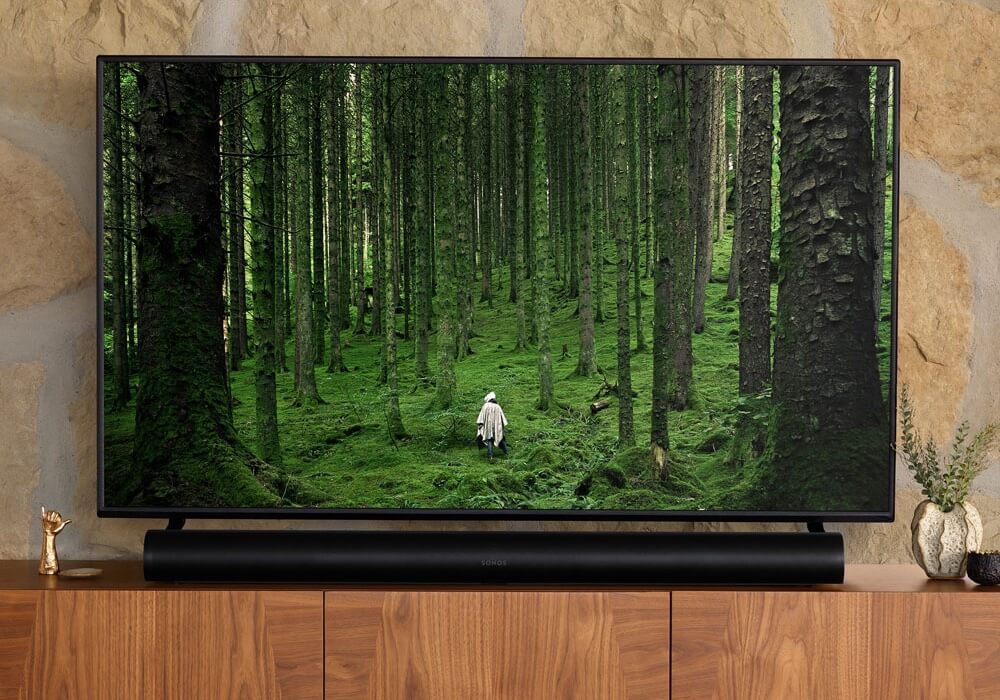 Probably the most exciting product that Sonos have announced is the all-new Sonos Arc soundbar with Dolby Atmos equipped.
This is set to replace the massively popular Playbar which has become 7 years old now.
The Sonos Beam added in 2018 is for smaller rooms and smaller budgets so the Sonos Arc will suit larger rooms or those looking for better clarity and for a full cinematic experience. 
While it will retail for £100 more than the Playbar with the Arc at £799, there is no doubt this a premium smart soundbar for your music and TV and is Sonos's most immersive home cinema experience to date offering realistic 3D sound and support for Dolby Atmos surround. 
Arc has been designed to match modern larger and thinner TVs and has benefited from a long-awaited facelift.
It has a slim footprint and the seamless 270 degree curved grille enables multi-directional sound while ensuring it looks discreet and stylish under your TV.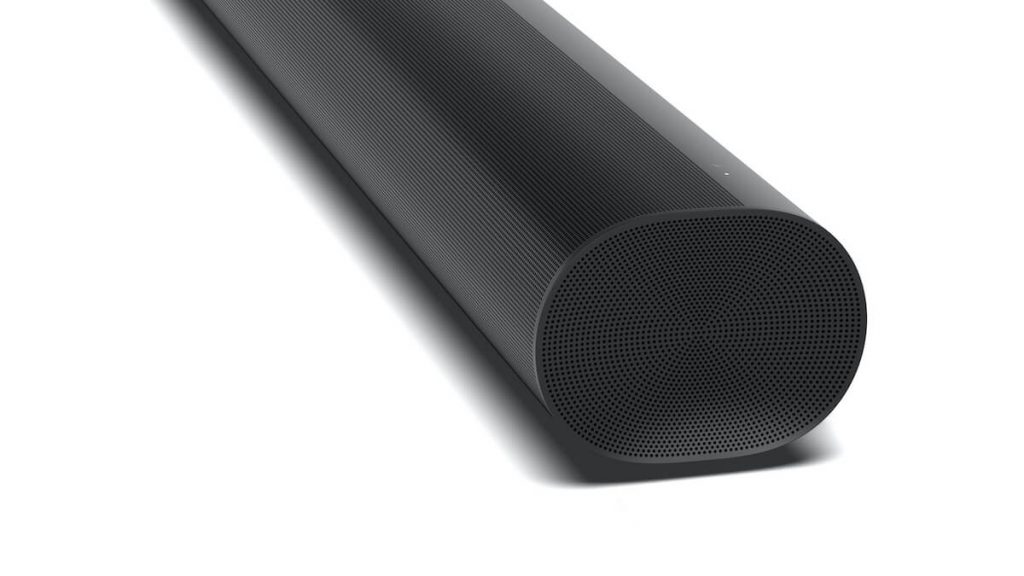 Size wise, it's been designed to look good with TVs roughly 49" or larger.
Arc is available in both a black matte or white matte finish to suit your TV and room decor. 
It also boasts a number of great features including built-in voice control with Amazon Alexa or Google Assistant. 
The Arc has a four far-field microphone array which uses multi-channel echo cancellation to make sure the voice assistant can hear you over your surroundings, as well as a privacy button that cuts power to the microphone. 
Arc also offers AirPlay 2 (so you can send audio from your IOS devices), automatic software updates, control over WiFi using the Sonos app and it has an integrated IR sensor so it can automatically pair with your TV remote for simple control. 
However, the main feature of the Sonos Arc is 3D audio and Dolby Atmos support. Internally, it features 11 high-performing drivers which are tuned to Arc's acoustic architecture. 
You have 8 supercharged elliptical woofers which provide reliable playback of the mid-range and vocals as well as the bass - and 3 tweeters to offer the crisp high frequencies and clear dialogue. 
You'll notice that some are angled upwards and that is to provide a multi-dimensional soundstage for a more immersive experience. 
Sonos have said that advanced processing creates phased-array channels that masterfully deliver sound to your ears from all directions at the right moment.
With an ultra-wide soundstage, powerful bass and dramatic clarity, depth and detail you're right at the centre of the action. 
To put it simply, Dolby Atmos is a surround sound technology which has been designed to provide a more enhanced listening experience by adding height channels which enables sound to be interpreted as 3-dimensional objects. 
Dolby Atmos content is becoming more common in films and Netflix and it provides 4 times the quality of Dolby Digital content.
To provide this sound experience, the Arc connects to your TV via an eARC connection which is found on most new TVs and enables enhanced audio. Again connection is simple, you just connect with one cable and set it up via the Sonos app.
Notably, the Arc also uses a new adaptive format of Trueplay tuning technology which will automatically adjust its tuning depending on the other speakers you have in your home cinema setup and whether you are watching TV or listening to music. 
We will fully test Atmos in our in-depth review when we can properly delve into how that will work with your TV and setup and how it will work if your TV doesn't have an eARC connection.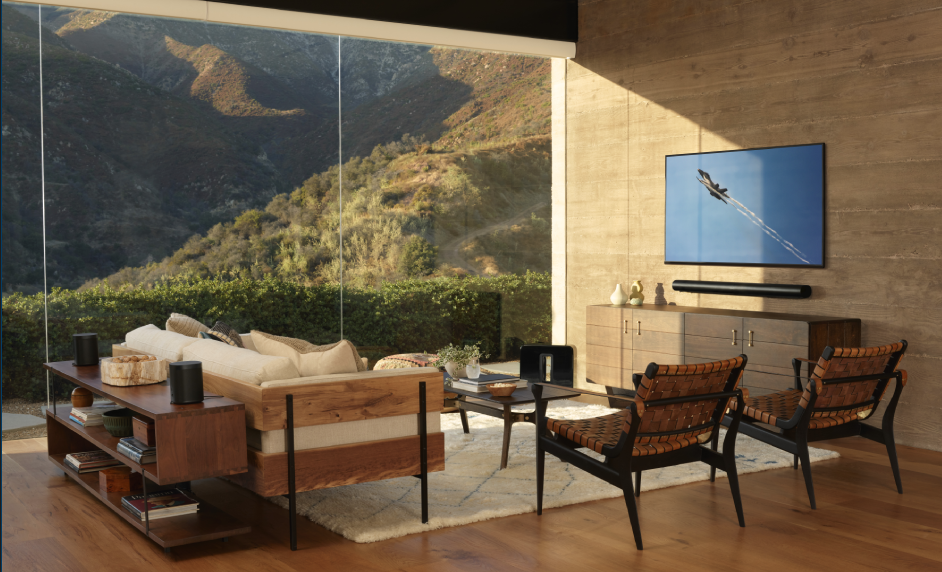 The Arc can be used on its own and Sonos have said this will offer a 5.0 Dolby Atmos listening experience or you can opt to add the Sub and two rears. 
We'd recommend the One SLs as the Arc already gives you voice control, and that would provide you with a full home cinema setup. 
There are a couple of other cool features worth mentioning. Sonos has emphasised their ethos to keep you immersed in your favourite content so they have added an ambient light sensor which detects the brightness of your room and automatically adjusts the brightness of the LED on the top panel to suit. 
So for example, if you dim all the lights to watch a movie, the LED will dim as well so it's not distracting. 
Like Sonos' other soundbars, the Arc also offers Speech Enhancement and Night Mode so you can use the Sonos app to emphasise dialogue or reduce loud sounds if you're watching late at night and don't want to disturb anyone else in your house. 
The Arc also has magnetic sensors on the back which can detect if you decide to wall-mount it and it will automatically adjust the acoustics to match. 
That does only apply with the Sonos wall mount which will retail at £79. 
Overall, we are really excited by the Sonos Arc. We love the all-new design which definitely has a premium finish to it and will enhance any living room set-up. The inclusion of Dolby Atmos, as well as voice support & AirPlay 2, makes Arc a feature-packed soundbar. 
However, the main question we are sure a lot of you will have, is how does the sound compare to the Sonos Playbar or the Beam? Is it worth the extra money? And should you upgrade your current Playbar? 
We can't wait to get hands-on with the Sonos Arc over the next few weeks, put it to the test and answer all these questions. 
Sonos Sub (Gen 3)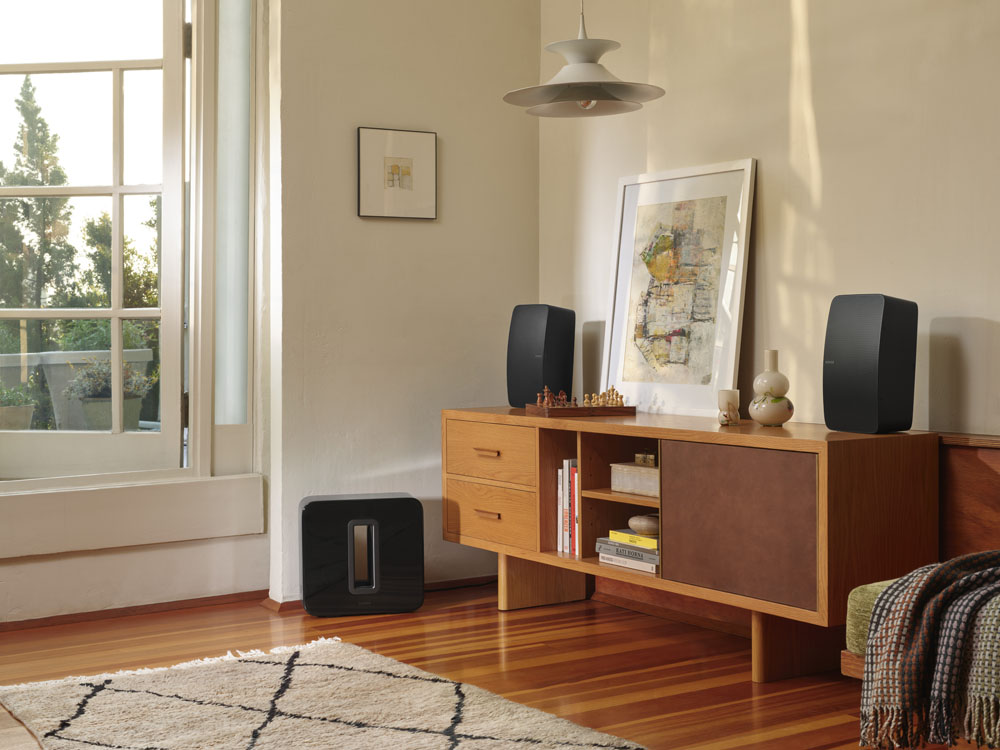 Finally, Sonos has announced a new subwoofer called Sub Gen 3, the replacement for the current Sub Gen 2, which will retail at £699 RRP. 
If you are unfamiliar, the Sub is Sonos' subwoofer, designed to be added to any Sonos speaker (except the Move) to provide the extra bass to take your music, movies or TV to the next level and make it feel more cinematic. 
The Gen 3 takes all of our favourite features from the Gen 2, powerful, rich bass, a simple one-button setup, face-to-face speaker design which ensures no cabinet buzz or rattle and a sleek appearance. However, the new Gen 3 version does boast some additional upgrades.
Like the Sonos Five, the Sub Gen 3 will feature upgraded internals including future-ready computing hardware, increased memory and processing power, BLE and NFC.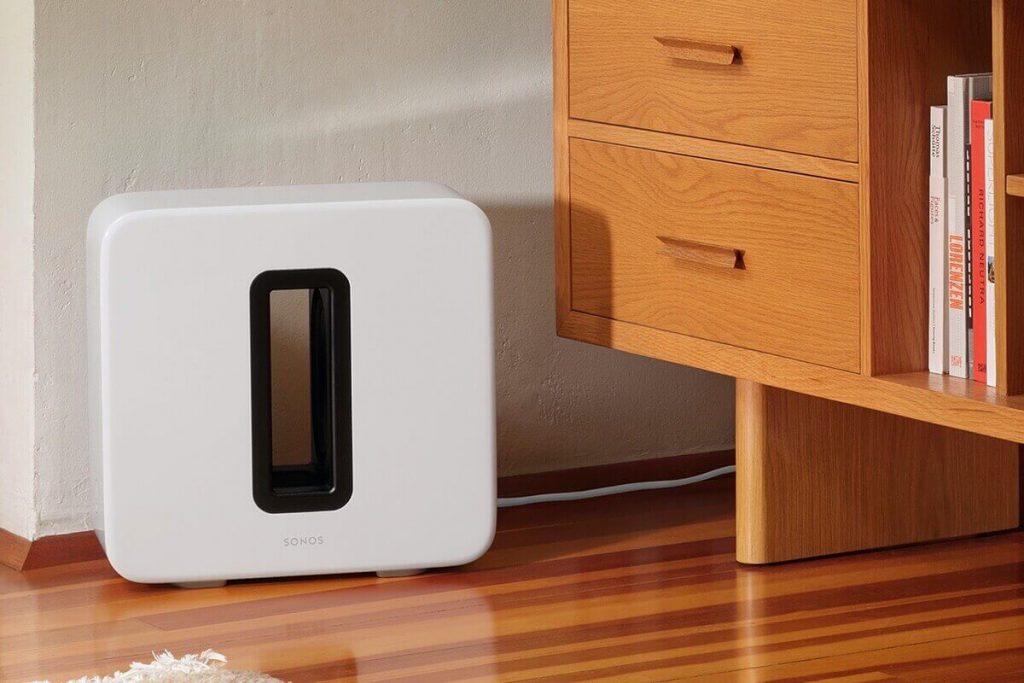 In terms of design, it still looks very similar to the Gen 2 with the same look, material and colour. There are, however, a few minor changes such as rubber feet, a round join button (designed to be more ergonomic) and a flat power cord after receiving feedback that the old design can occasionally become tangled. 
Verdict
The Arc marks a new milestone in Sonos' TV speaker options after 7 successful years of the Playbar and we are sure Dolby Atmos will be a very welcome addition for those looking for a soundbar that goes beyond the norm. 
The new generations of Sonos Five and Sonos Sub demonstrate Sonos has got some interesting plans coming up and we can't wait to see what's coming.
If you want to stay informed with all-things-Sonos, you've found the right place. Subscribe to our e-newsletter at the bottom of the page so you never miss a beat.