Sonos Move Review: What they didn't tell you
Discover something new that you may have never known before about the Sonos Move.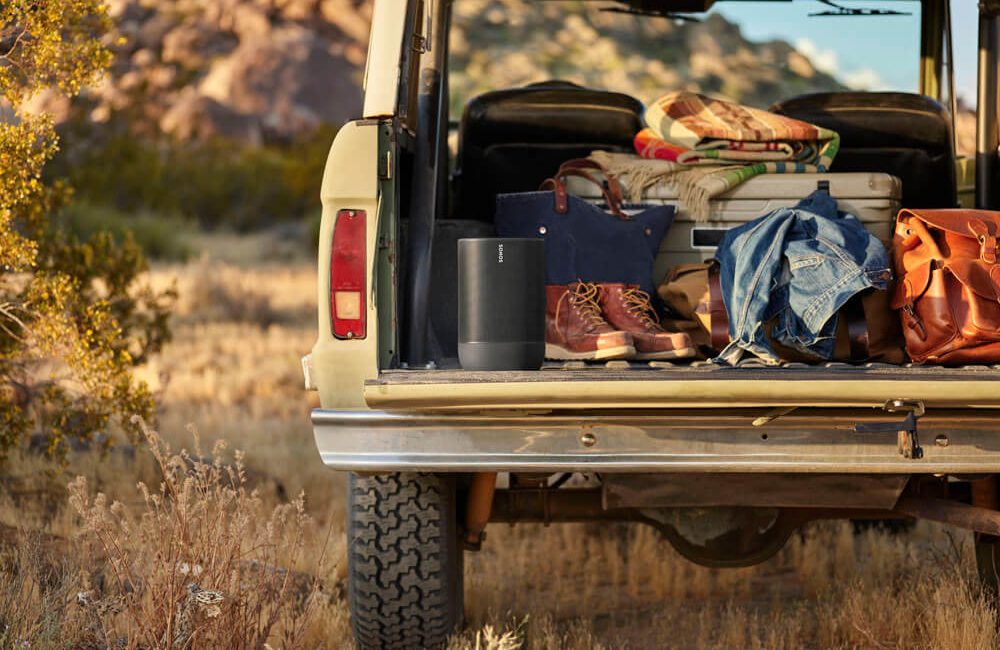 Sonos Move: What Sonos didn't tell you
Easy to install, intuitive to use and great to listen to, Sonos has been filling homes in the UK with the joy of music since 2005.
Designed to offer a near-flawless multi-room audio experience, Sonos has a speaker for almost everyone in their range.
However, note that I said almost everyone...
What happens if you enjoy listening to your favourite music on the go, or want to take your Sonos speaker outdoors? Have Sonos got a speaker for you? Up until very recently, the answer would have been no.
But if the newest Sonos speaker's name hasn't suggested so already, the Sonos Move is the solution we have all been eagerly awaiting.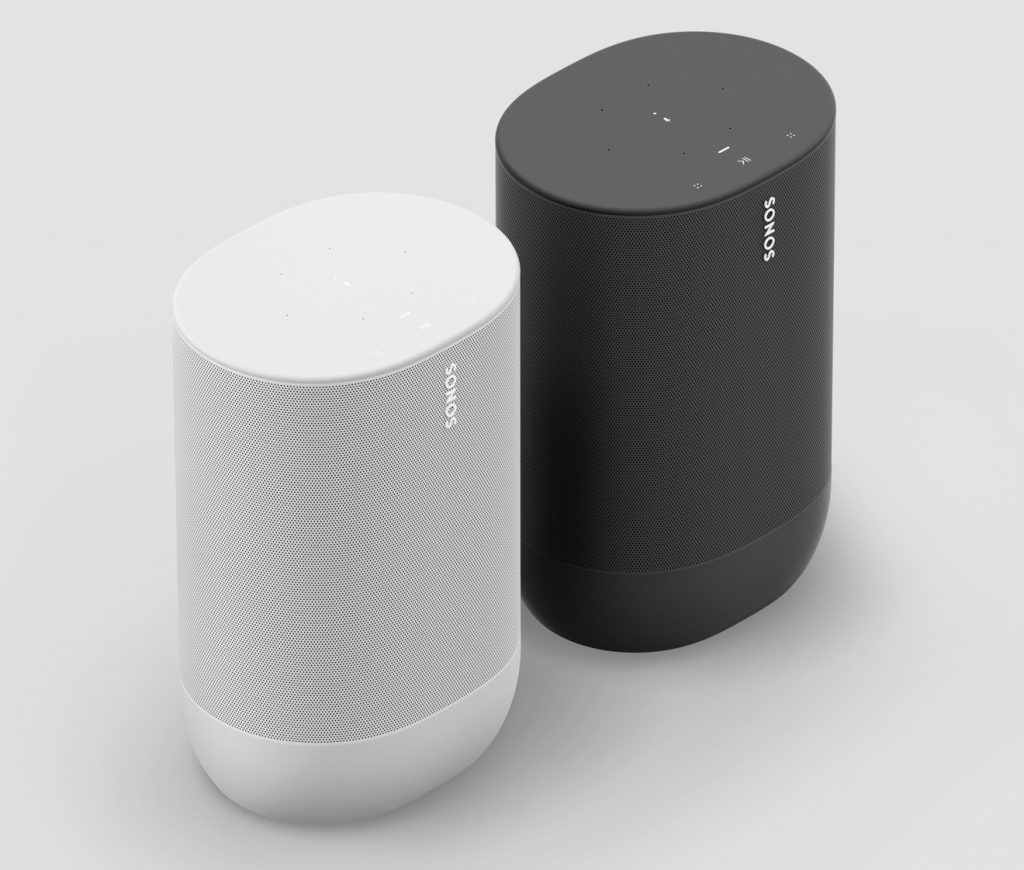 Sonos Move into new territory
Jumping in on the territory of the JBL Charge, the similarly new Bose Portable Home Speaker and the stylish Marshall Tufton, you are right to question if an audio brand with a household name can cut it outside of the home.
But if previous Sonos products have told us one thing, it's that they are one of the most renowned brands when it comes to smart speakers.
So despite the outcry from loyal customers wanting a portable audio solution from Sonos, it's clear to see the Sonos development team were busy making sure the Move was ready to deal with anything a portable smart speaker may have to encounter outside.
Watch our in-depth video review on the Sonos Move below:
On First AppearancE
More physically imposing than the Sonos One, yet somehow reminiscent of the size of the now-discontinued Play:3, you could say the Move is the semi-replacement.
A white colour option has also been added to the catalogue so listeners can now more closely match their Move to their decor.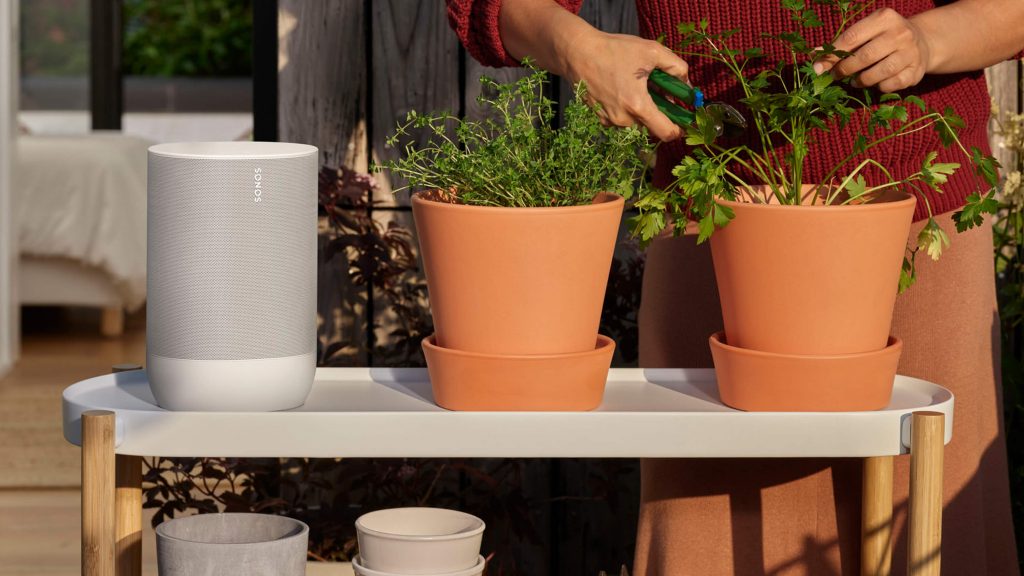 But unlike its Sonos siblings, the Move comes supplied with a powerful lithium-ion battery and a charging base.
But does it have the stamina necessary for a portable speaker to cut it out in the wild?
The Sonos Move, on the Move
Anyone interested in the Move will undoubtedly have a large number of questions about the brand's first portable smart speaker:
"How does the Move hold up outdoors?"
"How long can the Move last between charges?"
"Does the Move sacrifice sound quality for portability?"
And last, but not least…
"How much will it cost me?"
If these questions sound similar to what you're asking, then let's have a look to see if the Move lives up to expectations
How does the Move Receive Your Audio?
With many portable speakers offering Bluetooth from a phone or tablet, this keeps things simple and straightforward. But if you are already familiar with Sonos, then you'll most likely know that they have previously deterred from implementing Bluetooth on their home WiFi speakers.
In light of the Move being Sonos' first portable speaker, Bluetooth would undoubtedly make sense. And, as if by magic, the Move also doubles up as Sonos' first-ever portable Bluetooth speaker too.
If you're out and about and Bluetooth is required, a simple push of the button on the rear of the Move puts it into Bluetooth mode.
But like any other Sonos speaker in the range, the Move can also connect to your existing system as you would expect.
In the presence of a WiFi network, tests on the Move demonstrated that it could (in the right conditions) keep on receiving data up to 30 metres away from the router, all thanks to its powerful onboard WiFi extender.
And for those technically-minded people, the Move is fully compatible with 5 GHz routers, which are now becoming more common.
In the tradition of using any Sonos speaker, control over WiFi is made in the usual fashion through the intuitive Sonos App for iOS and Android devices.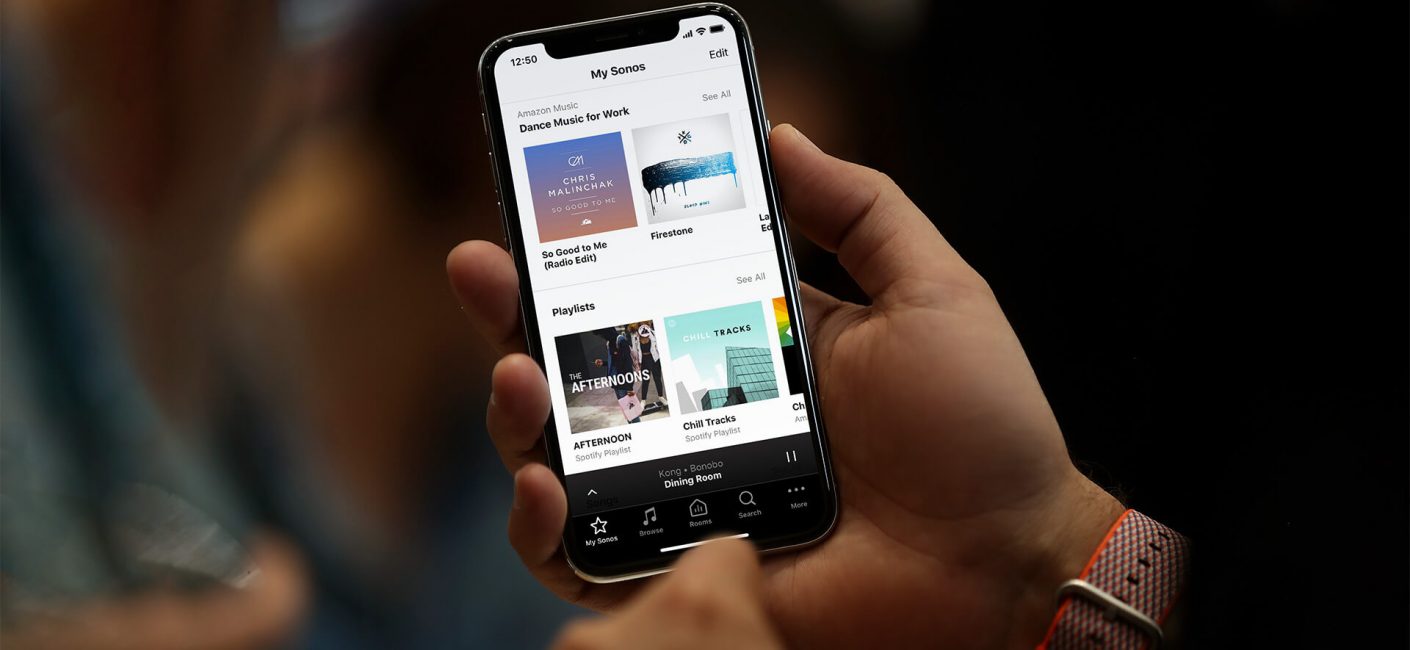 And like its Beam, Amp and One model siblings, the Sonos Move is also ready for Airplay 2 streaming.
Not to mention, in keeping with its function as a smart speaker, the Move's built-in voice command system is ready to be assigned to your choice of Amazon Alexa or Google Assistant too.
Portability Vs. Audio Quality
Many portable speakers on the market are great for delivering sound on the go but many are known to sacrifice sound quality in favour of portability.
Staying true to Sonos' firm beliefs in high sound quality, the Move has carefully considered its internal components and drivers.
Contrary to the belief that the Move is effectively a Sonos One with a battery, the volume output of the Move is remarkably louder than the One, but not quite in the league of Sonos' range-topping Five.
Fed by two Class D digital amplifiers, a tonally-matched mid-woofer provides an excellent mid and low-frequency response; while a downward-firing tweeter delivers sweet yet smooth treble.
Sonos Move also has a further audio-enhancing trick up its sleeve…
Whether it be down the park, in the shower or the garage, the Move automatically adapts its audio parameters to suit your listening environment.
Utilising Sonos' Auto TruePlay feature, the Move regularly assesses the characteristics of its surroundings, making subtle tweaks to the audio within 15 seconds of initial playback.
TruePlay is not by any means a new Sonos feature, as it had only been made available to Apple iOS users using Sonos speakers in their home.
The advantage of Auto TruePlay with the Move is that you no longer need to be an iOS user to get the best sound out of it or look like a wally waving your phone around to test tones to do so.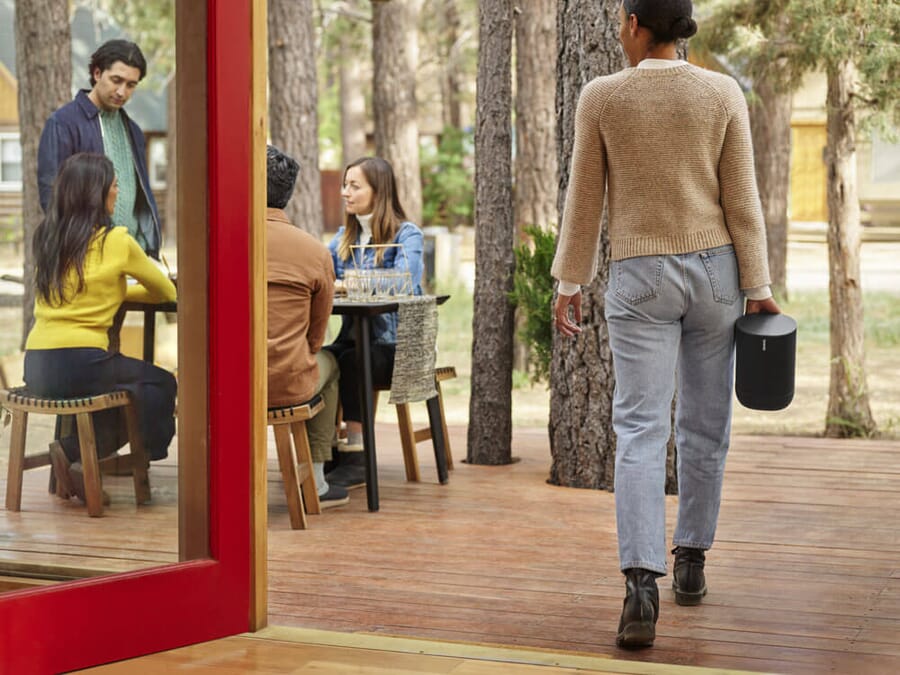 Although WiFi playback is always inherently higher quality than Bluetooth, the Sonos Move does its best to extract every last detail of your audio over Bluetooth.
Yet, in the wake of hi-res audio becoming commonly available from platforms such as Amazon Music HD and Qobuz, and with some portable speakers offering lossless Bluetooth playback via AptX-HD, the Move surprisingly isn't ready to embrace hi-res just yet.
But with the knowledge of an uprated audio processor on board that could be able to facilitate hi-res playback, be sure to watch this space for potential developments soon.
However, for those who enjoy the full stereo sound of two matching Sonos speakers together, the good news is that two Sonos Moves can be wirelessly linked to form a dedicated stereo pair. However, this is providing that they are connected over WiFi and not Bluetooth, of course.
Is the Sonos Move Durable?
Standing 24cm tall, 16cm wide and just over 12.5cm deep, this new model is certainly on the larger end of the scale as portable speakers go, yet it remains sleek in its appearance.
Featuring a hardened plastic grille, a carry handle streamlined into its smooth cylindrical shape and a large rubberised non-slip base, the Sonos Move is handsomely rugged in its appearance.
If you are interested in the Move, you will be pleased to know that it has been designed to withstand the varied and sometimes harsh operating environments in which it can operate.
Water Resistance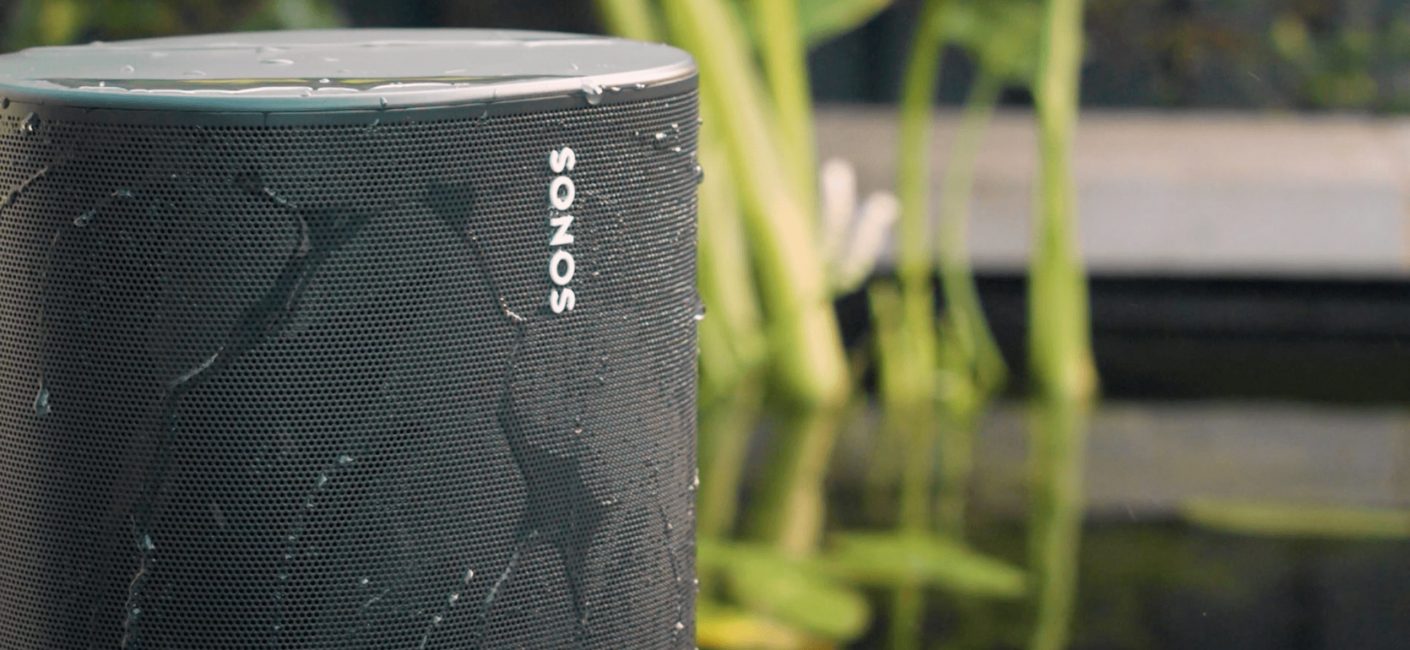 With an IP56 rating, this portable smart speaker is happy to keep the party going whatever the weather. Come rain or shine, our tests on the Move showed that it continued to function without fault in a torrential downpour.
But despite its water resistance, please be mindful that the Move isn't designed to become submerged in rivers, jacuzzis or swimming pools!
Resistance to Other Liquids & Substances
And aside from our temperamental British weather, the Move's durable casing resists all manner of other liquids too.
Ranging from ketchup to mustard, bleach to bug spray and from mineral oil to olive oil, the Move can resist all sorts of contamination without fear of any permanent blemishes. Just wipe it down with a damp cloth, and no one will ever know that your Move has been on an epic musical adventure!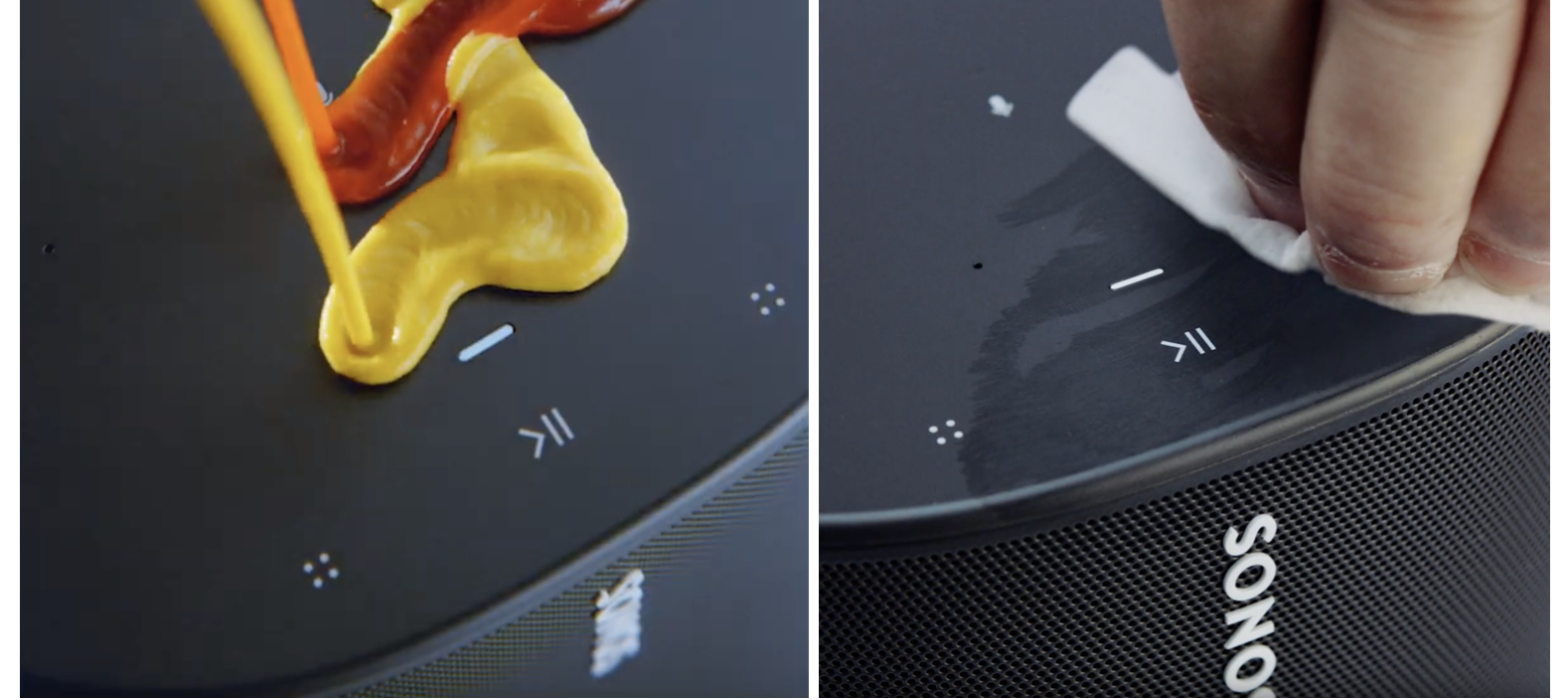 Shock Resistance
Ever had that pang of dread when your phone or tablet slips out of your hands? Then that gnawing anxiety sets in when your beloved tech device is lying there, face down.
Has it survived, or has it shattered? We've all been there, haven't we?
Thankfully, the kind engineers at Sonos have considered those who have buttery fingers among us, which is why the Move has an integrated non-slip base.
We tested the Move on a smooth flat surface, and it seems extremely difficult to make it come unstuck. Even when placed onto its charging base, the Move refuses to budge despite a forceful push.
However, for those instances where the Move does slip from our hands or does become knocked off its feet, it's reassuring to know that it has a surprising amount of shock resistance.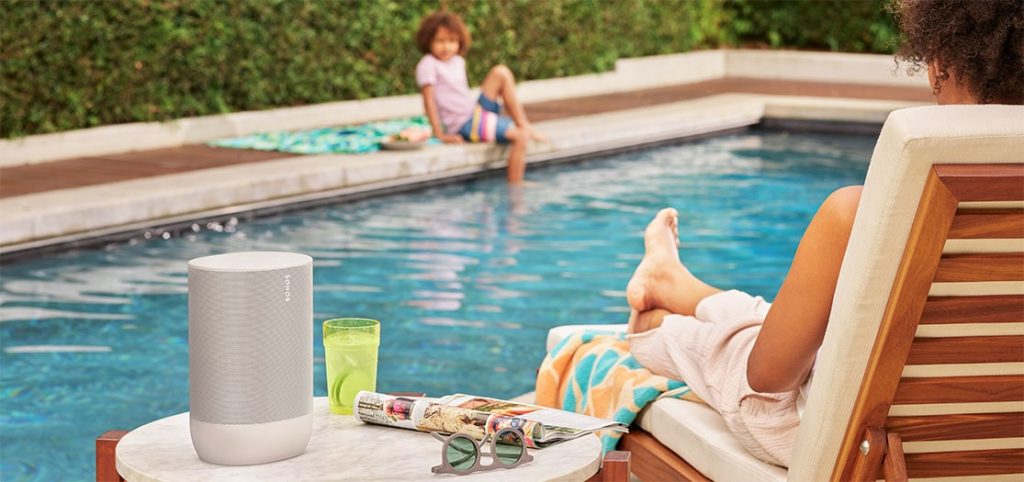 Operating in Extremes of Hot or Cold Temperatures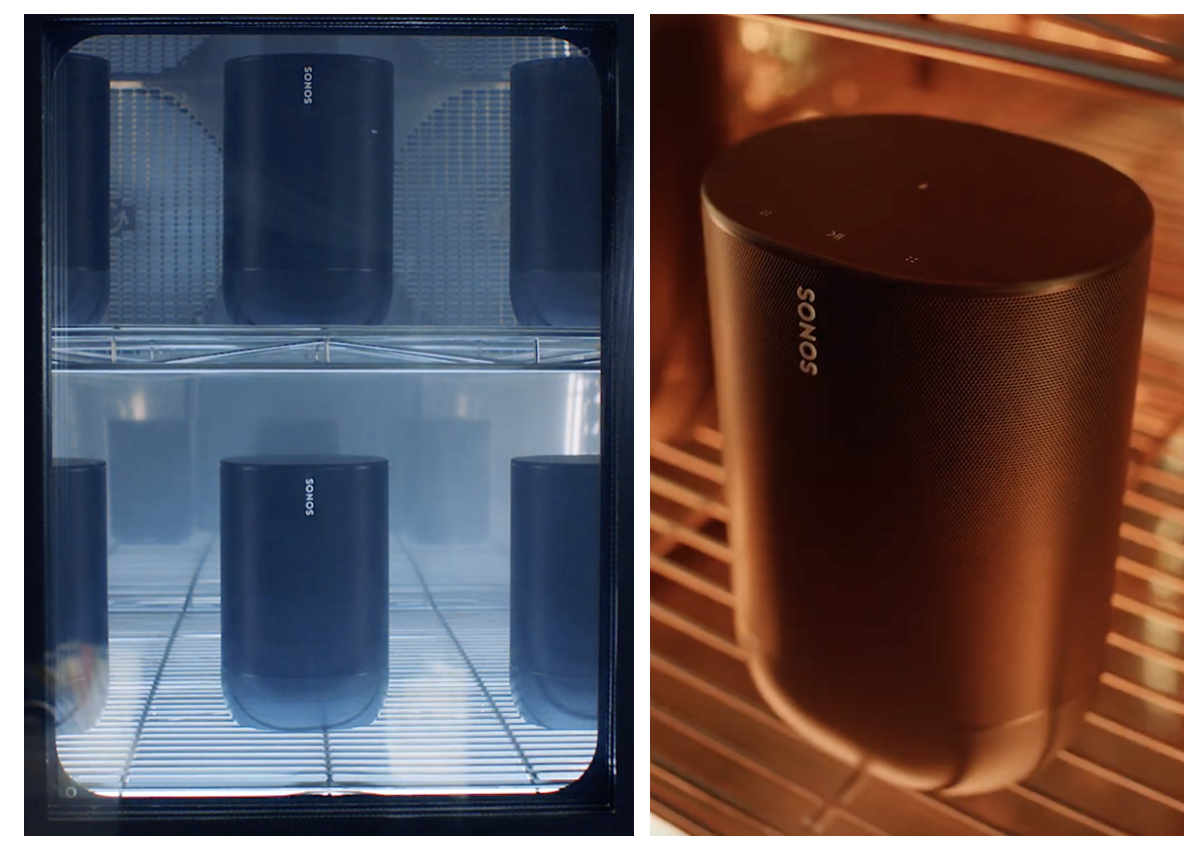 With a casing which is resistant to UV rays, static and moisture ingress, the Sonos Move is great for those hot summer barbecues, or for when you need musical accompaniment for your next snowball fight in the depths of a bitter winter.
Come rain or shine, on the Move, it is always music time!
How Long Does the Sonos Move Last Between Charges?
UPDATE: thanks to a recent software update, the Move has had its battery life extended to 11 hours and this was confirmed by testing in the office.
Sonos claims that the battery used in their portable wireless speaker can now provide 11 hours of playback at a moderate volume.
And with many battery-powered portable speakers making bold estimates about their battery lives, often met with a widespread disappointment from customers when disproven, we decided to make the Move put its money where its mouth is.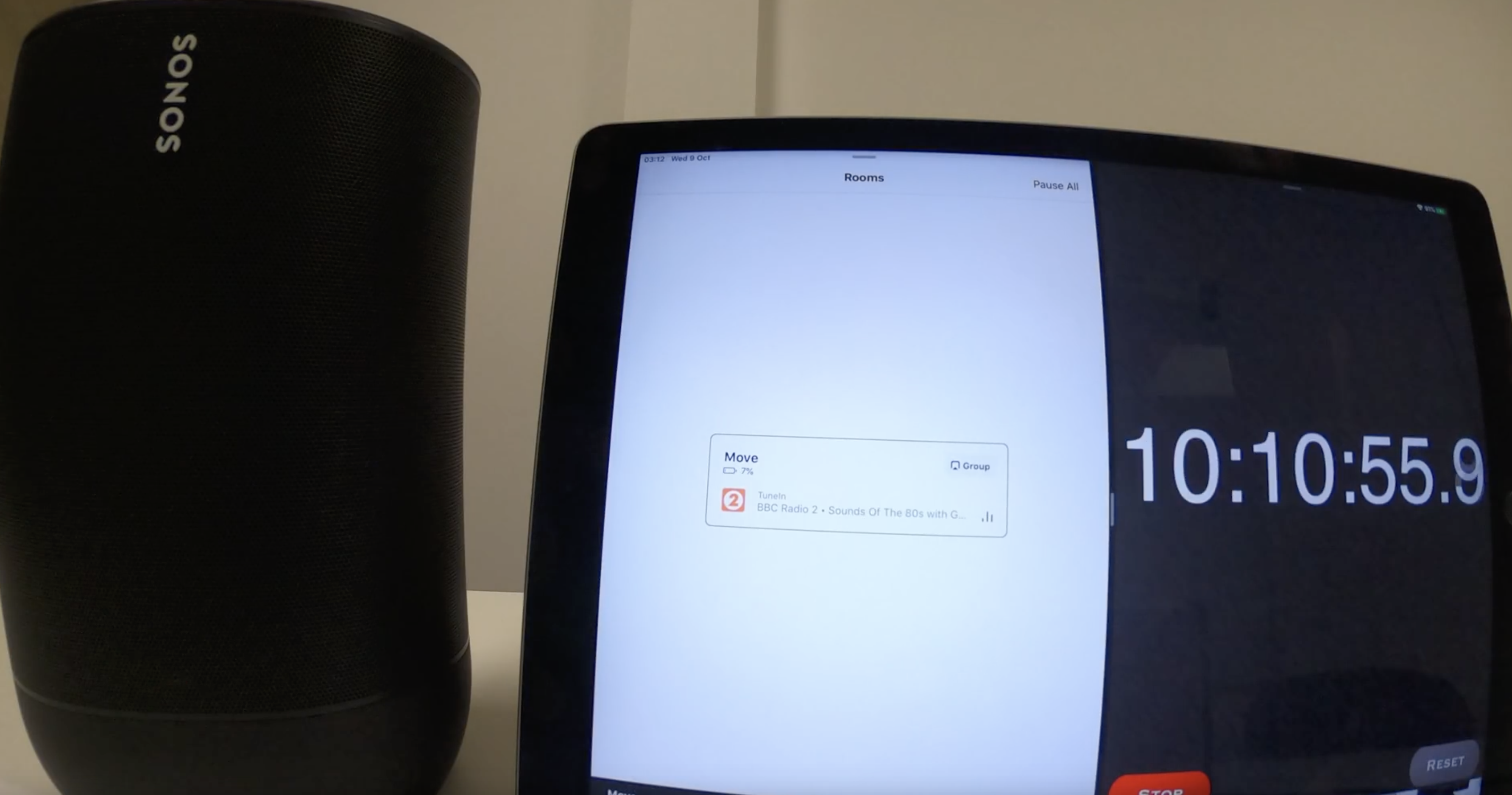 Although factors such as Bluetooth or WiFi playback, temperature and volume affect battery performance, we were pleased to see the Move validate its claim by providing 10 hours of music at a volume level of 60% (tested when Move claimed to have 10 hours of battery life).
Battery life can be monitored in the Sonos App when connected to WiFi. Still, unfortunately, there is no way to check this when playing in Bluetooth mode, other than the LED which illuminates through the Move's grille when the battery is running low.
When It's Time to Recharge
When it comes to recharging the Move, the good news is that you can still play music as it does so.
Provided with a dedicated charging base (which isn't weatherproof by the way), running from flat, the battery can register 7% within 1 minute, and then 30% charge in 20 minutes. A full hour and a half will see the Move back up to its full capacity, and ready for another 11 hours of fun.
But if you're out and about when the battery indicates that it's time to recharge, a handy USB-C port on the rear will allow you to connect a phone charger of choice to top it back up again.
Battery Long-term Longevity
In days gone by, it was common for batteries to develop a memory when charged before they are fully depleted. But in the modern age of lithium-ion batteries, this problem no longer exists.
So if you do decide to keep your Move on top of its mains charger base permanently, no harm will come to the battery or its long term performance.
But, inevitably, all batteries don't have an infinite lifespan. The Move's battery will give approximately 900 charges or last 3 years before it may show signs of needing replacement.
Should you need to change the battery Sonos has said they will be shipping these in the future and the swap will be easily carried out by the user.
Is the Price Worth It?
It is wrong to disguise the fact that there are some brilliant portable speaker alternatives on the market. With the likes of the Bose Portable Home Speaker from earlier, the new popular Marshall Bluetooth range and the exciting Bluesound Pulse Flex 2i, there's a wide selection when it comes to battery-powered smart speakers.
And standing at a bold £399, it's still understandable that the Sonos Move is a costly option.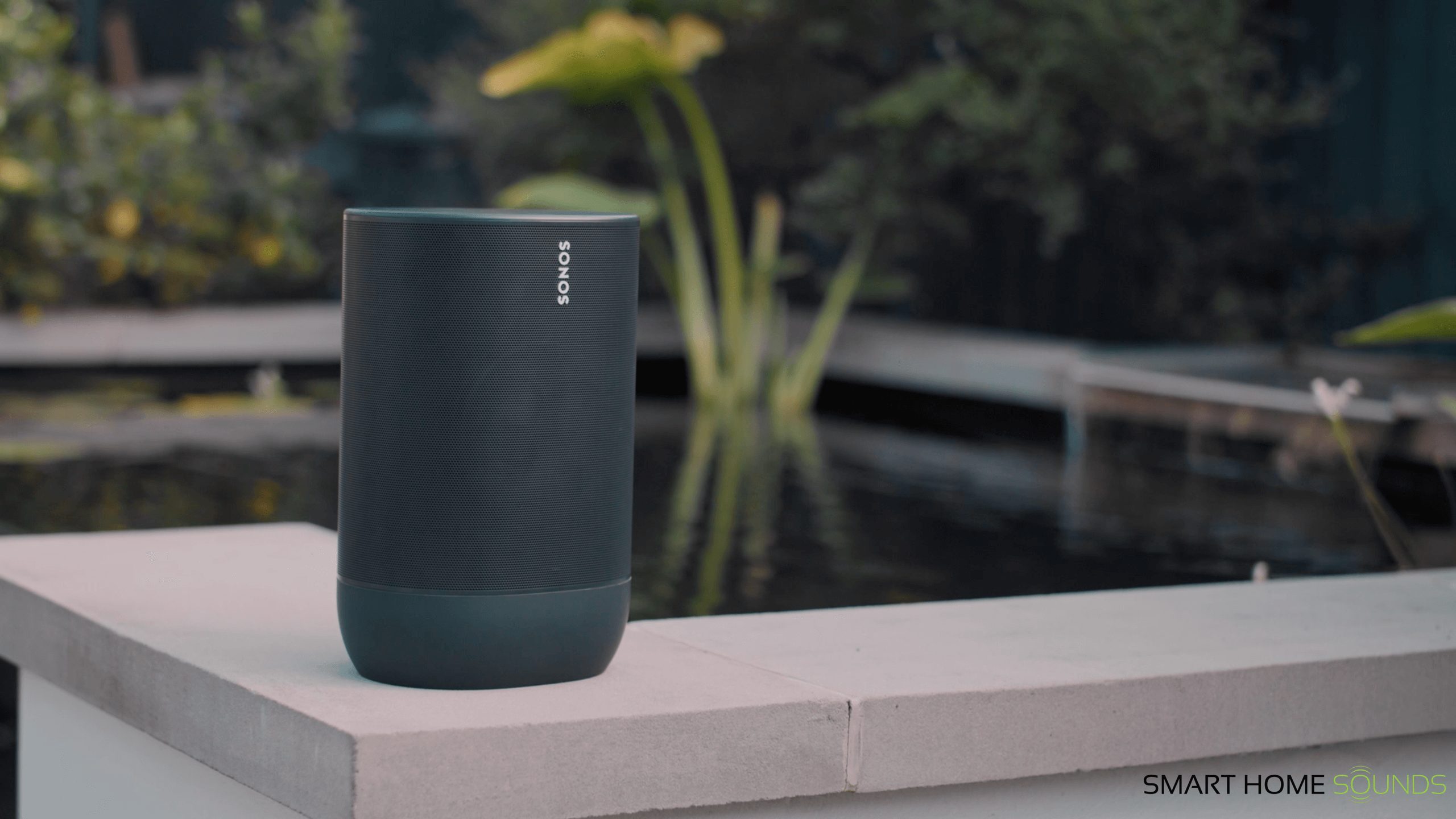 Yet, when you realise the Sonos Move is made to endure whatever life throws at it, you can always count on it to deliver excellent sound quality for you, your family and your friends to enjoy - whenever and wherever.
And safe in the knowledge that Sonos always safeguard the longevity of all their products with frequent updates, the Move is a portable smart speaker that represents excellent value in the long-run.
Never before has music on the "Move" sounded this good!
And don't forget to get in touch with the friendly team at Smart Home Sounds for further information about anything Sonos-related.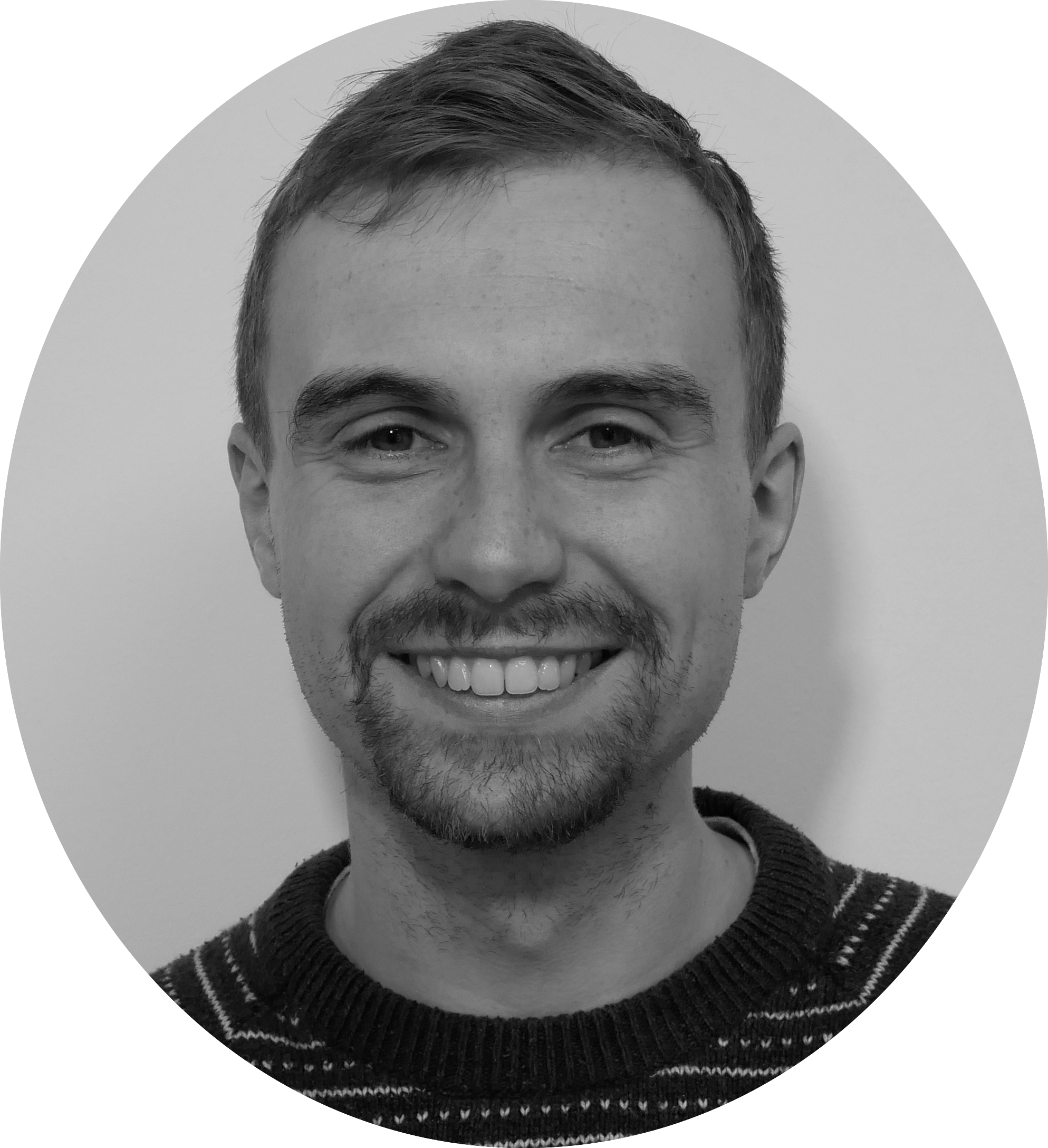 By Tom, Sales Team Member
---
Learn More...
Sonos Move review: the Bluetooth speaker we've been waiting for?
Sonos Release 3 New Products for 2019 (including a Bluetooth speaker)
Will Sonos move into new Bluetooth speaker territory?
Marshall Bluetooth Speakers: The Complete Buyers Guide