Marshall Bluetooth Speakers: The Complete Buyer's Guide
The complete guide to Marshall wireless speakers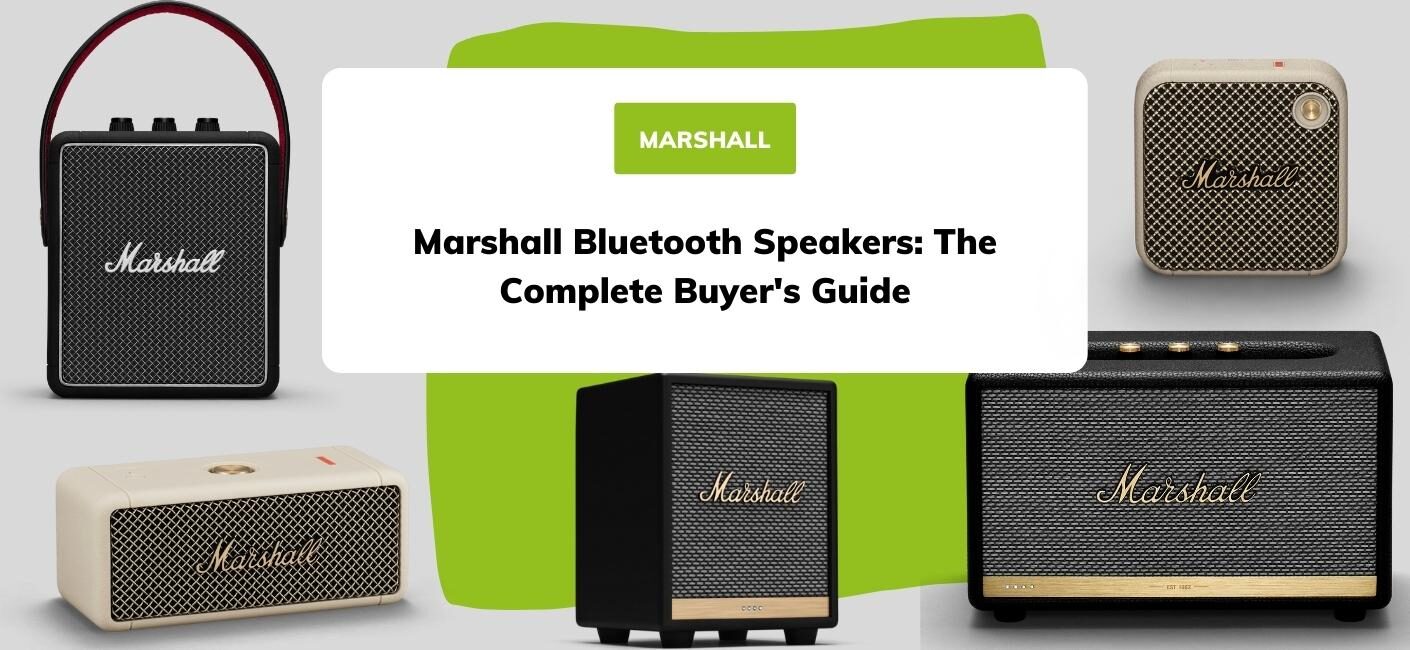 How to choose your perfect Marshall Bluetooth speaker
We're incredibly happy to be able to stock the iconic Marshall Speaker Range on our website and we love to educate our customers about which Marshall Bluetooth or Wifi speaker might be the right fit for them.
For those not aware of Marshall, they are an English audio company with over 50 years of expertise in their field. They specialise in engineering guitar amplifiers and loudspeaker cabinets and have been celebrated by some of the world's most renowned musicians such as Eric Clapton, Jimi Hendrix, Muse and Gorillaz to name but a few.
Find out more about the Marshall journey>>
The chances are you will have seen Marshall equipment featuring in live band sets as they are some of the best and most highly respected amplifiers in the market. In our experience, you'll find very few brands that have this level of heritage and respect within their industry.
In 2018, they bravely moved into the wireless speaker market to give listeners the opportunity to stream music wirelessly using Bluetooth instead of via cables.
What we love most about Marshall speakers here at Smart Home Sounds is their unique appearance, characterised by a retro and vintage style. These speakers are a real statement and will actually add to the aesthetics of your room, instead of taking it away which is something a lot of other speakers struggle to do. 
Little touches such as the guitar-strap-inspired carry handle on some of their portable speakers and the analogue controls to change EQ settings and volume on their larger home models make the whole Marshall experience authentic and unique. 
Let's briefly cover the basic detail of each speaker and we'll tell you what's good and bad about the speaker to help you towards a more informed purchase decision. 
Before we get into it, let's see how the full Marshall
marshall portable Bluetooth speakers
As part of their current line-up, Marshall has two ultra-portable speaker options: Marshall Emberton II and Marshall Willen, both released in 2022. They also have a range of larger portable options equipped with a neat, velour-lined carry handle - Marshall Stockwell II, Marshall Kilburn II and Marshall Tufton.
Marshall Willen
Marshall Emberton II
Marshall Stockwell II
Marshall Kilburn II
Marshall Tufton
Price
£89.99
£149.99
£169.99
£269
£349
Dimensions
101.6 x 100.5 x 40.4mm
160 x 68 x 76mm
161mm x 180mm x 70mm
243 x 162 x 140mm
229 x 350 x 163mm
Multidirectional Sound

✖

✓

✓

✓ 

3-way design & rear-facing driver
Battery Life
15+ hours
30+ hours
20+ hours
20+ hours
20+ hours
Bluetooth Standard
Bluetooth 5.1
Bluetooth 5.1
Bluetooth 5.0
Bluetooth 5.0
Bluetooth 5.0
IP Rating
IP67
IP67
IPX4
IPX2
IPX2
Stack Mode

✓

✓

✖

✖

 

✖

Line-in input

✖

✖

3.5mm jack

3.5mm jack

3.5mm jack
Marshall's portable, Bluetooth speakers have been designed with a primary focus on sound quality and appearance in mind. They are purely a "listen and enjoy" speaker wherever you are, utilising simple Bluetooth technology.
Most of the Marshall portable speakers have the following advantages:
✓ Longest battery life in portable speaker market at 15 hours plus
✓ Quick charge (20 minutes charge boost speaker by a number of hours)
✓ Bluetooth 5.1 technology with a 30-foot range
✓ Multi-directional sound with Emberton II (bass driver on the rear for a sound that can be enjoyed at all angles)
✓ Multi-user control of up to 2 devices so you and a friend can share the control of the music at any one time
✓ Weather resistance (IP67 for both 2022 models)
While we love these benefits, here are a couple of things that we found that could be improved.
✖ There is no play/pause button on any of these portable speakers, meaning you must be near to your Bluetooth device to control the speaker. 
✖ When volume is changed using the analogue knob, this is not reflected in the Bluetooth device.
✖ As it is Bluetooth only, any calls, notifications or any other audio that plays through the device will output via the Marshall speaker. We would have loved to see something like AirPlay 2 as an alternative.
Let's take a quick look at each of the portable speakers in turn and see what the differences are between them.
Marshall Willen - Ultra-compact, Bluetooth, portable speaker (£89.99)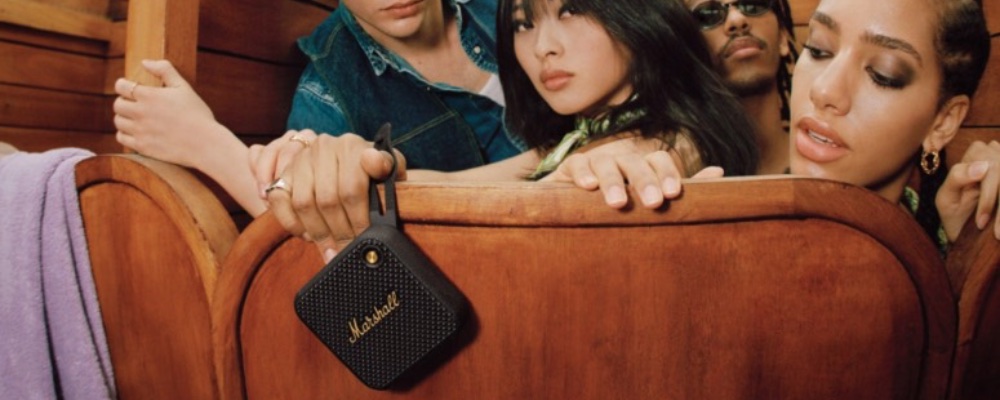 The most compact speaker in the range at 101.6 x 100.5 x 40.4mm 
3-Hours charging = 15+ hours of playback time / 20-minute charge = 3 hours of playback time
IP67 water and dust proof rating allows you to use Emberton IIs outdoors
Marshall Stack mode to pair several Willens together
Speakerphone functionality with inbuilt microphone.
The smallest speaker in the Marshall Speaker range, Willen is the perfect companion for your adventures. Small enough to fit into your pocket, the Willen is perfect for taking on the go with a long 15+ hour battery life and rugged IP67 rating keeping the speaker protected from the elements.
As one of Marshall's latest lineup of portable speakers, Marshall Willen has their innovative Stack Mode feature inbuilt meaning you can pair the Willen with other identical speakers for an even bolder sound. If pairing two Willens, the pair will play in stereo which is a nice touch for a slightly larger space.
Perfectly portable, Marshall Willen has a silicone carry handle built into the back of the speaker allowing you to hook it to your bag, hang it up or just have added security when carrying it around in your hand. Despite its small size, Willen retains the hallmark of Marshall's iconic design and is an excellent portable speaker choice for those who love rock & indie music.
Marshall Emberton II - Ultra-compact, Bluetooth, portable speaker (£149.99)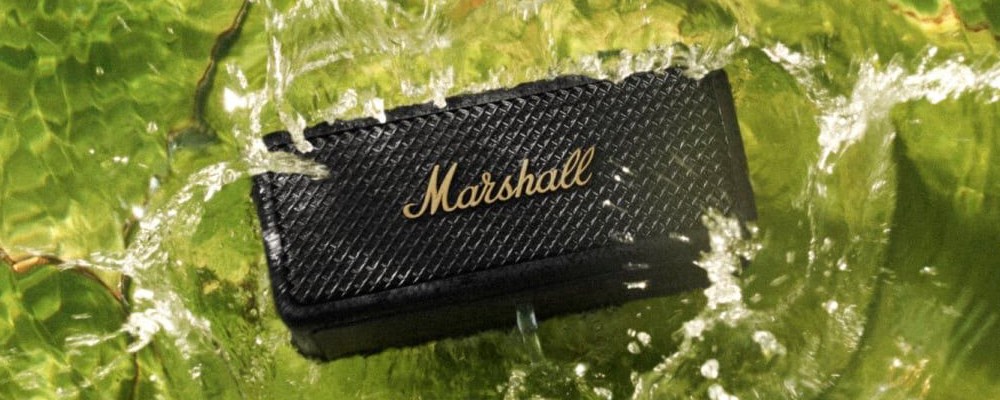 Lightweight at 0.7Kg
3-Hours charging = 30+ hours of playback time / 20-minute charge = 4 hours of playback time
Multi-directional control knob for ease of use
Marshall Stack Mode allows you to pair multiple Emberton IIs 
IP67 water and dust proof rating allows you to use Emberton II outdoors.  
New for 2022, Emberton II is Marshall's most portable Bluetooth speaker to date. 
Measuring in at only 68mm tall and 160mm wide, this ultra-compact speaker is the second smallest speaker in Marshall's lineup. However, don't let its size fool you! Like all Marshall speakers, Emberton rocks a truly powerful soundstage which belies those deceptively compact dimensions. 
Delivering Marshall's 'True Stereophonic' sound, you'll always be sure to hear every last note - no matter where you are in relation to the speaker - thanks to Emberton's 360° multi-directional output. Equipped with Bluetooth 5.1, Emberton II offers improved reliability and a greater connectivity range of up to 10 metres (30ft). This paired with a 30-hour + battery life between charges means your music will always remain free from interruptions. 
And true to Marshall's rock heritage, Emberton's metal grilles and silicone casing make for a rugged speaker which easily withstands the rough and tumble of life on tour. Coupled with an IP67 waterproof rating, Marshall Emberton II is the ideal choice when it comes to playing the soundtrack of your next adventures, no matter where life takes you. 
Marshall Stockwell II - Compact, Bluetooth, portable speaker (£219)
Weighs only 1.38kg and measuring 18cm x 16cm x 7cm (H x W x D)
Can fit in bags and rucksacks easily 
Weatherproof rating of IPX4
Perfect for taking on holiday, to the beach, or for a weekend away
Starting off with the baby speaker of the Marshall portable range, this is an ideal travel speaker for using both at home or taking on holiday, due to its compact size and lightweight design.
The Marshall Stockwell II comes with a durable metal grill and silicone wrap-around so it's fit for taking with you on the road. Even the odd water spillage or rain shower, the Stockwell II can continue playing the music.
While its recharge time is less than average at 5 hours to full charge, it features the longest battery life we have seen in a portable speaker at a massive 20 hours and a quick 20 minute burst gives 6 hours of music which is very impressive.
The Stockwell II goes very loud past 80% but once you reach this volume level, the instrument separation starts to struggle, but can be forgiven from a speaker of this size. This speaker is ideal for smaller spaces with a few people, where there is less background noise to contend with.
At £219, this is our pick of the range for anyone looking to gift someone with the joy of music on the go. It's charming design and portability combined with its market-leading battery life makes this hard to beat in the portable speaker category.
If you're looking to throw parties with floor-filling sound when you're on the go however, you're going to want to consider upgrading to the Kilburn or Tufton outlined below.
Marshall Kilburn II - Mid-weight Bluetooth, portable speaker (£269)
Reasonably lightweight at 2.5kg but less portable than Stockwell II
Drip-proof at IPX2
Will fit in large rucksacks / bags only
Perfect for larger social gatherings
The Kilburn II is Marshall's upgrade to the Stockwell II giving a wider and more powerful soundstage at the cost of an added weight and size so it's not quite as portable. It was much punchier and bassier though than the Stockwell II and could fill larger spaces more easily, perfect for the open outdoors.
The Kilburn II benefits from many of the same features as the Stockwell II but the added power means you can listen louder with no struggles.
We didn't feel that anyone would find a better-sounding portable speaker for £269.
However, it's not quite as weather-resistant as the Stockwell II at IPX2 which means it can withstand drips at a maximum of 15 degree angle on the speaker.
A 20 minute battery charge provides only an extra 3 hours of extra listening, compared to 6 hours in the Stockwell II, but the Kilburn has half the recharge time to full battery at 2.5 hours.
If you're the sort of person who prioritises sound over portability, the Kilburn II could be perfect for you at only a £50 greater investment than the Stockwell II.
If you'd like to go one step further, then check out the Tufton below.
Marshall Tufton - Heavy-duty portable speaker with Bluetooth (£349)
Most powerful sound in Marshall's portable speaker category
Drip-proof at IPX2
Heavy at 5kg
Great for taking on long journeys or large parties
Aptly named "The King of the Road", the Tufton is a formidable portable speaker for music-lovers who listen loud and accept no compromises on sound quality, thanks to its 3-way driver system. 
We didn't need to take it past the 80% volume mark and if you like to throw a lot of parties, this guy is all you need.
This level of sound is normally found in large home audio speakers, so the added portability is a great touch.
It's quite heavy at 5kg so you wouldn't want to be carrying this around for too long, but once you've got it positioned where you want, it rewards you with massive sound.
The Tufton also has the same weather rating as the Kilburn II, IPX2 meaning it's good for very light rain only.
In terms of battery life, it lasts 20 hours from full charge, takes 2.5 hours to charge from flat and 20 minutes gives a 4 hour boost, which are commendable stats for a speaker of this size.
Tufton is built for the true music-lovers and music-players out there who want the ability to listen anywhere.
marshall Bluetooth home speakers
So moving on from portable options, the next options are standard Bluetooth speakers that can be used anywhere indoors, perfect for at home or taking to other indoor places. They require mains power at all times as they do not contain a rechargeable battery.
As they do not have any portability, they are built to be a little larger and as such, result in more premium sound quality.
Aesthetically, they look slightly different with a gold strip that runs along the bottom of the speaker, a gold logo and textured vinyl grill instead of metal, giving a more classic look than the other speakers in the range. 
Here's some of the common benefits in each of the Bluetooth Home speakers
✓ 3 colour options to suit your preference (black, brown & white)
✓ The highest standard of Bluetooth on the market (Bluetooth 5.0)
✓ Marshall Bluetooth app as an additional way of controlling the speakers for EQ or switching between ambient and stereo mode
✓ Play / pause buttons + volume, bass and treble knobs
✓ 3.5mm jack for connecting other devices e.g. turntable
Let's see how the Bluetooth home speakers differ.   
3 dedicated class D amplifiers, dual tweeters and a subwoofer to provide powerful audio
Sounds impressive at quieter volumes but also goes extremely loud Great for workshops and other busy environments.
3 colour options (black, white and brown)
The Acton II combines a classic look with modern technology and a sound that goes well beyond its physical form.
It is relatively compact so can fit in many tight spaces and in our opinion, the perfect size speaker for a bookshelf, kitchen counter or even bed-side table.
This is our pick of the home Bluetooth range if you want pure value for money. The sound produced goes far beyond the price paid, compared to its competitors.
Offers the best balance between size, sound quality and price
Two 15 watt class D amplifiers powering the tweeters and a 50 watt class D amplifier to drive the powerful subwoofer
Larger than Acton, but not as large as Woburn, offering a valid compromise
Includes RCA input in addition to 3.5mm jack
The Stanmore II is one of Marshall's most popular speakers as it sits comfortably in between the Acton and Woburn models.
Its versatile size makes it perfect for any space, large or small.
The Stanmore II also adds an RCA input in addition to a 3.5mm jack from the Acton giving more wired options.
Simply cycle through Bluetooth, Aux and RCA using the handy switch button on the top of the speaker.
Most powerful sound of entire Marshall range
Two 1" tweeters and dual 5.25" subwoofers
Our pick for use with a turntable via 3.5mm jack or RCA input
Largest speaker of Bluetooth home range so need to consider space
Includes RCA input in addition to 3.5mm jack
The Woburn II is simply legendary. This is the speaker for large parties and a blow-the-roof-off sound. Its presence feels like the musicians are performing live with you in the room.
We simply haven't heard a speaker with bigger bass at this price point. Or if you do, let us know!
We love the Woburn II alongside a turntable for providing analogue design as well as function!
Check out our range of turntables >>
The only downside to this speaker is that it does take up space that you need to plan for. At 40cm high, 31cm wide and 20cm deep, it's designed really to sit in the same place at home.
To get the most out of this speaker, you need to be the sort of person that blasts music out and makes no apologies in doing so.
Marshall speakers with Voice control
All of the speakers mentioned up until now, use Bluetooth as the sole method of control. While this is the simplest and most familiar method, it's not taking advantage of today's improvements made in control.
However, Marshall have given us one final option and those are the speakers with voice assistants built in. 
As we know, voice assistants let you speak to your speaker and ask it to perform tasks such as play your favourite music from your streaming service, tell the news, stories, fun facts or even integrate with your smart home devices. 
Voice control is a great way of controlling the speaker when you're not close to your Bluetooth device.
Marshall Uxbridge - New for 2020: the compact voice-enabled speaker (£169)
The most compact speaker in the voice-enabled lineup
Alexa built-in
1 x 30W Class-D amplifier for tweeter and woofer
Newly designed EQ and volume control slider panel
Choice of black or white
This little powerhouse is the smallest of the voice-enabled range but has been designed to compete with the likes of the Amazon Echo and Sonos One. Offering stylish aesthetics, powerful stereo sound and Alexa voice control in one package for £169, this should definitely be on your shortlist. Marshall has also recently updated the Uxbridge to offer the Marshall Uxbridge Google Assistant-enabled version, compatible with the Google Home family of products.
New for 2020, it also adds AirPlay 2 which might be the differentiator for any avid Apple users.
There are 2 other voice-controlled options. Based on the Acton II and Stanmore II Bluetooth models, there are different versions for Amazon Alexa or Google Assistant, so you will need to make a decision about which one you're friends with most. 
Whenever the wake word "Alexa" or "Hey Google" are said, the twin-microphone array is listening to your command, highlighted by the 5 led lights running along the bottom.
The voice assistants were very quick to respond and execute the task, albeit you did have to shout if music was playing loud.
Currently, only Spotify is supported by the voice assistants on Marshall speakers so we would love to see Marshall add more supported streaming services with the voice assistants. However, all voice enabled Marshall speakers benefit from Spotify Connect, which is an excellent alternative to Bluetooth as this means other audio that you might be listening to from your device won't play through the speaker.
If you would like to know more about the Acton II or Stanmore II models with voice control, please check the links below.
View Acton II with Amazon Alexa (£269)
View Acton II with Google Assistant (£269)
View Stanmore II with Amazon Alexa (£349)
View Stanmore II with Google Assistant (£349)
Are Marshall speakers worth it?
There are two things we love most about Marshall speakers: the appearance and the sound.
Every Marshall speaker we tested sounded impressively warm and is a different style of listening to more modern speakers. They genuinely have a sound similar to a PA and mimics more of a concert-style sound with pumping bass. 
Combine this with the stunning retro appearance, this is one of the most charming and interesting audio brands we have come across.
If you are looking for a single speaker, the Marshall range provides exceptional value in every single product.
If we had one improvement for Marshall speakers, that would be the way they are controlled. Although Bluetooth is the most popular and simplest method of playing music, we'd love a WiFi multi-room alternative, maybe in the form of an app, which is as good as the one offered with Sonos Speakers.
We can forgive Marshall for this though as the legend of the brand and the sound quality of the products make up for this, and is why Marshall get a massive recommendation from Smart Home Sounds.
---
Learn More
A Brief History of Marshall speakers (and why we HAD to add them) >>