Marshall Emberton portable speaker review: the one to beat?
Marshall Emberton is the next portable powerhouse
Marshall's wireless speakers started out with their plug and play home range, then they released their portable outdoor speaker range, followed by the voice-activated Uxbridge and now we have their most portable speaker to date, the Marshall Emberton for a price of £129.
We'll be covering everything from styling to build quality to sound quality, so stay tuned and hopefully you'll be able to determine if it's going to make the grade as your next portable speaker.
Not got time to read? Have a watch of our YouTube review below:
Styling
Right out of the box, the Emberton will fit in the palm of your hand as it's only 16cm in width so will fit in a rucksack or suitcase no problems at all and won't weigh you down when you're on the go.
It retains the same vintage and retro look and feel from Marshall with the prominent Marshall logo on the front and a solid metal grill that features both on the front and back.
They claim the speaker uses a unique form of multi-directional sound which Marshall are calling True Stereophonic so your audio can be heard from 360 degrees - I'll come back to this a bit later on.
On the top, you've got a slightly updated layout so you've got the Bluetooth button on the top and the very handy battery life indicator here.
What's new is this brass-effect control knob which can do a variety of things such as turning the speaker on and off, skipping tracks, play / pause and changing the volume and it's got a really nice quality feel to it.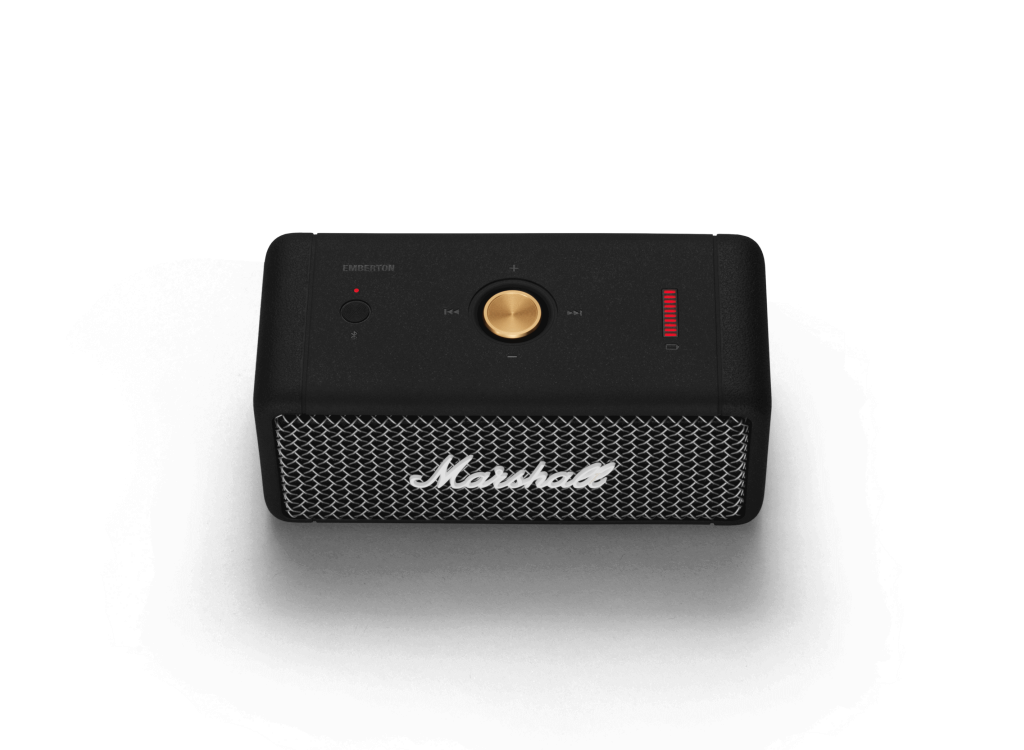 The build quality on the rest of the speaker is definitely a step up from many other portable speakers, albeit at a slightly more premium price point. In the other Marshall portable speakers, you can't play / pause or skip tracks on the speaker itself, however with this model you don't get the Bass and Treble controls that are on the larger portable and home speaker models from Marshall.
We can forgive Marshall for this as we agree the ability to control music quickly such as resuming or pausing music is more important than bass or treble customisers, particularly in a portable speaker.
Battery life & Charge times
On the side of the speaker, you've got a USB-C input for charging the battery which is the most up-to-date method of charging. Speaking of battery, you get an impressive 20 hour battery life on this speaker which is up there with the best battery life we've seen on a portable speaker.
It also boasts a quick charge feature so 20 minutes of charge will give you 5 hours of battery life or a 3 hour charge will give it full battery. We've been able to test the battery life in the office and we found it comfortably managed 20 hours battery life when playing music at medium levels. Playing it at lower volumes also sustains the battery life for even longer.
Control
In terms of control, the Emberton supports the highest standard of Bluetooth currently available which is 5.0 and gives a good range of around 30 feet or 10 metres.
Marshall also lets you pair up to 2 devices at a time which they call Multi-host functionality so you and a friend can control the speaker from your devices at any one time, which could be a good or a bad thing depending on whether your music tastes are the same.
Bluetooth is the only method of controlling the speaker which is very simple to use, but some people might have liked a 3.5mm jack like on their other portable speakers such as the Stockwell II.
Weatherproof rating & Durability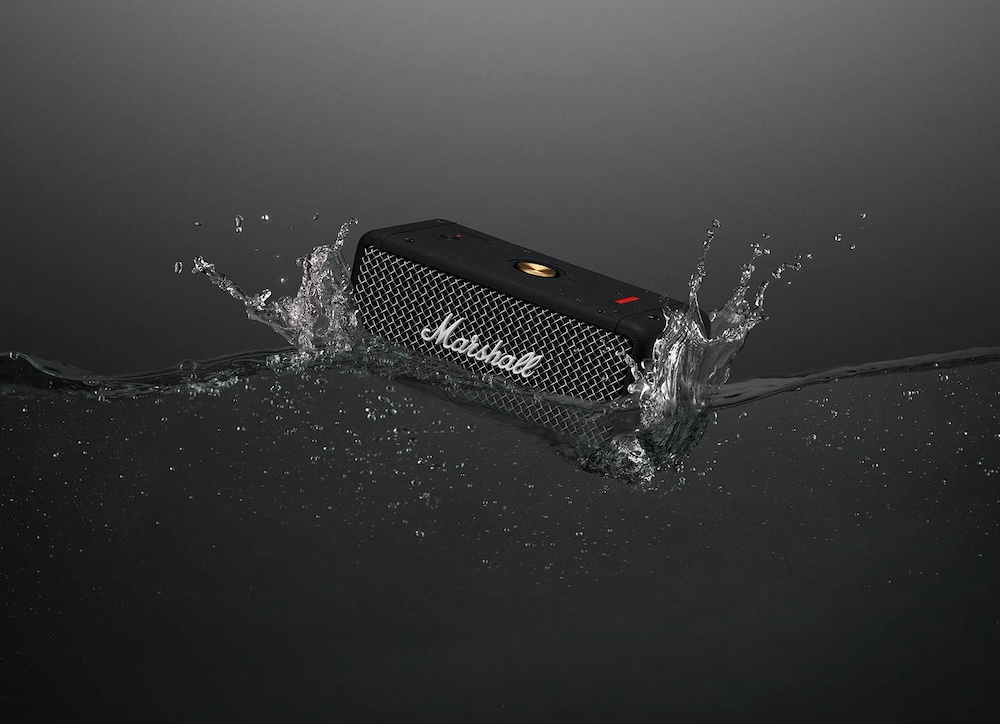 As this is a fully portable speaker, it comes with a high weatherproof rating at IPX7 which means it can be submerged in water levels up to 1m deep for up to 30 minutes.
So if you drop it in the pool, it won't be affected but you've got 30 minutes to rescue it. It can be rained on or have a drink spilt on it and your music won't stop.
This was tested in our recent video review and passed our tests with flying colours.
It also has a rugged design with a silicone exterior and metal grilles and was able to be dropped multiple times without consequences in our testing.
The Emberton has a durable feel to it and would be a good speaker for on-the-go, taking on holiday, or for pool or garden parties to bring music to a BBQ for example.
Sound Quality
The Emberton retains the same warm and vibrant signature sound that Marshall are known and loved for. It produces a sound well beyond its physical size as it is a stereo speaker on its own. It's got surprisingly punchy bass but this is not the standout characteristic and it's comparable with its competitors in this department.
The mids and the highs shine and where we think it excels is at full volume because it doesn't distort which means you can listen to it loud from a small form factor.
Its multi-directional sound feature in our testing, could be heard from most angles almost as clearly as listening from the front, which is ideal in outdoor spaces when a group of people might be surrounding it.
Although, as it doesn't have speakers on the sides, we are not sure it can be called 360 degree sound. It does sound clear from all angles and will fill a space but we do still think it sounds noticeably better from the front than it does if you're sat to the side of it.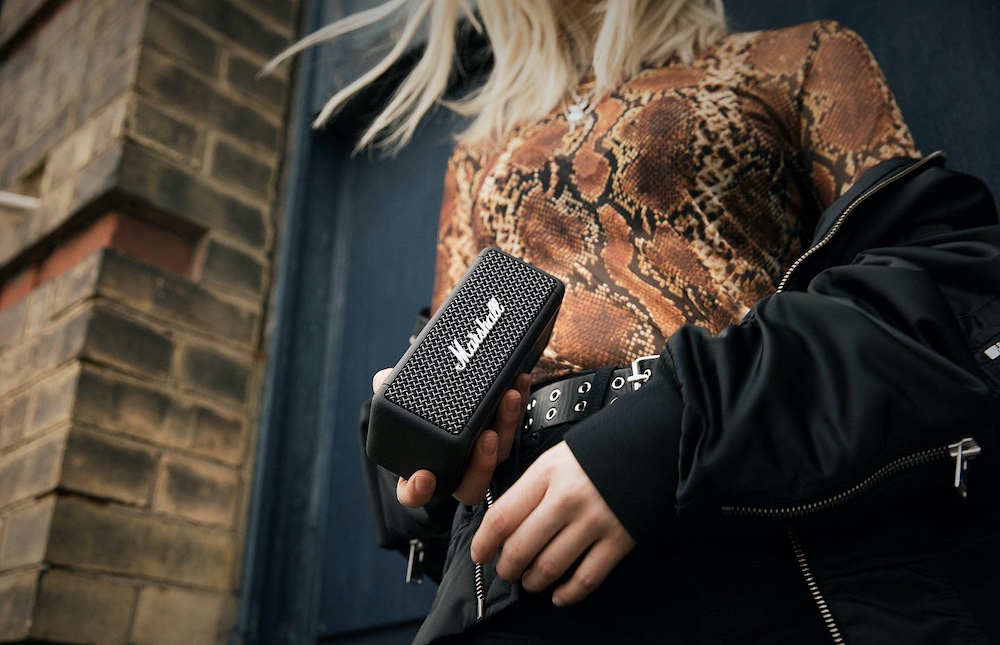 Strengths & Weaknesses
Strengths
Fully portable speaker with a high weatherproof rating so you don't need to worry about it getting wet or dropping it

Impressive battery life and recharge time

Sound quality far beyond its little size
Weaknesses
Bluetooth is the only method of control

No line-in

No bass and treble customisation
Is it worth £129?
We understand there are hundreds of portable speakers on the market with some great products. We are big fans of the Ultimate Ears products so why would you pay the premium for the Marshall products?
If the following characteristics are important to you, it's worth taking a look at the Marshall. The Marshall has got a longer battery life, the latest USB-C charging and superior build quality. Marshall's appearance is distinctive and if you're into the vintage style, you're not going to get bored of it any time soon.