Sonos Move review: the Bluetooth speaker we've been waiting for?
Take the joy of music anywhere with Sonos' latest speaker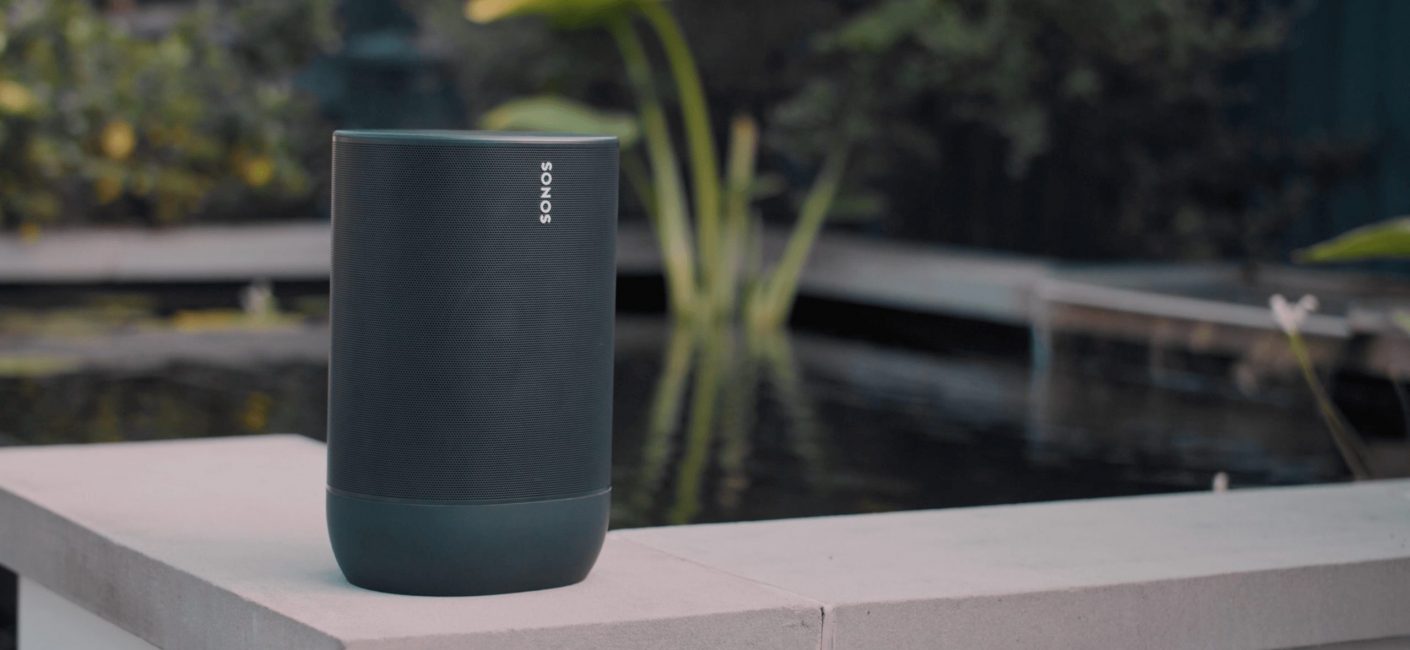 Sonos Move is the portable, smart speaker with bluetooth
2019 marks a new milestone for smart speaker giant, Sonos.
There's a new addition to the family and it's a Sonos Bluetooth speaker with WiFi built in.
It's called the Sonos Move and retails at £399 which sits right in between the Sonos One and Play:5, and makes the perfect replacement to the Play:3 which was discontinued earlier this year.
Up until now, all Sonos speakers have relied entirely on a consistent WiFi connection. Enjoying music outdoors in the garden, at the beach or maybe in the park can't always rely on WiFi or a mains power socket. 
With this in mind, Sonos have crafted Sonos Move and now gives us the option of Bluetooth or WiFi so we can enjoy Sonos-quality sound wherever we are on the planet. That means, this is the first speaker to have both Bluetooth and WiFi built in without the need for a mains power connection.
Existing Sonos-lovers will love the ability to integrate this with other Sonos speakers in their home and also take it outside the home, or for new Sonos users looking for a versatile, portable speaker with premium-quality sound.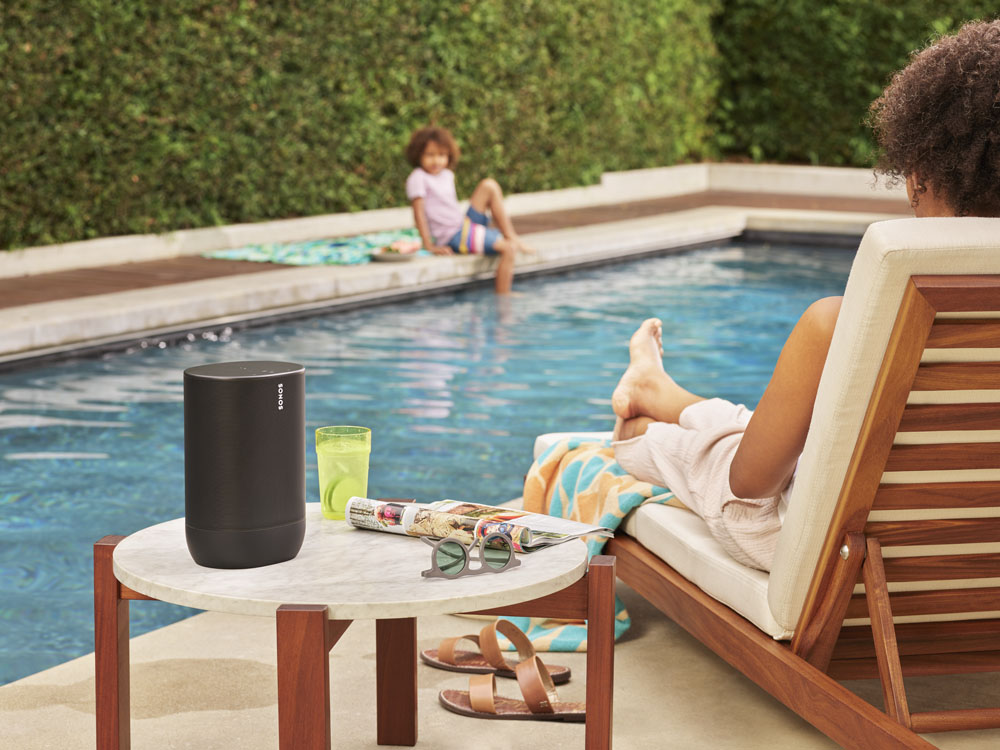 Here's everything you need to know about the Sonos Move in a nutshell:
Connects to your existing Sonos system at home but can be used outdoors, away from home using Bluetooth. Switch between Bluetooth and WiFi quickly using the button.

Comes with a charging base for charging the battery at home. Or use the USB-C connection when away from home to avoid needing to take the charging base with you.

10

hours battery life at 50% volume

Larger than the Sonos One - both wider and taller

Leave it out in the rain, snow, extreme temperatures, UV rays and more (IP56 rated)

Amazon Alexa and Google Assistant voice control built-in

Apple AirPlay 2 built-in

Auto-TruePlay. Automatically optimises the sound for the environment it's in
Sonos Move Appearance & Spec
The dimensions of the Sonos Move are 240 x 160 x 126 mm and weighs 3KG so it is slightly wider and quite a bit taller than the Sonos One and takes the form of a cylindrical shape.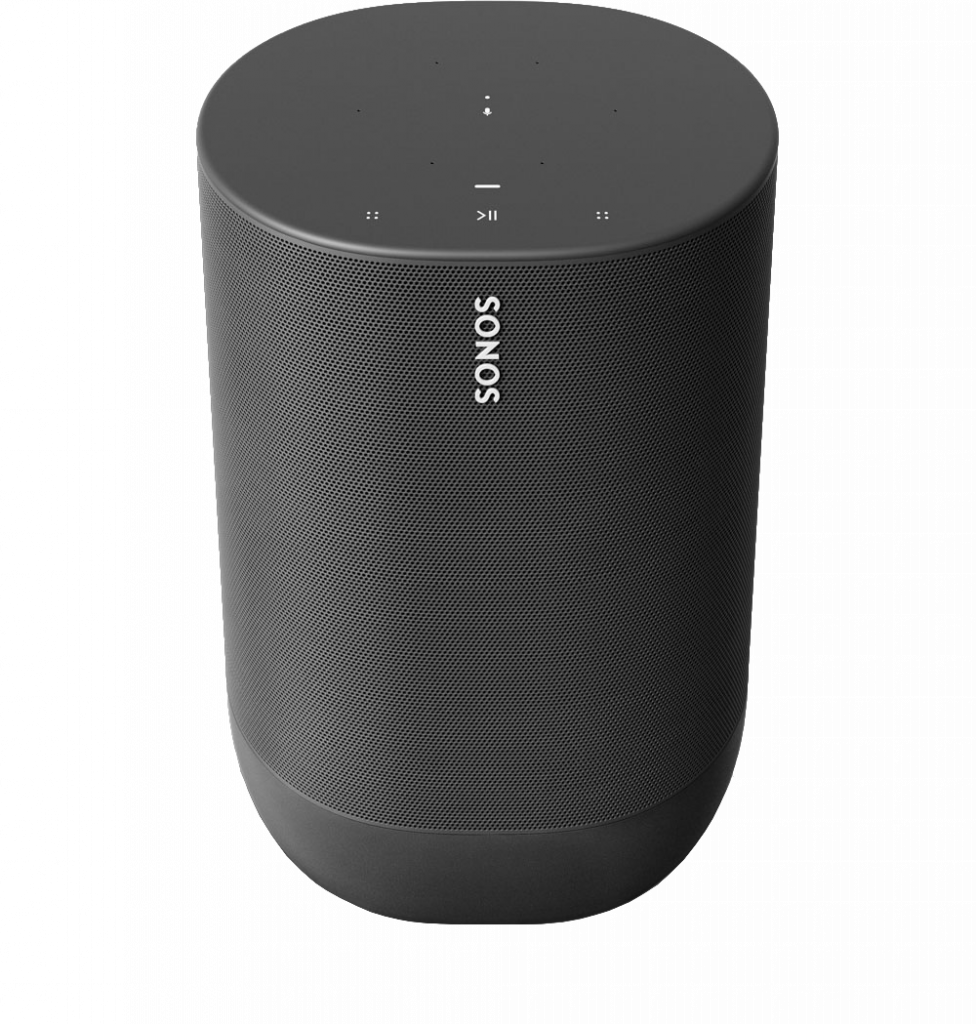 Interestingly, there's only one colour choice: black, but it's a little more grey than the black version of the Sonos One.
It is made from a drop-proof material which is also completely weatherproof at a standard of IP56, meaning it's resistant to snow, rain, extreme temperatures, salt spray and UV rays. So if the weather turns sour, at least you've still got the sound of great music! 
The grille goes almost all the way around the circumference of the speaker, and covers the one downward firing tweeter with ultra-wide dispersion and one midwoofer to handle bass and midrange.
As the speaker is front-firing, you can position it in the garden without worrying about disturbing your neighbours. The Move could go extremely loud and we didn't feel the need to put the volume past the 70% mark and filled a large garden space with crystal-clear audio.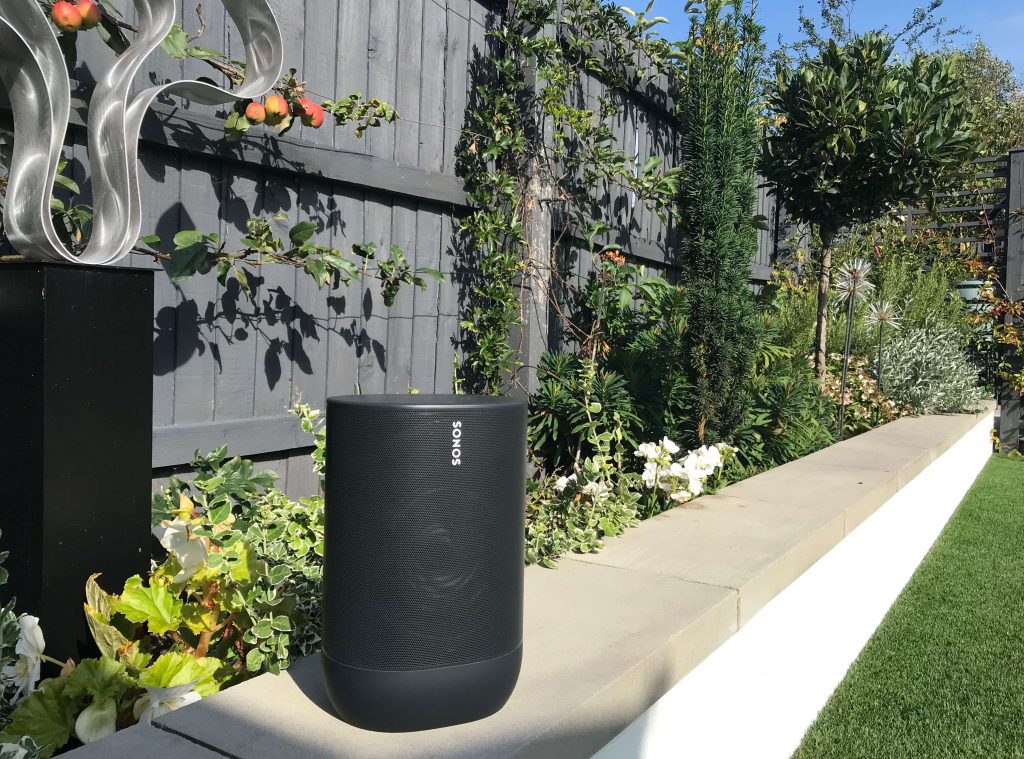 A new feature for the Sonos Move is Auto-Trueplay and this means it will automatically optimise the sound quality for the environment it's in, similar to what we saw in the Apple Homepod, except the Move can optimise for outdoor use too.
It does this by using its internal microphones to use feedback from the first 15 seconds of audio playing in the new environment. 
Existing users of Sonos will know that currently, TruePlay is achieved by walking around the room, waving your arm up and down using microphones on Apple devices only. Auto-TruePlay means that everyone can take advantage of this feature, not just owners of Apple devices.
The top panel controls have been slightly reorganised and the play/pause and volume controls have been moved to the front edge of the speaker allowing space for the 6-microphone array and the microphone mute button.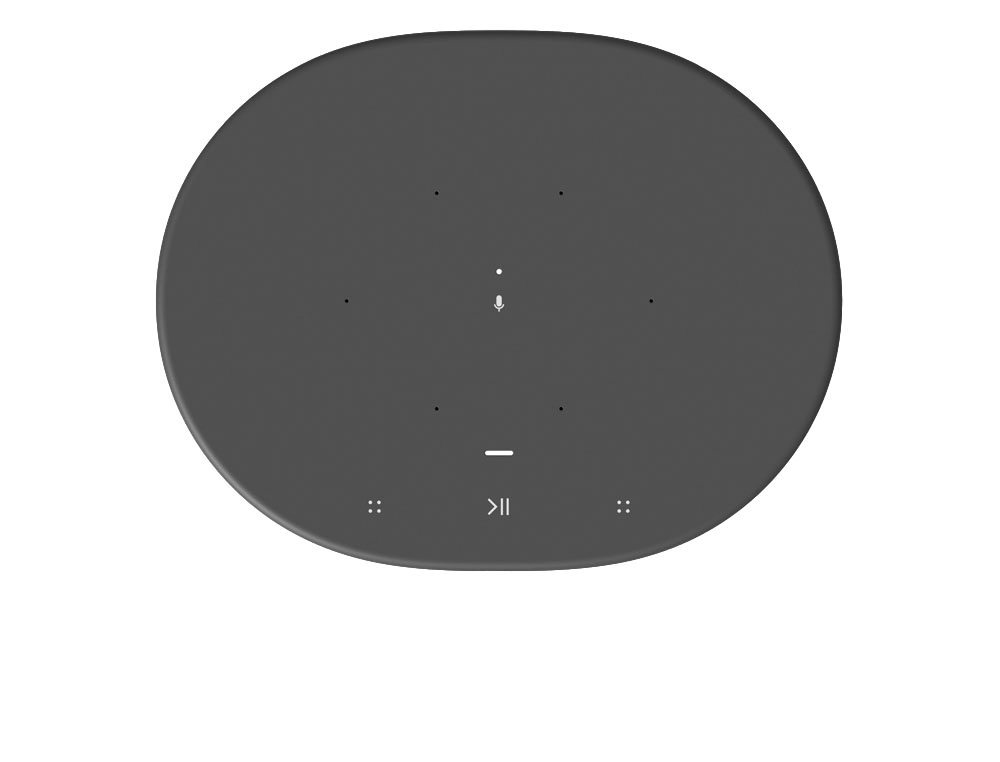 On the back of the Move, the recessed panel acts as a carry handle when out and about or moving from one place to another. It's not quite as lightweight as other portable speakers in the category but Sonos have owned the idea of a heavy-duty portable speaker, that doesn't compromise on sound just because it's portable.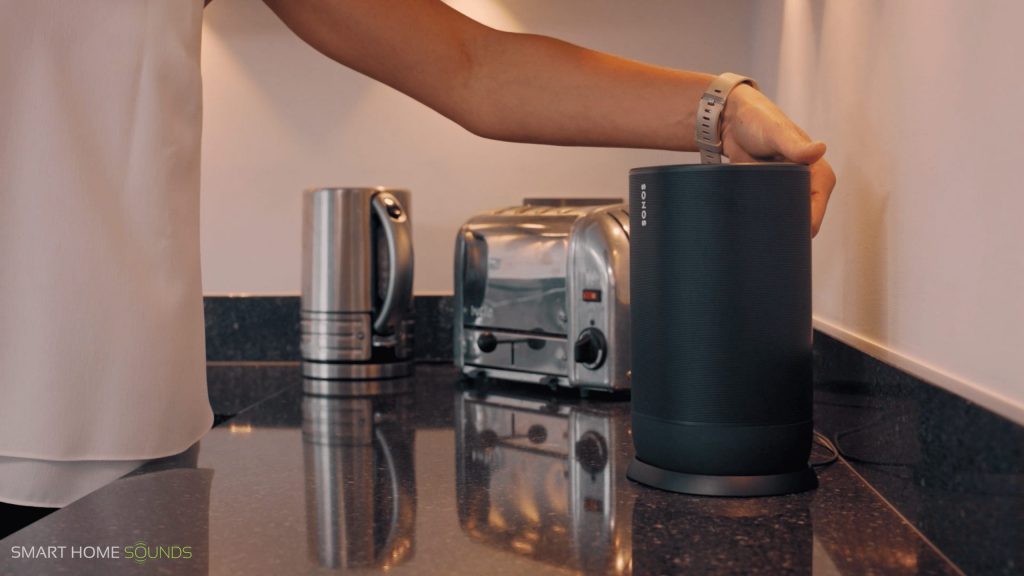 On the panel itself, Sonos have included their first ever power button to save battery when not using it with the charging base.
There's a Bluetooth/WiFi switch button for easy switching between the two modes and the status light will turn blue for Bluetooth or solid white for WiFi. You'll want to be using WiFi when at home and Bluetooth when out and about. This is to prevent push notifications and other sounds from your phone coming through the speaker, while you're listening at home.
Its built-in WiFi extender also means that it should be able to retain its wireless connection to your WiFi when you take it out into the garden.
Interestingly, Sonos have decided against including an ethernet connection on this speaker for a hardwired connection to your router. We presume this is because it does not always rely on WiFi like other speakers in the range, so if your WiFi drops, you can fall back to Bluetooth.
A USB-C connection features at the back which will come in very handy if you want to take the Sonos Move out of the house, without needing to take the charging base with it too. 
The charging base (which is not weatherproof) is supplied with every Sonos Move and we love the look of it too. It's very simple to use and is extremely slim and lightweight. The Sonos Move will begin to start charging as soon as it makes contact with the connectors on the stand. 
In our testing, the battery lasted around 10 hours from full charge at 50% volume, which is quite impressive for a speaker of this size and power. It only took 1 hour to charge from 50% battery to 100% but this may take longer if charging from a lower percentage.
Sonos have also confirmed the battery should last for 3 years at non-excessive use or 900 charges, whichever comes first, before the battery is likely to need replacing.
The Move will show orange on the status light to indicate it's got low battery or you can check how much battery life you have left in the Sonos App.
Controlling Sonos Move
Controlling Sonos has never been easier, nor more flexible. 
With the Sonos Move, you can control the music using Bluetooth, the Sonos app, Spotify Connect, AirPlay 2 or voice. Here's a brief summary of each one below.
Bluetooth - use while out and about
Sonos App - use at home to control your music streaming services and save your favourite content to one central place using "My Sonos"
Spotify Connect - for existing Spotify subscribers. Cast to your Sonos directly from the Spotify App
AirPlay 2 - for existing owners of an iPhone, iPad or Mac. Cast any audio directly from your Apple to the Sonos
Voice Control - choice of Amazon Alexa or Google Assistant. Use voice to get music started from selected music streaming services or use it as a smart home assistant to complete day-to-day tasks or commands.
If you want to control the speaker using anything other than Bluetooth, you'll want to make sure you have it in WiFi mode. This will also mean you unlock voice control functionality and the ability to group music with other Sonos speakers in your home, as this cannot work in Bluetooth mode.
If you are an existing Sonos user, you'll know how easy and intuitive the Sonos app is to use anyway, but with the addition of Bluetooth, it adds a layer of familiarity if you are using a Sonos speaker for the first time.
Can I stereo pair Sonos Move?
While you can't use the Sonos Move for rear surrounds to a Beam, Playbar, or Playbase, you CAN stereo pair them for true stereo sound. Just be aware that in stereo mode, it will play either the left or the right channel so you'll need to unpair them if you want to take one of the Sonos Move's away.
Can I pair Sonos Sub with Sonos Move?
No, unfortunately, you cannot pair Move with Sub. This is due to the fact the Move will often be moved around the home, leaving the Sub playing on its own, which is not ideal.
Verdict
The Sonos Move is an extremely practical speaker and the concept works very well, without losing its identity as a Sonos speaker. 
It's positioned very smartly in the Sonos range and is more powerful than the Sonos One but not as expensive as the Sonos Play:5, and adds portability. Sonos want to make clear that the Move should be seen primarily as a speaker to be used at home with a portable option if required.
This makes it ideal for moving around the home if you like to listen to music in lots of rooms or in your garden, but don't want to invest in a separate speaker for every room.
If transporting long distances, it's not the most portable of portable speakers but if you are serious about sound when you're out and about, you're going to need a speaker with at least some size and weight if it's going to have any decent output.
Whether Sonos make a smaller version of the Sonos Move is up for debate. But for now, we've got the Bluetooth speaker from Sonos that we've all been waiting patiently for and we are certain it will win awards.
For the music-lover who likes to enjoy music everywhere, not just in the home, the Sonos Move is a very smart choice.
Buy your Sonos Move from Smart Home Sounds today and get a 6 year warranty and next day delivery at no extra charge.
---
Learn More
The Sonos App: How it Works >>
The Complete Beginners Guide to Sonos >>