Sonos PLAY:5
Smart Wireless Speaker
The ultimate listening experience with the purest, deepest, most vibrant sound
More Details
0% Finance: Spend £389.00 more to qualify.
---
Lowest price promise. Seen it cheaper?
Sonos PLAY:5 - The biggest Sonos speaker with the boldest sound
Fills a large room with pure, brilliant sound
Six custom-designed drivers with dedicated amplifiers
TruePlay tuning delivers sound that's true to the music and right for the room
Line-in to connect your favourite music sources
Uses your WiFi. Easy to set up and allows you to expand your system over time

HEAR IT JUST AS THEY PLAYED IT. PURE AND TRUE
The Sonos PLAY:5 connects you directly to the heartbeat of the music you love. Flawlessly. Transparently. Truthfully.
Three smartly synchronised mid-woofers team up with a trio of tweeters to treat your ears to the most remarkably distinct separation of voices and instruments they've ever experienced.
You'll hear and feel all the emotion, energy and meaning the artist packed into the original recording.
Superior stereo sound
You'll hear each separate instrument, voice, and sonic detail in all its glory. Six Class-D amplifiers with six dedicated speaker drivers deliver crystal clear, rich, deep, stereophonic sound with zero distortion. So go ahead and crank up the volume.
Line-in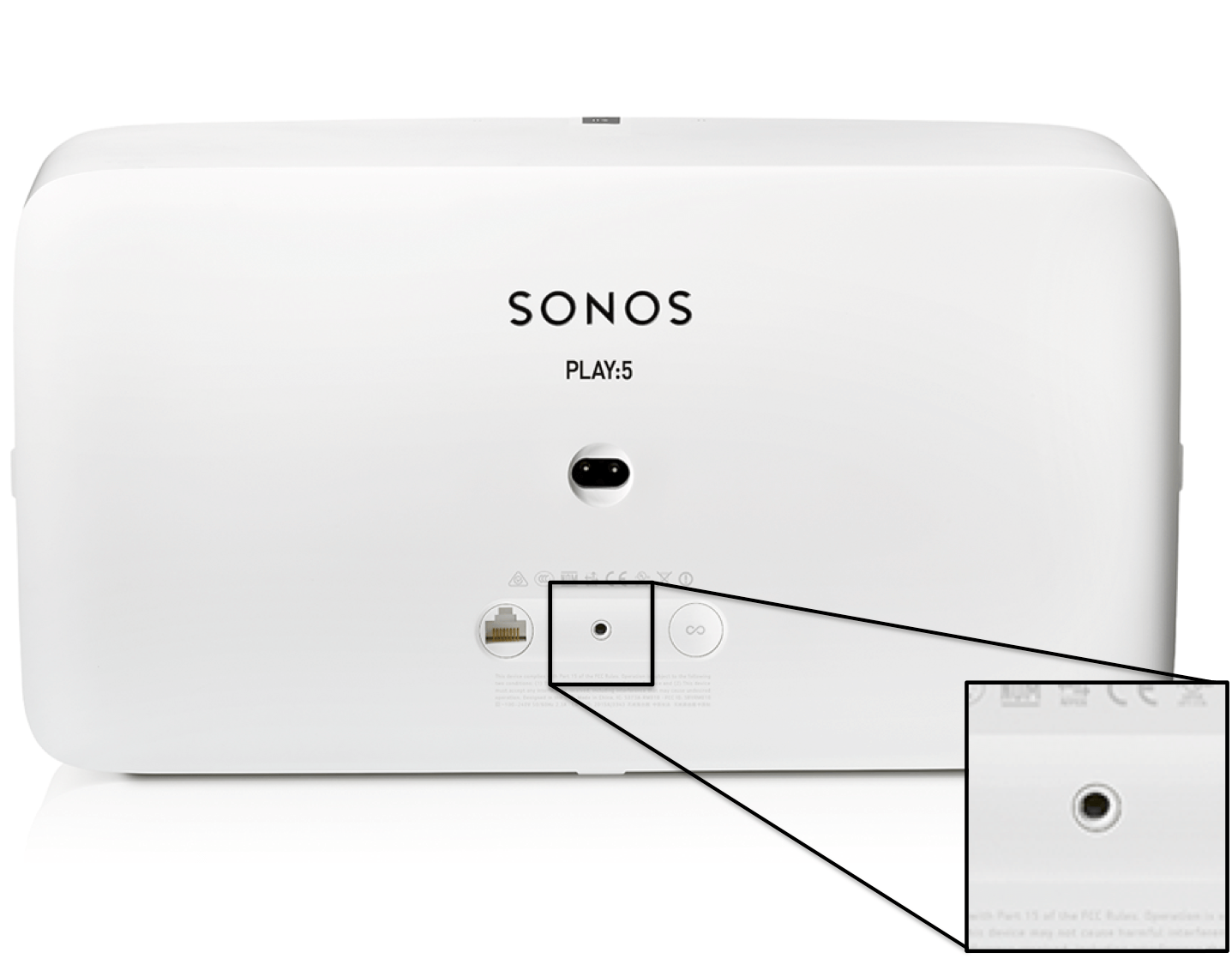 Plug in any audio device
Whether it's a turntable, CD player or a friend's phone, listen to your favourite music on PLAY:5. You can also send the music from PLAY:5 to any other Sonos speaker in your home.

Multiple orientations
Stand it tall or set it on its side. Either way, PLAY:5 automatically optimises the sound. When it's horizontal, it's in stereo. When it's vertical, it's in mono. The rubber feet on three sides make it safe for any surface.
Connect your Sonos to any Amazon Echo device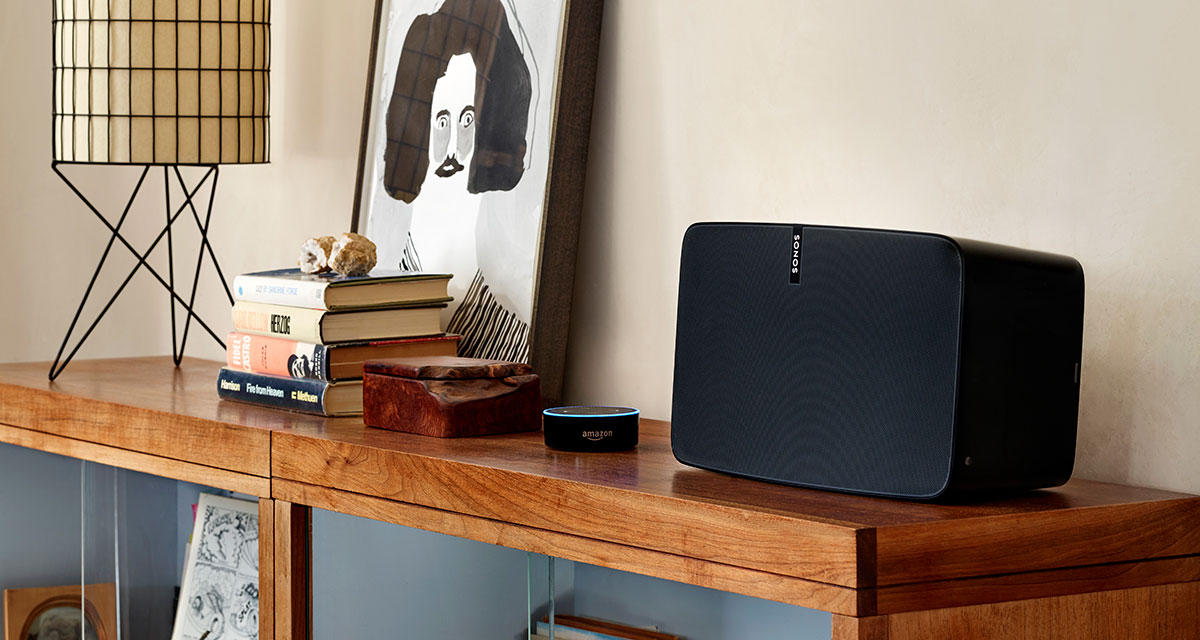 With an Amazon Echo or Dot, you can use your voice to play and control songs, playlists, radio stations, podcasts and more.
TRUEPLAY TUNING
TruePlay makes your Sonos PLAY:5 smarter, more spatially aware and more responsive.
It uses your iPhone or iPad to measure how sound reflects off walls, furnishings and other surfaces in any given space. Then it adjusts the speaker, as much or as little as needed, to produce the sound that's true to the music and right for the room.
More Information

| | |
| --- | --- |
| Weight (Kg) | 6.3600 |
| Brand | Sonos |
| Width | 14.33 in |
| Height | 8.03 in |
| Depth | 6.06 in |
| In the box | Sonos PLAY:5, power cord, Ethernet cable, Sonos QuickStart Guide, and Legal/Warranty information. |
| Finish | White or black matte enclosure with graphite grille. |
| Connectivity | WiFi, not Bluetooth Connects to your home WiFi network with any 802.11b/g, 2.4 GHz broadcast-capable router for uninterrupted wireless streaming. |
| Networking | One 10/100 Mbps Ethernet port. Wire directly to your router to operate your Sonos if WiFi is unstable, or use the Ethernet port to provide Internet accessibility to non-wireless devices if you're using BOOST setup. |
| Top-panel | Capacitive touch controls for volume up/down, previous/next track, and play/pause. LED indicates Sonos component status and mute status. |
| Music connectivity | Airplay 2, Spotify Connect |
Absolute stunning sound from a very compact sized speaker.
Very pleased so far with the Sonos PLAY:5 delivers what it advertises to give with its sound and versatility.
Having already a Sonos play 5, I purchased a second to create a stereo pair, the difference is outstanding and now the room is completely filled with sound. I personally found that 1 play 5 was not enough to fill our lounge and fill immersed with the music. If your thinking about getting 2 you definitely won't be disappointed!
Amazing sound quality, great looks and an easy to use app that makes
Sonos Play5 my first of many Sonos speakers I feel ( don't tell my wife :) ) Sounds brilliant fills the room with a great sound. Equally at home with bit fat dirty bass as it is with the gentle twang of an acoustic guitar.
unreal sound quality, would 100% recommend this unit.
Amazing sound for a wide genre of music; check out the various reviews on the web
Easiest thing ever to set up. Sounds good, Solid, means I can now move my other speakers to my studio
Good packaging, great looking speaker, and brilliant sounding. Also works in a limited way with Amazon Alexa....though I gather this will be improved soon.
Great service, price and delivery. I cannot say better than that. Excellent and well done.
The play 5 is very impressive. Great sound especially the bass from such a compact unit, easy to set up and operate. Nothing not to like about it. The do cost quite a lot but as soon as you hear it and see one in the flesh you can tell that it is a quality bit of kit and you get what you pay for in this instance. Highly recommended
Having purchased a play 1 last year, I wanted a play 5 for the dining room. I am very impressed, love sonos especially multi room play. The play 5 is a brilliant piece of kit.
The best Upgraded play 5 gen one for play 5 two gen
Nice sound in neat package, the interface is a little clunky. I would recommend this to others
I don't think I can overstate how much of an improvement this is from the first generation Play:5. Needless to say, once I had one, I had to sell all of my other Sonos components to buy more. Trueplay is more than a gimmick and really enhances the soundstage. The touch interface is great. Most importantly, they sound incredible, losing the bass port has improved the sound exponentially. In terms of build quality, I took two of these to Burning Man this year in some incredibly harsh, dusty conditions. Not only did they perform incredibly but they look and sound as good as new. Value for money wise, Sonos don't change their products particularly often and the build quality means they will look and sound great for years, firmware updates keep you current and they've finally sorted out most of the annoying aspects in their software such as no longer having to queue the next track in a playlist. Before they'd made these updates, I was close to abandoning the platform, but the improvements are great and they no longer seem to have Spotify outages like they did a few years ago. If you run into problems, their support network is great and friendly. I don't own any bluesound or Naim equipment, but I think they're definitely superior to the Bose equivalents having used the Soundtouch 25s fairly extensively and the user interface is far better. Soon the addition of spotify connect will make the experience more seamless in my opinion. For the price, I can't recommend a better quality speaker.
Great piece of kit well worth the money
Purchased the Play 5, very pleased with the build quality, features and especially the sound. I have had decent audio in the past but this is head and shoulders above, great product.
Excellent sound quality, build quality and ease of use with the Sonos app. I have it linked with another Play 5 to form a stereo pair. I can't see myself upgrading for some considerable time as the sound is stunning and in my opinion a comparable amp, CD player and speakers offering a similar level of performance would cost far more.
At Smart Home Sounds we pride ourselves on customer satisfaction and want our customers to be 100% happy with their purchase.
We offer 30-day hassle-free returns and personalised service from real live people. If an item doesn't meet your expectations, simply return your item to us in its original condition and packaging within 30 days for a full refund or exchange.
Want to return a faulty or damaged product? Don't worry Smart Home sounds will arrange a collection or exchange should this be necessary.