Sonos in 2022: What can we expect?
Looking ahead to 2022, we speculate on what Sonos may release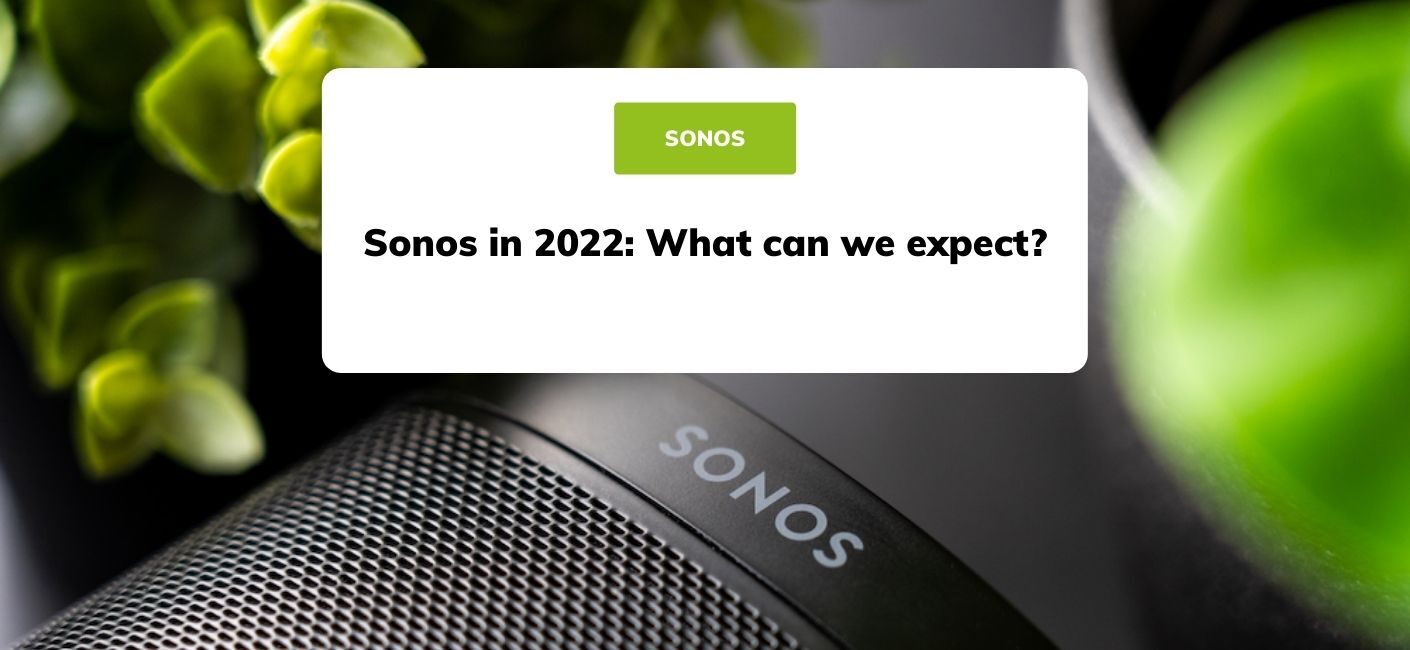 New year, new 2022 Sonos releases?
Before we start looking ahead to Sonos in 2022, please note that any view expressed in this article is our own speculation and by no way reflects the views of Sonos or Sonos' current product release pipeline.
We seem to say this every year, but 2021 has been another massive year for Sonos, seeing new product releases and updates that have given customers more choice and made their user experience better as a whole. We run through their most important releases of the year, and take a guess at where Sonos might be headed as we move into the New Year. 
Article Breakdown
What Sonos releases have we seen in 2021?
Sonos Roam - April 2021
Back in April, we saw the release of the Sonos Roam, Sonos' smaller all-in-one Bluetooth and Wifi portable speaker. Unlike the larger Sonos Move, the Roam is incredibly well suited to throwing in your bag and powering through any adventure. With a 10-hour battery life, IP67 weather rating and option to group with the rest of your Sonos system when at home; the Sonos Roam has been the perfect fit for a lot of our customers this year - and at £179 it's a great way to enter into the Sonos ecosystem.
Sonos Roam Blog Content: 
► Sonos Roam - 10 Things You Need To Know
► Sonos One vs. Sonos Roam vs. Sonos Move: What's The Difference?
► Sonos Roam - What we know 6 months on
Sonos Beam Gen 2 - October 2021
Arguably the biggest Sonos release of the year, 2021 marked the inception of a new life for the trusty Sonos Beam - with Dolby Atmos sound now playable through the Sonos Beam Gen 2. Utilising the same acoustic architecture as the original Beam, the updated processor in the Beam Gen 2  allows the 5 internal drivers to process height and space channels to offer listeners a 3D, more immersive experience. 
In our eyes, the Beam didn't need much in the way of improvement but this new Dolby Atmos capability opens the Sonos Beam up to a whole new audience, and future proofs it for the newest blockbusters and Atmos recorded content.
Sonos Beam Gen 2 Blog Content:
► Sonos Beam Gen 2 Announcement: First Look
► Sonos Beam Gen 2 Review: Our In-Depth Thoughts
► Sonos Beam Gen 1 vs. Sonos Beam Gen 2: Is it worth the upgrade?
Dolby Atmos Music and Amazon Ultra HD Support - October 2021
Hand-in-hand with the announcement of the Sonos Beam Gen 2 was the revelation that a range of Sonos S2 products* would now support Amazon Ultra HD. Expanding on this, it was announced that the Beam Gen 2 and Sonos Arc would also support Dolby Atmos Music, a 3D audio format that gives users a better feel for height and space to make their listening experience even more immersive than standard stereo sound.
*Roam, Arc, Beam, Five, Sub G3, Move, One, One SL, Port, Amp, Play:5 G2, Connect G2, Connect:Amp G2
BBC Sounds Integration - December 2021
A smaller update, but nonetheless important to some customers who have been waiting a while to see BBC Sounds integrated with the Sonos App. We were really impressed with the user experience on the BBC Sounds area of the Sonos App, allowing you to access all your favourite BBC radio stations, podcasts and even a range of curated playlists and content. Best of all, all of this content is free - you'll just need to make a BBC Sounds Account and link this with the Sonos App to enjoy at home.
►BBC Sounds and Sonos: Big Update
Top 5 Sonos predictions for 2022
Now for the part you've been waiting for, we've gathered all of the rumours and expectations to give you our top 5 predictions for Sonos in 2022.
5. Upward firing drivers on Sonos rear speakers
A hot topic and something we've seen customers speculate about this year is upward-firing drivers built into a pair of Sonos surrounds. With the Sonos Arc and now the Beam Gen 2 supporting Dolby Atmos streaming, it'd be interesting to see whether Sonos branch out with this technology built into other speakers in the range.
Upward firing driver technology has already been perfected in the two upward-firing drivers built into the Sonos Arc, so could we be about to see an upward-firing driver built into something similar to the Sonos One? It's definitely something we'll be looking out for in 2022.
We've seen manufacturers like Monitor Audio have small Dolby Atmos add-ons that can be placed on top of existing speakers to turn it into an upward-firing speaker which would be a big plus for existing Sonos users with standard surrounds as an easy upgrade.
4. Replacement Play:3
Next up, anyone remember the old Sonos Play:3 speaker? Well we actually quite miss that speaker and still occasionally spot one in an office or restaurant. The Play:3 sat between the older Play:1 and Play:5 speaker as a 'better' option in a 'good', 'better', 'best' scenario but it was sadly discontinued a few years back with little explanation.
We would like to see something similar brought back to sit between the Sonos One and Sonos Five - perhaps simply a Sonos Three?? With a similar performance and form factor to its predecessor this model would be a great middle ground. You could argue that the Sonos Move sits in that space but as a heavy-duty portable speaker which functions very differently, I don't think it was designed as a replacement for the Play:3.
3. Sonos Sub Mini
Finally, it looks like our prayers are about to be answered. In both our 2020 and 2021 Sonos round-ups we speculated over the possibility of a smaller, cheaper Sub option being available. Now it seems that some eagle-eyed Sonos users were able to spot reference to the smaller, cylindrical 'Sub Mini' within the Sonos App itself. Though this has since been taken off the App, we were also able to learn that you won't be able to pair two Sub Minis with a Sonos Soundbar as you're able to do with a pair of Subs (providing one is a Gen 3). 

We don't yet know what this product would cost if released, but we'd imagine this will be lower than the original Sub Gen 3 and can see this sitting nicely at around £399. 
Sonos Sub Mini rumour courtesy of What-HiFi?
2. Sonos 7.1 Surround Sound
With the biggest movies now becoming available to stream alongside cinematic release, it's the perfect time to invest in your home cinema system and we wouldn't put it past Sonos to capitalise on this and enhance their current surround sound software. Don't get us wrong, the Sonos Arc, a pair of Sonos One SLs and a Sub makes a brilliant 5.1.2 surround sound system and is sure to get the very best out of the content you're watching. 
But what if Sonos took this one step further? We've seen increasing demand for Sonos 7.1, utilising a second pair of speakers as mid-surrounds to add an extra layer to your audio. We'd suspect that if this were to be rolled out, it would be in the form of a software update allowing Sonos users to add an extra pair of Sonos Ones, One SLs or perhaps a new upward-firing speaker model to their set-up to increase the number of channels through which surround sound is processed.
You could even take this one step further to a 7.2.2 setup and there are a few ways we can see this working.
1. Using Sonos One/SLs as width speakers at the front either side of a Sonos soundbar. The soundbar would then be used as the centre - see the diagram below.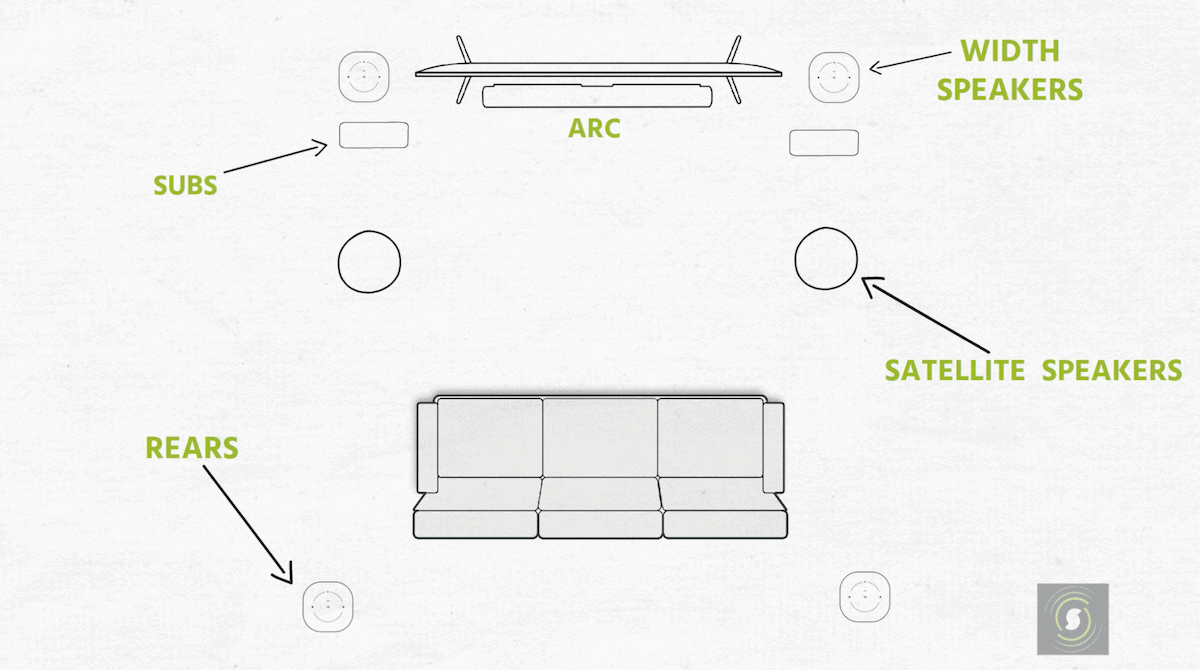 2. Using ceiling speakers as satellite speakers to sit in-between the soundbar and the rear surrounds. See below.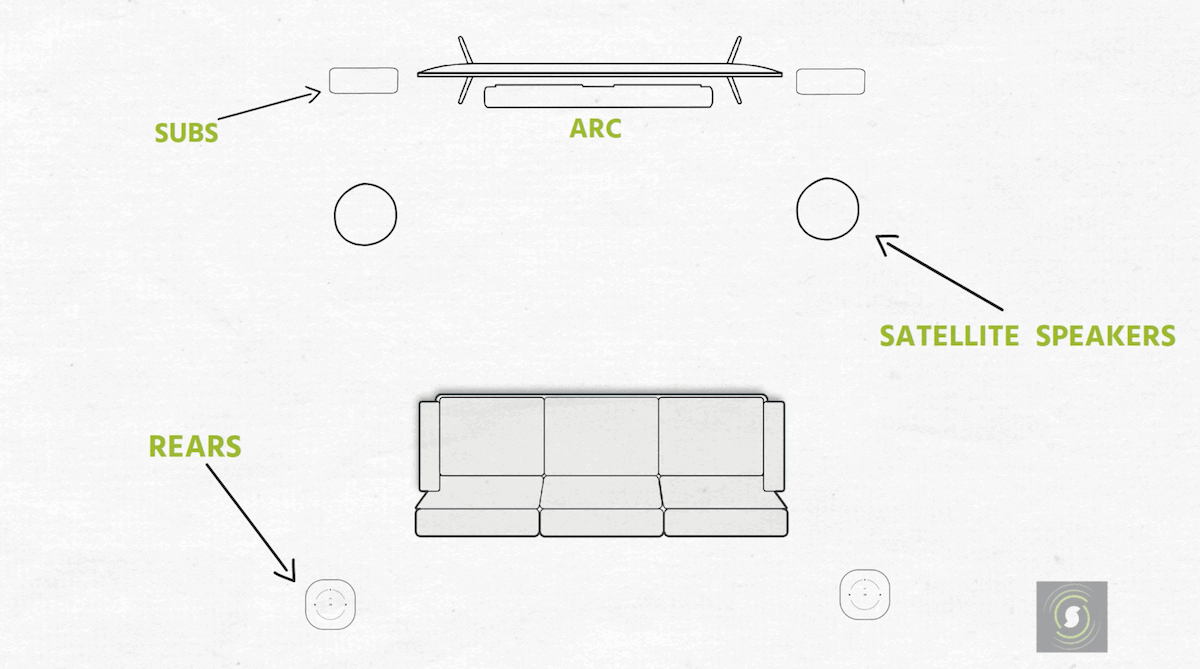 There are plenty of different directions Sonos could take with all of this, it's just a case of watching this space to see if a software update will be announced in the near future.  
1. Sonos Headphones
We've speculated on this before, but it would be great to see Sonos delve into the world of wireless, personal audio in the form of headphones that are cross-compatible with the Sonos ecosystem. Imagine this, you're listening to your favourite tunes on your trusty Sonos system to get you ready for the morning, but instead of turning this off and restarting or reshuffling your content on your phone, the audio will transition seamlessly into your wireless headphones ready for the morning commute.
We've seen Sonos this year embark on in-car integration with their partnership with the Audi Q4 e-tron's 10-speaker Sonos speaker system, so it wouldn't be too much of a leap to expect them to build on Sonos' role outside of the home environment. The ever-popular Sonos Roam and Sonos Move are other hallmarks of Sonos' success in the out-of-home audio arena, so could this be the year for wireless Sonos headphones?
---
Well, that's everything we can think might be coming from Sonos in 2022.  Of course, they're more than likely to surprise us with other innovative ideas going forward. We'd love to hear your thoughts! If you have any bright ideas on how Sonos might update and advance their line-up in the future, please reach out via one of the below channels:
| | |
| --- | --- |
| | info@smarthomesounds.co.uk |
| |  Live Chat on our Website |
| | 0800 677 1100 |