Sonos Roam - What we know 6 months on
We review the Sonos Roam 6 months on, to see what has changed and what we've learned.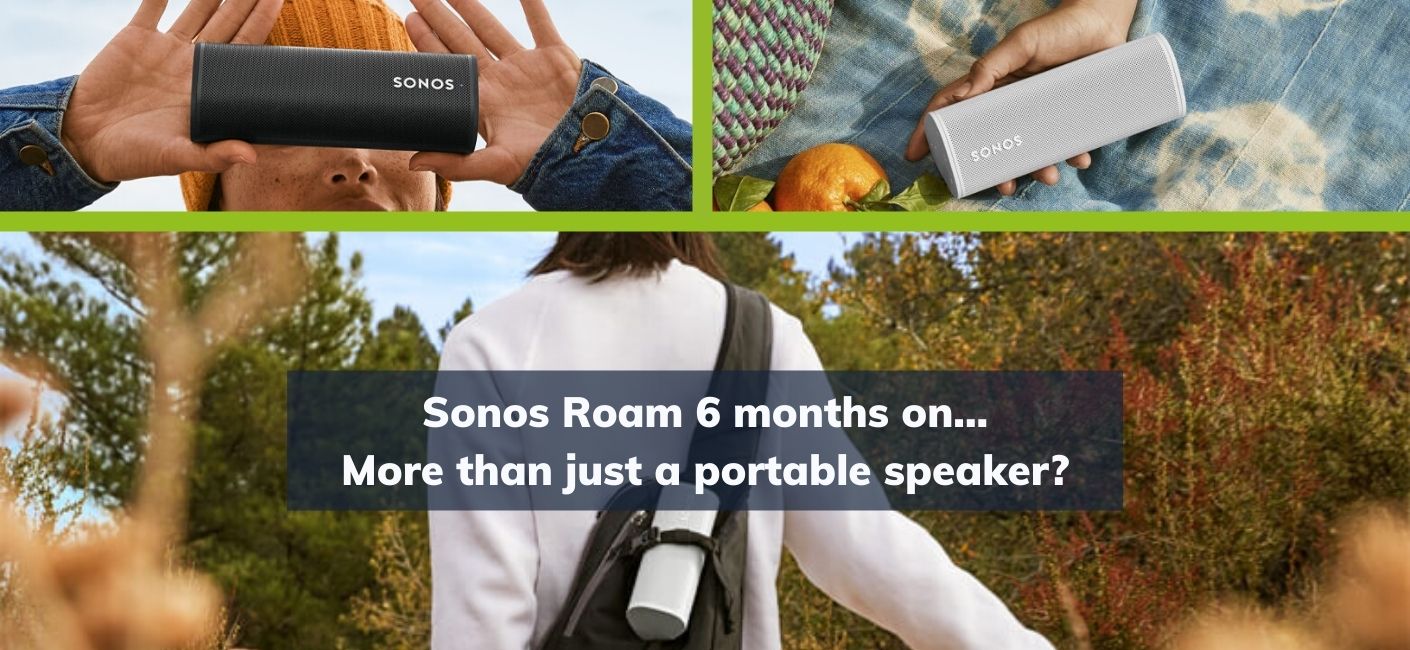 Sonos Roam 6 months on - More than just a portable speaker?
Today marks the Sonos Roam's (RRP. £179) half birthday, so we thought we'd celebrate by looking at what we know 6 months on...
If you haven't been keeping up to date with Sonos over the past 6 months, the Roam is Sonos's second and smallest portable speaker in their ever-growing premium collection. If you're new to Sonos, we've done a more in-depth blog on the Roam which you can find here.
A lot can change in 6 months, but it's clear to see the Sonos Roam is far more than just a portable speaker coming with some invaluable features.
What we love about the Sonos Roam
Enter Bluetooth Hi-Fi into the Sonos ecosystem
_________________
Perfect for Peloton!
_________________

Immersive sound for smaller rooms
_________________

As Bluetooth and Wi-Fi work hand in hand on the Roam, it's the first Sonos speaker that gives you the ability to connect to a Bluetooth device like a turntable/CD player all while sending the audio to other Sonos speakers around your home. This is a more budget-friendly approach to enter Bluetooth devices into the Sonos ecosystem and saves you spending £399/£499 on a Sonos Port or Sonos Five.
The Roam has given us a really good solution to enter our Peloton equipment into the Sonos ecosystem. We regularly use the Roam to send the Peloton audio to the rest of our Sonos system to help get the most out of our workouts! If you want to learn more about using Sonos and the Roam with Peloton see our Youtube video here.
Now summer is well and truly over, we've had some time to use the Roam around the home, as well as outside, and it's proved a favourable bathroom speaker. The Roam gives an immersive sound that's strong enough to bounce off the walls of smaller rooms. The IP67 rating gives peace of mind against any water splashes or submersions. Auto-Trueplay ensures the sound is always pure.
Sonos Roam software update
There were a few teething issues when the Roam first came out, with some customers finding the battery drained quicker than expected as well as confusion over what power supply would efficiently charge the battery. Luckily, these concerns were really quickly addressed by Sonos and a software update was issued. The update included the following;
✓ Improved power management
✓ Insufficient power supply alerts
✓ Stereo pair automatic reconnection
✓ Wake button control
For more information on this, we've done a more in-depth blog you can look at here.
Sonos Roam Favourite features
After 6 months of use, we have a lot of good things to say about the Roam.  At 10+ hours, the battery life is good enough to take on a day out, as well as lasting up to 10 days when in standby mode. We still love the Sound Swap feature, allowing you to press a button on other Sonos speakers in the system to get them to tune into the Roam's source, and how user-friendly the speaker is.
Auto Trueplay Technology
_________________

Best of both - Bluetooth and Wi-Fi
_________________

Durability & IP67 rating
_________________

We've taken this speaker just about everywhere you can imagine and the simplicity of Auto-Trueplay has given us the ability to enjoy the purest sound for every environment hassle-free! No more wasting time fiddling around with the EQ!
The automatic switching Sound Swap mode gives a seamless experience and makes the speaker really user friendly. Being able to integrate the speaker into the home Sonos system makes it a no-brainer if you're a Sonos user looking for a portable speaker.

After 6 months of

really

putting this speaker through its paces, it still looks as good as new. We were worried a lot of impacts would take away from the premium look, but we're pleased to say it retains its sleek appearance.
Sonos Roam FAQ
Q. Can I use the Sonos Roam straight out of the box?
A. The Roam must be set up on Wi-Fi through the app, prior to using it as a Bluetooth speaker.
Q.

Does the Sonos Roam have voice control?
A. Yes, the Roam does have voice control, but only while you're connected to Wi-Fi.
Q. Does the Sonos Roam come with a charger?
A. The Roam comes with a USB-C cable, so you'd need to buy a power adapter separately if you don't already have one. The recommended power for the adapter is  5V/1.5A (7.5W) or higher, any less and the Roam may not charge properly.
Q. Can I use the Sonos Roam with Peloton?
A. Yes, the Sonos Roam works well with Peloton, as you can use the Bluetooth function to connect to your bike/tread while using the wi-fi function to group with the rest of your Sonos equipment. Or you can play the audio through the Roam alone!
Q. Can I connect the Sonos Roam to my Bluetooth turntable?
A. Yes, you can connect the Roam to any Bluetooth equipment.
Verdict
Surprisingly enough, we're now even more impressed with the speaker than when it was first released. The software update has contributed a lot in improving the speaker and reflecting the premium quality we know and expect from Sonos. After months of use, we've found it's provided to be an invaluable part of the system and allows you to make the most of other Bluetooth equipment while remaining at a budget price. The Sonos Roam is far more than just a portable speaker and we'll continue to use it rain or shine!
| | |
| --- | --- |
| |  08006771100 |
| |  info@smarthomesounds.co.uk |
| |  Live Chat on our website |