Sonos Roam battery life improvements in Software Update 13.3
In this blog, we look at the improvements launched via the 13.3 software update to help improve the Sonos Roam's battery life, as well as other features that promote a more user-friendly experience.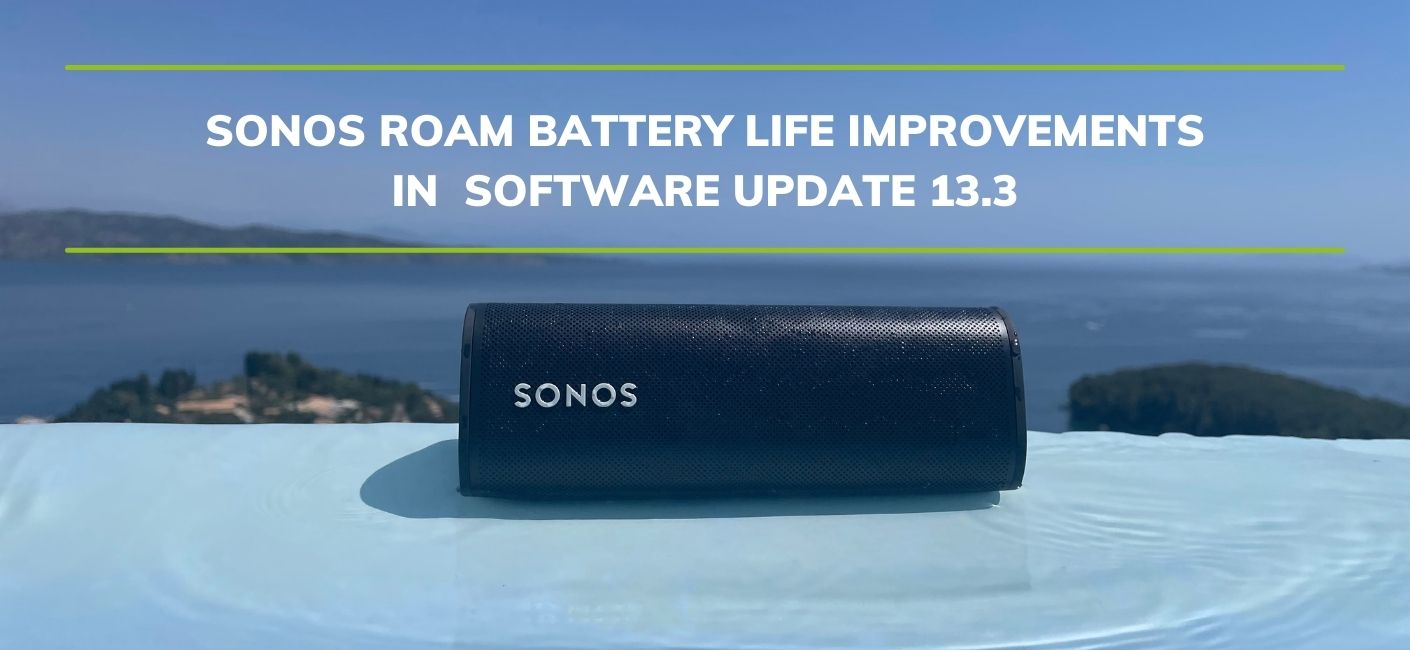 Major update for Sonos Roam battery life
We're happy to say there's been some big news from Sonos this week. Previous concerns have been addressed following the launch of Sonos's most affordable portable speaker in the range - Sonos Roam, resulting in a Sonos Roam battery software update.
If you're not up to date, the Sonos Roam is Sonos's most compact, portable speaker coming in at an RRP of £179. It lets you take the sound of Sonos with you thanks to its portable size and Bluetooth capabilities while also fitting in with your wider Sonos ecosystem at home over WiFi.
Sonos have been listening to the concerns of its customers since the Roam's launch back in April, so in this blog, we'll be running through the improvements in the 13.3 software update.
Article Breakdown...
The Sonos Roam's software updates at a glance

Improved Power management
_______________


Insufficient power supply alerts


_______________




Wake button control


_______________




Stereo pair automatic reconnection


_______________



1. Improved power management
Since its release, there have been some discussions about a potential battery drain issue with the Sonos Roam. As the Roam is also a wi-fi speaker, the Roam's battery life can decline quicker than usual as it can wake up when in standby, even if you haven't instructed it to. This can be due to a number of factors but a few examples are;
Checking for software updates

When you open the Sonos App

When it has to renew its connection with the router
Following S2 software update 13.3, the Roam's power management has now been improved, to help extend the battery life when it's not actively being used. This should cancel out an excessive battery drain when the Roam isn't being used. We think this is great news for users of the Sonos Roam and will ensure the Roam is ready for you to listen whenever you want.
2. Insufficient power supply alerts
The next useful feature that's been introduced means the Sonos App will now inform you if your charger isn't providing enough power to sufficiently charge the Roam's battery.
Since most modern technology these days no longer includes a power adapter (like the Roam) we've seen a lot of people struggling to power the Roam as the adapter they're using features a low voltage. 
It's not always common knowledge what power the charging adapters have that are knocking around our home so this handy update will let you know if you need to switch the power adapter to gain a quicker more efficient charge.

Sonos Roam's recommended power
"For the fastest charge, we recommend charging Roam with a 5V/2A (10W) USB power adapter. While Roam is capable of charging with a 5V/1.5A (7.5W) USB power adapter, you may experience slower charging times." - Sonos
3. New wake buttons
Another handy feature that's been introduced, is the ability to wake the Roam up by using the top playback buttons when it's in sleep mode. This adds to the usability and stops any confusion with the back button that already houses a few controls.
4. Stereo pair automatic reconnection
Finally, for those who have been enjoying the Roam's stereo pair feature, you'll be pleased to hear the new update makes things a lot easier.
If one of the Roam's unexpectedly disconnects, you no longer need to worry about wasting your time connecting the speakers backup via the Sonos App, as they'll now automatically re-bond. This is great to hear, as there's nothing more frustrating than messing around fixing dropouts.
Verdict
It's great to see Sonos acted quickly on this with a new software update and have taken the feedback from customers onboard to improve the performance of the Sonos Roam. Every new feature really adds to the value of the Roam and promotes an even more user-friendly experience. As ever, if this blog leaves our customers with any unanswered questions, please feel free to get in touch with us by email info@smarthomesounds.co.uk the online chat via the website or phone 080067711000.