The New Sonos Roam: Our In-Depth Review
We give you our thoughts on the brand new Sonos Roam and go into the reasons why it's a great portable speaker option.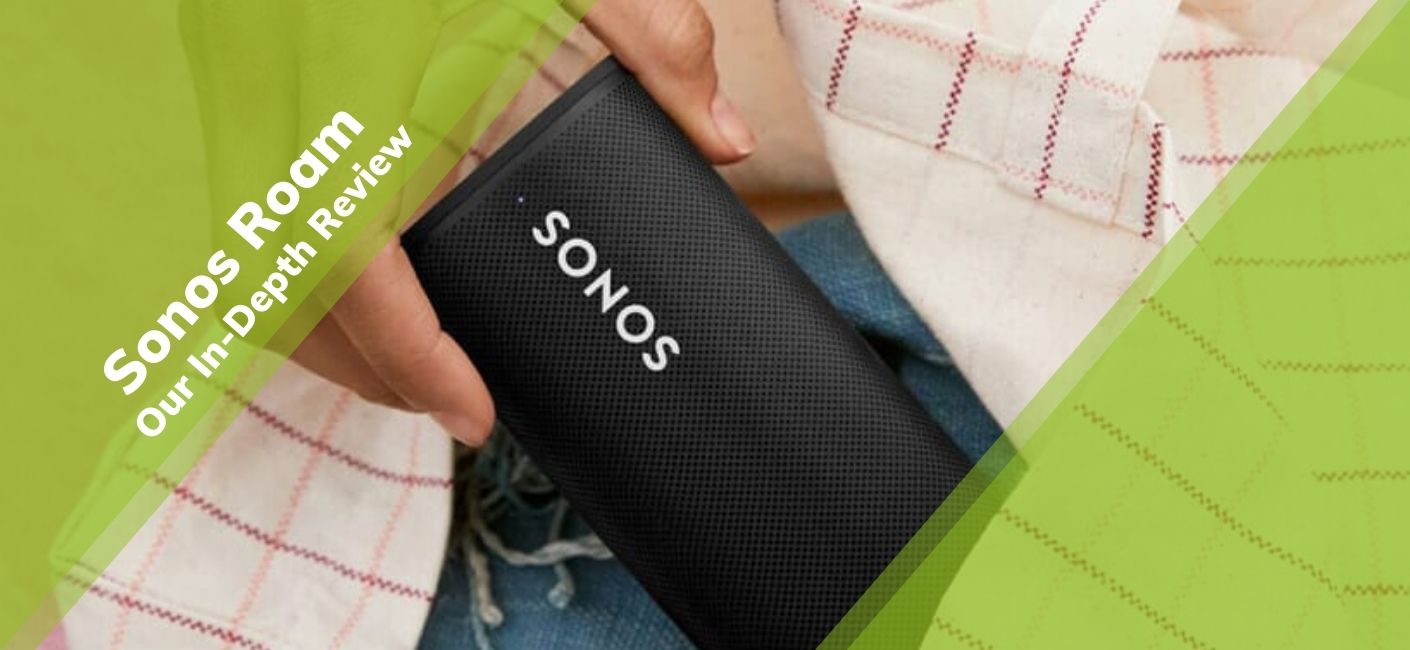 The New Sonos Roam: Our in-depth review
Towards the middle of last month, we received the exciting news that Sonos would be adding a brand new compact, portable speaker to their range. The Sonos Roam Portable Speaker is available for preorder ahead of a mid-April release with an RRP of £159. Designed to be used as both a home speaker and as a neat portable solution for on-the-go, the Roam is compatible with both Bluetooth 5.0 and Wifi to give you the best of both worlds. We've had a little bit of time to get to know the Sonos Roam ahead of its release on the 20th of April, and have gathered our thoughts below to help you decide whether this speaker is right for you. 

Sound Quality
Two Class-H digital amplifiers power a mid-woofer and tweeter to offer great range between lower frequencies and crisp higher notes. For a speaker of this size, the sound output is impressive and balanced which makes it a great option for both taking out and about or using as a music solution in a smaller room in the house.
A neat feature we discovered during our testing was that the Roam's EQ settings will automatically adjust based on whether it's in a vertical or horizontal orientation. Paired with Auto-Trueplay, a feature that acoustically adjusts the speaker output based on the size and shape of the space it's positioned in, the Roam will sound as good as possible wherever you're using it. 
At this size and price point, understandably the Roam doesn't offer quite the same bass performance as bigger speakers in the Sonos range, but compared to similar portable speakers the Roam will hold its own making it the perfect companion for your travels. 
✓ Crisp and Clear Performance
✓ Automatic EQ Adjustment
✓ Auto-Trueplay
Size and Design
One thing that struck us on first handling the Sonos Roam was the premium nature of its finish. Equipped with a rounded, pyramid-shaped speaker grille the Roam will sit flat on any surface so you don't need to worry about it rolling away from you as you listen. At only 0.43kg, it won't weigh you down on the go. We'd have liked to see a carry case or carry strap supplied with the Roam, but its rugged exterior and compact form make it perfect for throwing in a backpack all the same. 
The rounded, pyramid shape also aids acoustic performance, as it angles the speaker driver up towards the listener and not down towards the floor or hard surface. A rubberised top and bottom increase durability, in our tests the Roam was happy being rough handled, with no external damage or internal issues to the speaker driver or sound quality.  
✓ Premium finish with rubberised ends for extra protection
✓ Light and small
✓ Pyramid shape aids speaker performance and stability
Charging and Battery
In our tests the Roam's charge comfortably exceeded the 10 hour playback time suggested by Sonos, meaning you can keep the music playing without concern that you'll be left short as the day progresses. This also means you might be able to go a whole camping trip or weekend away without needing to charge the Roam up, depending on how long you're listening for each day. The Bluetooth pairing button on the speaker also allows you to turn the Roam off fully or put it into a low-power sleep mode, a handy feature if you're taking the Roam away and want to conserve your battery life for as long as possible. 
There's currently no information published that specifies how many hours of battery life are built into the Roam's battery before it starts to degrade, but they have advised that the Move will survive 900+ charges so it's safe to assume that you'll be covered for a long time. 
As standard, the Sonos Roam is supplied with a USB-C charging cable allowing you to charge it back up. As a downside, this is not supplied with a compatible 5v power plug but we are selling one for £12.49 on our website if you wanted to add this to your order. 
One plus that we've not seen in the Sonos range before is that the new Roam is compatible with wireless Qi charging bases. You may be familiar with this feature found in some flagship smartphones released in the last couple of years, giving you the option to charge the Roam on a compatible base without having to plug it in via USB-C cable. Sonos do supply their own wireless charging base at £44 if you wanted to purchase one separately.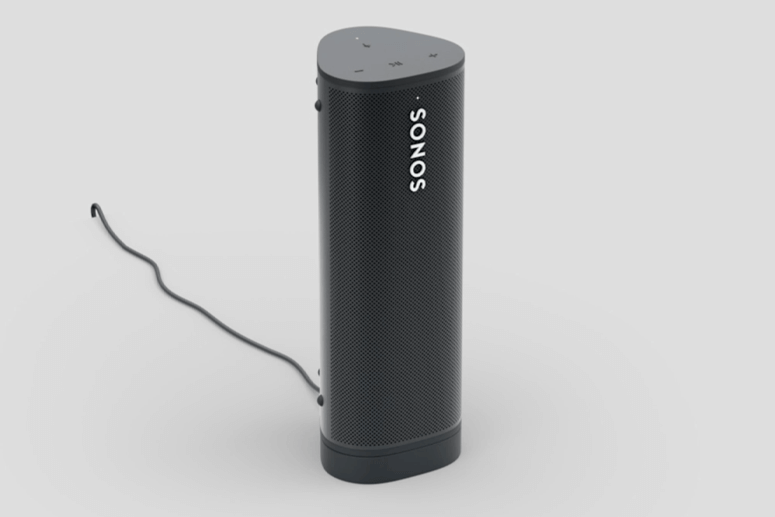 Bluetooth Pairing and Auto Switching
The Roam facilitates the seamless transition between Wifi and Bluetooth courtesy of the Auto Switching feature. When taken nearer to your router, the Roam will automatically connect back to your home Wifi network and become visible on the Sonos App again. Bluetooth 5.0 carries around 5x the range of older 4.2 connections, boasting 40m in a normal indoor environment or an impressive 240m with a direct line of sight. 
One benefit built into the Roam is that you can send any Bluetooth audio to the rest of your Sonos speakers, including non-bluetooth Sonos speakers. This feature can be used to share audio from a Bluetooth turntable to your other Sonos speakers, enabling you to bring that into your system.
Something that might pose a slight hindrance is that you'll need to set up the Roam on a wifi network before you're able to connect to Bluetooth. This isn't a massive problem as you can use the Roam completely Wifi-free after initial setup, but is something to be aware of if you were planning to use the Roam for the very first time in an outdoor environment. 
✓ Latest 5.0 Bluetooth connectivity
✓ Impressive Bluetooth connection Range
✓ Auto Switching makes swapping between Bluetooth and Wifi seamless
Sound Swap
A new feature introduced for the Sonos Roam is Sound Swap. This enables you to send any audio from your Roam to the nearest Sonos speaker in your home. To do this, you simply have to press and hold the play/pause button and the audio will automatically start playing on the closest Sonos speaker. In our testing this feature worked seamlessly and would be great if you're listening to the Roam outside in your garden and want to carry on listening on your Sonos One in the kitchen for example.
Weather Rating
The Roam comes certified with an IP67 weather rating, meaning it can be submerged in up to 1 meter of water for up to 30 minutes. Though it's unlikely that you'll want to give your new Sonos Roam a bath, it's reassuring to know the longevity of this product won't be hindered by rain, drink spills or even accidental dropping in the pool. IP67 also protects the Roam against dust exposure, making it the perfect choice for taking to the Beach.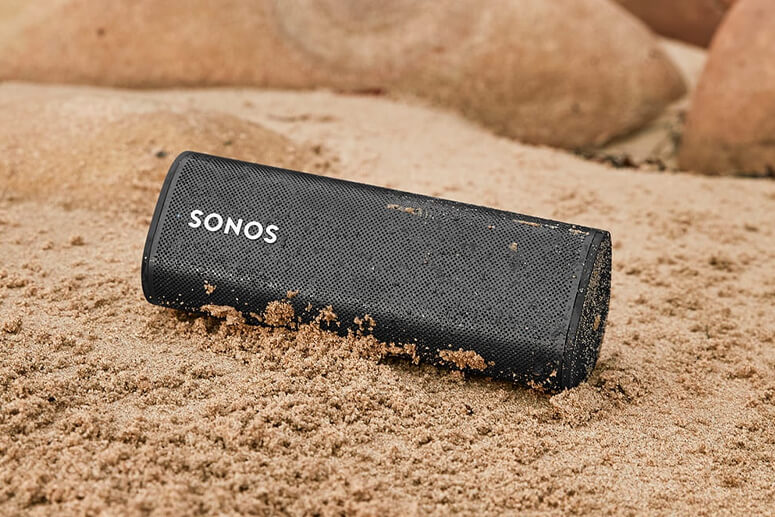 Interestingly, Sonos' Wireless Qi charging base is also IP54 rated. This might seem a bit unnecessary, but it does mean you can shove this charger in the same bag as the Roam to take out for adventures without needing to worry about it getting dusty or damp.
An operating temperature range of between 5 and 35℃ ensures the Roam will handle most extremes of the British weather, but be aware that the battery performance is likely to degrade after long exposure outside of the specified temperature range. 
✓ IP67 Rating for water and dust protection
✓ 5-35℃ operating temperature covers most scenarios
Verdict
So what's our verdict on the Sonos Roam? When you consider the package you get for just over £150, this will appeal to both Sonos fans and Sonos newbies. We can see the Roam being great as an additional room of Sonos with the versatility to move it into the bathroom, bedroom etc. It can also extend your listening outdoors and its compact design is perfect for taking on the go. We think the best thing about the Roam is that it can be fully integrated with your Sonos system at home with both Bluetooth & WiFi connectivity.
✓  Portable speaker which can be integrated with your Sonos ecosystem at home
✓ Auto-Trueplay, Sound Swap & Auto Switching features
✘ No power plug provided
✘ You can't use 2 x Sonos Roam as surrounds to a Sonos TV speaker
We hope you have found our run down and review of the new Sonos Roam useful, but please do let us know if there's anything we can help with. We can be reached on 0800 677 1100 or via email (info@smarthomesounds.co.uk) and Live Chat between 9am and 5pm Monday to Saturday.