Sonos Roam - 10 Things You Need To Know
We go through 10 useful facts about the Sonos Roam to help you decide if this is the right speaker for you!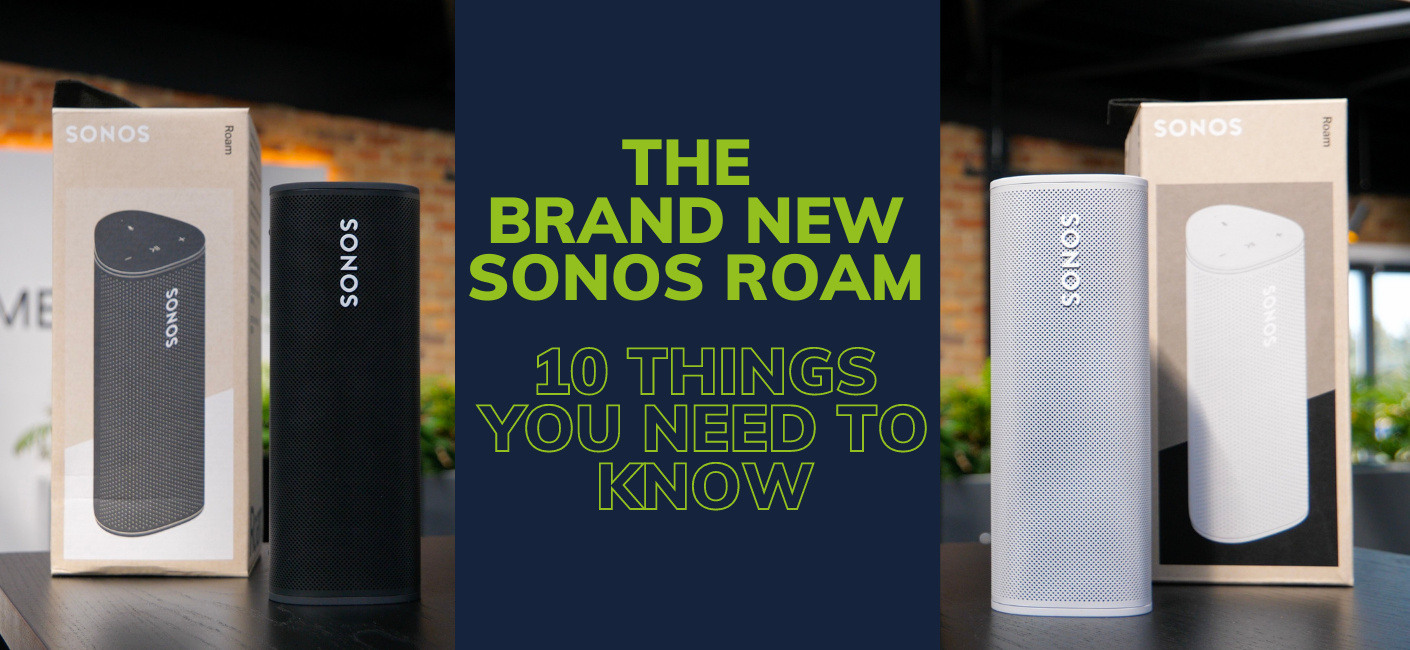 Sonos Roam - 10 Things You Need To Know
The Sonos Roam is the latest speaker from Sonos and is their most compact and affordable speaker to date. With an RRP of £159, the Sonos Roam is a portable speaker with both WiFi and Bluetooth connectivity, enabling you to take your music with you wherever you go. With a number of great features including a 10-hour battery life, waterproof IP67 rating and voice control with Amazon Alexa & Google Assistant, the Roam is a portable speaker that's perfect for more than just holidays. 
As the weather is finally starting to brighten up and with Summer just around the corner, Sonos couldn't have released a better speaker to help lift our Lockdown spirits! But now we can get our hands on this premium portable speaker, what do we need to know? Well, stay tuned as we list 10 things you need to know about the Sonos Roam!
1) Quick & Simple setup
Let's start with the set-up. If you already have Sonos around your home, you'll know how pain-free and simple Sonos have made the set-up, especially with recent updates. 
If you're new to Sonos, you'll just need to take one extra step in downloading the S2 app and making an account. Once the Roam is turned on or connected to power, the Sonos app automatically detects the Roam and connects to WiFi almost immediately.
From there, in-app instructions will guide you through a few extra steps to get your speaker set up and ready to play! The Roam setup also uses NFC for an even quicker connection. See, I didn't lie when I said it was pain-free!
2) Best of Both - Bluetooth & WiFi Control
Once you're all set up, you truly do have the best of both worlds, with the Roam having a seamless listening experience between both Wi-Fi and Bluetooth. 
When at home, the Roam can group effortlessly with the rest of your Sonos equipment, so this makes it an ideal speaker for home/garden use, especially with its Bluetooth capabilities. 
What's great about the Roam is Bluetooth and Wi-Fi work hand-in-hand with the Roam even automatically switching between each mode, meaning less fiddling around and more of enjoying the music you love. The Roam will connect to your WiFi automatically when you arrive home and switch to Bluetooth when you head out and leave your WiFi range. 
3) Fast Bluetooth Connectivity
With the Roam now acting as a gateway to access Bluetooth 5.0 connectivity on your other Sonos speakers, it's now easier than ever to improve the quality of the audio you love.
In those moments when you're enjoying your favourite new song, or even watching a movie on your device, you're able to instantly send the audio over Bluetooth to your Roam and even group that audio with the rest of your Sonos system!
We've been excited to see Sonos develop easier ways of using the system in conjunction with Bluetooth turntables too. Currently, when using Sonos's first Bluetooth speaker, the Move, you're limited to that single speaker, as the speaker disappears from the Sonos app when in Bluetooth mode so there's no way of grouping the Sonos Move to the rest of your system in the app. However, the Roam remains visible in the app in Bluetooth mode and therefore opens up a world of possibilities when casting your Bluetooth turntable audio throughout your home.
Bluetooth connectivity is a great option, particularly for those of us who don't have Apple devices and the luxury of using Airplay 2 for a quick connection. As an Android user, this is a great gateway to making a more simple connection, available to more of us.
4) Stereo Pair
If you're new to the term 'stereo pair' please don't be put off by the terminology! It's a simple concept which allows two speakers to pair wirelessly together and separate out the left and right audio channel. As most music is recorded this way, it gives you a purer, true-to-life sound. 
You're able to stereo pair two Roams while you're at home using WiFi, however, it's important to remember Sonos haven't made it possible for the Roam to stereo pair on Bluetooth, nor can you use the stereo pair as rears for surround sound. It may be that this latter function is released in a software update in the future, but this is just speculation at the moment. Speaking with many of our customers, this seems to be something we're all keen to see!
If you're interested in setting up a pair of Sonos Roams in stereo, check out our 2x Sonos Roam Bundle.
5) Innovative Sound Swap
The launch of the Roam reconfirms Sonos' commitment to making the system as user-friendly as possible, especially when it comes to simple connectivity. 
While we live in an age where everything is becoming more tech-focused, it's nice to see they are making it easy for us to keep up. The new Sound Swap feature is the first of its kind in the Sonos range and simply allows you to swap the audio from the Roam to your closest Sonos speaker as long as you're in range of the wi-fi.
If you're used to the English weather, you've almost certainly been enjoying a nice sunny day outdoors when a downpour suddenly begins. Well, rest easy knowing that as you're running indoors, all you'll need to do is hold down the Play/Pause button on the Roam and the audio will swap onto your closest Sonos speaker, so you can carry on enjoying the music you love!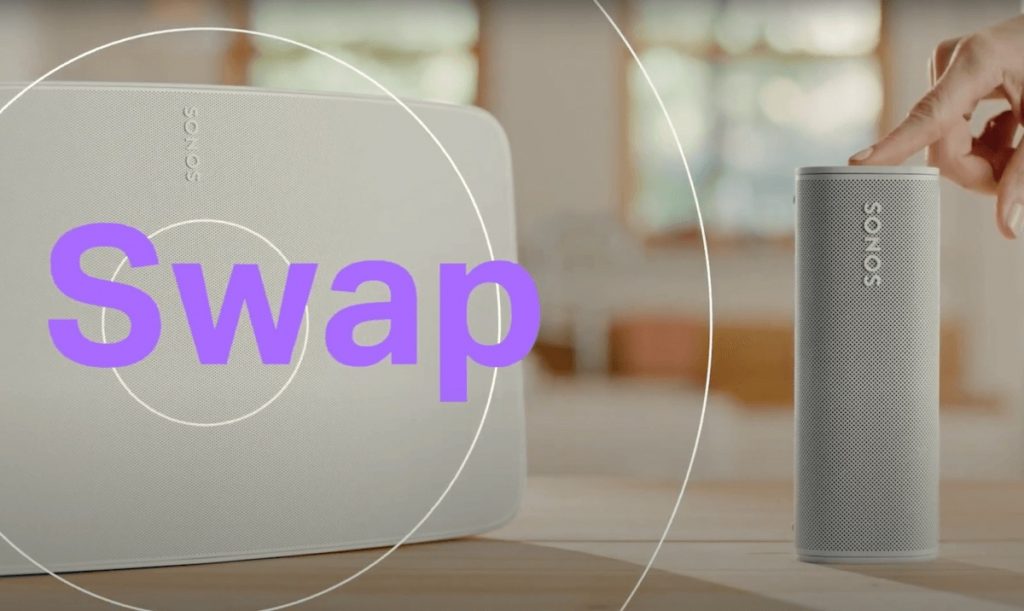 6) Auto Trueplay Everywhere You Go!
As the Roam has been designed as a portable speaker, it's important for the sound to remain controlled when it's up against all of the outdoor elements. 
The Roam includes an impressive Automatic Trueplay feature, so when you're out and about the low-end output will be maximised ensuring rich sound is masterfully delivered to you. 
Trueplay technology allows the Roam to dynamically adapt the sound for each unique environment you're in! Even better, Auto Trueplay on the Roam also works when in Bluetooth mode so your speaker will be optimised wherever you are.
7) Perfect for Bathrooms
Along with Auto Trueplay, the Roam also has other features which highlight its ability to adjust to the surroundings. The Roam also boasts an impressively rugged IP67 rating - meaning it's fully dustproof and waterproof. The IP67 rating means it can be submerged for a total of 30 minutes in up to a meter of water, which makes it an ideal bathroom speaker. 
Not only do you not need to worry about splashes and accidental dips in the tub, but the addition of voice control with either Amazon Alexa or Google Assistant means you also have hands-free control of your music.
8) Long-Lasting Battery & Charging
Despite the Roam's compact size, there's still a very impressive battery life of 10 hours of continuous playtime making it perfect for taking on a day out as there'll be no worries about the battery dying halfway through the day. 
An auto-sleep mode feature puts the Roam to sleep when it's not in use which helps to conserve the battery, allowing the speaker's charge to last up to 10 days.
Although the Roam does come with a USB-C charger, it's also compatible with any QI charger for wireless charging. You have the option of using Sonos' compatible Wireless charger, designed specifically for the Sonos Roam. This will make things a little more convenient, especially when using the Roam as an indoor speaker. The Sonos Roam wireless charger acts as a base for the Roam and matches the premium feel of the Roam. This can be purchased separately or as part of the Sonos Roam & Wireless Charger Bundle on our website.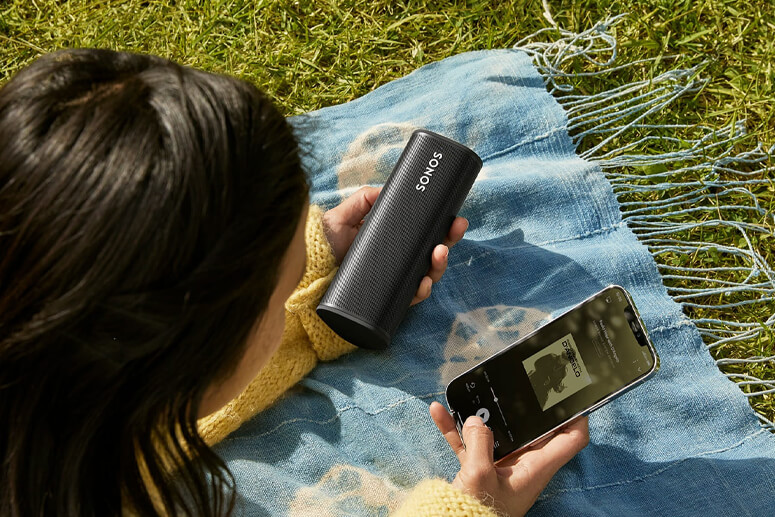 9) Sonos S2 Compatible Only
The Roam is only compatible with the Sonos S2 app which enables the speaker to continue to get smarter over time with free software updates. Some of Sonos' older products are not compatible with the newer S2 app and use the older S1 version of the Sonos app. If your Sonos system is on S1, you can still add a Roam but it would be controlled separately on the S2 app.
The downside is that you wouldn't be able to use the group or Sound Swap feature with any speakers on the S1 app which, depending on how you're intending to use the speaker, may or may not be a problem.
10) Sustainable Packaging Perks
With Sonos being a premium company, we expect their packaging to reflect the premium feel and price tag. Seemingly so do Sonos, with their Head of Packaging even stating - "We wanted the unboxing to feel like it's your birthday." 
We're pleasantly surprised with how they've managed to marry sustainable packaging with a premium feel, removing single-use plastics, document envelopes, and tear strips. Materials have been replaced with sustainably sourced custom kraft paper and paper pulp. 
This is certainly a huge step in the right direction and we're hoping they continue their commitment in their conscious efforts to help the environment. Big thumbs up from us!
SHS Verdict
The Sonos Roam has certainly been a long sought after speaker from Sonos, especially with the release of their much larger Sonos Move portable speaker back in 2019. It's entered a crowded market but we feel the combination of both Bluetooth control & access to the Sonos ecosystem via WiFi sets this speaker apart. 
If you're still in two minds on whether the Sonos Roam is right for you after reading this, make sure to check out our in-depth Sonos Roam Blog or watch out Sonos Roam Test & Review on our YouTube channel or, if you'd prefer to speak with a member of our team please give us a call on 0800 677 1100 or email us at info@smarthomesounds.co.uk and we'll be happy to help you further!