Best Sonos Outdoor Speaker Set-Ups 
As summer is fast approaching, we've taken a look at the best Sonos outdoor speaker options to elevate your garden party, barbecue or lazy summer evening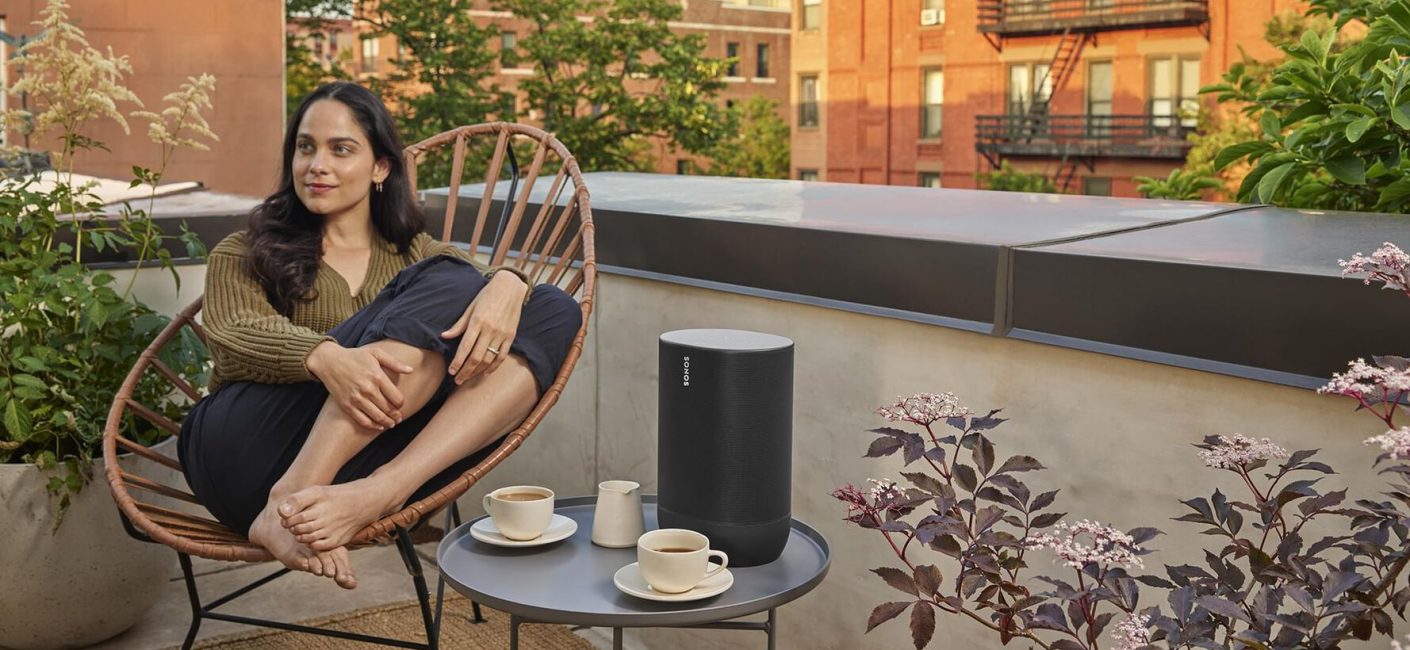 BEST Sonos Outdoor Speaker SET-UPs
With the days getting longer, you might be thinking ahead to summer barbeques and spending more time in the garden.
We think the best accompaniment to lazy summer days and lively summer evenings is great music, and never has it been easier to achieve this with your Sonos set-up. 
We've outlined our favourite Sonos outdoor set-ups below to help you decide which option is right for you. 
Sonos Roam
Newly released for 2021, the Roam is Sonos' solution to compact, portable audio that can be integrated into your home ecosystem. At only 168mm high and 62mm wide, the Roam is great for popping in your bag and taking out for the day. If your garden is smaller or you just wanted something to take outside for use on a patio or balcony, the Roam could be a perfect choice - especially if you have other Sonos speakers around the house.
Like the Move before it, the Roam supports both Bluetooth 5.0 and wifi connectivity. Roam can support an extended wifi signal compared to other Sonos speakers, meaning you'll stay connected even at the top of a long garden. You'll be able to achieve indoor/ outdoor listening by grouping the Roam to other Sonos speakers inside and can rely on voice assistant or Airplay 2 control when connected to your home wifi network. 
Sound Swap is one of our favourite features newly integrated with the Sonos Roam, allowing you to send audio playing on the Roam to your closest Sonos speaker. This is a great addition as it works whether you're using Bluetooth or  Wifi to listen to music, giving you a Bluetooth gateway into the whole Sonos system.
An outdoor rating of IP67 means you're covered if you accidentally get the Roam wet or it comes into contact with dust or sand. You're also covered by a 10 hour battery life between charges meaning you can take the Roam out all day without needing to stop and recharge, making it the perfect speaker for on-the-go.
Sonos Move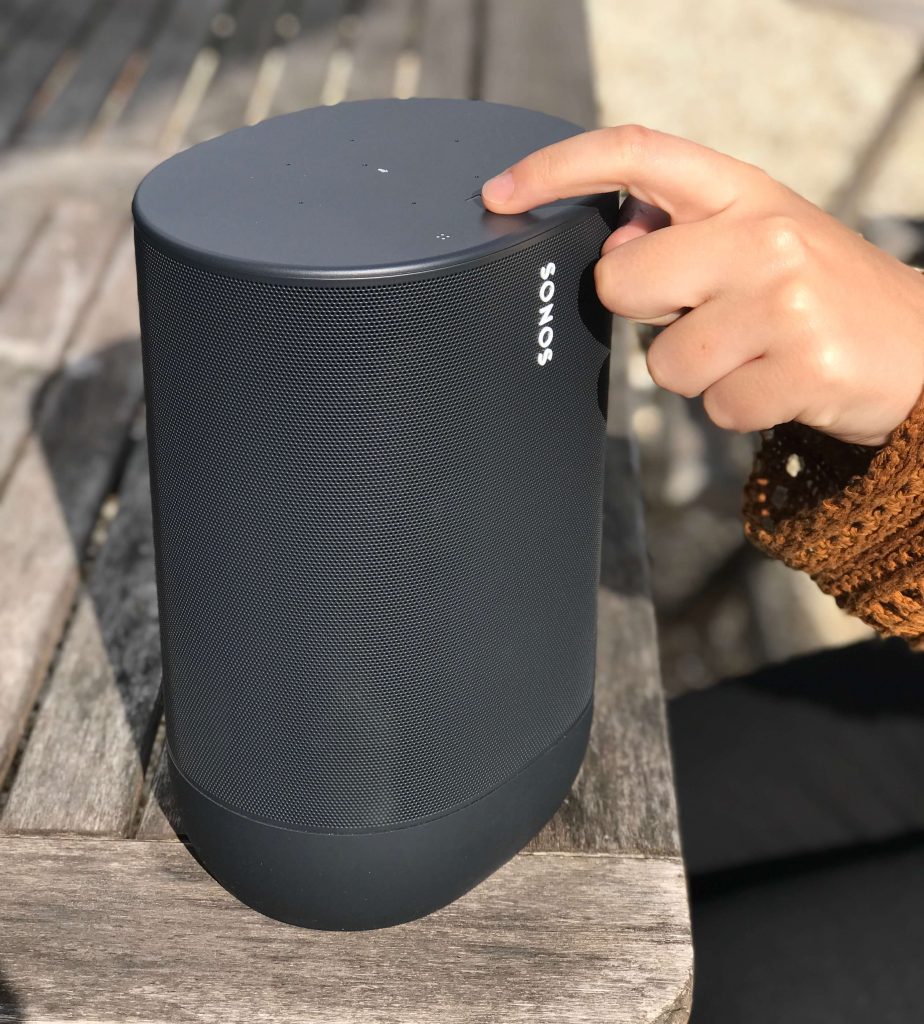 The Sonos Move immediately comes to mind when thinking about outside audio.
Suited to both indoor and outdoor set ups, the Move seamlessly transitions between WiFi compatibility as part of your Sonos system in the home, to easy Bluetooth use elsewhere. 
Due to its extended WiFi range in comparison to other Sonos speakers, you can even use your Move as part of the home WiFi set up when out in the garden, allowing you to seamlessly transition between indoor and outdoor listening.
This feature on all Sonos outdoor set-ups is great for summer parties when guests are scattered throughout the house and garden. 
If you're too far away from the home for WiFi connectivity, you can switch to inbuilt Bluetooth compatibility at the touch of a button. With an impressive connectivity range of 15-20 feet, you won't suffer from signal dropouts or breaks in the music. 
The Move is bigger than some portable speakers on the market, but Sonos wish to stress that this is designed to provide great audio both at home and on the go. It is built for convenience when travelling with an ergonomically designed hand grip, making it easy to load in and out of the car when you take family holidays or go to a friends house.
Though you might not want to carry the Move around all day, think of this speaker as a heavy duty, long battery option that will give you formidable audio performance.
Like any good outdoor speaker, the Move is rated highly at IP56, meaning the unit will be protected from dust ingress and liquid splashes for the entire time it's out with you. It also has an exceptionally long battery life, maintaining battery life for 10 hours when played at 50% volume. 
The charging base is supplied with the speaker, and has a sleek and lightweight form factor. Move also supports USB-C connection to ensure you aren't caught out if travelling means you need to leave the charging base behind.
Probably our favourite thing about the Move is it's Auto-Trueplay feature. Within 15 seconds of music playback, the Move will have recalibrated its sound output to match the space you're in perfectly.
Whether inside in a smaller room or moved out into an open garden, the Move will ensure you keep crisp vocal performance and rich mid to bass tones no matter where you are.
Sonos Move: full in-depth review >>
Sonos AMP & Sonos Outdoor ARchitectural Speakers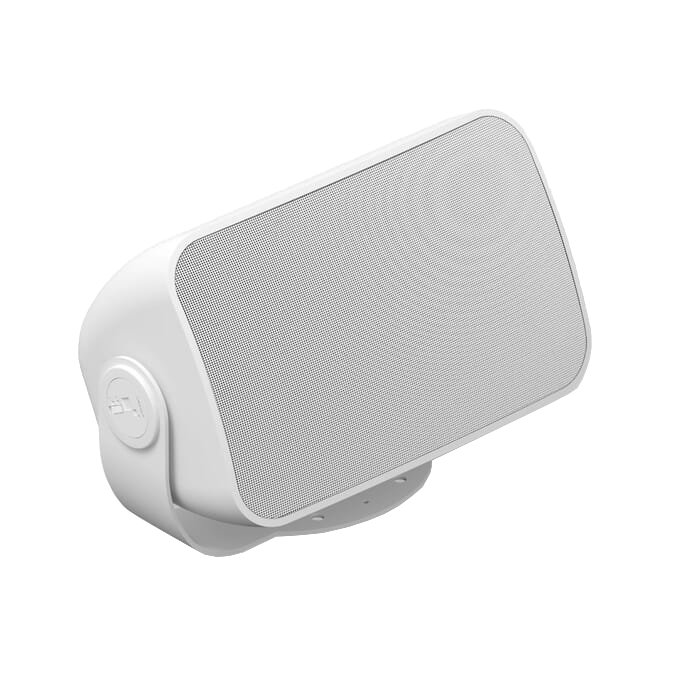 Many Sonos fans were excited by the announcement that the brand would be introducing architectural speakers to their range, perfectly suited to use with the Sonos Amp.
The Sonos Outdoor speakers have a beautiful, modern design that will fit in seamlessly with your garden furniture and landscaping. Though these speakers are wall mounted, they're unobtrusive with a curved shape and matte white design.
The Sonos Outdoor speakers are perfectly impedance matched to the Sonos Amp, meaning you can power up to 6 speakers on the same Amp as opposed to the usual 4 with alternative speaker brands. This makes the Sonos Outdoor speakers well suited to a bigger garden or even commercial setting, such as a pub or restaurant, as more speakers can be run on the same Amp to limit costs. 
Read Sonos Outdoor Speakers full review >>
Sonos AMP & Bowers & Wilkins AM-1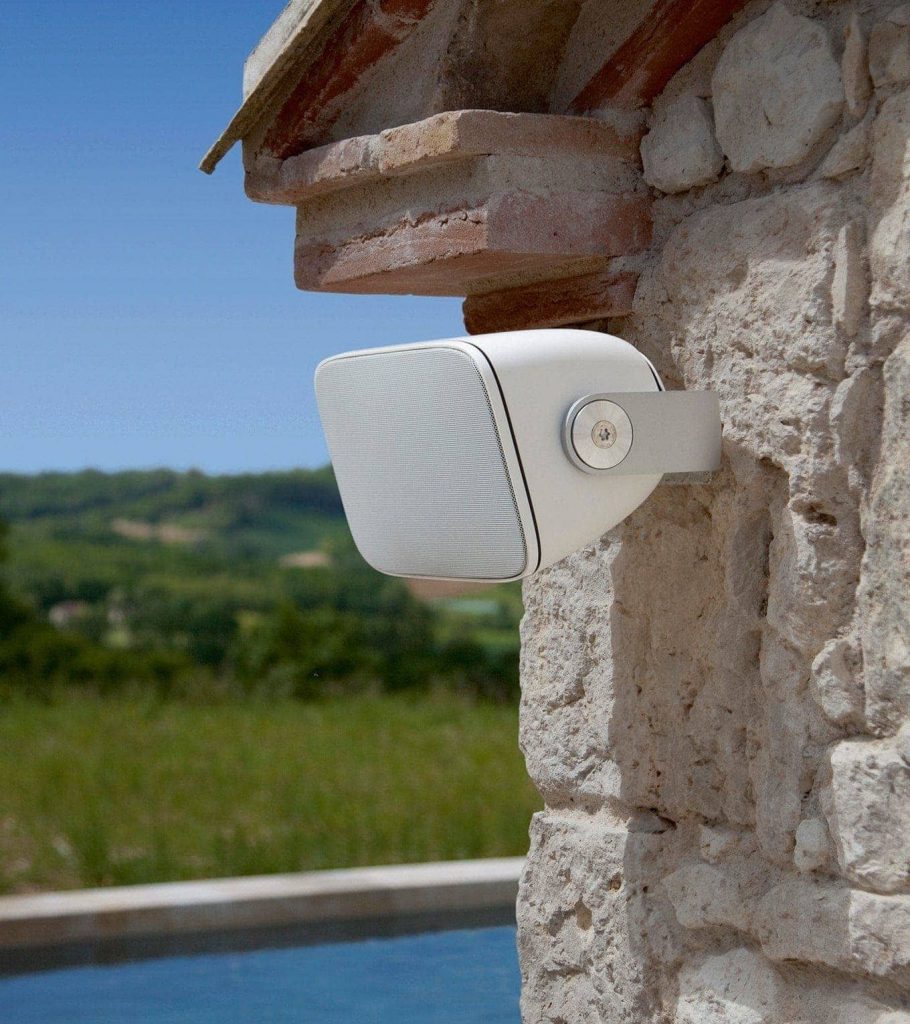 The Bowers & Wilkins brand is renowned for excellence, and we consider the AM-1s as no exception. Similar in size and shape to the Sonos in-ceiling speakers, the AM-1s are a great option retailing at a lower price point that will still pack a punch.
The AM-1s innovative mounting bracket allows you to achieve a 220-degree speaker rotation, making sure the music is delivered exactly where you want it. Like the Sonos Outdoor speakers, all cabling can be fed back through the mounting bracket for a polished finish. The AM-1s can be installed either vertically or horizontally, giving you the best fit for the space. 
Sonos AMP & KEF Ventura 4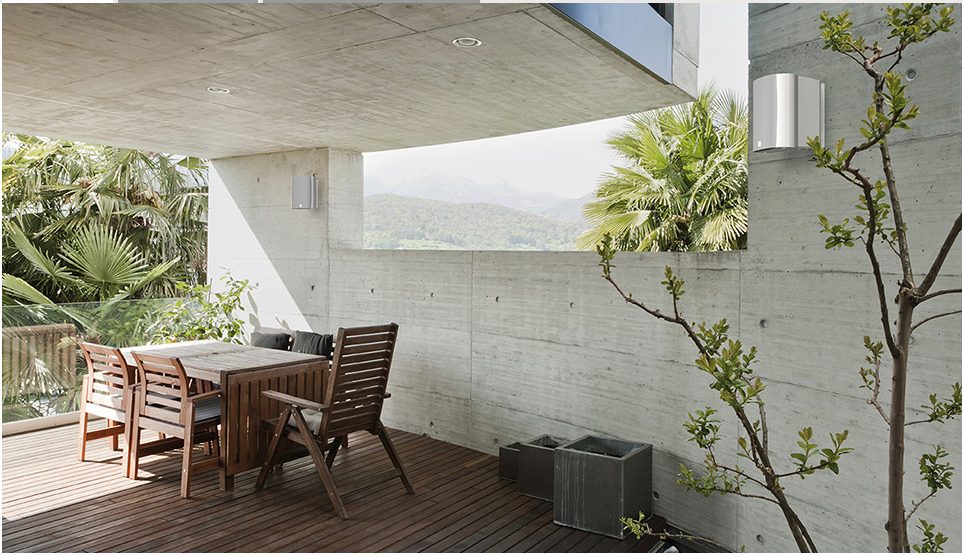 With the Great British weather being notoriously unpredictable, we understand that not everyone wants to spend lots on an outdoor speaker solution which might be rained off for months at a time. 
The Kef Ventura range is a great budget-friendly alternative to some more premium outdoor speakers, whilst still giving you a permanent, year-round solution. When connected to the Sonos Amp, you will still benefit from the great functionality of being able to play your favourite music and radio easily using your phone.
As with other Sonos set-ups, you can transition seamlessly from inside to out by grouping the Sonos Amp with your other Sonos speakers indoors.
You might also consider these smaller speakers for an indoor swimming pool, as their smaller size and robust weather rating make them a perfect option.
The Ventura 4s are the smallest in the range, well suited to a small townhouse garden or patio area. If you wanted to add bass and volume to your listening experience, you might consider upgrading to the Ventura 5s or Ventura 6s. With the whole range available in both black and white, we're sure they'll blend seamlessly with any garden or outdoor space.
We hope you find these suggestions useful if thinking about a Sonos outdoor speaker or speaker system for your home. If you have any queries about any of these products, please don't hesitate to get in touch.
---
Quick Links
Sonos Amp & Sonos Outdoor Speaker bundle >>
Sonos Amp & Bowers & Wilkins AM-1 bundle >>