Sonos One vs Sonos Roam vs Sonos Move: What's The Difference?
Not sure what speaker is right for you? Join us as we compare the main differences between popular Sonos speakers - Sonos Move, Sonos Roam and Sonos One G2.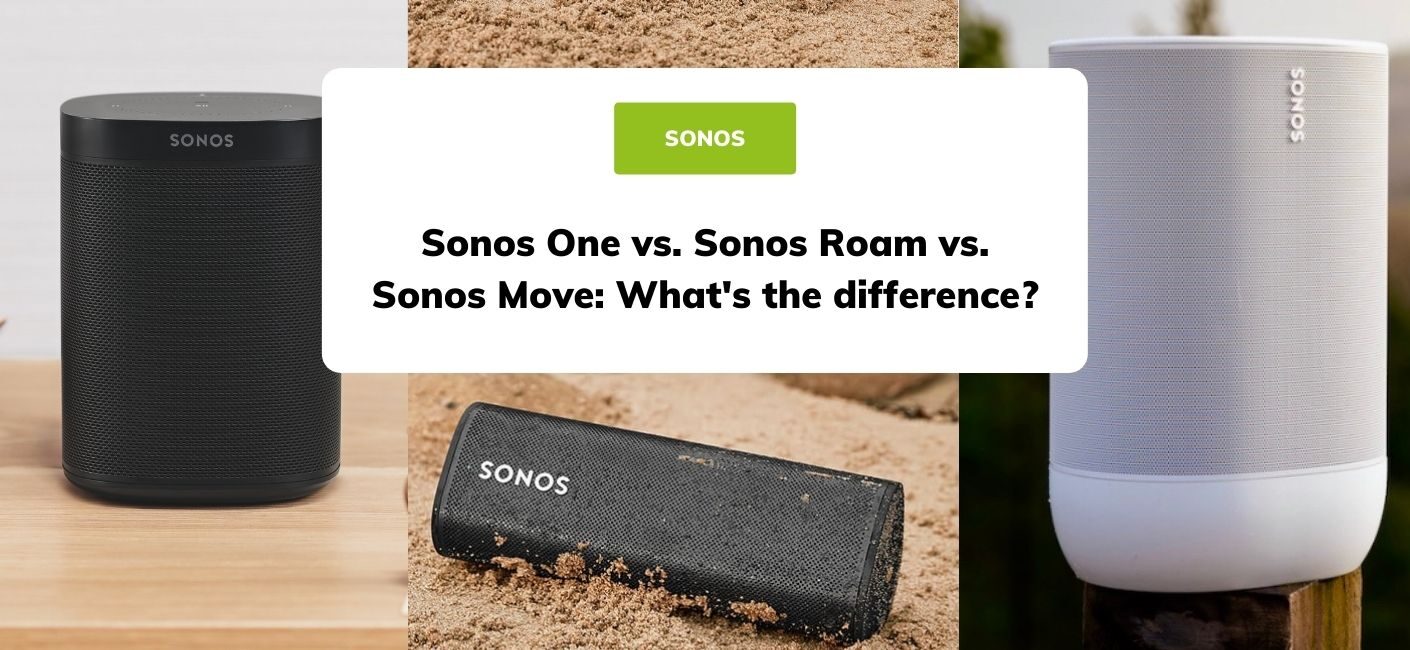 How To Choose between the Sonos Move, One and Roam
*Updated March 2022*
The Sonos One (RRP: £199), Sonos Roam (RRP: £179) and Sonos Move (RRP: £399), have proved to be popular speakers and for some people, integral parts of their Sonos system. There are some considerable differences, however, that make it hard to compare the three due to their differences in spec and usability. In this blog, hopefully, we can point you in the right direction to find out what's best for you.
Jump to...
Before I get into this blog, if you're not a massive reader, not to worry, as we have a handy YouTube video on this subject you can check out!
Key Comparisons
| | | | | |
| --- | --- | --- | --- | --- |
| | Sonos One | Sonos Move | Sonos Roam | Sonos Roam SL |
| Digital Voice Assistant  | Amazon, Google | Amazon, Google | Amazon, Google | None |
| Connectivity  | Wi-Fi | Wi-Fi/Bluetooth | Wi-Fi/Bluetooth | Wi-Fi/ Bluetooth |
| Music connectivity  | Airplay 2, Spotify Connect | Airplay 2, Spotify Connect, Bluetooth 4.2 | Airplay 2, Spotify Connect, Bluetooth 5.0 | Airplay 2, Spotify Connect, Bluetooth 5.0 |
| Use for surrounds | Yes | No | No | No |
| App compatibility  | S1 & S2 | S1 & S2 | S2 ONLY | S2 ONLY |
| Weather rating | N/A | IP56 | IP67 | IP67 |
| Battery life | N/A | 10 hours + | 10 hours + | 10 hours + |
| Colour options | Black or White | Black or Lunar White | Black or Lunar White | Black or Lunar White |
| Trueplay | Yes | Yes (automatic) | Yes (automatic) | No Auto-Trueplay (Regular Trueplay available) |
| Stereo Pair | Yes | Yes | Yes | Yes |
| RRP | £199 | £399 | £179 | £159 |
New Sonos Roam SL announcement
Since the time of writing, Sonos has announced a new option in their wireless portable speaker lineup. The Sonos Roam SL retails at £159 and has the same internal features and waterproof rating as the Roam SL, just without the inbuilt microphone array. Mirroring what the Sonos One SL is to the Sonos One G2, the Sonos Roam SL is similar to the Sonos Roam in every way but one. Here's what the lack of microphone means for those thinking of purchasing the Sonos Roam SL:
No voice assistant control
No Auto-Trueplay 
No Soundswap feature
For more information on the differences between the Sonos Roam and Sonos Roam SL, please read our blog: Sonos Roam SL vs. Sonos Roam: What's the difference?
Design
The biggest difference to note in terms of the design would be the size. As you can see below, the Move is the biggest and also the most powerful speaker in this collection. The Move can sit on a charging base inside, taken away from home or wall-mounted outside making it the perfect speaker to power any garden party. The move offers a more durable design with rubberised controls and feet.
The Roam is a lot more portable due to its much smaller and more lightweight design. This makes it an ideal travel companion as it's compact and can easily fit in a bottle holder on the go. The Roam also comes with rubberised touch panels and feet for a more rugged design.
The Sonos One has been designed to offer a more premium feel in your home. It can be easily wall mounted for a more discreet appearance and it's versatile enough to be floor or even desk mounted too. The colour choice is black or white to easily suit any interior - finished with sleek touch screen buttons. 
Sound Performance
It's important to remember that you do get what you pay for when it comes to sound. To give you a rough idea of the comparison in our Youtube video, Jonathan explains how the One is 30% better than the Roam and the Move another 30% better on top of that. 
All three speakers boast the crisp signature Sonos sound we're used to, though the Move definitely adds another layer of bass meaning it's much more suited to powering larger areas when compared to the One and Roam.
We were still pleasantly surprised by the amount of bass coming out of the Roam with it being such a small unit, however, this isn't comparable to what you'll get with the Move and even the One. The One is designed to be listened to indoors at home and offers a refined, detailed sound. If portability is not important, the One is an ideal speaker to be dotted anywhere around the home, but best suited for small-medium sized rooms. 
Most Suitable For:
For Use Outdoors:
Sonos Move
✓ The Move is a much more powerful speaker and offers the best sound performance out of the three meaning it's more suitable for larger living spaces, large gardens, camping trips etc. It's also IP56 rated for protection against water and dust.
✖ It is quite bulky, so definitely not a speaker you'd want to take on a hike, but is well suited for a weekend away.
Sonos Roam
✓ The Roam is a more compact lightweight speaker so a great option if you're looking for a speaker to take exploring. It won't take up much space and its IP67 rating means it can be submerged in 1 meter of water for up to 30 minutes, so you don't need to worry about its durability.
✖ Due to its size, it's only suitable for powering smaller spaces.
Sonos One
✖ Not a portable speaker
For Use Indoors:
The Move
✓Can easily power large rooms. The Bluetooth feature means it can connect up to any other Bluetooth device in your home. If you want a more powerful speaker than the One, or you just don't want to rely on power sockets being near, the Move is a good choice. It can be easily moved from room to room and can even fit in the bathroom as it's IP56 rated.
✖ Can't be used as rear surrounds
The Roam
✓ The Roam is the first speaker in the Sonos collection that can work on Wi-Fi and Bluetooth simultaneously. This means you could connect up to a Bluetooth device (turntable for example) and also send the audio to other Sonos speakers on Wi-Fi! It's also IP67 rated so a great little speaker for bathrooms, or taking by the pool. 
✖ Can't be used as rear surrounds. Lacks the power to fill medium-large sized rooms.
The One
✓ Top recommendation for surround sound. A great speaker to bring sound to any room around your home and it can be wall-mounted for a more discreet finish.   
✖ No Bluetooth, weather rating or portability. 
If you're still not sure, or you just want a quick answer, follow the diagram below.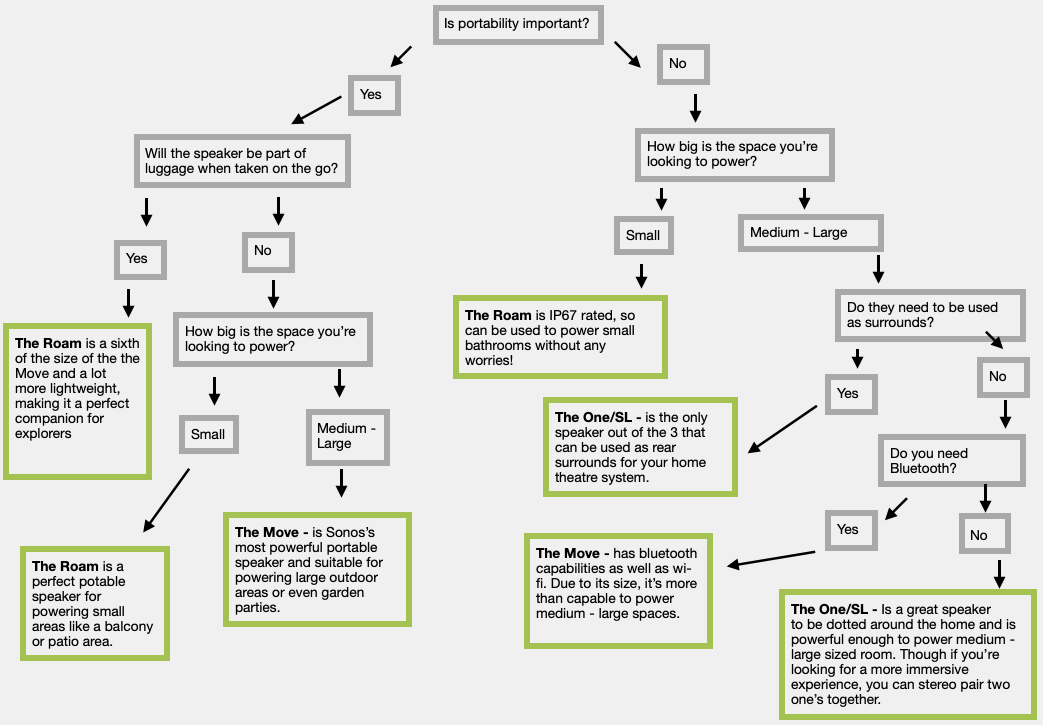 Verdict
One size doesn't fit all when it comes to these speakers - and depending on what you're looking to achieve, one speaker could be a lot better than another, no matter the price or size. The Roam for example comes with a lot of new features that could really open up your experience, but would you use the Roam to power a party? Probably not. The Roam comes with a lot of new features and is a very portable speaker. The Move is a powerhouse that can be taken on the go or use in the home. The One is an at-home speaker, ready to compliment any home to add stylish sound (or surrounds.)
Overall it's just important to know what you need and buy the speaker that best reflects those needs.
I hope this helps display the main differences between the three speakers, so you can make the best choice for yourself! If you have any further questions, please don't hesitate to get in touch at either info@smarthomesounds.co.uk, via Live Chat on the website or on 0800 677 1100.