BBC Sounds and Sonos: Big Update
We tell you everything you need to know about the brand-new Sonos and BBC Sounds integration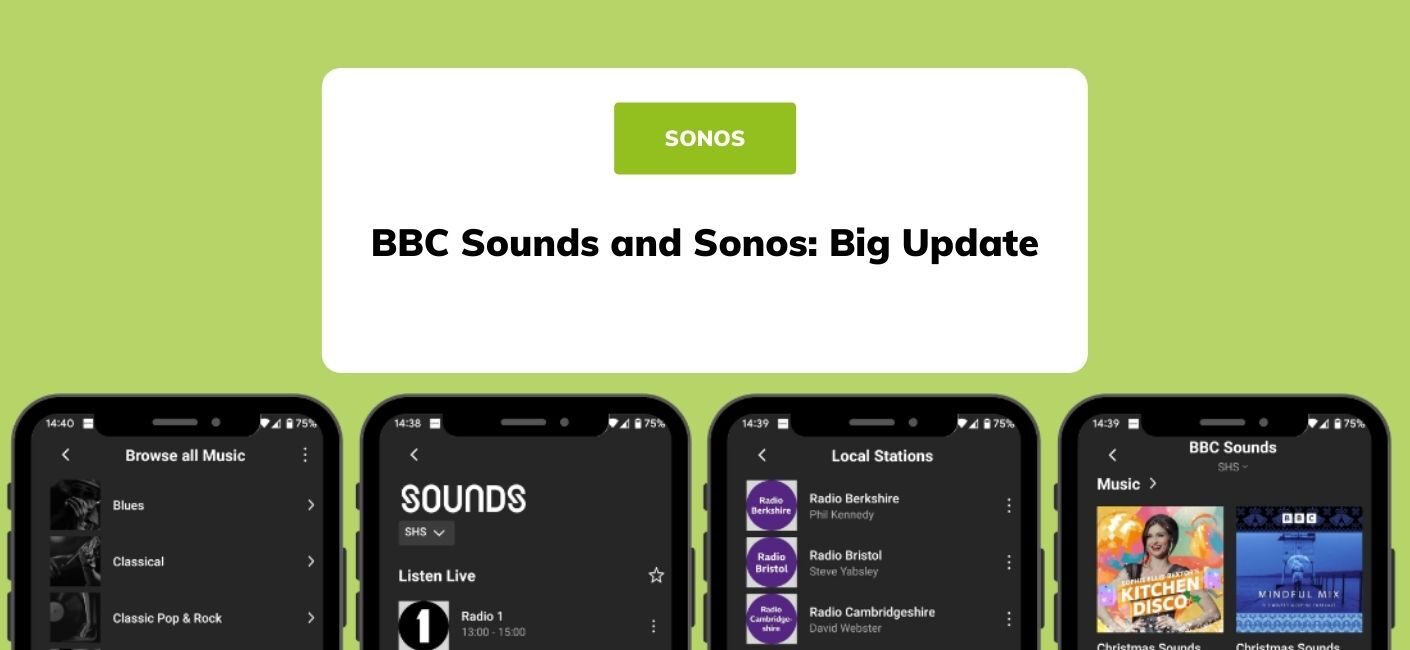 Everything you need to know about the new BBC Sounds & Sonos Update
We've been steadily receiving questions about integration between BBC Sounds and Sonos for a couple of years now, especially after some BBC Radio Stations were removed from the Tune-In streaming service and only then available through Sonos Radio directly. For a lot of people, BBC Sounds is their go-to service for music, radio and podcasts so it's great to see Sonos have taken this on board to offer an experience that will better serve its customers. BBC seem to be taking a similar tact as well, with BBC Sounds Controller Jonathan Wall saying this about the recent Sonos integration:
"We want BBC Sounds to be available wherever and whenever people want to listen, and this is another way to make sure people can enjoy our audio however they choose. From firm favourites to new discoveries, we're giving our listeners even easier access to our brilliant selection of radio, music mixes and podcasts."
What does BBC Sounds & Sonos look like?
If you've used BBC Sounds in the past, you'll be used to accessing Radio Shows, both Live and previously recorded, with the touch of a button. Within the Sonos App this works in exactly the same way, meaning you'll just need to log in to or create your BBC Sounds account to access all of their live and stored content. Have a look at the Sonos and BBC Sounds integration below:
Upon opening the BBC Sounds area of the Sonos App, you'll be greeted by a host of Live Stations, recorded Radio shows and the BBC's catalogue of award-winning Podcasts. Here in the SHS office, we rely on BBC Radio stations to power through the day so it's great to see this wide range of options now available within the Sonos App.
The BBC's full range of Regional Stations can all be accessed through the Sonos BBC Sounds area, allowing you to keep up-to-date with local news and stories throughout the day. One of our favourite things about the new BBC Sounds and Sonos integration was the Categories section. This allows you to select from genres of music and categories of talk radio and podcasts to find the right tracks, shows or stations for you.
What does BBC Sounds Preview mean? 
You'd be forgiven for thinking that this new BBC Sounds 'preview' on Sonos was an incomplete service, but during our testing, this doesn't seem to be the case. Live Radio Station listening, recorded shows and podcasts are all available in this Preview stage, along with access to local and regional Stations which may be music to the ears of some listeners.
So what does Preview mean? Here's what Sonos have to say on the matter:
"Music services go through a preview phase before they're officially released on Sonos. You can add preview services to your Sonos system as long as you've opted in to sharing additional usage data." 
It's that simple. If you're happy for Sonos to track your music and radio listening habits on the Sonos App, then you'll be free to set up and use BBC Sounds to its full potential as part of your day-to-day Sonos usage. Beta or Preview phases like this are often designed to make a service better and more intuitive for future users.
We hope you, like us, are excited about this new development on the Sonos App. If you have any questions about your Sonos system or any of the other products we sell please just get in touch using one of the below methods:
| | |
| --- | --- |
| | info@smarthomesounds.co.uk |
| |  Live Chat on our Website |
| | 0800 677 1100 |