Smart Home Sounds Audio Visual Showroom Gloucester
Visit our new Showroom in Gloucestershire for a wide range of Audio Visual & Gaming products. Demo Sonos speakers, Sony TVs & more.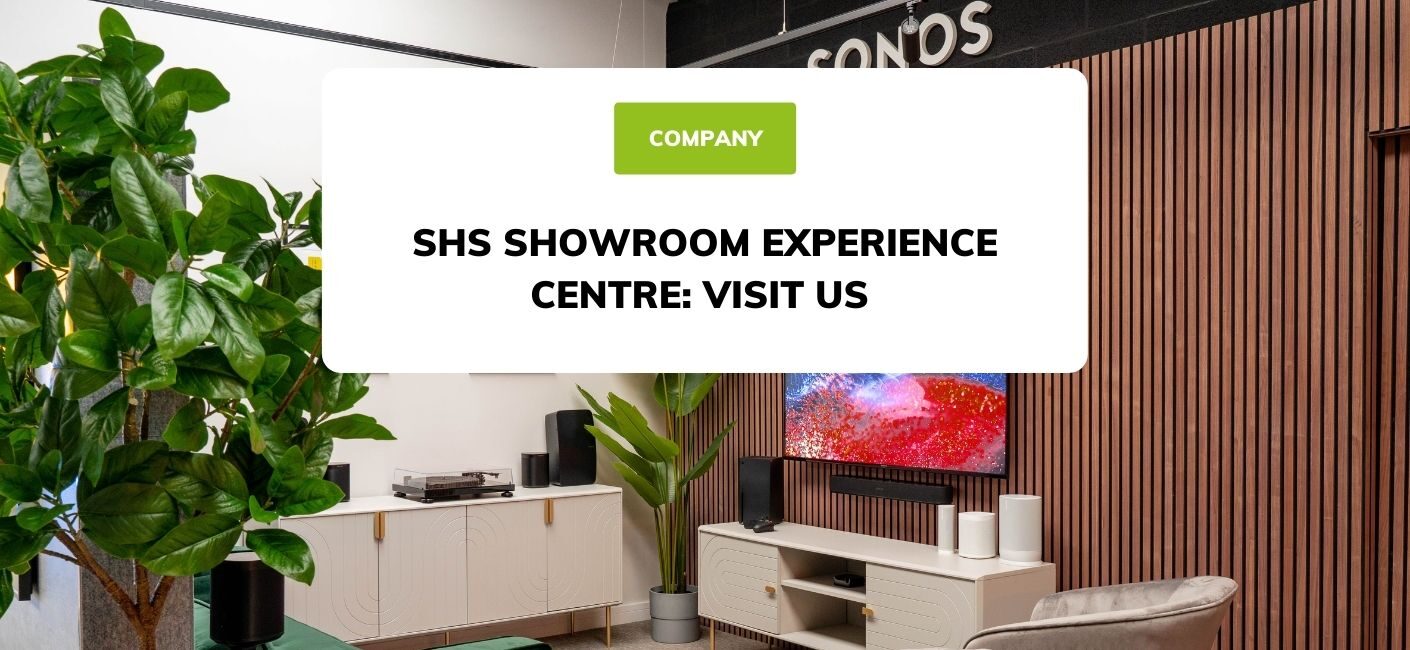 SHS Audio Visual Store - The best place to demo Sonos, Sony, Samsung & more!
Where Online Meets Offline
Book an appointment and visit our brand new Showroom in Gloucester for bespoke, friendly advice on all your Audio Visual & Gaming needs.
Different from your traditional HiFi shop, the SHS showroom has various lifestyle zones to help you demo products in a relaxed, quiet environment as if you're in the comfort of your own home. We have a broad range of brands including Sonos, Sony, Samsung, Nintendo & JBL and products available for you to test. We also have a few added extras including a Racing Simulator and coffee bar.
Our Lifestyle Zones include: Sonos Lounge, Ceiling Speaker Wall, TV Corner, HiFi Zone
SHS Showroom FAQs
Q: Do I need to have an appointment to visit?
A: The SHS Showroom is appointment only so please book in with us here. Alternatively, call us on 0800 677 1100 or email info@smarthomesounds.co.uk and we can help book a slot for you. Please do not arrive at the Showroom until you have received a confirmation email from ourselves as we may not be able to see you at that time.
Q: What products are available to demo at the showroom?
A: We have the full Sonos suite of products available, as well as featured Sony & Samsung TVs, portable speakers, wireless speakers, turntables and HiFi. For a full list of what's available to be demonstrated at the showroom, please click here.
Q: Can I purchase products from the Showroom?
A: Yes, you can pay for your chosen products with debit / credit card or using our 0% finance option and take them away the same day (Subject to availability).
Q: When can I visit the Showroom?
A: The SHS Showroom is open 9am-5pm Tuesday-Friday and 9.30am - 5pm every Saturday.
Q: Is the Showroom wheelchair-accessible?
A: Unfortunately, our showroom is on the first floor and the building has no lift access. Please contact us in advance if you have any accessibility requirements and we will try our best to accommodate.
Q: How long will the demo take?
A: We allocate 1 hour per customer for all showroom visits but this is just a guideline. We try to be as flexible as possible and accommodate you for as much time as you need.
Sonos Lounge

Immerse yourself in your favourite content in our dedicated Sonos lounge. With a Sonos Beam (Gen 2), Sonos Sub (Gen 3) and 2 x Sonos One SL 5.1 setup, this is the perfect zone to decide which Sonos soundbar is right for you and whether it's worth adding a Sonos Sub or Sonos surround sound speakers.
Meet the Sonos Range

You will also find the full range of Sonos speakers in this Zone including the Sonos Roam and Sonos Move portable speakers.

We also have a premium Sonos lounge with a Sonos Arc, Sonos Sub and 2 x One SL setup for those looking to step up in performance and immersion.
TV Corner

Displaying both Sony and Samsung TVs, test the models out with your favourite content to see which TV type you prefer and which screen size would work best in your home.
HiFi Zone

Sit back and relax to some of our favourite vinyl records. Browse at your leisure and test out our different turntable setups. If you're a fan of streaming then jump on our iPad and test out your favourite tracks on our wide range of wireless speakers.
SHS Racing Sim

No Showroom is complete without a racing simulator right? Get behind the wheel of our SHS Sim for a few laps around Silverstone in a Porsche GT4 Club Sport. Compete in our fastest lap Time Trial to see if you can top the SHS leaderboard!
Why Visit us?
Bespoke, Personalised Advice
Our Customer Experience team share a wealth of knowledge and specialise in the products we sell. We are proudly service-led, not commission-led so our staff are simply here to help you find the perfect products for your home. We also offer an extended 30 days return period so if you're not happy then you're welcome to return your product and we'll help you find an alternative.
Lowest Prices Guaranteed
Smart Home Sounds are confident that our prices are extremely competitive and we monitor the market daily to ensure we are offering you the very best deals out there! However, if you do happen to find an item cheaper elsewhere then our Price Match Promise ensures we will match or beat it on a like for like basis. That includes discount codes and bundles! Find out more here.
Speaker Design Service
We recognise that not every project or home is the same! That's why we offer a free speaker design service to help you find the perfect setup for your space. Our customer service advisors have over a decade of experience in installing multi-room systems. If you're designing your own home cinema or home audio setup, bring in your floorplans and we can help mark up your plan and provide a quote (including bulk discount pricing and cost-saving suggestions where possible). Find out more here.
---
Contact Us: