How to Use a Turntable with Sonos
Listen to your treasured vinyl collection throughout your home with your turntable and Sonos speakers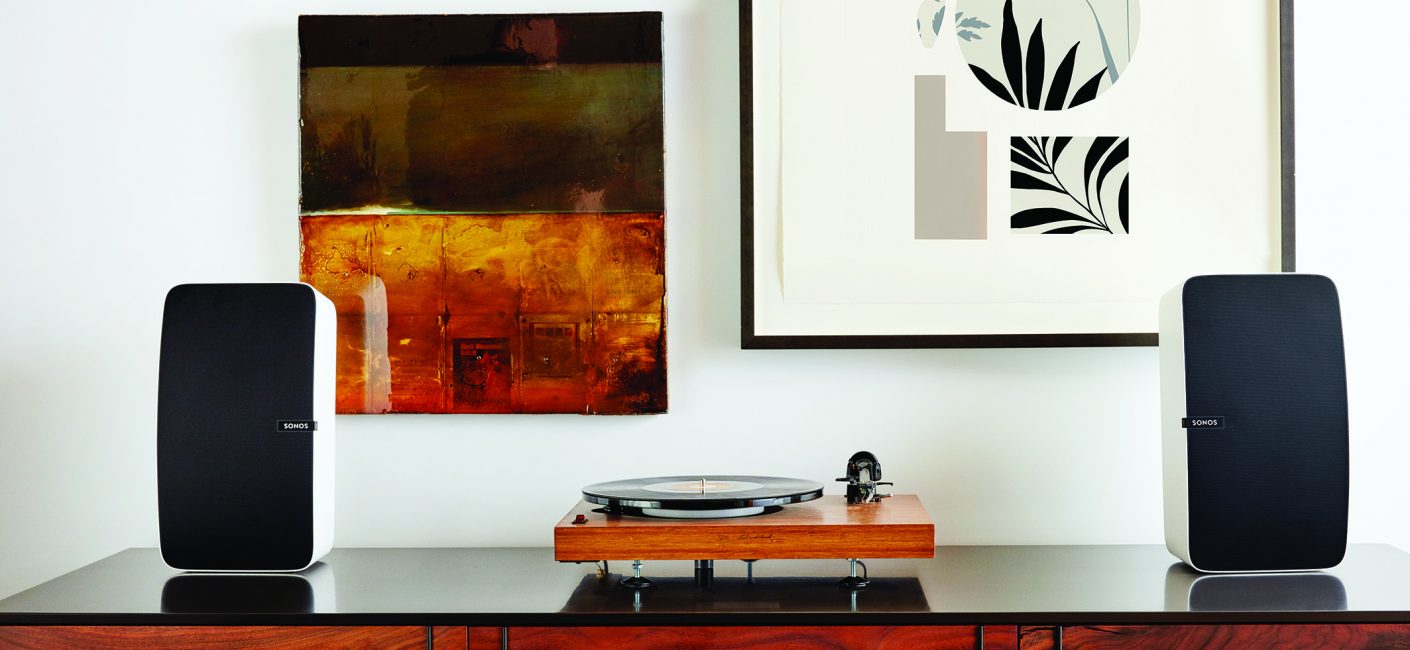 How to Use a Turntable with Sonos
Everything You Need to Know on How to Listen to Your Vinyl In Every Room With Sonos
In a world where everything is digital, we've lost that ability not only to hold but also feel like we own the music we love. Whilst streaming is by far the most popular way to listen to music, physical formats like the CD are fast becoming extinct. 
However, there's a buck in the trend where vinyl is concerned, as beautifully crafted records are thriving in this digital 'new school' world we live in. And it's easy to see why, as there's nothing more satisfying than sliding your record out of its album cover and lowering the needle onto that spinning black vinyl.
Suppose you are already enjoying the convenience and quality of music streaming on Sonos yet wish to enjoy the 'real feel' of music on vinyl. In that case, this blog will show you all that there is to know about using a turntable with your Sonos system. 
What You Will Need to Connect a Turntable to Sonos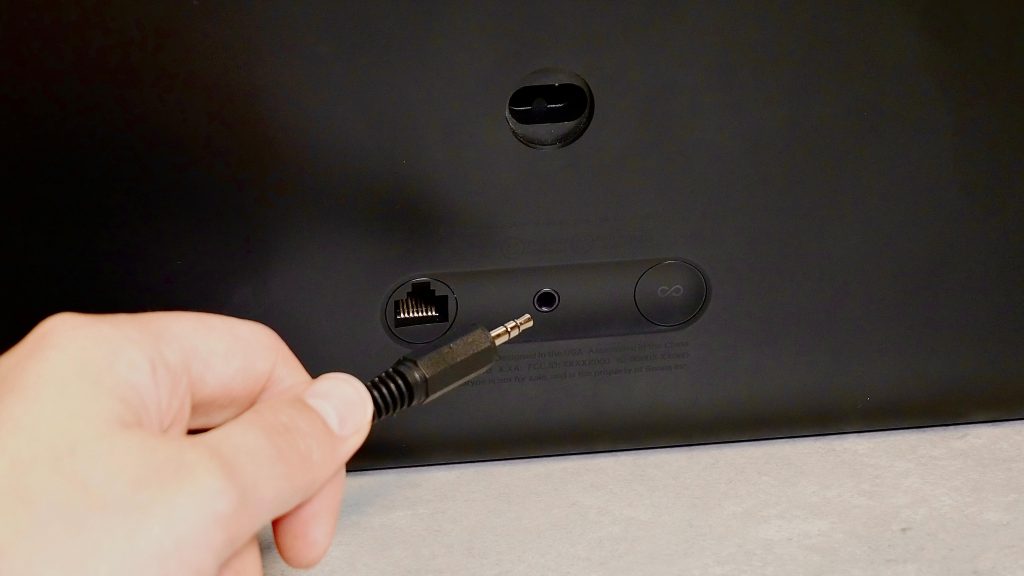 1. A Sonos Device Equipped with a Line-In Connection
To use a turntable with Sonos, you'll need at least one Sonos device equipped with line-in connections, as stated below:
Sonos Five - An all-in-one performance smart speaker and line-in device.
Sonos Port - A gateway for allowing audio in and out of the Sonos system.
Sonos Amp - A Music streamer and amplifier in one, complete with line-in jacks.
Any of the above devices will act as a gateway to allow your analogue turntable to step into a digital world and stream to any Sonos speakers around your home. You can also use the line-in connections of older Sonos components as detailed in the following: 
Sonos Play:5 Gen 1*
Sonos Play:5 Gen 2
Sonos Connect*
Sonos Connect:Amp*
*The Play:5 Gen 1, Connect and Connect:Amp will work with your turntable, but depending on their age, they may not be supported in the latest Sonos S2 app. Your Connect or Connect:Amp may be S2-compatible if they were made from 2016 onwards.
But in the case of all Sonos devices equipped with line-in connections, none of the units stated above - new or old - contain a phono preamp for use with a turntable, which is essential for normal audio reproduction.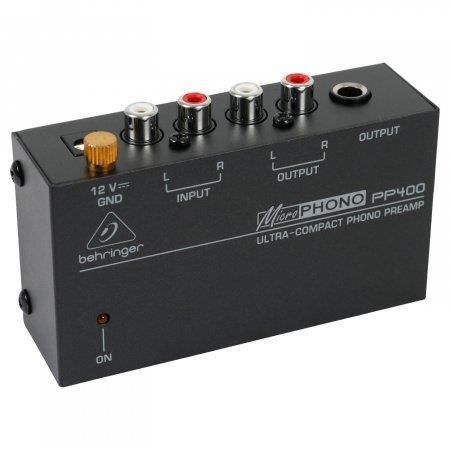 Due to the low signal output of a vinyl record, a preamp elevates the audio signal to normal levels for receiving equipment to process as normal. Many turntables tend to rely on an external preamp unit, such as the simple yet effective Behringer PP400 or the premium Rega Mini Fono A2D. 
However, many new turntables now come complete with integrated preamps instead, allowing you to connect straight to the line-in jacks on your Sonos product and enjoy your record collection more easily. We'll be sure to look at the options later in this article.
2. A Turntable with Line-Out Connections
Almost any turntable will be sure to work just fine with any of the Sonos components listed above. Still, it's always best to ensure that they have regular RCA or 3.5mm audio connections in place (see picture below).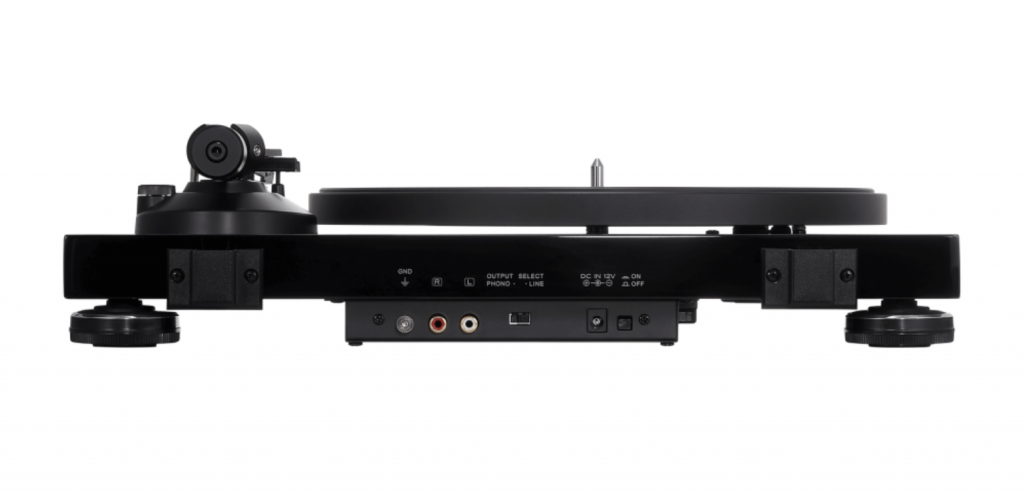 Using Your Existing Turntable With Sonos
If you have an existing turntable and would like to play your vinyl throughout your home on your Sonos system, the first thing we would recommend is to check if your current turntable has a built-in preamp. This will be on your manufacturer's spec list. If it includes a preamp, you can wire directly into any of the above Sonos devices without any other equipment.
If your turntable does not have a preamp built-in, you will need to integrate one for your turntable to work with Sonos, such as the Behringer PP400 we've previously highlighted. It's also worth checking that your turntable has the right connections, as some turntables from component stack systems may feature unique connectors that aren't compatible with other brands of audio equipment.
I Don't Have a Turntable - Which One Should I Consider?
If you're new to turntables or you are just looking for a different option to connect straight to your Sonos system, here are some of our favourite options for your consideration. 
Rega Planar 1 Plus - £345

Smart Home Sounds have chosen the Rega Planar 1 Plus as the number 1 way to play vinyl records with Sonos. We believe the excellent English brand heritage that Rega carries, coupled with their multitude of awards and 5-star customer reviews makes it a natural choice for playing vinyl on Sonos.
Rega turntables in the past have not contained a built-in phono stage, mainly because most users would tend to select their own choice of preamp. But the Planar 1 Plus differs because it comes complete with its integrated preamp circuit. This means all that's required is to connect the Planar 1 Plus directly to the line-in of your choice of Sonos component.
And despite its audiophile pedigree reviews, the Planar 1 Plus is extremely easy to set up. The cartridge is already fitted, aligned and the weight has the ideal preset marked on it. Screw on the counterweight, slip on the platter and you're good to go - it takes just a minute to get going!
Audio-Technica AT-LP60XUSB - Currently £119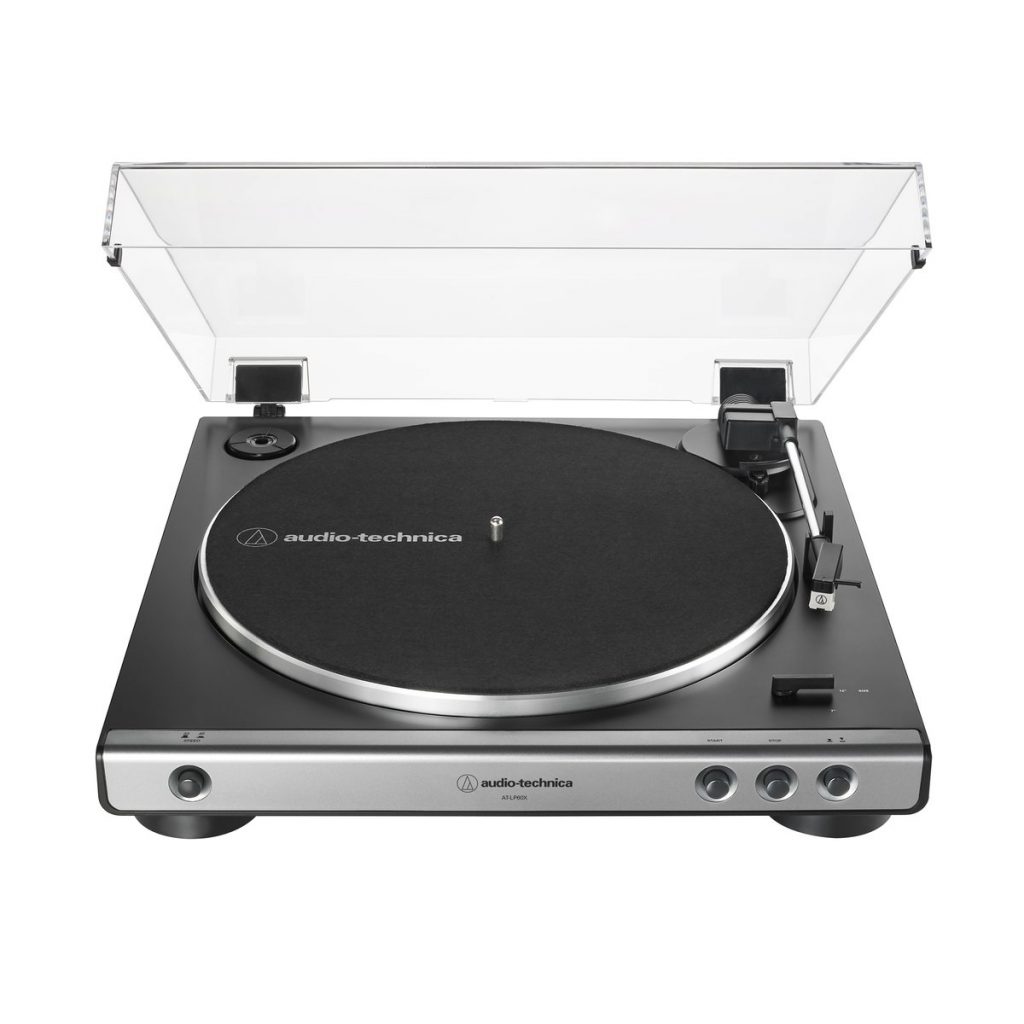 VIEW AUDIO-TECHNICA AT-LP60XUSB
Audio-Technica is one of Japan's most renowned turntable manufacturers. And since their humble beginnings, Audio-Technica has gained worldwide recognition for the quality and performance of their turntables. The AT-LP60XUSB is no exception and is an excellent value for money option worth considering if you're looking for an easy to use option which is already set up and ready to team with your Sonos system.
Featuring fully automatic playback and an internal preamp, the AT-LP60XUSB also sports a USB connection for those who wish to digitise and preserve their record collection on a computer. 
Audio-Technica AT-LPW50PB - £349 

If you're looking for a more premium performer from Audio-Technica, and one which is Sonos-ready, then the AT-LPW50PB guarantees to yield every last detail from your treasured record collection. 
Complete with a carbon-fibre tonearm for superb tracking and anti-resonance properties, along with a motor that monitors its playback speeds for accuracy, the AT-LPW50PB is fully Sonos-ready thanks to its high-quality internal preamp stage. 
Sonos-Ready Turntable Packages
Rega Planar 1 inc. Pre-Amp Bundle - £299
We also sell a Sonos-ready turntable package which contains the Rega Planar 1 (no preamp built-in), separate Behringer PP400 preamp and cables to connect to a Sonos component for £299.00
This package offers you everything you need to start spinning your favourite records around your home on your Sonos speakers. Our Sonos-ready Planar 1 package eliminates the need for our customers to purchase any other items to get up and running.
As the regular Rega Planar 1 doesn't have a phono stage built-in, we include a good quality Behringer PP400 preamp, and as most purists agree, the sound from the turntable is better when a phono stage is used. Likewise, if you're new to vinyl and are looking for a complete vinyl and Sonos ready solution, the Rega Planar 1 Plus & Sonos Five Bundle at £819.00 could be of interest too.
Connecting and Using Your Turntable with Sonos 
With your chosen turntable ready to work with your Sonos device, here's how to establish a connection between them. 
Sonos Port and Amp - Both the Sonos Port and Sonos Amp use conventional RCA-style connections. Most turntables tend to use these types of plugs, too, meaning you can connect straight to the Sonos Port or Amp's matching connectors. However, if using a turntable without a preamp, you'll need to connect the turntable's output into the preamp, from which you can then wire to the Port or Amp. 
Sonos Five - The line-in connection on the Sonos Five uses a 3.5mm audio input instead of RCA connections. In this case, you'll need an RCA to 3.5mm cable for connecting between the turntable and the speaker, sometimes known as a 'Y' cable. 
Playing Vinyl on Sonos
With your turntable connected to your chosen Sonos component, here's how to hear the audio on your Sonos system. 
Open the Sonos app and select the System tab.
Select the Room/s or device you'd like to hear your vinyl through.
Head to the Browse section and select Line In. 
Group to as many other Sonos speakers you like.
Start your turntable and lower the needle onto the record. 
Sit back, relax and enjoy the warm sound of vinyl on your Sonos system.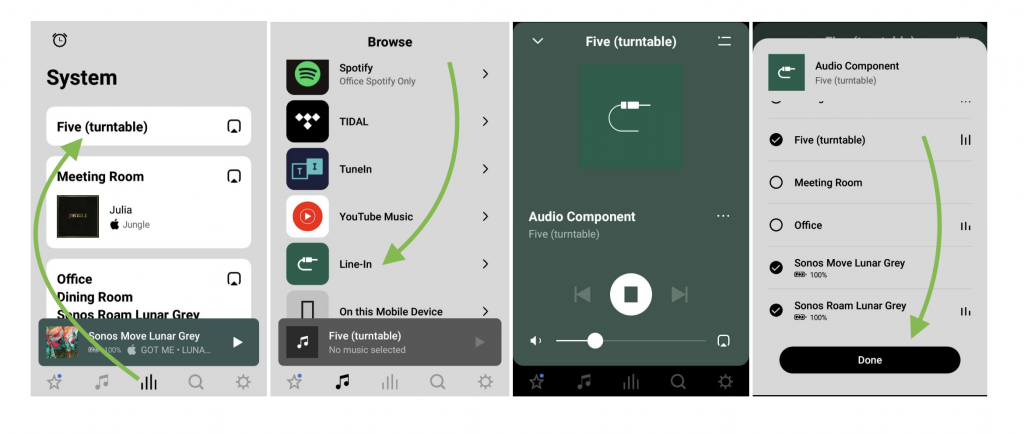 You can also share the audio with any Sonos devices and speakers in your system, even those without a line-in input, by grouping to your chosen rooms or Sonos devices. For example, if you have your turntable wired into your Five in the study, the turntable output can then be made available on your Sonos One Gen 2 in the bedroom or your Sonos Arc in the lounge.
Do Bluetooth Turntables Work with Sonos?
Most Sonos speakers are designed to work on WiFi only, and so they are not directly compatible with turntables using Bluetooth audio. But to turn things on their head, Sonos' portable speakers like the premium Sonos Move and the new compact Sonos Roam make use of both WiFi and Bluetooth audio streaming. 
Whilst both the Move and Roam will receive turntable audio via a Sonos device equipped with line-in connections, each speaker will also be able to stream audio directly from a turntable that supports Bluetooth audio, such as the Sony PS-LX310BT or Audio-Technica AT-LP60XBT. 
As an added bonus of functionality, the Sonos Roam remains visible in the Sonos app when running in Bluetooth mode. This means that the Roam allows you to group incoming audio from your Bluetooth turntable with any Sonos speakers in your system, making for a more cost-effective solution than a Sonos device with a dedicated line-in connection, like the Port or Five.
Top Tips for Vinyl on Sonos
Even though enjoying vinyl on Sonos is mainly straightforward and easy to set up, we have some great hints and tips on getting every last drop of performance potential from your system. 
1. Adjust the Line-In Level
The Line-in connection on Sonos devices is designed to work with various audio sources, from CD players to turntables and more! However, each source tends to have varying input levels, and so the Line-In Level control allows you to optimise the volume of incoming audio from your turntable. 
Here's how to set the level just right: 
Open the Sonos app and select Settings

Choose System and then the room with your line-in device

Select Line-In Level and adjust to at least eight or more
2. Reduce Line-In Delay 
Due to the way the line-in works, Sonos creates a delay between the needle dropping onto the vinyl and the resulting sound at the speaker - which can prove a little annoying*. 
To reduce line-in latency, follow these instructions: 
Find the Sonos app and open Settings.

Choose System, then the room name you've got for your Sonos product with a line in.

Scroll down and select Audio Delay. Set this to the lowest value - the minimum you can have is 75ms which is nearly unnoticeable.
*The steps above will help you to minimise the line-in delay as much as possible. Still, we don't recommend Sonos if you're looking to use the system with DJ decks because the line-in delay cannot be overcome entirely, meaning any live actions performed will encounter a distracting audio delay through the speakers.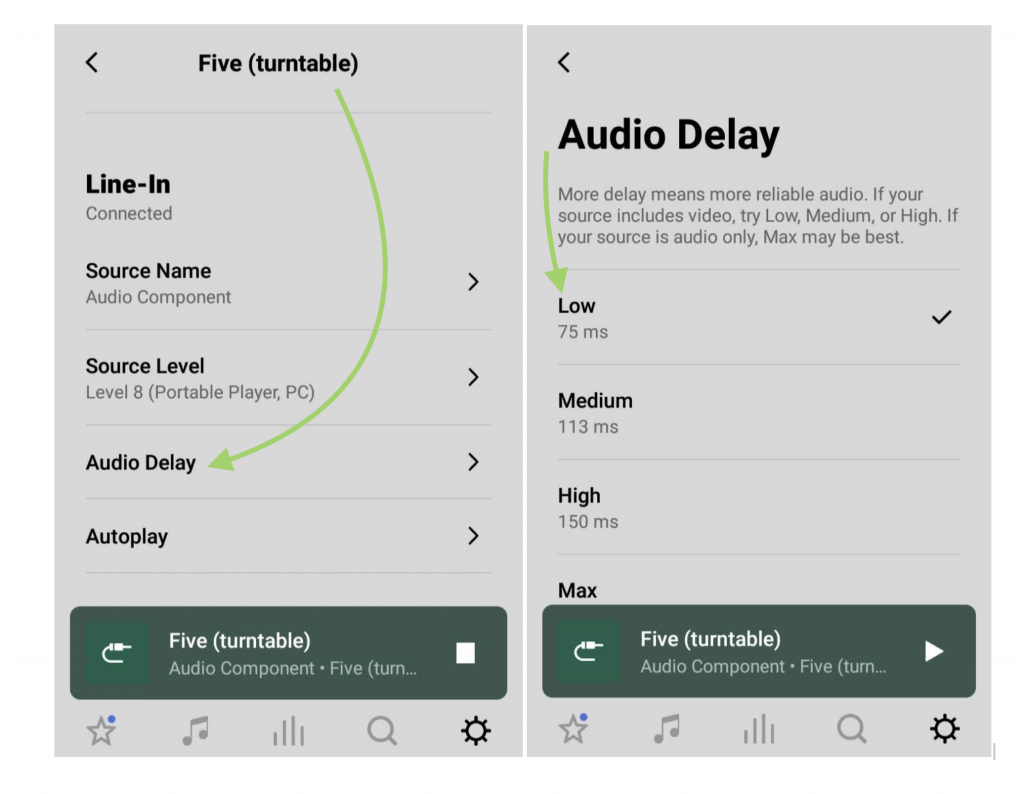 3. Enable Autoplay
This handy feature detects any incoming audio at the line-in connection and plays it back through your Sonos speakers automatically, making for less hassle when manually opening the Sonos app. Autoplay also works when an existing audio stream is playing and automatically switches to the line-in source when incoming audio is detected. 
To enable AutoPlay, try the following steps: 
Open the Sonos app and select Settings.

Choose System and then the room with your line-in device

Scroll down and choose Autoplay - configure the available options to your preferences.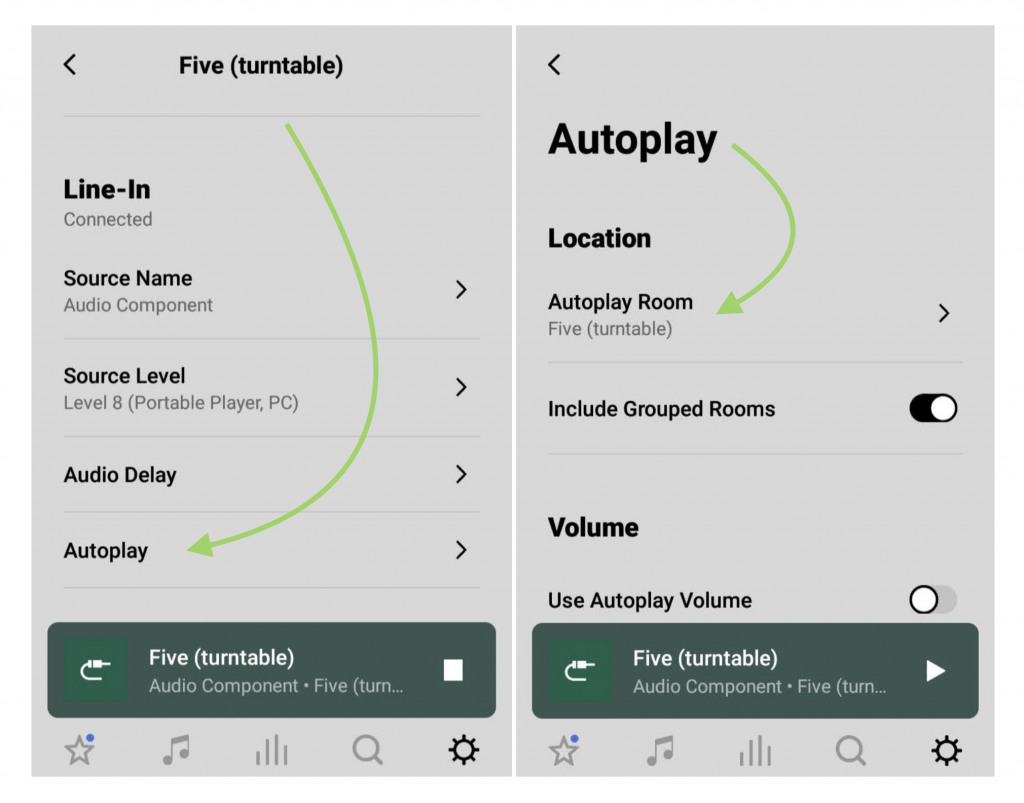 In Summary
That's all there is to it, just a Sonos device with a line-in and a turntable. And with those in place, you'll be able to enjoy the magic of vinyl on Sonos. But if you're still unsure or would like to know more, why not check out Lui's video - on our YouTube channel for further hints and tips? 
Got any questions about playing vinyl with Sonos? We're on hand to help. Contact us today to speak to one of our friendly advisors, who will be happy to help with all things Sonos and vinyl-related.