Can I Play my TV Audio through my Sonos System?
What options do I have to play TV audio through my Sonos system?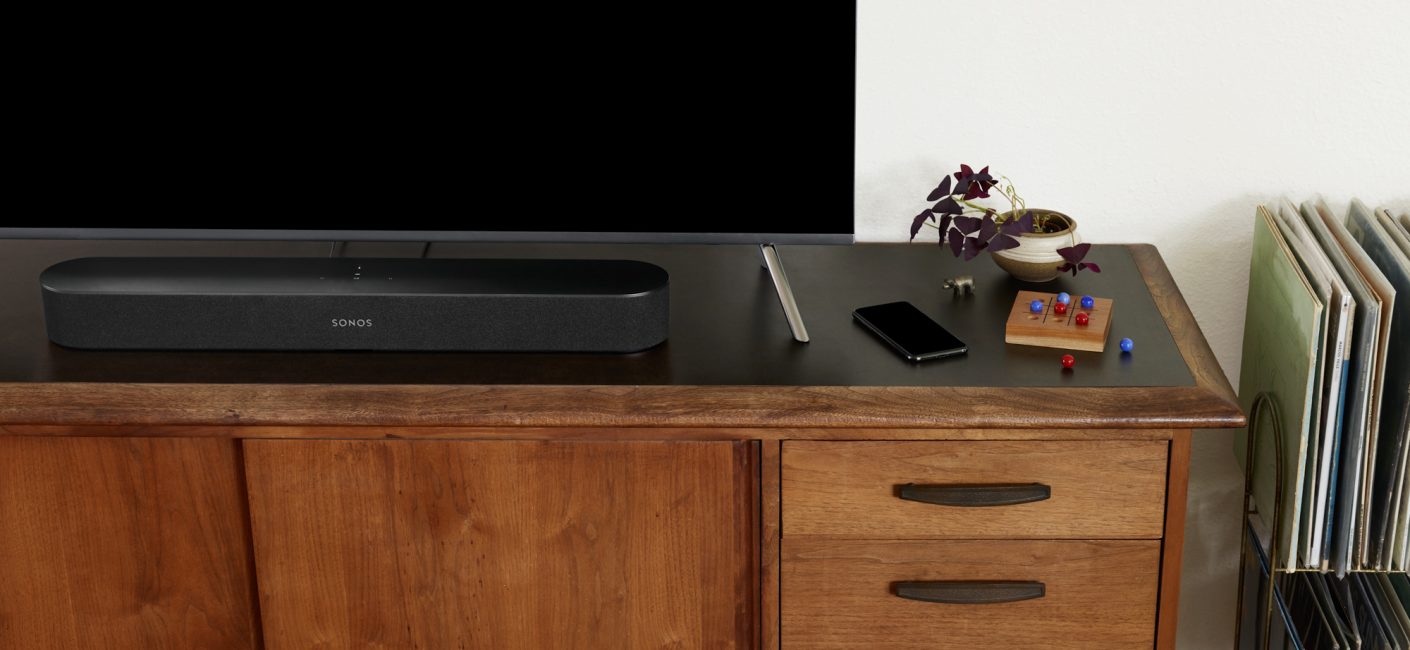 The Best Sonos Options For Your TV Audio
As well as enjoying your favourite music on your Sonos speaker, it is also possible to play your TV audio through Sonos smart speakers.
Smart Home Sounds recommend connecting your TV to the Sonos Beam or Sonos Arc soundbar for the best possible experience.
These Sonos TV speakers are specifically designed for this application and will provide highly detailed, richly textured TV audio while also giving the opportunity to stream your favourite music streaming service to them.
The Sonos Beam or Arc connect to your TV using a single HDMI-ARC cable and power cord and plays everything that is connected to your TV, from Sky boxes to gaming consoles. No need to connect your Sonos soundbar to anything other than your TV.
When setting up your Sonos soundbar, we recommend enabling a function called Autoplay. With this enabled every time you turn on your TV, your Sonos speaker will automatically select the TV audio as the output.
The Beam & Arc can also use your existing TV or Sky / Virgin remote to turn the speaker volume up or down. With Autoplay enabled and your existing remote set up to control volume, these Sonos soundbars become a joy to use daily for all the family.
If you would like to see a comparison of the Sonos Beam vs the Arc, check out our dedicated blog.
Is There Another Sonos TV audio solution?
It is also possible to use a Sonos Five, Sonos Amp or Sonos Port to play your TV audio.
All of these devices have a built-in line-in input that you can connect to your TV. Once this cable is connected, you will be able to select the line-in feed from your TV as an option on your Sonos controller.
The Sonos Five is a traditional wireless speaker, built mainly for music listening with the option of a 3.5mm jack that can be connected to the headphone port on the TV.
If you choose the Sonos Amp, you will need separate hard-wired speakers for audio to play. Why not consider built-in in-wall or in-ceiling speakers from the Sonos Architectural range for a truly aesthetic solution?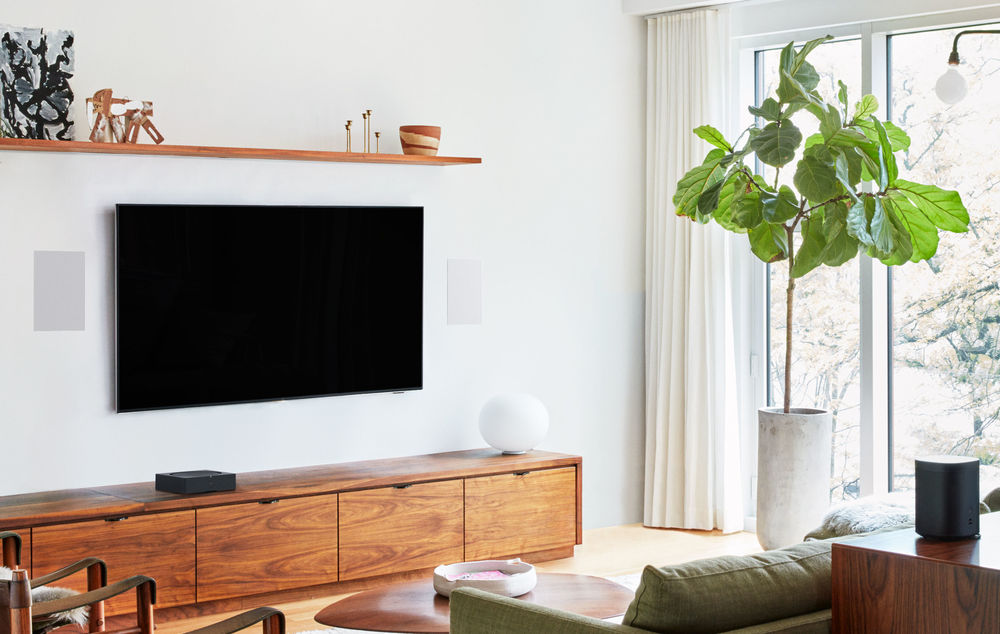 If you choose the Sonos Port, it would need to be used in conjunction with both your own separate amplifier and speakers.
How to get the most out of your Sonos line-in >>
Limitations of not using a Sonos Beam or Arc
As the above mentioned products are not built for TV audio, you may not benefit from the same level of sound quality that you would from the Sonos Beam or Arc soundbar.
In addition to this, in some cases, it may even result in a more costly install for a worse experience. Consider whether a soundbar would be suitable for the room and your personal taste first, and if not, the next best option would be to use the Sonos Amp powering your own speakers, if you would still like to benefit from the Sonos ecosystem.
Can I play TV audio through my Sonos One or One SL?
Unfortunately, it's not possible to connect the Sonos One directly to the TV as it has no ports on the speaker itself.
However, the Sonos One and One SLs make great surround speakers to a Sonos Beam, Arc or Amp.
Did You Know?
Once you have your TV audio connected to a Sonos device, it is then possible to play that TV audio on any Sonos smart speaker throughout your home such as the Sonos One.
For example, if you were watching MTV in the lounge and listening via a Sonos Beam, you would then be able to listen to the audio of MTV on your Sonos One in the bedroom.
Build A Wireless Sonos Home cinema surround sound system
Another great feature of a Sonos TV speaker is the flexibility to build your own wireless surround sound system at your pace.
With a Beam or Arc connected to your TV, users can then add 2 x Sonos One SL speakers or 2 x Sonos One (Gen 2) speakers to create a wireless surround sound stage or add up to 2 Sonos Subs to give powerful, detailed bass to your music and movies.
With a Sub added to your set-up, You will hear every explosion, crash and rumble exactly as the director intended.
Or for a full wireless 5.1 surround sound set-up, add both a Sub & 2 x One or One SL speakers as rears to your Beam or Arc.
If you have any questions about using Sonos with your TV or would like to know more, feel free to get in contact with one of our friendly specialists.
Quick Links
Sonos Arc (Dolby Atmos) - £799
ABOUT SMART HOME SOUNDS
Smart Home Sounds is a UK Sonos specialist dedicated to filling homes with the joy of music, one room at a time!
We provide expert advice on the full Sonos range, from the voice controlled Sonos One to a Sonos wireless home cinema system with PLAYBAR, SUB, and 2 x PLAY:1s all with free next day delivery and a 6 year extended warranty.