Can I Play my TV Audio through my Sonos System?
What options do I have to play TV audio through my Sonos system?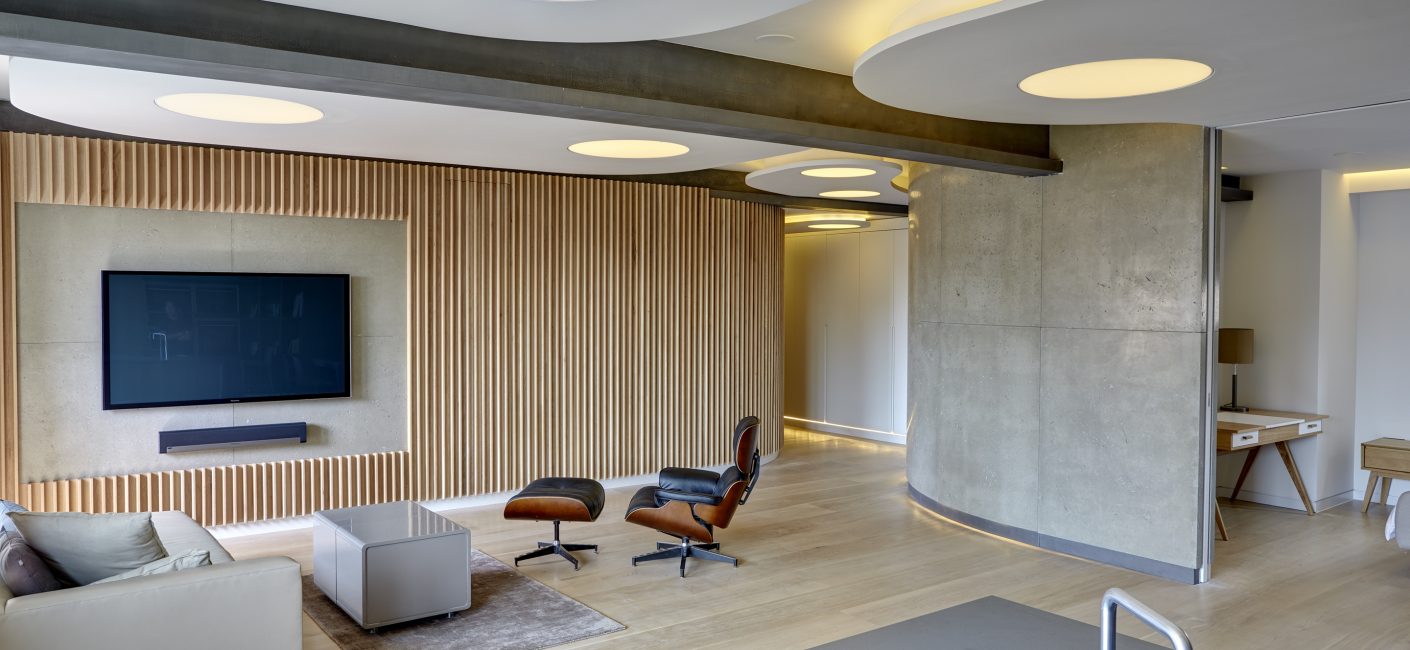 The Best Sonos Option For Your TV Audio
It is possible to play your TV audio through Sonos smart speakers. Smart Home Sounds recommend connecting your TV to the Sonos PLAYBAR, PLAYBASE or new for 2018, Sonos Beam for the best possible experience. The Sonos TV speakers are specifically designed for this application and will provide highly detailed, richly textured TV audio.
The Sonos PLAYBAR or PLAYBASE connects to your TV using a single optical cable and power cord and plays everything that is connected to your TV, from SKY boxes to gaming consoles.
When setting up the PLAYBAR or PLAYBASE we recommend enabling a function called Autoplay. With this enabled every time you turn on your TV, your Sonos speaker will automatically select the TV audio as the output.
An example of this would be if one user was listening to a Radio station on the PLAYBAR, then turned the audio off and left the room, the next user who entered the room and switched the TV on, the PLAYBAR would automatically switch to TV audio from the radio to allow a seamless listening experience.
The PLAYBAR & PLAYBASE can also use your existing TV or Sky / Virgin remote to turn the speaker volume up or down. With Autoplay enabled and your existing remote set up to control volume, the PLAYBAR or PLAYBASE becomes a joy to use daily for all the family.
If you would like to know more about the PLAYBAR and PLAYBASE please read our Vs blog here.

New for July 2018, meet Sonos beam
From July 2018, the Sonos Beam is the newest Sonos solution to TV audio. At just £399, it is almost half the price of a PLAYBAR or PLAYBASE and slim enough to fit in to almost any TV set up while still preserving the sound quality Sonos is renowned for.
With Amazon Alexa voice control built-in, you can use Alexa to turn on/off the TV, volume up and down and much more, completely hands-free.
AirPlay 2 integration also lets you stream anything from your Apple device straight to the Beam in a single tap. Using an HDMI-ARC connection to your TV, it is extremely simple to set up and will completely transform the way you have listened to TV audio in the past.
Read our exclusive first look at the new Sonos Beam here.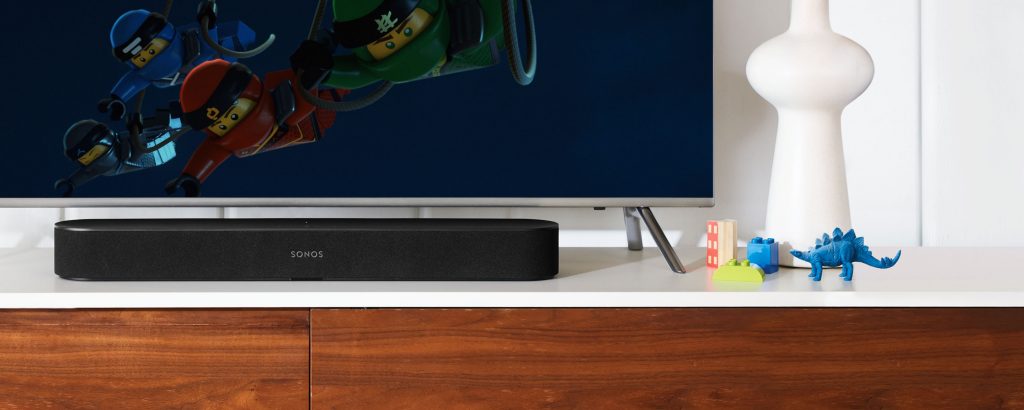 Is There Another Sonos TV audio solution?
It is also possible to use a Sonos PLAY:5, Sonos CONNECT or CONNECT:AMP to play your TV audio. All these devices have a built-in line-in input that you can connect to your TV. Once this cable is connected, you will be able to select the line-in feed from your TV as an option on your Sonos controller.
You will need speakers connected to your CONNECT:AMP for audio to play and if you choose the Sonos CONNECT, it would need to be used in conjunction with an amplifier and speakers.
Limitations of not using a playbar, playbase or beam
One of the great features of using a Sonos TV speaker is the ability to pair your existing TV remote to the PLAYBAR or PLAYBASE to control the volume. If you decide to use one of the above mentioned line-in products, volume control will be restricted to the Sonos app only and TV audio will not be replicated as well as the PLAYBAR or PLAYBASE.
It also not possible to expand any of these options to a full 5.1 home cinema experience like is possible with the PLAYBAR or PLAYBASE.
Did You Know?
Once you have your TV audio connected to a Sonos device, it is then possible to play that TV audio on any Sonos smart speaker throughout your home.
For example, if you were watching MTV in the lounge and listening via a Beam, you would then be able to listen to the audio of MTV on your PLAY:1 in the bedroom.
Build A Wireless Sonos Home cinema surround sound system
Another great feature of a Sonos TV speaker is the flexibility to build your own wireless surround sound system at your pace. With a PLAYBAR, PLAYBASE or Beam connected to your TV, users can then add 2 x Sonos PLAY speakers to create a wireless surround sound stage or add Sonos SUB to give powerful, detailed bass to your music & movies.
With SUB added to your set-up, You will hear every explosion, crash and rumble exactly as the director intended. Or for a full wireless 5.1 surround sound set-up, add SUB & 2 x PLAY speakers to your PLAYBAR, PLAYBASE or Beam.
Find out how easy it is to create your own wireless surround sound system.
If you have any questions about using Sonos with your TV or would like to know more, feel free to get in contact with one of our friendly specialists.
ABOUT SMART HOME SOUNDS
Smart Home Sounds is a UK Sonos specialist dedicated to filling homes with the joy of music, one room at a time!
We provide expert advice on the full Sonos range, from the voice controlled Sonos One to a Sonos wireless home cinema system with PLAYBAR, SUB, and 2 x PLAY:1s all with free next day delivery and a 6 year extended warranty.