Sonos Voice launched in the UK: Why you should use it
Curious about the new Sonos Voice Control? We test it out on our system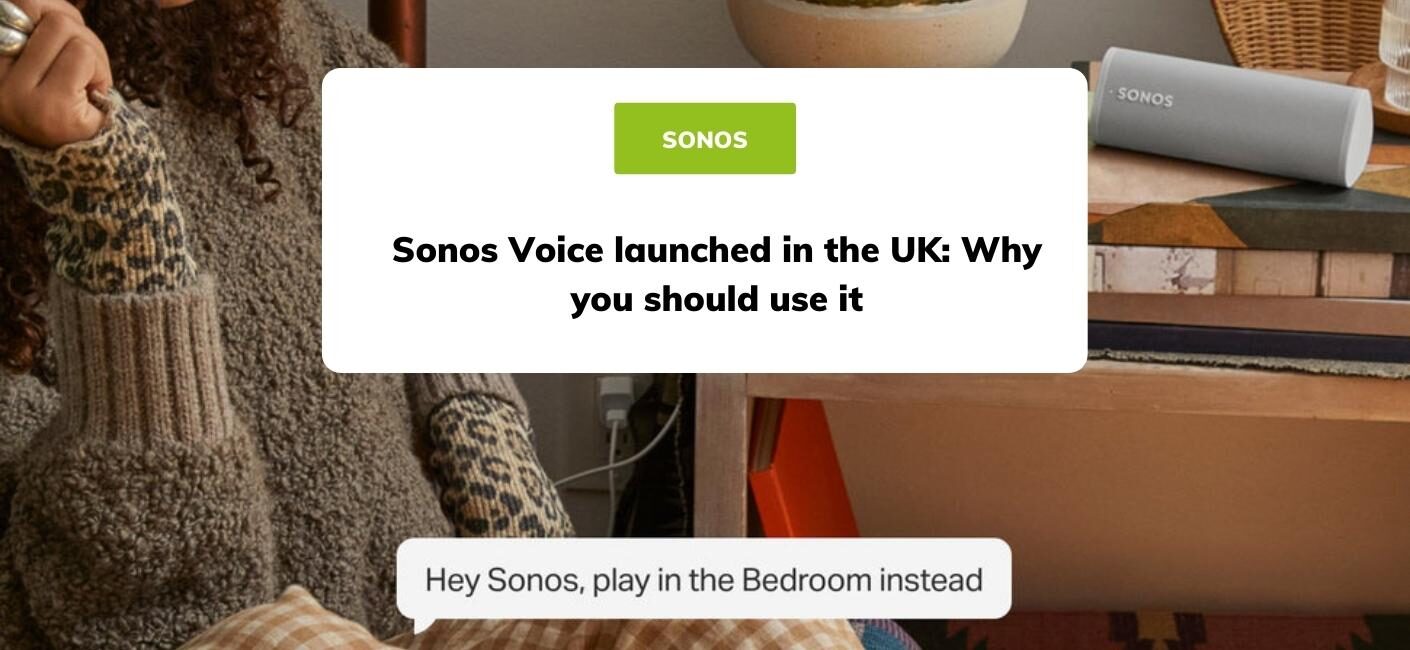 We test out the new Sonos Voice Control
It's official, as of the beginning of June Sonos has announced and rolled out their new voice assistant technology, aptly called Sonos Voice Control. You might be familiar with using Alexa or Google Assistant on your Sonos speakers to change what you're listening to, rearrange speaker groupings or even just check the time - but why should you move over to Sonos Voice? 
Developed after Sonos' 2019 acquisition of the privacy-oriented voice assistant Snips, they've since evolved and tweaked their virtual assistant to make it practical for a Sonos multi-room system. 
We've spent the last few days testing out Sonos Voice Control here in the SHS offices on our trusty Sonos Beam Gen 2 so that you don't have to. Here's what we found:
'Hey Sonos'

Much like Google's 'Hey Google', Sonos have favoured a simple 'Hey Sonos' as their voice assistant's wake word. You'll need to prefix every command with this, but if you're giving the speaker multiple commands in a row you can get away with going straight into the command providing there hasn't been too large of a gap since your last one. 

Sonos Voice has also been developed to decipher more general commands in keeping with how we naturally speak to each other, such as being able to understand "turn it up" as opposed to "increase the volume".

Less Chat

Sonos have removed responses such as chimes or confirmations from their voice assistant interface, meaning if you ask 'Hey Sonos play …' you won't need to wait for the system to confirm before your chosen track, playlist or station starts playing. This makes response times even quicker than we're used to seeing from voice assistants and puts the focus back on the music itself.   

Music First

Music is at the heart of Sonos Voice control, and the system isn't designed to compete with Google and Amazon in terms of full digital assistance. You're able to use both Amazon Alexa and Sonos Voice concurrently on one Sonos device if you wish, passing Sonos the reigns for music commands and leaving Alexa to pick up the slack where normal assistance is required, such as checking on tomorrow's forecast or keeping up with the day's headlines. At the time of writing, it's not currently possible to use Google Assistant at the same time as Sonos Voice.

Better Call Sonos

As Breaking Bad fans we loved the celebrity cameo from Giancarlo Esposito who lent his voice to Sonos' AI. He is of course best known for his role as Gus Fring in the iconic AMC crime drama series. It makes for a nice change from the clean, if slightly robotic, voices favoured by Amazon and Google. More voices are promised to be released going forward as well, so we eagerly anticipate the next A List voice Sonos are looking to bring into our living rooms. 

Even more privacy?

One of the big selling points of Sonos Voice control is that it's a privacy led AI system. We often come into contact with customers who have reservations about using a speaker with a built-in microphone with Alexa or Google, but Sonos has made great efforts to put users' minds at rest. 

Sonos have also developed their voice assistant service so that commands are processed natively on the device you run your Sonos App on meaning this isn't beamed up to Sonos servers in the cloud. This makes the system's response times even faster without compromising the privacy of the service you receive.

Made for Multi-Room

Sonos Voice control is fast. The system has been tailored specifically to the needs of a Sonos multi-room system and is able to move the audio from one device to another in a matter of seconds. More intuitive voice commands are also possible, such as telling your speaker to play something everywhere, rather than having to outline audio zones as you would with Alexa or Google.

Select Streaming Services at launch

One thing to bear in mind is that currently only Apple Music, Amazon Music, Pandora, Deezer and Sonos Radio can be used with Sonos Voice Control in the UK. We expect this to change quite quickly with other services being announced in the coming months, but it's something worth noting especially if you rely on other streaming services to play music. 

Can be used to control voiceless Sonos speakers

You'll need at least one of Sonos' voice-enabled smart speakers to give commands to, as naturally, a speaker can only pick up your commands if it has a microphone inbuilt. 

Providing you're sat within reach of the voice-enabled Sonos speaker's microphone you'll still be able to give commands meant for other non voice-enabled speakers, meaning the whole Sonos ecosystem can be controlled using Sonos Voice Control.
How do I set up Sonos Voice Control?
It's really easy to set up Sonos Voice with your Sonos system. Unlike Amazon Alexa or Google Assistant, you won't need to create a separate account before integrating Sonos Voice Control with your system. You simply need to select 'Add Sonos Voice' in the Settings tab, choose which Sonos speakers you want to add Voice to and select your preferred music source.
Both the Sonos App and Sonos Voice Control can be used on either iOS or Android.
What speakers can be used with Sonos Voice Control?
Your entire Sonos system can be controlled using Sonos Voice, but you'll need at least one Sonos speaker with a microphone array inbuilt to pick up your commands. Sonos Voice Control is only available on Sonos S2, so your Sonos products will need to be S2 compatible to make use of this tech. Here are the Sonos speakers with a microphone-array built-in that can be used as the gateway to your Sonos Voice Control system:
| | | | | |
| --- | --- | --- | --- | --- |
| | | | | |
| Sonos Roam | Sonos Move | Sonos Beam Gen 2 & Gen 1 | Sonos Arc | Sonos One Gen 2 & Gen 1 |
For more information about the Sonos Ecosystem please read our Complete Beginners Guide to Sonos.
If you wanted any further help building your Sonos System, or had other questions about any of the products we sell, please get in touch: