Will Sonos be the Best AirPlay 2 Speakers on the Market?
Multi-room audio capabilities of Sonos speakers combined with Airplay 2 support could be the future of how you listen to music.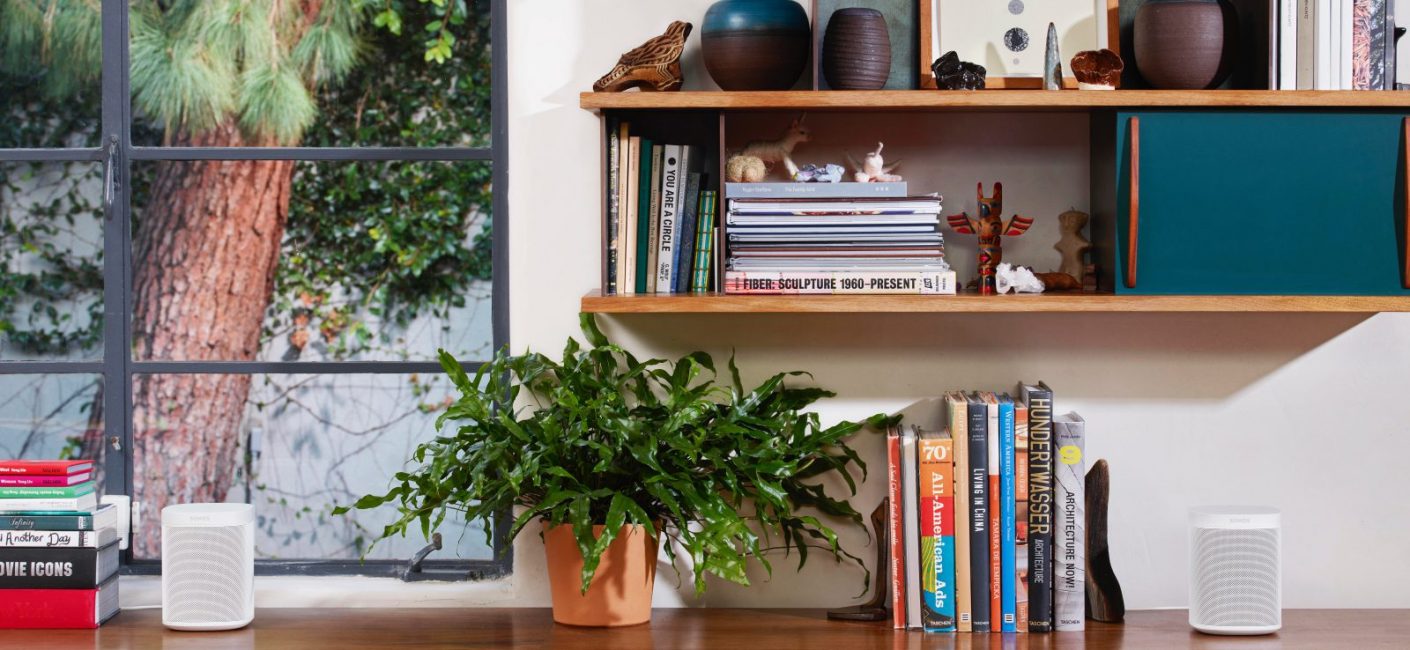 Sonos & Airplay 2
In the market for a new wireless smart speaker but waiting to see what speakers will support the multiroom functionality of Airplay 2? Wait no more as Sonos has confirmed Airplay 2 support is coming later this year to a selection of its newer speakers via a free software update. This includes the Sonos One, Playbase, Play:5 Gen 2 and the Sonos Beam. Why will it not be available on its older speakers such as Play:1, Play:3 or Playbar you might ask? Here's a quote from Sonos on this topic:
"Like with laptops and mobile phones, sophisticated new features sometimes require new hardware. For example, adding voice control to the Sonos system required us to build a microphone into Sonos One. AirPlay 2 works in a similar way. The computing platforms and software architecture in some of the older Sonos players like Play:3 and Play:1 simply don't have the horsepower to support AirPlay 2. The original Play:1, for example, has about 1/16th the processing power of its modern equivalent, the Sonos One. But by taking advantage of newer Sonos hardware, we're able to make AirPlay 2 content available throughout the house on speakers old and new."
While this feature is on the way, current Sonos users already benefit from patented, drop-out free multi-room music capabilities along with access to the largest selection of music services and radio stations supported by any smart speaker. Voice control is currently supported by Amazon Alexa, and with Google Assistant support coming later this year, Sonos continues to offer its users an unbeatable feature list. But if you're a newbie to Sonos, let's first explore "Why Sonos?" 
 Sonos, The Multi-Room Specialists
Sonos have been pioneering the concept of multi-room audio since its foundation in 2002. They conducted multiple studies where they tested the effects of music listened to privately, such as through headphones vs music listened to out loud communally. The results were astounding. They found that music listened to out loud through a speaker brought families closer together, increased fun, made food taste tastier and many more! Sonos also challenged the idea of only listening to music in one room at a time. As our lives get busier and busier amongst the frantic nature of staying at home, it's less likely that we'll stay in one room for a long time. By investing in Sonos speakers around your home, each speaker is visible in the Sonos app as its respective room name and music can be grouped to multiple speakers at the same time, or different music can be played in different rooms.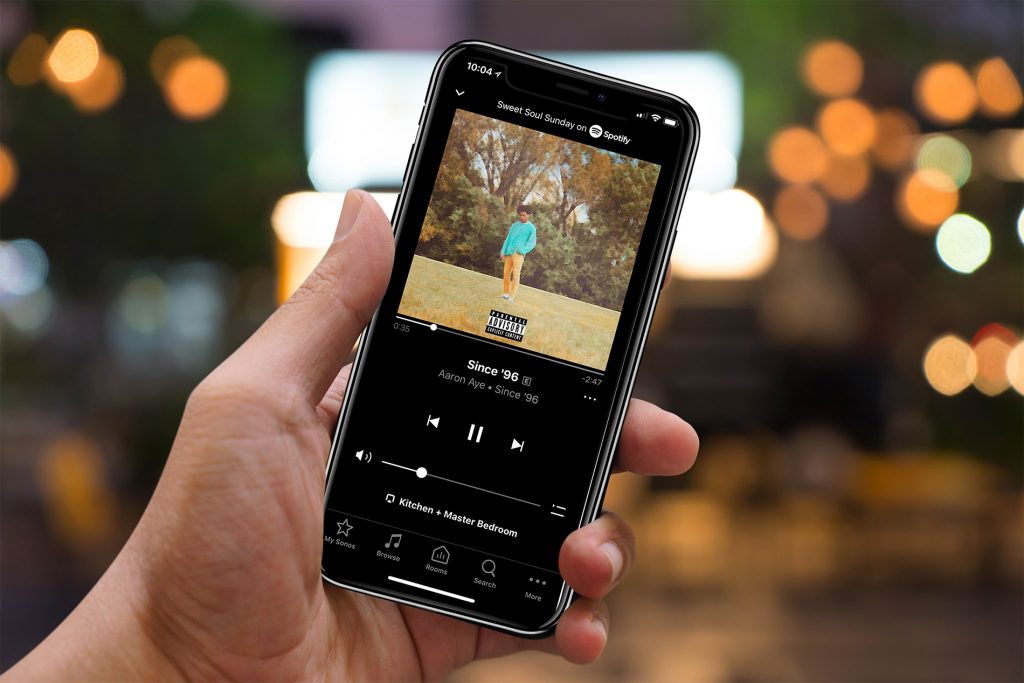 After powering up the Sonos speaker, each speaker then connects wirelessly to your home WiFi, much like how your other home devices connect to your WiFi. This results in a rock-stable connection with no audio drop-outs when your phone rings, unlimited range and no effect on your battery life in contrast to Bluetooth devices. Assign each speaker a room name and play music from a wide range of sources such as your paid music streaming service account, free internet radio stations or any music stored on your device. You can even stream audiobooks through Audible. Then feel free to group or split the audio at your leisure across as many or as few rooms as you like.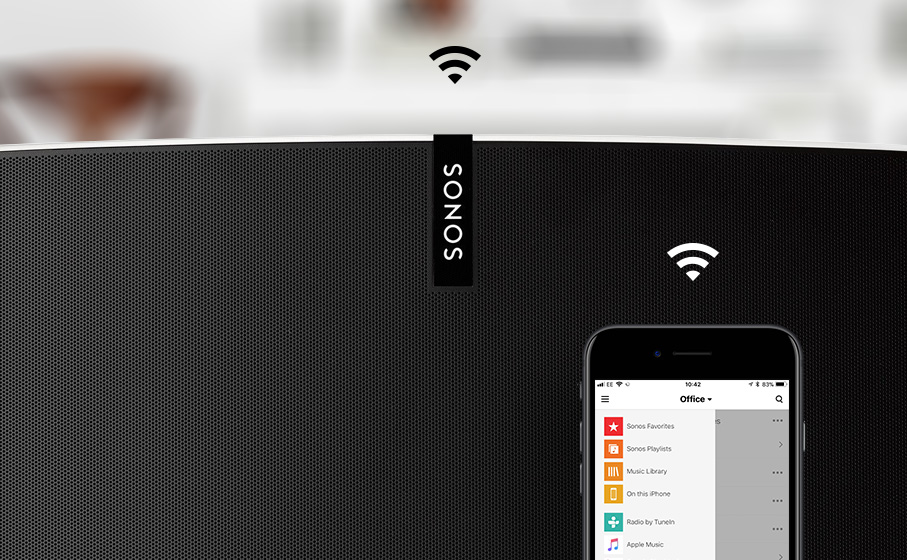 If you are starting out in Sonos, the most affordable speaker of the range is the Play:1 at just £149. The most compact speaker of the range certainly does not disappoint in sound quality. One of the biggest downfalls in smaller speakers is poor sound quality. The sound quality you receive from this size and price point is remarkable, backed up by its thousands of 5-star customer reviews. Being a versatile speaker, you can place it anywhere you want music and is ideal for casual listening, getting used to the Sonos app and how it works. Go for a stereo pair if you want a more significant stereo separation effect. Our room choices would easily be an office or kitchen.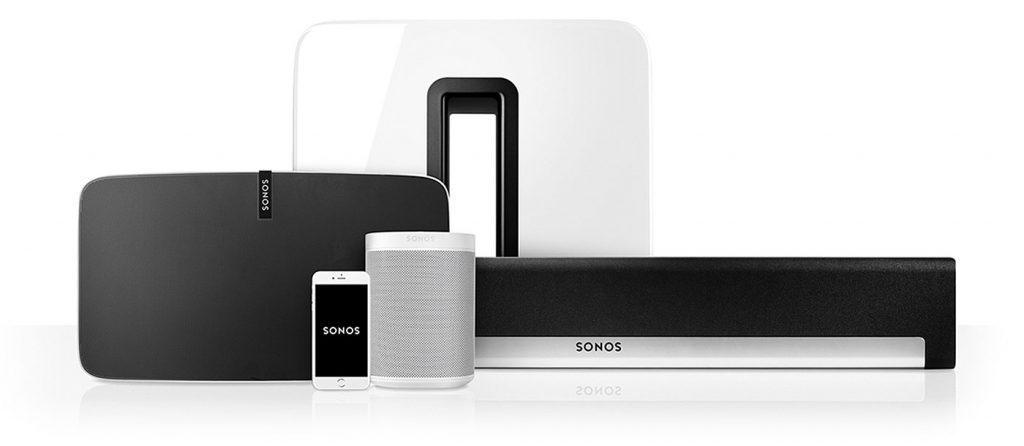 If you're interested in your speaker doubling up as a home assistant, the recently released Sonos One contains an open voice platform complete with Amazon Alexa voice support. Start your favourite tunes with the sound of your voice or ask it anything you like. Voice control makes the experience even more seamless, and it doesn't take long to fall in love with this feature. 
If you want something for your TV, then have a look at the new Sonos Beam with AirPlay 2 built in. It also has Amazon Alexa built in making it the ultimate smart soundbar for your TV.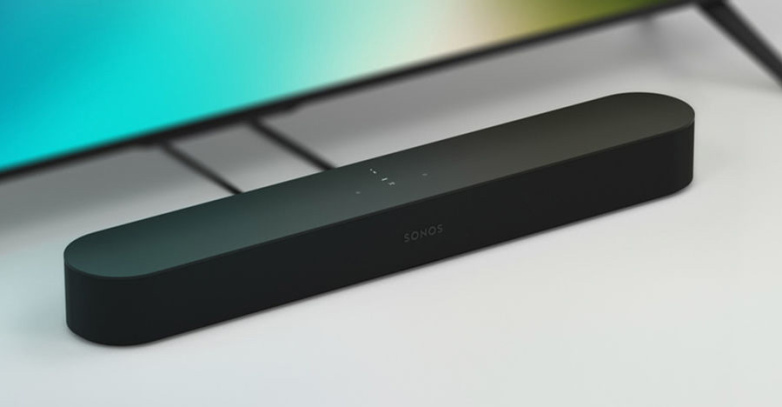 If you're like us and like to pump the volume up from time to time, you're going to get an even better experience from a Play:3 at £249. This little powerhouse has some amazing capabilities. With dual orientation, you can position it upright or lie flat and can fit into more spaces like on a bookshelf or end table. The most noticeable difference between the Play:1 and Play:3 is bass output. If you're more serious about your tunes sounding deeper and hearing more clarity in the range of instruments involved, opt for this one. It's lively in small to medium-sized spaces like a kitchen, office or bedroom.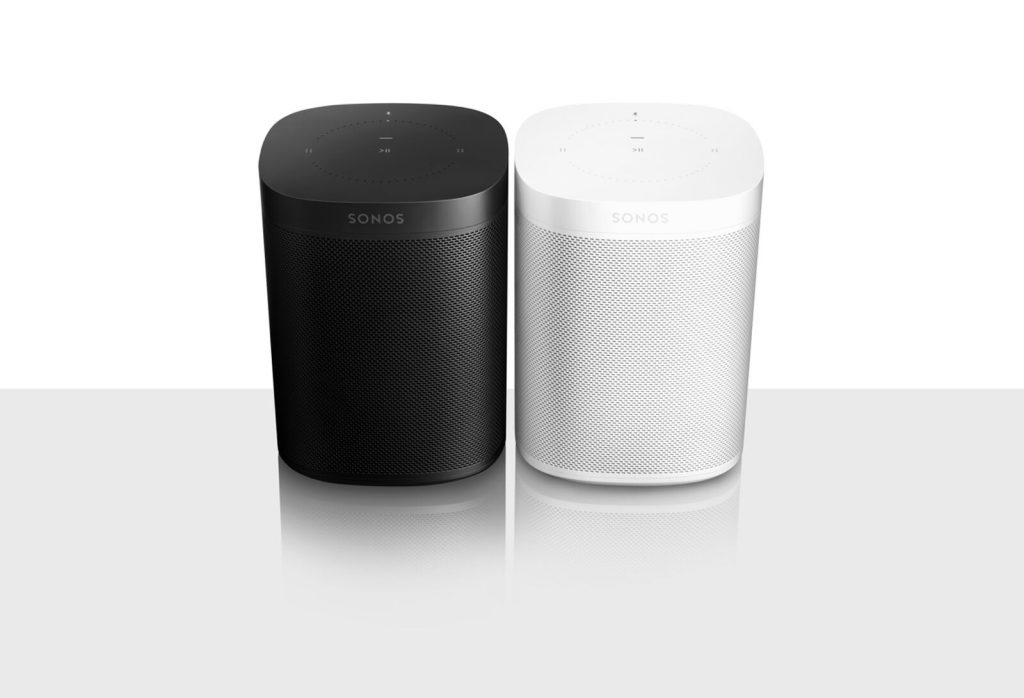 You can go one (or three) steps further too with the Sonos Play:5. This is the best of the best and will equally allow users to fill a smaller or larger room with the best quality audio, crystal clear vocals and room-filling bass. If budget allows, the Play:5 is the most idyllic choice for a smart speaker. When we heard the sound for the first time, it felt like our room had just been transformed into a live performance, complete with a mini stage performing personally for us. The vocals were incredibly crisp and sounded very true to life with a deep rumble of bass and topping of exceptional midrange. Creating a Play:5 stereo pair is the best that Sonos can give, and this is where you truly bring your music to life. The stereo separation effect is astonishingly accurate. You could place a stereo pair of Play:5s as a centrepiece to your living area and you could even add a turntable effortlessly to this set up too to restore your vinyl collection to its former glory. Read more about adding vinyl to your set up here. 
Tip: complete the PLAY:1, PLAY:3 or PLAY:5 experience by adding any Amazon Echo device for full Alexa voice support. Alexa will understand your entire Sonos network and can initiate music playback on any of your Sonos speakers from the Echo device. More information on this can be found here
Some conventional speakers don't sound great in your room if the layout is awkwardly shaped or contain a lot of furniture as it disturbs the acoustics of the room and the resulting sound from the speaker. With Sonos, if you have an iOS device, you can tune the speaker to your room using TruePlay. It uses the built-in microphone in the phone or tablet and detects the proximity of the surrounding walls and the furniture to the speaker and custom tunes the speaker, so it sounds great wherever you are in the room. We highly recommend doing this, even if it means borrowing an Apple device from a family member or friend as it positively makes a huge difference to your room. You can also enable and disable TruePlay to test the difference.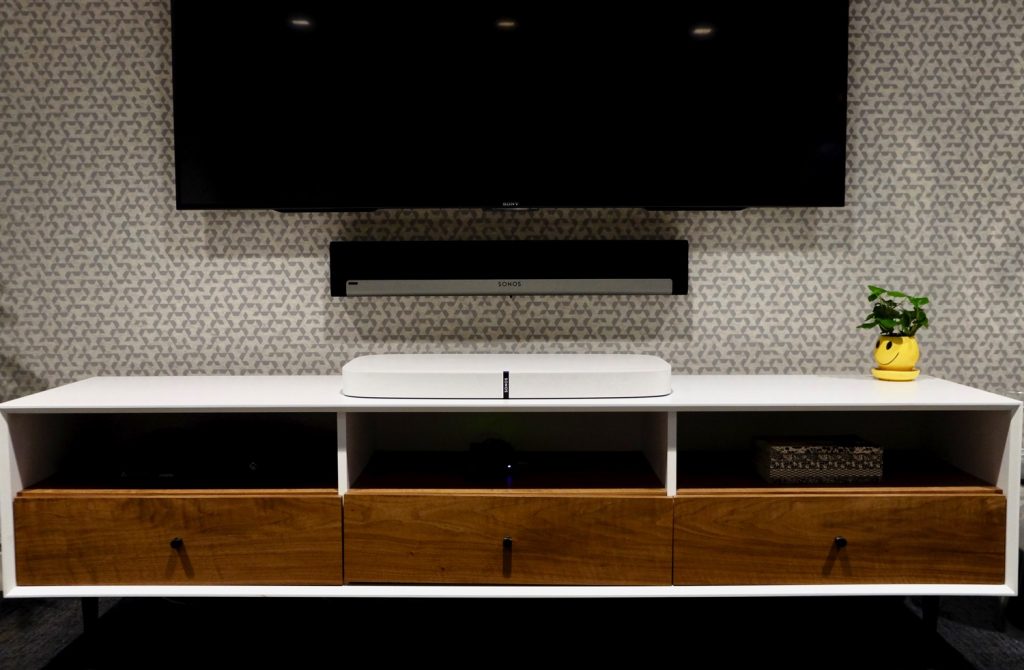 One of the most important, if not THE most important room in your home is the living room or the room with the TV in! This is likely where you spend the most time in your home and where your family comes together, so it's important that we have a strong choice here. For incredible sounding TV audio which also doubles up to play any music you like, opt for the Playbar or Playbase. These speakers are custom-built for your TV and connect directly to it to get the very best out of your favourite films and TV shows, offering room-filling sound. After all, 50% of the immersion of TV content comes from the audio and because TVs, these days, are getting slimmer and slimmer, so are the speakers, and you wouldn't be getting the most out of the content you're watching. Not only adding to your TV content, but these speakers also double up as exceptional music streaming speakers when you're not watching the TV.  
This is just the beginning too. You can also create your own wireless 5.1 home cinema set up in your living room by adding a SUB and a pair of rear surround speakers such as Sonos Ones, Play:1s or Play:3s for an award-winning Dolby Digital certified sound. For more on how to create your home cinema with Sonos, check out our dedicated home cinema blog here.
If you're serious about music and like the sound of adding more speakers to your home over time, we believe Sonos is the smart choice. Not only will users benefit from the world's largest choice of integrated music services and radio stations, but users will also experience drop-out free listening with the rock-solid Sonos mesh connection method. Sonos also offers a variety of speakers to fit every room in your home and with the recently added open voice platform and upcoming Airplay 2 support, Sonos will offer users maximum flexibility and usability.
ABOUT SMART HOME SOUNDS
Smart Home Sounds is a UK Sonos specialist dedicated to filling homes with the joy of music, one room at a time!
We provide expert advice on the full Sonos range, from the voice controlled Sonos One to a Sonos wireless home cinema system with PLAYBAR, SUB, and 2 x PLAY:1s all with free next day delivery and a 6 year extended warranty.