PLAYBAR vs PLAYBASE - the in-depth comparison
Discover whether the Sonos PLAYBAR or the new Sonos PLAYBASE is right for you in our comprehensive review. We detail this Soundbar vs Soundbase comparison below.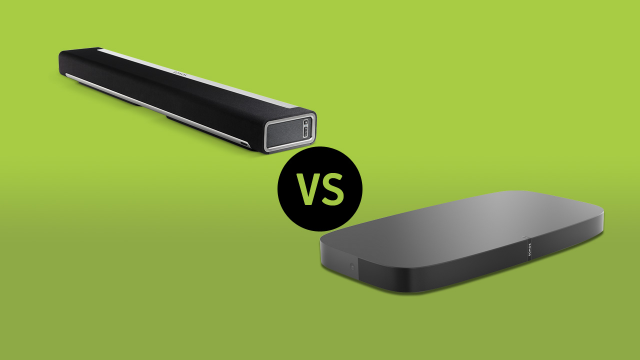 PLAYBAR Vs PLAYBASE
We, at Smart Home Sounds, love our films just as much as we love music and strongly believe that no film is worth watching without cinema-quality sound.
After all, half of the immersion in a film originates from coming as close to hearing every explosion, roll, punch and vocal exactly like real life. Up until now, Sonos' solution to excellent sounding TV audio has been the best-selling soundbar on the market, the Sonos PLAYBAR, but with the latest addition of Sonos PLAYBASE to the Sonos portfolio in April 2017, customers now have a second option for supercharging their TV audio - both being viable products depending on your set up.
Design & Spec
The PLAYBASE is a new take on the traditional soundbar and was specifically designed to offer a space-saving solution for your TV sound. Its hardened resin makes it sturdy enough to withstand the weight of your TV on top (up to 35kgs) and slim enough (3.8cm deep) to slide underneath your TV, so in effect, takes up no more space than your TV and no extra remote control!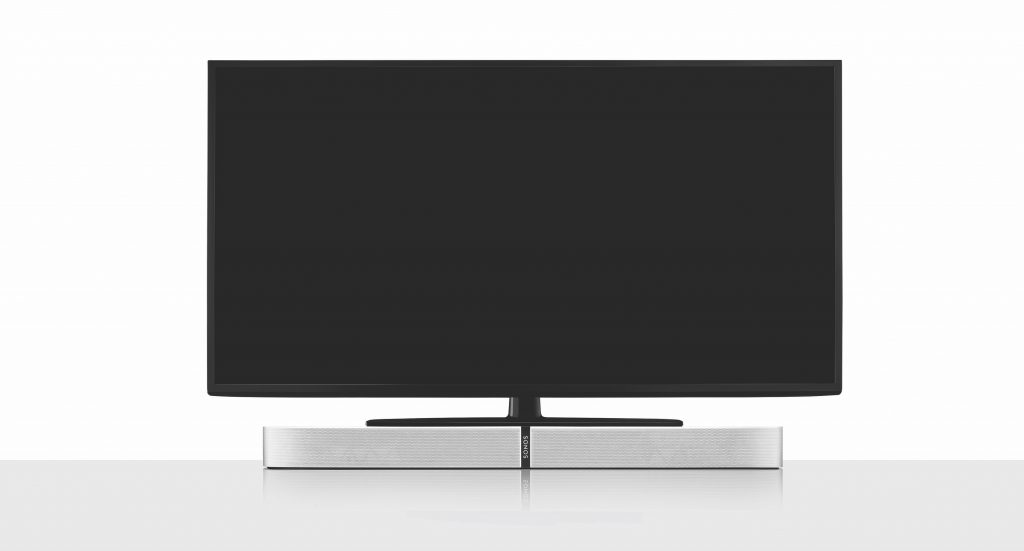 The PLAYBAR is ideal if your TV is already mounted to the wall. You can mount the PLAYBAR to the wall directly underneath your TV with the addition of a wall mount, or you can attach the PLAYBAR to your existing TV bracket with a range of accessories. It can also sit on furniture such as a TV stand but sit at 85mm high, it does require more clearance than the PLAYBASE and can intrude at the bottom of your TV screen.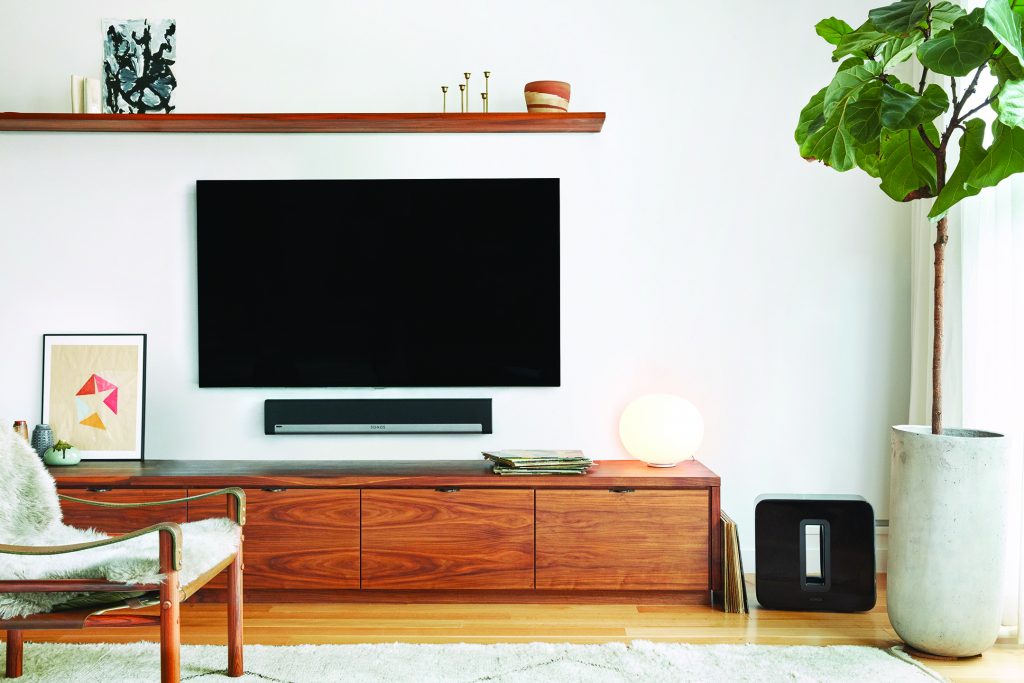 Features
Both the PLAYBAR and PLAYBASE have identical connections - an optical port for audio, one power supply port, and an ethernet port. Sonos like to keep things simple without compromising on quality.
The PLAYBASE benefits from 2 colour options - black and white. The PLAYBAR is only made in black.
Regarding looks, both products are expertly designed, but due to the PLAYBAR being four years older than PLAYBASE, we do think PLAYBASE retains a more modern and sleek appearance, which is to be expected.
Unlike the PLAYBAR, the PLAYBASE has the new touch-sensitive controls on the base of the product, comparable to the PLAY:5, meaning you can pause, skip, play previous and volume up and down at the slide or tap of a finger if you happen to be walking past.
Both benefit from the Trueplay feature, allowing your speaker to calibrate and maximise performance based on your room's dimensions. True play also calibrates your personal seating position for an optimised audio experience.
Both benefit from Night Mode & speech enhancement. Night Mode limits the loud parts of the audio and amplifies the quieter parts. This is a great feature not to disturb the rest of the house while listening. Speech enhancement is a great feature if you are having a hard time hearing what's being said. Enabling this feature keeps the dialogue at a consistent level and reduces the volume of any loud sound effects.
You can also pair your existing remote control for easy volume control.
Sonos will also be integrating Amazon Alexa voice control later this year allowing PLAYBAR & PLAYBASE to be voice-controlled. More details here.
Sound
Let's first look at the spec of each speaker. They are very similar, both of which containing six mid-range and three tweeters but the PLAYBASE also has the benefit of a woofer to improve bass response. The team at Smart Home Sounds have sat down and listened to various music genres for a solid hour, flicking between both the PLAYBAR and PLAYBASE and only noticed very subtle differences. First of all, we have to congratulate the level of quality the PLAYBASE offers considering it is less than 4cm high. The main points that sold it for us were the piercing vocals, excellent bass response, of which the additional woofer really helps, and the wide soundstage created despite its form factor (close your eyes and it feels like the sound is coming from each corner of the room as opposed to just centrally). The sound was crisp, crystal-clear and absolutely zero distortion.
The PLAYBAR is wider in dimensions, and as such, the sound travelled wider than the PLAYBASE offering a slightly further-reaching sound stage. In real home usage, this means that if a car travelling from the right to the left of your TV screen, the PLAYBAR would give a slightly more immersive effect due to its physical length. The sound from this speaker is deep, rich and completely unbiased, meaning it offers the perfect balance of low, medium and high frequencies.  It's kind and unobtrusive to the ears, and in our mini Vs test, it reminded us why this product had won so many awards. It also really does look fantastic placed underneath a wall-mounted TV too.
At low volumes, the sound quality between the PLAYBAR and PLAYBASE was indistinguishable but turn them up louder, and the PLAYBASE tended to output a sharper vocal quality. But if you turn the volume up past 90% however, the mid-range and high-end frequencies on the PLAYBASE tended to be the dominating force. The PLAYBAR offered a balanced sound throughout the volume range.
Price
Both the PLAYBAR and PLAYBASE are currently retailed at £699 which we think is an investment customer will see value in, considering how easy the product is to to use on a daily basis and the fantastic audio quality both these smart speakers offer. Of course, being part of the Sonos ecosystem, existing customers will also have the benefit of adding these to their current home setup. Customers completely new to Sonos can use it as the starting block for filling their home with music. Both PLAYBAR & PLAYBASE also have the upgrade potential to expand to a full 5.1 wireless surround system over time.
More details of the Sonos home cinema setup can be found here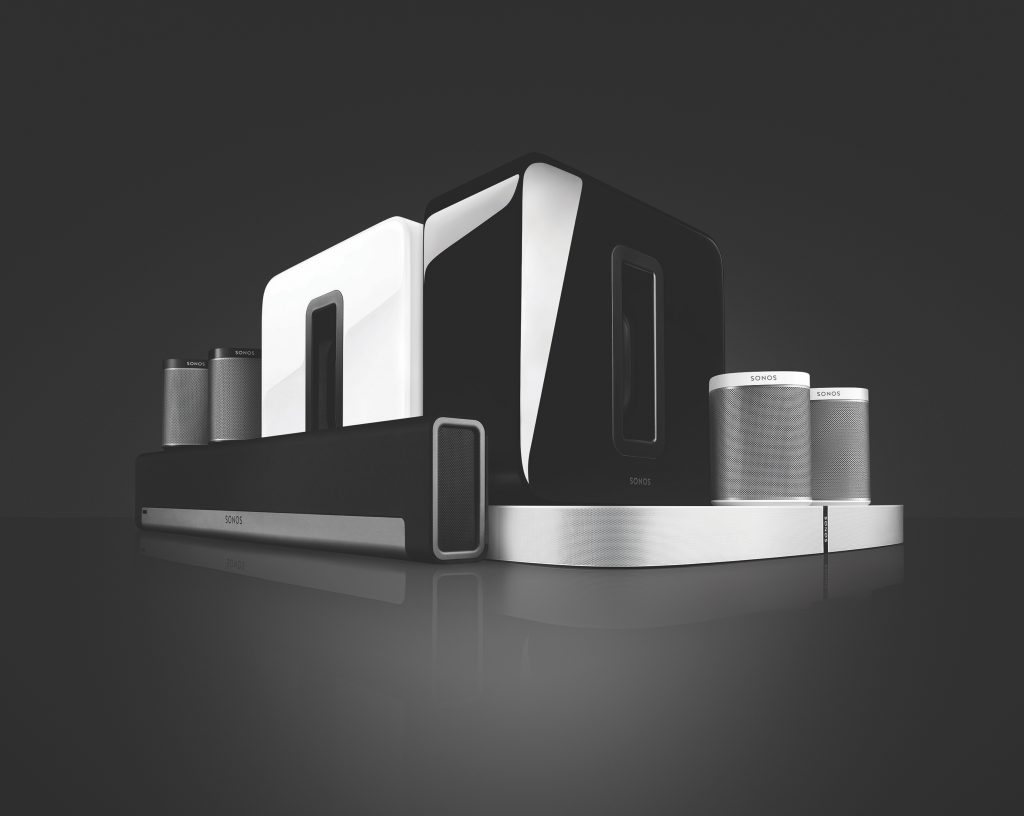 FAQ: I already have a PLAYBAR. Should I replace it with PLAYBASE?
This is a common question from customers at Smart Home Sounds. The PLAYBASE was not developed as an upgrade to the PLAYBAR, rather an alternative. If your current TV set up already works perfectly with a PLAYBAR and there are no issues with space, there is no need to replace it with the PLAYBASE.
Verdict
Both of these products are truly superb, and we believe you won't find any product on the market offering a better combination of sound quality, ease of use and features for the price. With the Amazon Alexa voice control integration coming this year and more over-the-air features lined up in the near future, whether you choose PLAYBAR or PLAYBASE, you can guarantee your system will get better and smarter over time, without the need to be replaced by a new model in a few years. And not only are they brilliant for TV sound, but also for when you just want to relax to the sound of your favourite tracks, when the TV is off.
The main driving force of your decision should be whether your TV is currently wall mounted or not. If it's not, the PLAYBASE can tuck in very nicely to your set up, and you'd hardly notice it was there. If it is mounted, the PLAYBAR can be mounted directly underneath for a very aesthetically-pleasing finish. Both speakers are capable of taking pride and place in your TV set up for years to come and will take your film-watching experience to the next level (or 3)!
About Us
Smart Home Sounds is a UK Sonos specialist. We provide expert advice on the full Sonos range, from a single Sonos One to a full Sonos surround system with PLAYBAR, SUB, and PLAY:1's.