How to Play your Turntable Audio in Every Room with Sonos
Let the Sonos ecosystem enable you to play your turntable audio in every room of your home

LOVE VINYL? We show How SONOS can be the perfect COMPANION TO your TURNTABLE.
Whether you're a vinyl collector or new to the world of vinyl, Sonos makes it simple to add a turntable to your existing Sonos set up and get vinyl playing in every room of your home at an award-winning level of sound quality, as well as some other perks that can only be achieved with Sonos.
WHY SHOULD I USE VINYL WITH SONOS?
To answer this question, let's take a look at a traditional vinyl set up which might include a turntable plus an amplifier with connected speakers. This might sound great, but you are limited to playing this audio in just that one room. The way Sonos has been crafted lets you group multiple rooms together, so your audio becomes available wherever you have other Sonos speakers or components in additional rooms of your home. That includes any audio such as your turntable, TV, audiobook or your music and Sonos have been working on perfecting this ecosystem for eight years.
Alternatively, you may have a record player that has integrated speakers inside. Unless you have spent a small fortune, the chances are the sound quality here is limited due to limited space for the speakers. Sonos lets you play vinyl on any of the Sonos range so you can open up your turntable audio to other Sonos speakers in your home that have been tailor-made to that room for size and budget, for example, a wireless Sonos surround system in the living room, or the voice-controlled Sonos One in the bathroom.
SO HOW DOES IT ALL WORK, AND WHAT DO I NEED TO ENJOY VINYL IN EVERY ROOM OF MY HOME?
Take a look at some of the below scenarios and see which one applies to you and read our recommendations.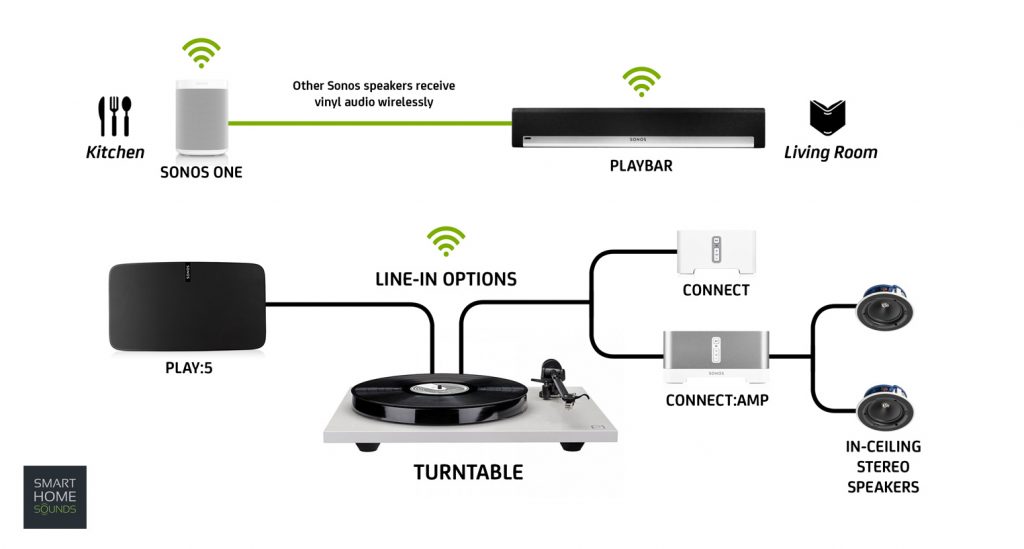 Set-up 1. I have a turntable but no Sonos speakers
You can simply add Sonos to your existing turntable providing your turntable has an RCA output (red and white in colour) or 3.5mm jack. You can connect a Sonos Play:5 speaker or Sonos Connect directly to your turntable if it has a built-in pre-amp. Otherwise, you will need a pre-amp that would sit between the Sonos component and turntable. We recommend the Rega pre-amp for the best signal conversion, and ultimately superior sound quality. For a more budget option, the Behringer PP400 is a great all-rounder and can be purchased here. If you wanted to expand your Sonos system around your home, simply add more speakers. These can also receive your turntable audio in the tap of a button.
Set-up 2. I have Sonos speakers but no turntable 
Great! If you own a Sonos Play:5, Connect or Connect:Amp already and want to integrate a turntable, it's easy as all these devices have the necessary line-in port to connect directly to a turntable. It's as simple as purchasing our Rega Planar 1 or 2 inc pre-amp bundle and connecting all components. Note, your turntable and Sonos product with a line-in must sit next to each other as they must be physically connected, but your other Sonos speakers can receive the turntable audio wirelessly.
If you don't own either of the Sonos products above but still want to enjoy your vinyl on your other Sonos speakers such as Play:1s, Play:3s, Playbar etc., it would be necessary to purchase a Sonos device with a line-in input first. Most customers opt for a PLAY:5 as it offers the required line-in port to distribute audio to any other Sonos speakers in your home but is also a fantastic sounding speaker that your vinyl will thank you for. Alternatively, you could use a Sonos Connect which would allow maximum flexibility of your turntable position.
Set-up 3. I have a turntable and Sonos speakers 
If you've already got a turntable and Sonos speakers with a line-in port but haven't yet integrated them both, you are ready to go. If your turntable has a pre-amp built-in, no other equipment will be needed. If your turntable does not have a pre-amp built-in, you will need one of these in between the Sonos and turntable. We recommend either the Behringer PP400 or Rega's pre-amp.
Set up 4. I am new to vinyl & Sonos 
The two items we recommend to get started with Sonos and vinyl is our turntable package plus the Sonos Play:5. The benefits of this package are that it is effortless to set up and fills one room with award-winning sound. The Play:5 also features a useful line-in so your turntable audio or any other audio can be available in as many rooms you have Sonos speakers in, for completely in-sync party mode!
If you would like further clarity about any of the points above, please don't hesitate to get in touch with one of our specialists.
The Ultimate Sonos & Vinyl Bundle
Our most esteemed vinyl package is the Rega Planar 2 package plus a stereo pair of Play:5s if you are serious about your vinyl sounding the best they possibly can. Play:5s produce the clearest, boldest sound of the range and with a stereo pair, you've created a powerhouse in your living room and can fill a very large space. The stereo separation effect will, of course, also be much more significant.
The Rega Planar 2 is superior to the Planar 1 regarding build quality and the precision of the tonearm. You can read a more in-depth comparison of the Planar 1 and Planar 2 here.
We are sure you have your favourite vinyl lined up and ready to go but we think the below vinyl selections should feature in every vinyl collection! Click on the album art to view more information and/or make a purchase.
Adele: 25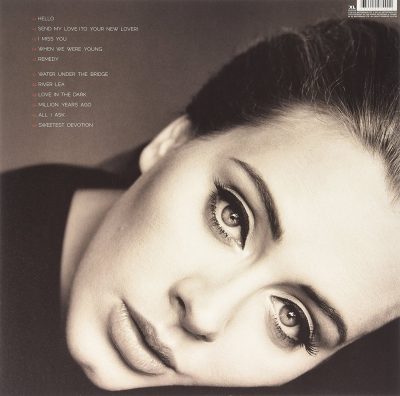 Who doesn't enjoy the soulful sound of Adele's voice? With her single "Hello" with stunning vocals storming to the top of the charts immediately after release, it's no surprise her other tracks are just as well put together with the same level of emotion and meaning as her most popular track. This record, as Adele puts it herself is less about break-up and more about make-up. 
Pink Floyd: Dark Side of the Moon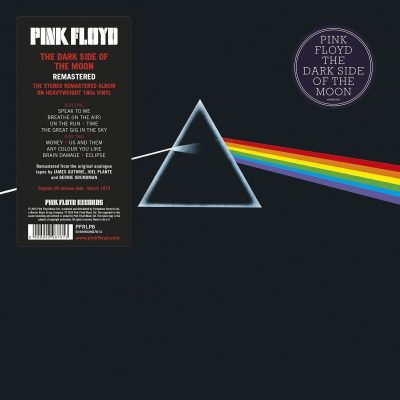 This record explores a variety of themes such as the passage of time, greed, and mental illness giving rise to some interesting instrumental explorations. The original album remained in the charts for a massive 741 weeks. That's a whopping 14 years! We especially recommend this with a stereo pair of Play:5s as there is a great focus on stereo separation. 
Fleetwood Mac: Rumours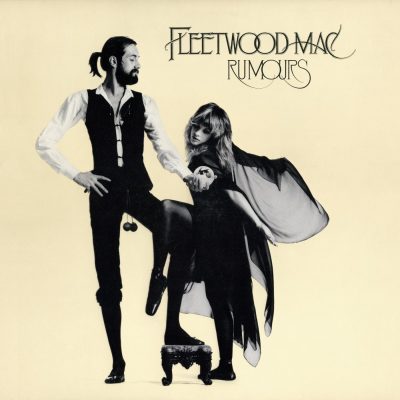 Fleetwood Mac's most successful album is a great pick to uplift a Sunday afternoon combining unique electronic sounds, vocal harmonies and acoustics that pioneered its genre. We truly believe any age group can enjoy this timeless and legendary album. 
Bonobo: Migration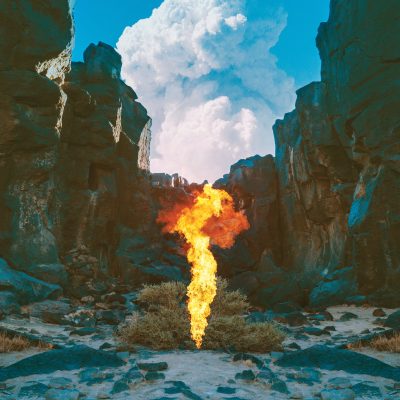 With over 150 million Spotify streams, Bonobo encapsulates the good, bad and the ugly aspects of life in the form of music. Arguably one of the most technically advanced electronic artists currently around, Bonobo presents their 6th masterpiece and sounds extremely intricate on vinyl, which is why it's featured in our top picks. 
ABOUT SMART HOME SOUNDS
Smart Home Sounds is a UK Sonos specialist dedicated to filling homes with the joy of music, one room at a time!
We provide expert advice on the full Sonos range, from the voice controlled Sonos One to a Sonos wireless home cinema system with PLAYBAR, SUB, and 2 x PLAY:1s all with free next day delivery and a 6 year extended warranty.