Why we still love the Sonos In-Ceiling Speakers
Released two years ago, we take a look at why the Sonos In-Ceiling Speakers have proved a great solution for would-be installers looking to build Sonos into their home.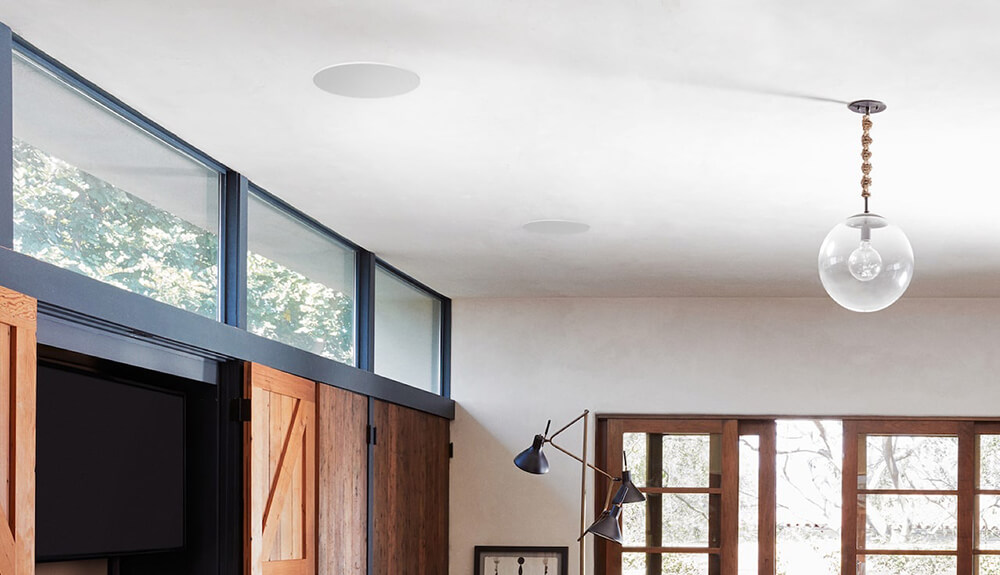 Why we still love the Sonos In-Ceiling Speakers
In February 2019, Sonos paired with renowned Canadian home-audio brand Sonance to create their bespoke, Architectural Sonos In-Ceiling Speakers. Two years on, we take a look back at why these speakers are so impressive and how they're a great solution for many would-be ceiling speaker installers.
Upon initial release of their Architectural range, comprising of one in-ceiling, one in-wall and one outdoor speaker model, it was somewhat unusual for an audio brand of this stature to release such a small structural loudspeaker collection. We take a closer look at the bestseller of this collection, the Sonos In-Ceiling Speakers, to see whether Sonos were right to limit themselves to a single in-ceiling model and whether or not they nailed it on their first try.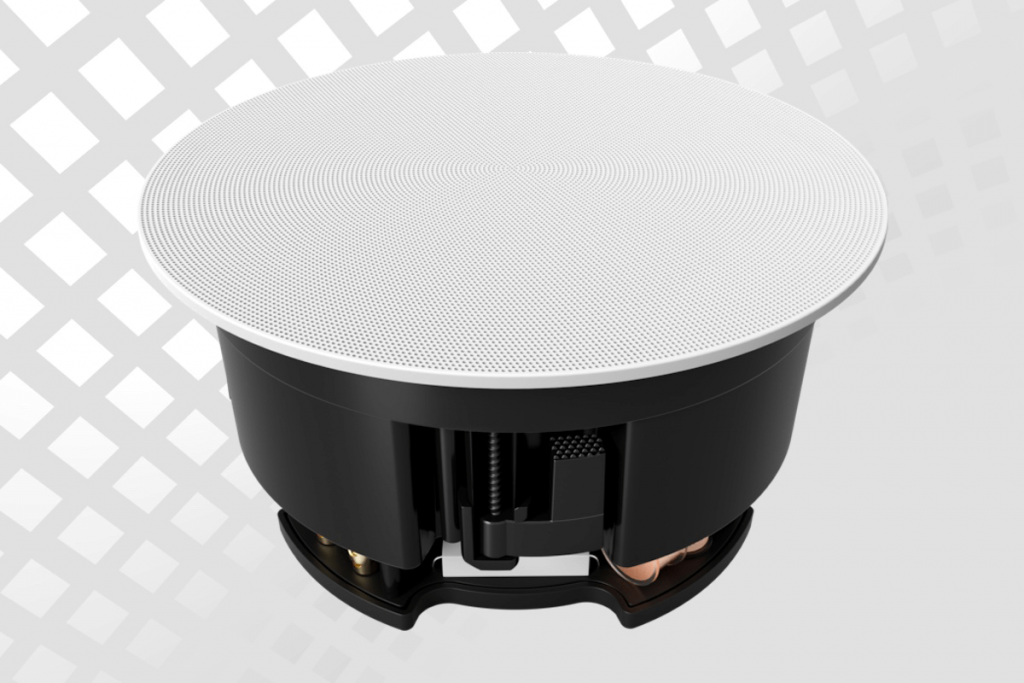 Acoustic Excellence
Featuring a 1" tweeter and pivotable 6" bass driver, the Sonos In-Ceiling Speakers have been developed in conjunction with Sonance to offer customers premium kevlar components and a rich, dynamic sound profile. We particularly love the Sonos In-Ceiling Speakers for a nuanced surround sound performance if paired with a Soundbar and Sub, but also love to see the Sonos In-Ceilings as a great all-rounder, particularly when pairs are combined to fill an open plan living space such as a Kitchen-Diner. 
With other models out there from renowned home audio brands such as Monitor Audio, Bowers & Wilkins, KEF and more that offer high performance at a similar price point; the Sonos in-ceiling speakers match their competitors not only with wonderful sound quality but also excel in regards to the brilliant and intuitive features highlighted below. 
Intuitive Features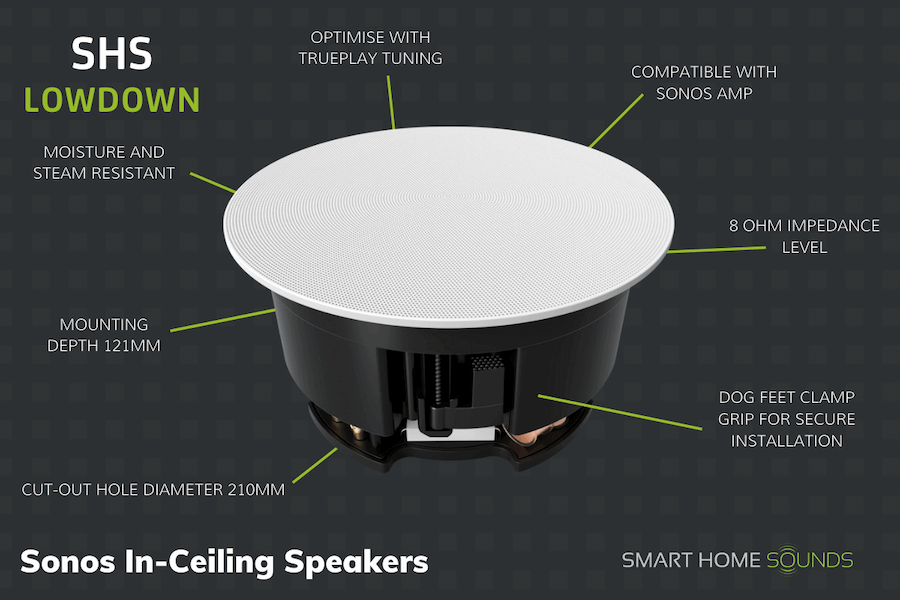 As a smart speaker specialist, Sonos has designed the Sonos In-Ceiling Speakers from the ground up to compliment their home ecosystem. Utilising Sonance's expertise in the ceiling speaker field, Sonos have tailored their loudspeakers specifically for use with the Sonos Amp. The Sonos In-Ceiling Speakers have been precisely impedance matched to the Amp meaning you can power up to 3 pairs with a single unit, making this the perfect speaker and amplifier combination for a larger space.
When using the Sonos In-Ceiling Speakers with the Sonos Amp you'll also be able to make use of Sonos' innovative Trueplay feature on iOS. This can be performed as part of the initial setup process and will precisely tailor the sound output of the speakers to your space, taking account of any ceiling features, furniture or alcoves that would benefit from acoustic adjustment.
Easy Install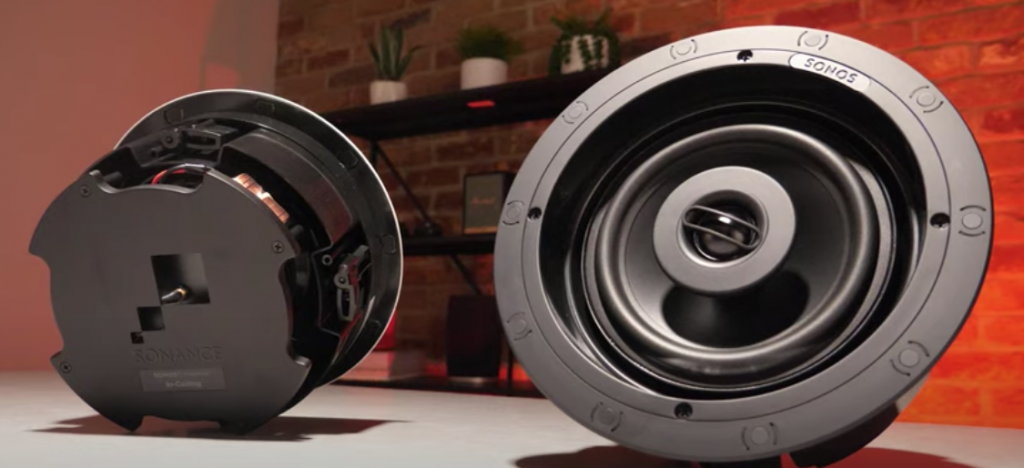 Designed with convenience in mind, the Sonos In-Ceiling Speakers will fit easily into your ceiling without requiring any additional mounting apparatus. Spring-loaded terminals make it easy to connect your speakers to speaker cable, meaning that after the cable has been laid and a hole has been cut you can have your speakers installed within a couple of minutes.
The Sonos In-Ceiling Speakers come equipped with a magnetic speaker cover making them even easier to install. Designed with a slim bezel and grille, the Sonos In-Ceiling speakers will blend seamlessly with your ceiling and not encroach on the decor of the room. You can even remove and spraypaint the magnetic speaker grilles to match your chosen ceiling colour.
Full Architectural Range
Not stopping at ceiling speakers, Sonos released a full Architectural Range in 2019 comprising of both and Outdoor and In-Wall speaker option as well. All three speaker types are supplied in pairs and are perfectly impedance matched for use with the Sonos Amp, meaning you can mix and match on the same Amp if desired.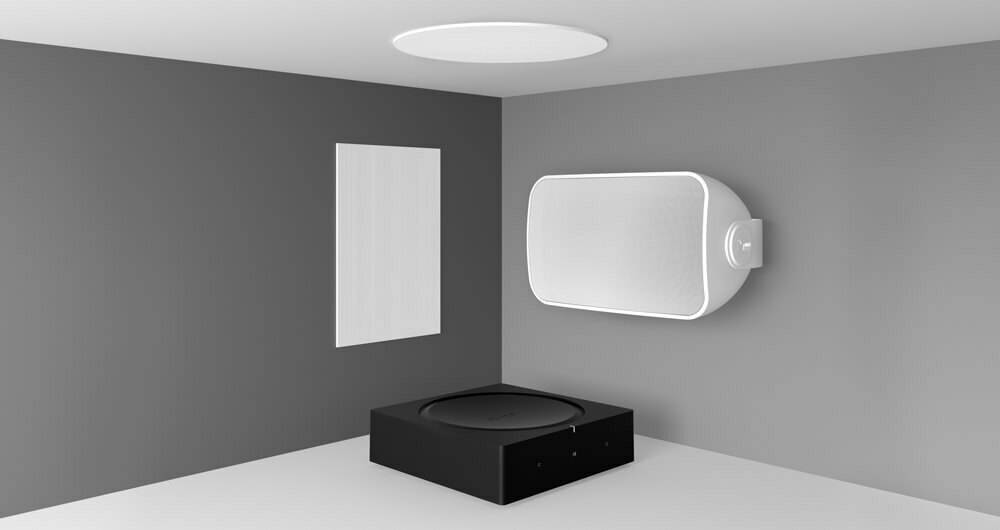 If you were interested in building up your home Sonos ecosystem using these structural loudspeakers, look no further than our Sonos Amp and Sonos In-Ceiling Speaker (pair) bundle. We also have bundles for the Sonos In-Wall and Sonos Outdoor speakers if these would be more suitable for your project. Like any other Sonos product on our site, the Sonos In-Ceiling speakers and other Architectural models are fully covered by our 6 Year Extended Sonos Warranty, a great reason to shop with us!
If you have any questions about the Architectural range or ceiling speakers more generally, please contact our customer service team via Live Chat on the website, info@smarthomesounds.co.uk or over the phone on 0800677 1100. Our customer service team is available between 9 am-5 pm Monday to Saturday.