KEF LSX II Review: Best all-in-one system under £1200?
We test out the KEF LSX II and review them on a variety of important specifications. Read on to hear our thoughts.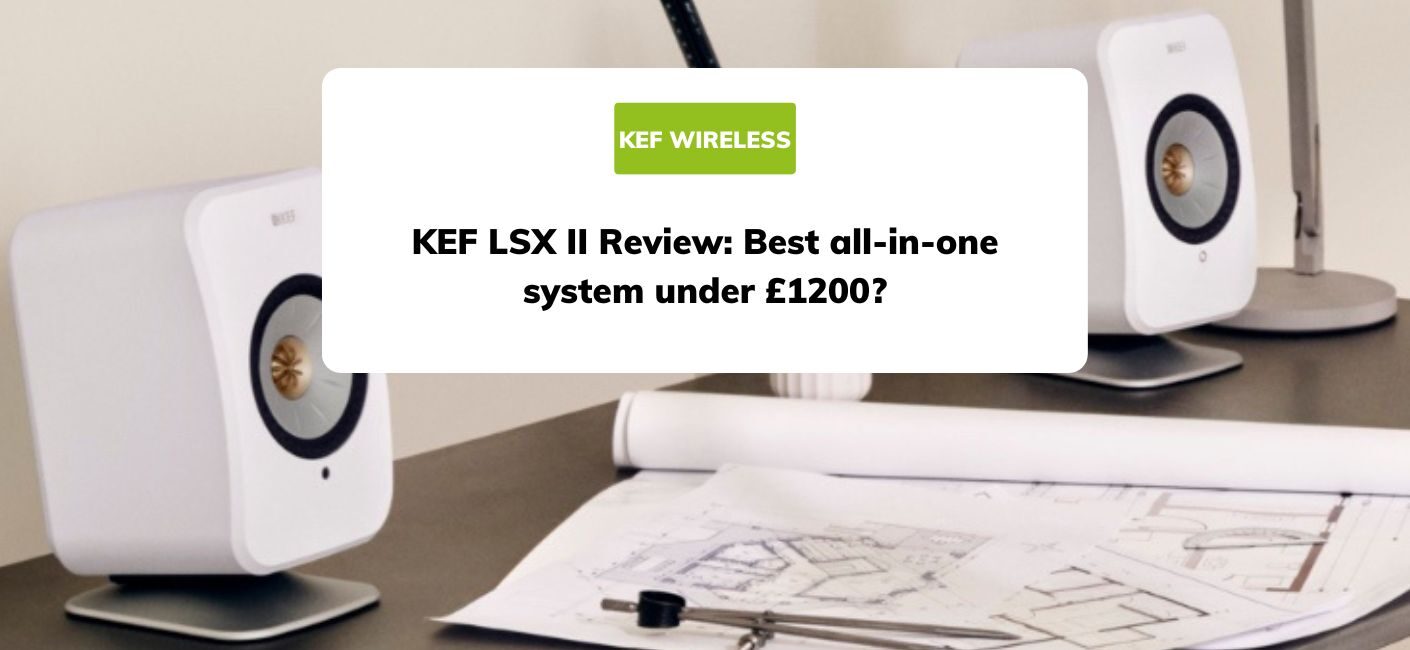 We've thoroughly enjoyed our time with the new KEF LSX II Active Speakers
SHS Verdict

It's hard to find fault with the KEF LSX II, especially at its £1199 price point. Featuring the same internal Uni-Q driver as the flagship KEF LS60s, the LSX II offer a well-rounded and accurate sound that doesn't suffer from the classic 'sweet spot' issue we see with some speakers. The KEF LSX II sounds excellent no matter where you are in the room and offers a wide range of both wireless and wired connections as part of the KEF Wireless Range. The LSX II are perfect for a wide variety of uses.

Pros

✓ Exceptional design

✓ Wide variety of connections

✓ Features KEF's coveted Uni-Q Driver Array

✓ KEF's Music Integrity Engine is an advanced form of DSP to offer a more refined and accurate sound

✓ Major streaming services supported within the KEF Connect App, along with Airplay 2, Google Chromecast and Spotify Connect wireless casting.

Cons

✖  Bluetooth 4.2 is an older version

✖ Native 24bit/ 192kHz playback only possible with a wired connection
Antoine de Saint-Exupery once said "perfection is achieved, not when there is nothing more to add, but when there is nothing left to take away" and never has this statement been more true of the new KEF LSX II. Meet the new KEF LSX IIs, where quite possibly, KEF have achieved a new level of perfection.
The original KEF LSX have been a favourite when it comes to wireless HiFi, picking up WhatHiFi?'s award for best all-in-one system under £1000 in 2021. The award-winning stereo pair, popular for its ability to blend form and function, has continued on with a few small tweaks and refinements to take them up another level.
Key Specifications
Let's get straight into it and go over the key specs that make the KEF LSX IIs so great:
| | |
| --- | --- |
| | |
| | KEF LSX II Features |
| Price | £1199 for the pair |
| Colour Options | Cobalt Blue, Lava Red, Mineral White, Carbon Black, Soundwave |
| Dimensions | 240mm x 155mm x 180mm |
| Connections | HDMI-ARC, Optical In, AUX, Coax, Subwoofer output, Ethernet (1x speaker interlink, 1x networking) |
| Streaming Options | Apple Airplay 2, Chromecast, Roon Ready, UPnP, Spotify Connect, KEF Connect App for access to major streaming services. |
| Internals | 1x 19mm aluminium dome tweeter, 1x 115mm aluminium midrange cone (11th Gen Uni-Q) |
| Frequency Response | 54Hz - 28kHz |
KEF LSX II Design
I think KEF have found a design that works for a lot of people and decided it didn't need a lot of messing around and changing it up for the sake of it. You will notice these are smaller than you might imagine but they are actually pretty weighty, you also get a nice little remote inside which is the same one that you get with the flagship KEF LS60s.
The Mineral White and Lava Red models have a matte satin and high-gloss finish respectively while the Carbon Black and the Cobalt Blue are clad in a specially designed fabric from Danish contemporary textile designer Kvadrat. The new Soundwave by Terence Conran edition was of the iconic British designer's final collaborations. If you look closely, you'll see the "soundwave" pattern woven into the Kvadrat fabric and Conran's own signature blue on the speaker port and driver before his death in 2020. 
What's more is that Michael Young, a renowned expert in industrial design has actually designed the LSX IIs as well as the recently released LS60s. Even if you're coming from more of a technical HiFi background, hopefully, you can agree these look the part.
KEF LSX II Connectivity
Following on from the first generation LSX, you still get the same wide choice of physical connections including the Aux input, optical input, subwoofer output, 2 ethernets 1 for your network if you desire and another to establish an interlink between the 2 speakers which you might use for getting hi-res.
The system can play hi-res files up to 24-bit/192kHz but will downsample to either 24-bit/48kHz if the speakers are connected to each other wirelessly or 24-bit/96kHz if you create the ethernet cable interlink between them. 
New for the LSX IIs, we now have an HDMI-ARC connection for a convenient connection to your TV to create a stereo set-up and enhance the sound of your TV. 
We also have a new high-quality USB-C connection making them ideal for a desktop or gaming set-up. 
You can also take full advantage of wireless streaming including Spotify Connect, Tidal Connect and new on the LSX IIs, they're now also Roon ready. More music services can be found on the KEF Connect app, which has been newly improved and is where the LS50 Wireless IIs and LS60s are as well, so you can actually use multi-room control if you were to have different pairs of KEF Active products in your home. 
In the app, you will also find Amazon Music, Qobuz, and Deezer as well as internet radio stations and podcasts. If you use something not in that list, then you can stream via Bluetooth 4.2, Google Chromecast or Apple AirPlay 2. Bluetooth 5.0 would have been a nice to have for the extra range but shares the same chip as 4.2, so you still get the same sound quality. You might also argue that for an in-home system with Wifi support inbuilt, long Bluetooth connection range is less important than it would be in a portable speaker. 
KEF LSX II Sound Quality
Inside the cabinet, you get KEF's famous 11th Generation Uni-Q driver comprising of 1 x 19mm aluminium dome tweeter and 1 x 115mm aluminium midrange cone. 
The Uni-Q driver, featuring in KEF's £30,000 Blades option acts as a single apparent source where the tweeter is placed at the acoustic centre of the woofer, and this configuration is how sound is designed naturally, and eliminates the sweet spot. 
Essentially, it means that wherever you are in the room, you can still get that stage presence of the artist performing without needing to stand in the perfect spot in the room.
The tweeter and woofer are powered by their own Class-D amplifiers outputting a total of 200 Watts so your drivers and amplifiers are perfectly matched.  
Have a listen to our binaural microphone recordings of some tracks played on the LSX II and see what you think:
The first thing that you'll notice after listening to the LSX is the accuracy of the stereo imaging. If you close your eyes, you could point to where the individual instruments are playing in the room and this is all down to the Uni-Q driver.
A great example was a track called Pink Lemonade by James Bay which starts off with that guitar riff on the right channel followed by a huge drop on the left and I was more than happy to just sit and enjoy the music. They're lively, excitable and they just want to be played loud.
Vocals are absolutely crystal, although, at near top volume, they can get a bit harsh depending on how present the mid-range is, so someone like Gregory Porter's voice is a good example. 
In general, the tweaking of the DSP has made the overall listing experience better and has addressed one of the weaker points of the previous generation which was bass response. 
The LSX II bass response is probably the best we have experienced from a speaker with a cabinet of this size and all lower frequencies seem to have benefited from this upgrade.
If you did want to add a separate subwoofer, then KEF again gives you the option instead of making the decision for you, so you can use your own subwoofer and tell it in the KEF app that you're using a custom subwoofer, or if you want to keep it KEF, my recommendation would be the KC62 sub. 
What surprised me about the KEF Connect app is just how much customisation you can do here. You've got wall mode to reduce the boominess if the speakers are close to a wall, you can increase the treble and phase correction and you can even customise the bass extension.
I'd really recommend just playing around with these settings because although there's no dedicated room correction software, the amount of customisation you have here makes up for that.
If you wanted to check out the tracks used to test out the KEF LSX II, please see below: 
SHS Verdict
In our opinion, the KEF LSX II is likely one of the best ways to spend £1200 on a stereo pair of active speakers. The amplifiers are perfectly matched with the drivers and that Uni-Q driver goes a long way in differentiating this from its rivals.
I honestly think you will struggle to get better sound in this compact size. It's impressive how much you get for this size of the cabinet, which means that people who want something that looks and sounds great but don't have much space, will be a really good fit for. 
If the package that you got on the original LSX wasn't enough to tempt you to part £1000 of your cash, the new LSX IIs might be enough to tip the balance, albeit for a higher price tag which after listening we believe still offers great value.
The LSX II is a stylish blend of HiFi heritage mixed in with plenty of wired and wireless options to boot. They are a complete set of speakers, there's very little missing from them and is why if these are in your budget, they're a great option for your shortlist.
---
For any more information about the KEF LSX II, KEF Wireless Range generally or any of the other speakers we sell, please just get in touch below: