KEF LS60 Wireless Review: HiFi meets WiFi?
We review the new KEF LS60 Wireless - Do HiFi and WiFi mix?
Has HiFI entered the new age? Meet the KEF LS60 Wireless
Is a new era of HiFi here? KEF seem to think so with the launch of their new KEF LS60 Wireless Active Floorstanding Speakers.
Celebrating 60 years of class-leading speaker craftsmanship, the KEF LS60 Wireless build on everything KEF has learned over the years and injected into their first-ever wireless stereo tower system. With their famous Uni Q driver array now in its 12th generation, they have been re-designed especially for the LS60s as the slimmest product that KEF have ever made.
No time to read our KEF LS60 review? Watch it instead below!
KEF LS60 Key Specs
| | |
| --- | --- |
| | |
| | KEF LS60 Wireless Features |
| Price | £5999 |
| Colour Choices | Mineral White, Titanium Grey, Royal Blue |
| Dimensions | 1090mm x 212mm x 394mm (H x W x D) |
| Drivers (per speaker) | 1x 19mm Aluminium Dome Tweeter, 1x 100mm Aluminium Midrange Cone (Uni-Q), 4x 5.25" Uni-Core Woofers |
| Control | Airplay 2, Google Chromecast, Spotify Connect, Tidal Connect, Bluetooth 4.2, Roon Ready, KEF Connect App |
| Connections | HDMI eARC, Optical, Digital Coax, RCA, 2x Subwoofer Out, 2x Ethernet |
| Frequency Response | 31Hz - 24kHz |
KEF LS60 Design
The new LS60s will be available alongside the other models in KEF's wireless speaker range in a colour choice of Titanium Grey, Mineral White and Royal Blue. 
The LS60s should fit seamlessly into your interior due to their simplistic, understated and incredibly slim design. They are so slim in fact that they measure less than the width of an iPhone across the centre. 
Each speaker weighs 31kg, a large part of that coming from the base plate so they won't be going anywhere. In the box, you are also supplied with carpet spikes or rubber feet depending on which type of floor you have as well as a basic remote control, which looks like it was inspired by the Apple TV remote. 
On the back of the primary speaker, there's quite an eclectic choice of connections. The HDMI e-ARC is great for connecting up your TV set for an immersive stereo experience for movies and film. 
You've also got optical in, digital coax, 3.5mm jack (so yes, feel free to hook up a turntable or CD player) and 2 ethernet ports - 1 for a hard-wired connection to your network and the other for the optional wired speaker link. There are also 2 Subwoofer outputs, one on each speaker, should you wish to extend the bass even further.
KEF LS60 Internals
The Uni-Q driver houses the 19mm aluminium dome tweeter at the centre and the 100mm aluminium midrange cone. 
What's unique about the Uni-Q driver is that it places the tweeter in the acoustic centre of the midrange cone and both act together from a single point. This is what KEF calls a Single Apparent Source, which disperses the sound more evenly around the room and reduces reliance on a single "sweet spot". This technology was first used in the flagship Blade passive speakers worth £30,000 and has filtered down into the more accessible LS60 speakers.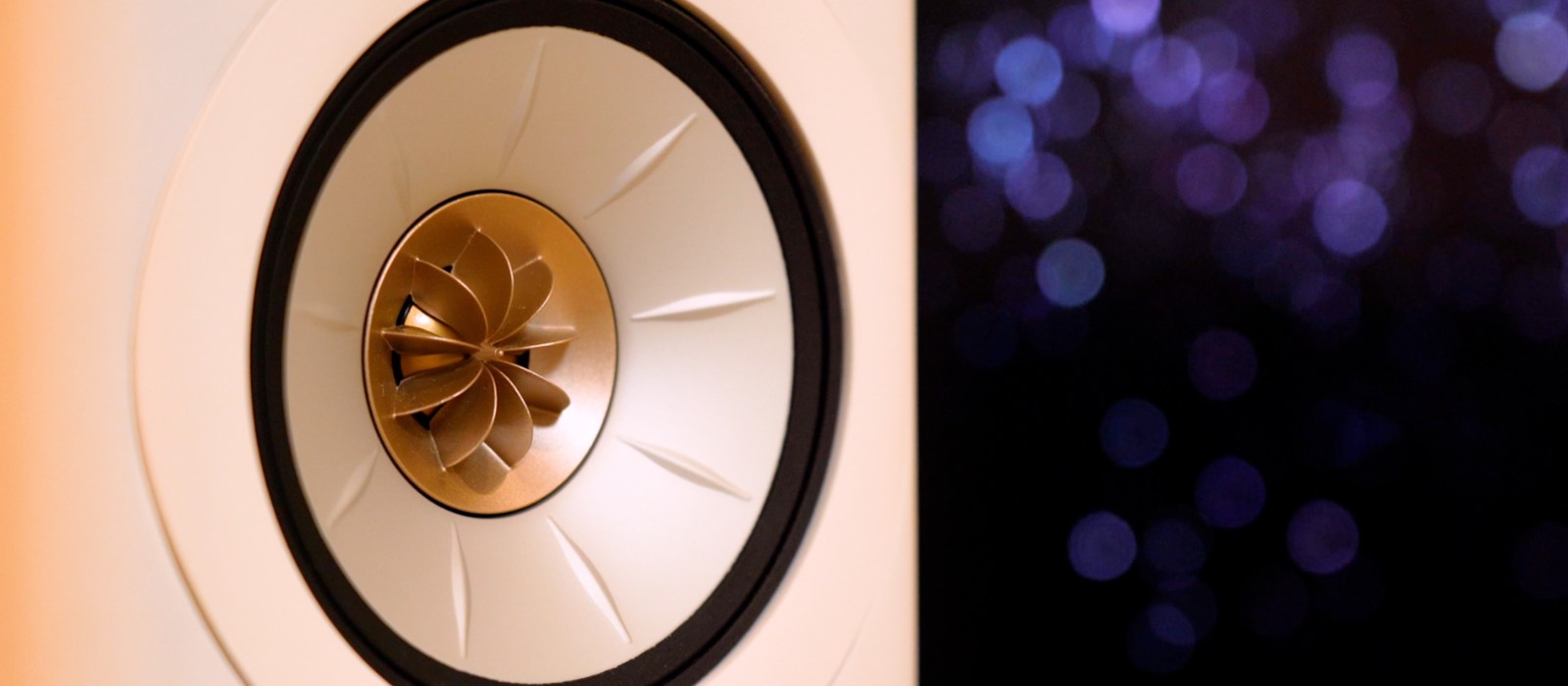 On the side of each speaker, you will find 4 x 51/4 inch Uni-Core woofers, the same technology found in their KC62 subwoofer. They have been arranged to be force-cancelling which eliminates cabinet rattle and vibration almost to zero. 
All the above drivers are powered by a mixture of bespoke Class AB and Class D amplification delivering a combined 1400 watts of power which are located at the bottom of the speakers, which have a clever design to ventilate airflow. 
This is topped off with something called Metamaterial Absorption Technology (MAT), which KEF claim eliminates 99 per cent of unwanted noise from the rear of the tweeter, and the result is a purer, more natural sound.
KEF LS60 Control
Being wireless speakers, set up is completed first by plugging both speakers into mains power then following the instructions in the KEF Connect app - no speaker cable interlinks here. You get a whole host of streaming options including:
Spotify Connect

Apple AirPlay 2 
Bluetooth 4.2
Google Chromecast
Tidal Connect
Roon Ready Support
KEF Connect App
Admittedly, KEF could have included Bluetooth 5.0 for a higher standard of Bluetooth but for the majority of users, they will likely stream via WiFi. Without the ethernet cable, you can expect up to 24 bit 96 khz resolution but create an ethernet interlink and you can receive up to 24 bit 384 khz. 
The KEF Connect app is one of the most robust and detailed speaker customisation apps we have come across for a wireless speaker and has had some significant improvements in terms of design and functionality. There's a wealth of customisation that you can enable like wall mode to reduce the boominess if the speakers are close to a wall. You can increase the treble, phase correction and even customise the bass extension and much more.
KEF LS60 Sound Quality
Watch our binaural recording of the KEF LS60 here and then see if you agree with our comments:
We tested the LS60s first with Spotify Connect, AirPlay 2, Bluetooth then Tidal Connect using their MQA files and firstly KEF has absolutely nailed it with the stereo reproduction.
The presence that you get feels like you're watching someone perform live on stage. It cannot be understated how well the UniQ drivers do a great job of giving you an all-encompassing sense of sound. The LS60s capture every element of the track and you WILL hear things in your favourite tracks that you've never heard before. 
KEF has sometimes been criticised in the past for the mid-range but the 12th generation UniQ in these LS60s, for us, delivers in this department.
London Grammar's Big Picture, which we streamed via Tidal as an MQA file was a prime example of that. Combined with the clarity of her vocals, it actually invoked emotions and I guess that's how you know the speaker is doing a good job. The bass was extremely controlled. You can feel it get extremely low, but it was also impactful. There is just zero distortion and you'd expect this level of bass from a set of £20,000 pair of speakers.
The vocals are outstanding, if not the best thing about the LS60s. They add such richness and presence that it makes you feel connected to the music. We loved the KEF LS60s across a wide range of tracks, including those that were vocal-heavy and classical as well as bass-heavy songs that really packed a punch.
The utilisation of KEF's single apparent source also adds to these speakers as you have the low mid and high frequencies projected from a smaller area which adds to the detail and imaging.
We would really recommend investing in a hi-res music service subscription to get the most out of these such as Tidal HiFi, Deezer Elite, Amazon Music Ultra HD etc so you can really maximise the LS60s potential.
With HDMI-ARC onboard, you may also be thinking about using these as TV speakers. These are primarily designed for music listening because the most you're going to achieve is 2.2 and that's if you added 2 subwoofers to the system.
There's also no dedicated centre channel and while it won't replace dedicated multichannel systems, having the option is great and these 12th gen Uni-Q drivers are probably the best driver to have in a stereo pair set up for TV if you are not using a centre speaker.
Check out our top LS60 Testing Tracks below:
Our Verdict:
The LS60s won't be a fit for everyone and this kind of innovation will invite a broader conversation about whether HiFi can really meet WiFi successfully.
A big pro for some is that these speakers have uniquely matched components meaning every driver is paired with a custom amplifier designed to give the best possible performance which takes away the worry that "am I choosing the right combination of equipment to make the most of my system and that all comes in a neat aesthetic package?". On the flip side, this could be a negative for others, as taking the decision away of choosing a specific amplifier with a certain set of speakers (and maybe a DAC you love) is an integral part of the Hi-Fi journey & learning.
Having said that, as the drivers and amplifiers are perfectly matched, we truly believe if these were passive speakers at a lesser cost, you would struggle to pair these with a suitable amplifier for under £6,000. 
Whatever your thoughts, the one thing we can guarantee is if you sit down and listen to a pair of these speakers, you will forget about your own world and just be immersed in the audio which is the biggest compliment you can pay any speaker. 
---
For more information about the KEF LS60 Wireless or any of the other products we sell, please reach out: