KEF In-Ceiling Speaker Series Overview
In this KEF Speaker Guide, we look at key technology, speaker ranges & more to help you find the perfect products for you.
Beginner's Guide to The KEF Architectural Range
With so choices & brands of ceiling speakers available, when it comes to choosing the right ceiling speakers for you it's not always easy. This KEF speaker overview is here to help you decide if KEF is right for you and to break down some of the jargon commonly related to KEF's Ceiling & Outdoor Speakers.
'Hide your speakers, not your sound.'
KEF have been refining award-winning technology since 1961 to ensure audiophile quality is felt no matter where you sit in a space. Their aim is to provide the purest sound and sheer realism at every budget whilst promoting impeccable cosmetics to enable the speakers to seamlessly fit into any surroundings.
Their innovative engineering and unique design structure sets them apart from the competition and allows them to continue developing groundbreaking technology to be enjoyed within the home.
Jump to...
KEF's Ceiling Speaker Technologies Explained...
KEF's pattechnology really set's them apart from the competition. Below, we take a closer look at some of their popular features so that you can understand what you're getting for your money. This will help when it comes to seeing what range will be the best for what you're looking to achieve.
Uni Q - 20 years of innovation has lead to the development of the Uni-Q driver array, which uses outstanding technology to provide acoustic clarity and off-axis dispersion. In short, this technology provides minimised distortion and a more accurate reproduction of sound.




Magnetic Assembly -The powerful magnetic circuit means installation takes under a minute.
Tangerine Waveguide - The waveguide is an impressive technology that improves efficiency and dispersion from the tweeter. This results in better overall fidelity and a wider soundstage which is crucial for a good ceiling speaker experience.
Special Grill Treatment - The grilles are coated in a special material to ensure longevity and resistance in harsher conditions. This is great for use in bathrooms and wetrooms.
Ultra-Thin Bezel - KEF know how important aesthetics are when designing their speakers. The architectural range offers an ultra-thin bezel that will cast virtually no shadows for a more seamless fit. The magnetic grilles help provide a tight hold so the speakers virtually disappear into the ceiling.


Extremely Low Profile - Low space within the ceiling void? Look out for the revolutionary Ci-T series which features an ultra-low-profile driver to fit into a narrow ceiling void, with no compromise to the sound!
Asymmetrical Tweeter Island - This technology can be found in non-Uni-Q speakers, to ensure the tweeter and woofer are aligned.
Extreme Home Theatre - KEF's Extreme Home Theatre system provides outstanding acoustic capabilities to ensure the emotional intensity is masterfully delivered to the audience for engaging true theatre sound quality.
How to understand & Breakdown KEF's ceiling speakers range...
Now we've got all the jargon out of the way, let's get into simplifying the name so you know what to look out for. At face value, the speaker names do seem like a jumble of letters and numbers, but each part of the name gives some key information which we'll simplify below.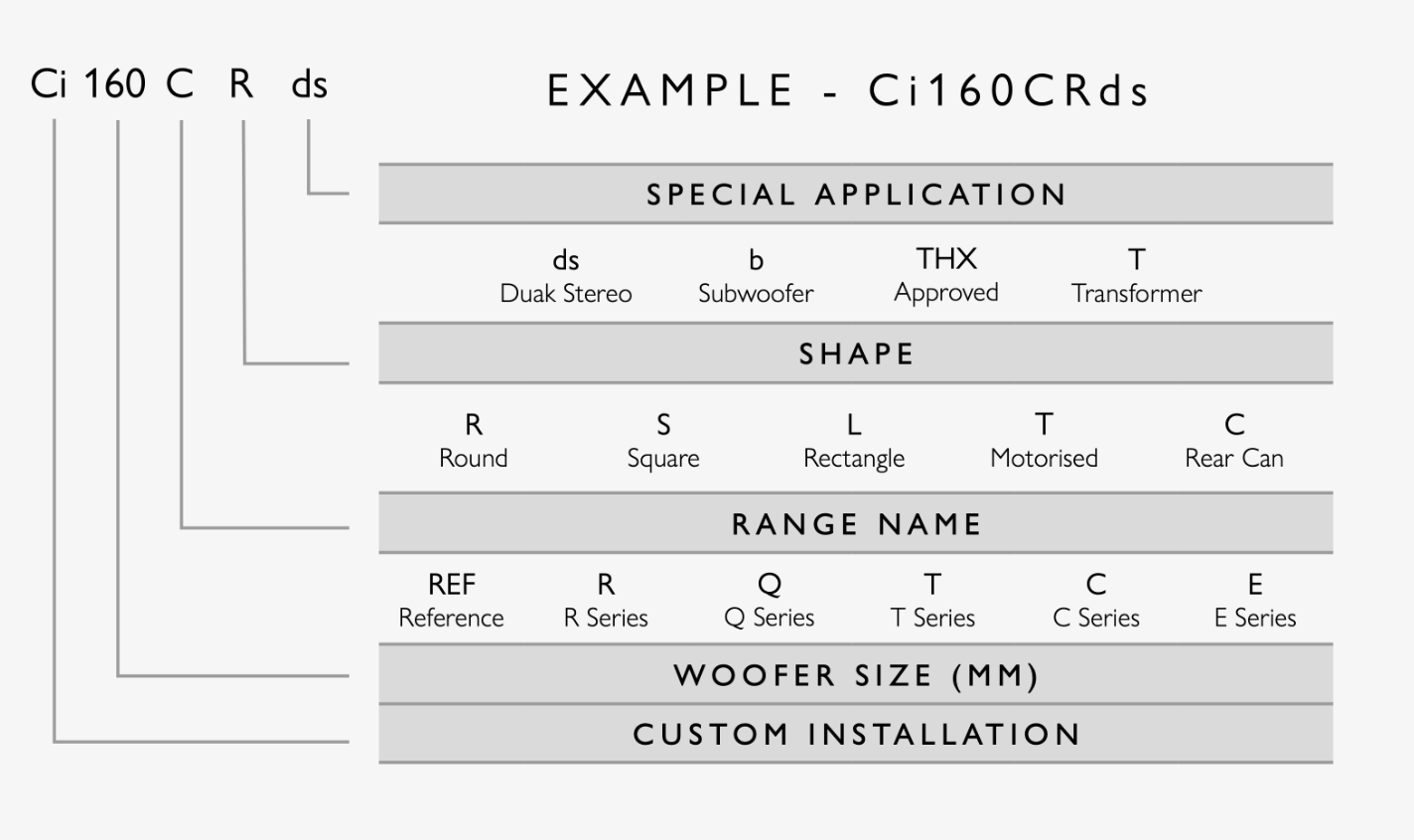 We'll begin by breaking down some of KEF's commonly used speaker naming practices, as shown above in relation to the KEF Ci160CRds
'Ci' stands for custom installation, so you'll see this throughout KEF's architectural range. 
'160' refers to the woofer size in millimetres, 130 indicates a 5.25" driver 160 indicates a 6.5" Driver and 200 indicated a 8" Driver. The larger the driver the more bass will be achieved.
'C' KEF have a few different ranges for a variety of applications, but we'll get onto that below. The range starts at E and finishes at R which is the top of the range specification speaker. Our pick is the Q series.
'R'  refers to the shape of the speaker in this example R is round, S is for square See above image for more shape sizes.
'ds' stands for dual-tweeter indicating a single stereo speaker. If the name stops at the shape, it means there's no special application. See above image for more special applications.
KEF Architectural Ceiling Speaker Ranges Explained...
KEF without a doubt feature some ground-breaking technology in their products. Each range is unique in what it offers, so it's good to understand how each range will benefit what you're looking to achieve. Be aware that specific speakers in each range may give you more of the features listed above, however, the key features are listed below.
KEF Ci E Series - Brilliant sound from budget speakers 
This series offers unbelievable value for money in an entry-level speaker. The cut-out diameter is the same as other KEF speakers, so plenty of flexibility for upgrades in the future.
Who's the KEF Ci E Series right for?
For those who want a discrete high-performance system at a low price, this range is affordable without any compromises on clarity.
Key Features

Ceiling Speakers in this range:
KEF Ci C Series - Even sound for difficult shaped rooms at every budget
In these models, the famous Uni-Q driver array has been subtly enhanced by a tangerine waveguide. This results in not only a wider, more balanced sound but also improved efficiency and dispersion of sound too!
Who's the KEF Ci C Series for?
The impressive technology that goes into this model means the speaker/s can really sit anywhere in the room and still provide a balanced sound wherever you're sat. These speakers are great to consider if you have an odd-shaped room as there will still be an even distribution of sound thanks to technology like the Uni-Q driver array and tangerine waveguide.
Key Features

Ceiling Speakers in this range:
KEF Ci T Series - Uncompromised sound for shallow mounting depths
The ultra-slim T Series Ci gives a whole new world of possibilities for shallow mounting depths. There are no longer any compromises on the sound due to lack of space, giving premium audio in even the smallest spaces.
Who's the KEF Ci T series right for?
This range is ideal for anyone who is struggling to get great sound with a limited ceiling void - as the range features speakers that require less than 36mm of mounting depth. The technology inside the speakers allows the sound to still be crystal clear and detailed despite the limited size.
Key Features

Ceiling Speakers in this range:
KEF Ci Q Series - Freedom to position anywhere
KEF's 'sit anywhere' Uni-Q driver array gives you the freedom to position the speakers anywhere in the room, as the technology allows for a wider and more even dispersal of sound. The Ci Q series also features the Ultra-Thin Bezel design for an ultra-sleek, seamless experience.
Who's the KEF Ci Q series right for?
This series features similar technology to the C series, so you have to freedom to position the speakers anywhere in the room and still benefit from balanced sound. This series could be worth considering if you're looking for rear surround sound speakers for a home cinema solution where the seating position is off-axis to the speaker.
Key Features

Ceiling Speakers in this range:
Ci REFERENCE / R Series – Extreme Theatre - For Cinephile's who want Audiophile quality
These models have been expertly crafted with home cinemas in mind. All models meet both the KEF Extreme Theatre and THX Ultra Certification to create the ultimate in Extreme Home Theatre Systems. Standards seen in the flagship REFERENCE Series are matched in these models, to deliver high-quality precise sound for an impressive home cinema set-up.
Who's the KEF Ci REFERENCE/ R Series right for?
For those wanting to bring the cinema to their home and keep an aesthetic premium feel. These speakers boast impressive audio, with detailed vocals and rich deep bass.
Key Features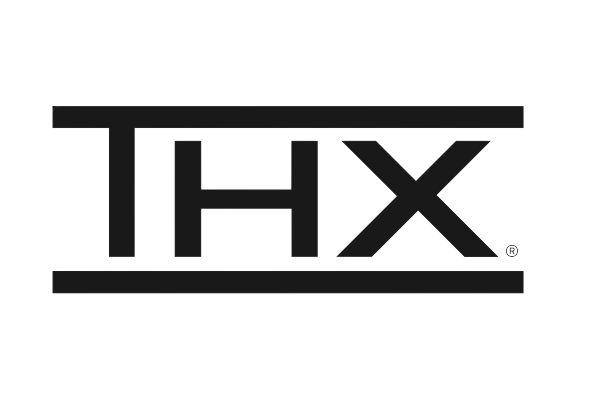 Our Verdict on the KEF Ceiling speaker range?
KEF has developed and refined some outstanding technology which really sets them apart from the competition. Once you bust through the jargon, you can see why this technology is so important when creating an engaging sound for everyone to enjoy. Whether you're looking for background audio, a hifi experience or even outdoor audio. Whatever application you require KEF will deliver award-winning sound for every budget, with impeccable design and aesthetics.
As always, if this blog has left any questions unanswered questions please feel free to get in touch. If you're looking to install ceiling speakers, we can also help design your floor plan for free. You can send the plans to info@smarthomesounds.co.uk along with any relevant information you can include. You can also get hold of us on 08006771100 or our live chat.