Bowers & Wilkins Panorama 3 Review: Competition for the Sonos Arc?
The new B&W Panorama 3 offers Dolby Atmos sound in an all in one soundbar solution, but how did it fare in our testing?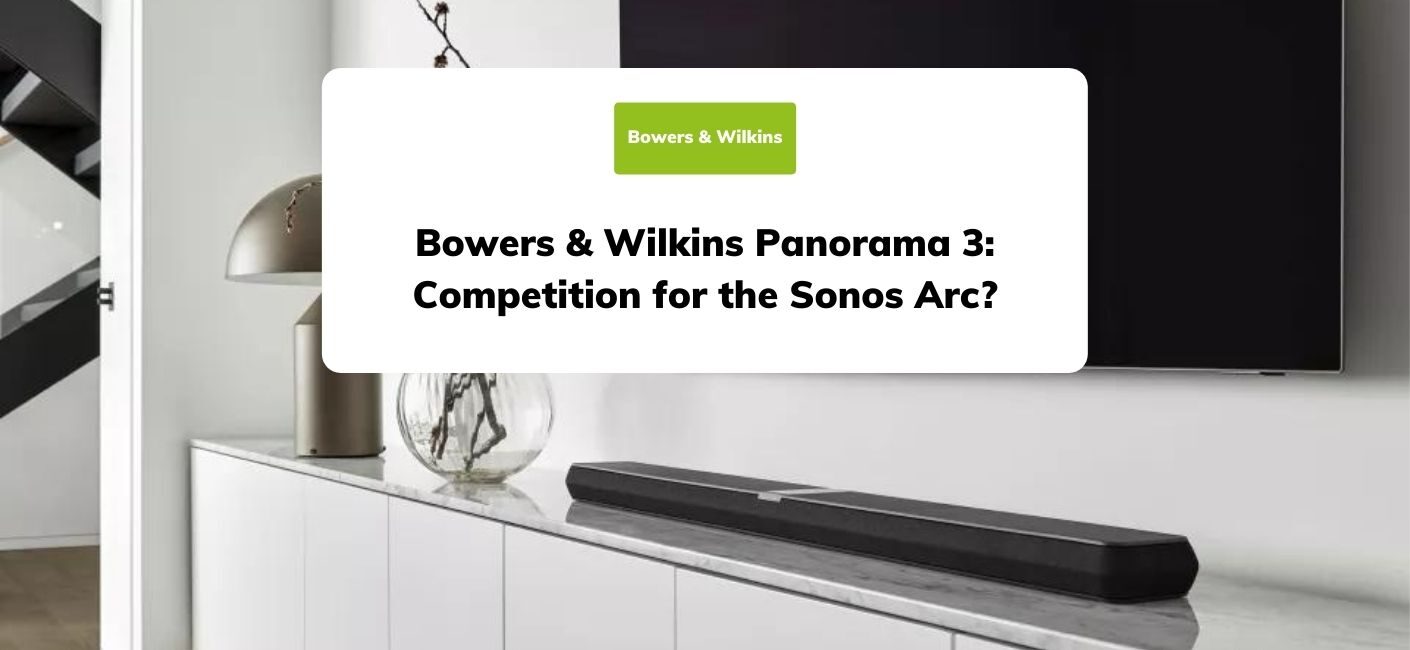 ALL THE INFO ON the new Bowers & Wilkins Panorama 3
SHS Verdict

We've had a lot of fun testing out the new Panorama 3, Bowers & Wilkins' flagship, all-in-one Dolby Atmos soundbar retailing at £899. For us, it's a really good standalone Atmos soundbar, making it a brilliant solution for anyone wanting to install a soundbar and leave it at that. The Bowers & Wilkins App is very user friendly, and Bluetooth 5.0 adds an extra layer of functionality when it comes to your music listening. If you want a system that can be added to over time, the Panorama 3 probably isn't the one for you but it's definitely earned its place in a crowded Dolby Atmos soundbar market.

Pros

✓ A definite upgrade from the B&W Formation Bar with Dolby Atmos support and HDMI eARC connection

✓ Hi-Res audio streaming and Bluetooth 5.0 open up music listening possibilities

✓ Two additional bass drivers when compared to the Sonos Arc

✓ An all-in-one design might best suit some users who don't plan to add to or build their system over time

Cons

✖ Can sound a little muddled in more complex movie sequences or tracks

✖ No option to add rears or surrounds which might be limiting for some.
After months of waiting, we've finally got our hands on the brand new Bowers & Wilkins Panorama 3, their exciting Dolby Atmos soundbar with inbuilt twin subwoofers and upward-firing drivers. Without sacrificing precious space in your living room, the Panorama 3 maintains a slim form whilst offering competent Dolby Atmos surround sound and Hi-Res Audio Streaming. 
We weigh up the Panorama 3's pros and cons and decide whether it's truly worthy of its £899 price tag.
For more on the Bowers & Wilkins Panorama 3, please check out our latest Youtube video: 
B&W Panorama 3 Key Info:
Bowers & Wilkins certainly have a lot of gravitas behind their name when it comes to music and movie recording. As the audio system chosen by sound engineers working on Marvel's Avengers and the brand of choice in Abbey Road Studios, it's easy to see why B&W are a top player in home audio as well.
So why should you consider the new B&W Panorama 3? Here are the basic specs:
| | |
| --- | --- |
| | |
| | Bowers & Wilkins Panorama 3 |
| Price | £899 |
| Dimensions | 65 x 1210 x 140mm |
| Connections | Bluetooth 5.0 aptX Adaptiv, Spotify Connect, Airplay 2 |
| Surround Sound Support | Dolby Atmos, Atmos TrueHD, Dolby Digital Plus and LPCM passthrough (no DTS) |
| Internal Drivers | 13 drivers in an LCR configuration, with each group including 2x 5cm midrange drivers and 19mm titanium dome tweeters. 2x 10cm Subwoofers |
| App Support | B&W Music App |
| Streaming Services | Major streaming services including Deezer, Tidal, Apple, Amazon & Spotify |
| Hi-Res Streaming | Yes |
Aside from these stats, here are the main things you need to know about the Panorama 3 before deciding whether it's right for you:
The Panorama 3 is an all-in-one soundbar solution, without the option to add Surround Rears or a Sub

It has 13 internal drivers, including dual woofer units to take the place of a separate sub and upward-firing drivers for Atmos height and space channels

Hi-Res Audio is supported along with compatibility with Bluetooth 5.0, Spotify Connect, Airplay 2 and Amazon Alexa

Bowers & Wilkins App support & is compatible with major streaming services including Tidal, Deezer, Apple Music, Amazon Music and of course Spotify.

Due to its larger size and flagship features, this soundbar is best suited to TVs of over 55", particularly those which support Dolby Atmos pass-through.
Why no surrounds or sub?
It's definitely a point of contention. For some, investing in a flagship soundbar means an expectation that over time you'll also add a pair of surround rears and maybe even a sub or two. For others, the premium price tag associated with such a product comes with a reluctance to add anything else.
Bowers & Wilkins have taken the latter view with their design of the Panorama 3, as it's not possible to add a pair of surrounds or subwoofer to this set-up. The Panorama's 13 individual driver unit acoustic architecture certainly packs a punch with ten 40w amplifiers to power it and a 3.1.2 surround channel configuration. For many, this will offer more than enough power and depth of sound without needing to invest in additional audio equipment.
Compare this with the Sonos Arc, which matches the Panorama 3's Dolby Atmos configuration and £899 price tag, and you'll have the ability to add a pair of surround rears along with a Sub to your set-up. The Sonos Arc is also better suited to a multiroom set-up due to the robust Sonos App set-up and range of additional music and TV speakers that can be added to the system. 
There's no right answer, but it's worth considering what you hope to get out of your system over time before making a choice between the B&W Panorama 3 and Sonos Arc, as you've definitely got more options when it comes to the Arc.
How does the B&W Panorama 3 compare against its closest competitors?
The title of best soundbar in 2022 is hotly contested, especially when it comes to comparing wireless, Dolby Atmos options. Priced at £899, its keenest competitor is most notably the Sonos Arc, however, we feel there are a few key differences.
Sonos Arc vs. Bowers & Wilkins Panorama 3

Why opt for the Sonos Arc

✓ Possibility of adding to your Surround Sound system over time with the Sonos Sub or a pair of Sonos One SL Surround Rears

✓ Can be used as part of a Sonos home multi-room system

✓ Sonos App and ecosystem more robust and easiest to use

✓ Sideway firing drivers which aren't present in the B&W Panorama 3

✓ Trueplay tuning acoustically matches the Arc's performance and EQ settings to your room, something the Panorama 3 can't do.

Why stick with the B&W Panorama 3

✓ Could be argued that B&W were fully focussed on making this a great Dolby Atmos soundbar in its own right, without needing to worry about adding separate rears or a sub

✓ 13 internal drivers (two more than the Sonos Arc) offering a more pronounced bass response

✓ 400W of amplification, with 40W per speaker driver

✓ Bluetooth 5.0 connectivity option

✓ Will be able to be integrated with other B&W wireless products (e.g. Zeppelin 2), but only after a future software update
| | |
| --- | --- |
| | |
We'd be hesitant to declare one the overall winner. It's more likely the case that each product will suit a different customer. If you're looking for a pared-down approach to your home audio and don't want the added bulk or expense of further HiFi components like rears or subwoofers, the Panorama 3 is a perfect choice with its slimmed-down design and all-in-one approach.
If you're the sort of person who would like the option of making their system bigger and better over time, or you're interested in creating a full home system across multiple rooms in your home, the Sonos Arc is the obvious choice.
Of course, the Sonos Arc isn't the only other option available in direct competition with the Panorama 3. Here's how it fairs against other soundbar offerings on the market today:
B&W Panorama 3
Sonos Arc
Bose 900
Sony HT-A7000
 Price
£899 RRP
 £899 RRP
£899.95 RRP
 £119 RRP
Dimensions
 65 x 1210 x 140 mm
87 x 1141.7 x 115.7 mm
 58.1 x 1045 x 107 mm
80 x 1300 x 142 mm
Connectivity
 Bluetooth 5.0, Wifi, Spotify Connect, Airplay 2
Wifi, Airplay 2, Spotify Connect
Bluetooth, Wifi, Spotify Connect, Airplay 2, Chromecast
Bluetooth 5.0, Airplay 2, Wifi
Voice Control
 Amazon Alexa enabled
Amazon Alexa or Google Assistant
Amazon Alexa or Google Assistant
No
TV Connection
HDMI eARC
HDMI eARC or ARC & Optical
 HDMI eARC or Optical
HDMI eARC
Hi-Res
Yes
Yes - Sonos Radio, Amazon Music Unlimited
No
Yes
Surround Sound Codec Supported
 Dolby Atmos, Dolby TrueHD, Dolby Digital, Dolby Digital Plus
Dolby Atmos, Dolby TrueHD, Dolby Digital, Dolby Digital Plus
Dolby Atmos, Dolby Digital, Dolby TrueHD & Dolby Digital Plus
Dolby Atmos, Dolby TrueHD, Dolby Digital Plus, Dolby Digital, DTS:X, DTS-HD, DTS
Drivers

13 drivers in an LCR configuration, with each group including 2x 5cm midrange drivers and 19mm titanium dome tweeters. 2x 10cm Subwoofers

 
11 internal drivers in an LCR configuration (including sideways firing), with two upward-firing drivers for height and space channels
9 internal drivers including a central tweeter, four racetrack transducers and a pair of upward-firing height drivers
7.1.2Ch set up with built-in subwoofer, front-facing speakers in LCR configuration and upwards firing drivers
Upward Firing Drivers
Yes
Yes
Yes
Yes
Option to Add Surrounds
 No
Yes, can add two rears (Sonos One SLs) and a Sub

Yes, can add the Surround Speakers 700 and Bass Module 700

 
Yes, can be used with the Sony SA-SW5 sub and Sony SA-RS3S surround speakers
Remote Control
Yes
No (App and TV Remote Control)

Yes

Yes
Our Testing
We've had a bit of time to test the waters with the Panorama 3 and have some interesting findings.
For surround sound, though brilliant for the most part we did find the Panorama 3 a little muddled in really complex action scenes. Take 2021's blockbuster Dune for example, in scenes with multiple aircraft (or ornithopters for the Dune fanatics) flying around the sky, a little of the separation was lost which is a shame considering that as a Dolby Atmos soundbar, the Panorama 3 should have a really firm grasp of height, space and detail. 
In other content we tested, however, the Dolby Atmos effect was really superb - especially in a scene in the latest 007 instalment No Time To Die, where an explosion is set off just before Bond as he visits Vesper Lynd's grave. In the moments that follow, where we see Bond struggle to make sense of his surroundings, you really get a feel for the confusion and disruption in the scene as the sound seems to move between your ears and over your head, just as it might if you were to experience the explosion in real life. This rings true for other content we tested, so we'd be hesitant to give the Panorama 3 a poor review on that front.  
The music that we tested was also good on the whole. Vocals really come to the fore when listening to this soundbar, and we really enjoyed our time testing tracks with powerhouse vocalists like Gregory Porter at the helm. The only areas that let the Panorama 3 down were particularly complex tunes, such as dance music, where there are multiple layers to the track. In these cases, the Panorama did get a little muddled in places - but we still got the spirit of the songs, with the Panorama 3 offering a lively performance.
Here are some of the tracks we tried out on the B&W Panorama 3: 

See how we got on testing the Panorama 3 below, recorded using our Binaural Microphone:
Our Final Thoughts
We can definitely see a market for the B&W Panorama 3. If you're someone who wants a sleek solution that blends into a room and doesn't feel as if you'll want to add more components to your system, the Panorama 3 is the perfect choice for bringing Dolby Atmos into your home. This soundbar's dual woofers make it more capable of delivering impressive bass, a deliberate decision by B&W given that the Panorama can not be added to with a Sub and rears.
We might have liked to see sidewards firing drivers in the Panorama 3 to better fill a larger room, but the upwards firing drivers did do a good job of creating height and space so we can't hold this against it. The soundstage did become a little muddled in more complex sequences, but the Panorama 3 retained great control over vocals and did a brilliant job of drawing you into the action.
Overall, well worth its 4/5 star rating.

If we can be of any further assistance please just get in touch using the below options: