Top 7 Portable Bluetooth Speakers For 2021: For All Your Adventures
Looking for a new portable speaker to kick start the summer? Look no further than our top 7 choices for 2021.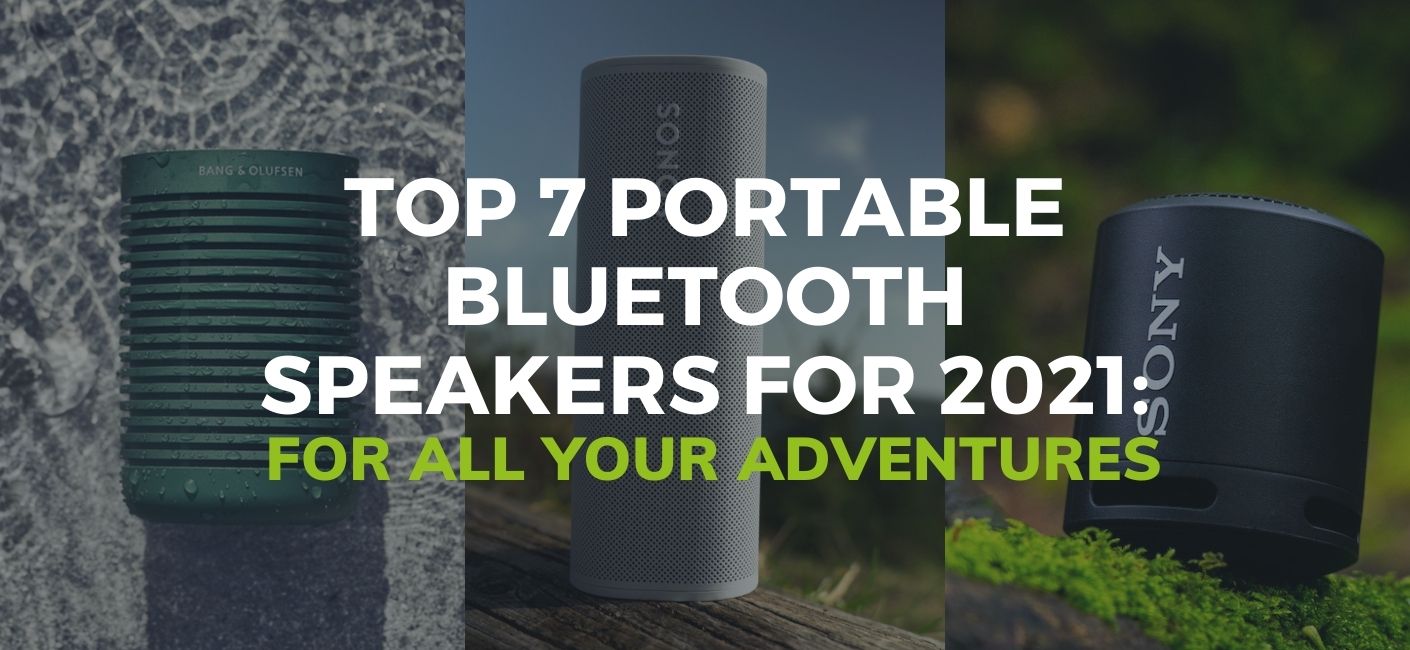 Our favourite Portable BLuetooth Speakers for Summer 2021
For the people who want music on the go. 
Holidays have finally been given the green light for this summer and whether you're planning a staycation or jetting off to Portugal, being able to take your music on the go is still your most important accessory this summer, or at least it is for us. 
Music is always a mood booster and your summer playlist is integral to your 2021 summer of fun.
We have rounded up the best portable speakers on the market for you so you can easily decide which speaker is going to be your partner-in-crime this summer.  
We cover a range of different price points so you can find the best speaker for you. 
Our Suggestions:
---
Sonos Roam - £159.00

Predictably the Sonos Roam has to be featured on this list, Sonos always know how to deliver great quality sound and style.
The Roam is their smallest and most affordable speaker to date and offers the best of both with WiFi connectivity at home and Bluetooth 5.0 on the go. 
Pros

Cons

✔️ Wifi & Bluetooth 5.0 control
✔️ 10 hours of continuous playtime
✔️ Airplay 2 compatible
✔️ Voice-enabled (Alexa and Google Assistant)
✔️ Lightweight design
✔️ IP67 waterproof rating (perfect for by the pool)
✔️ Automatic Trueplay Tuning


✔️ Can pair two Sonos Roam speakers for a stereo pair (WiFi only)

✘ Can't stereo pair in Bluetooth mode
The rubber end caps on the Sonos Roam are designed to absorb impact if dropped but the more premium looking grille can mark easier than more durable speakers if dropped on certain surfaces. 
Overall this speaker is a great option for anyone that wants to have a backing track to their trip to the beach this summer or wants to invest in a great speaker and can be integrated into part of their home ecosystem. 
Sony SRS-XB13 - £55.00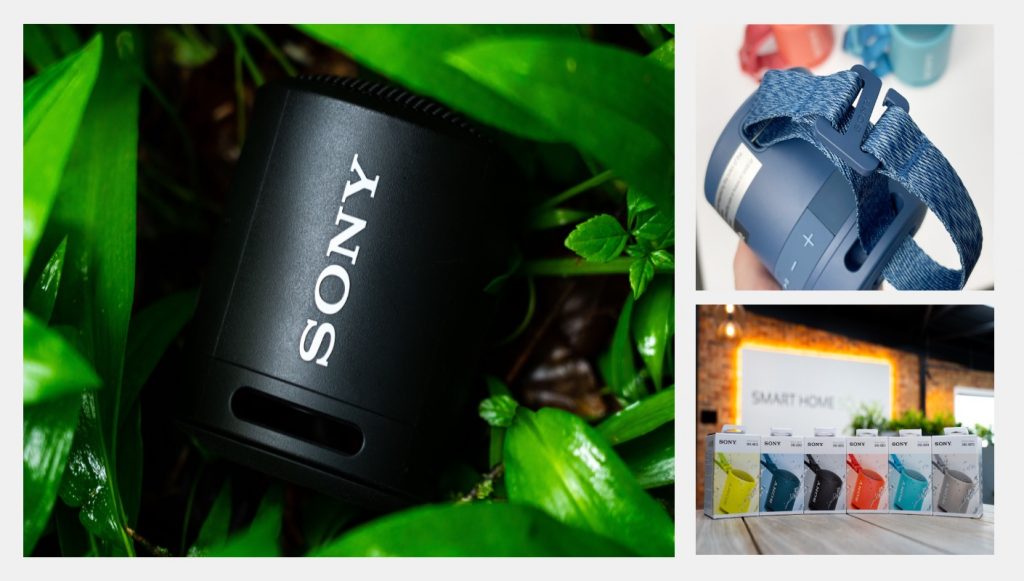 Small but mighty seems to be the motto when looking at the Sony SRS-XB13. This compact, portable speaker can be thrown in your bag or even strapped to the side to take your music anywhere.
Pros

Cons

✔️ Budget-friendly
✔️ IP67 waterproof and dustproof rating
✔️ 16 hours of battery life
✔️ Can pair 2 for stereo sound
✔️ Compact, durable, and ultra travel friendly
✔️ Features Sony's EXTRA BASS and Sound Diffusion Processor

✘  No sleep or standby mode
Our favourite part? The 6 colour shade range, I'm partial to the blue myself. Of course, this speaker is not going to be as powerful or bass-driven as some of its larger and more expensive competitors. However, it's ideal for anyone who's looking for a speaker that won't break the bank but can still blast the tunes. 
Bang & Olufsen Beosound Explore - £169.00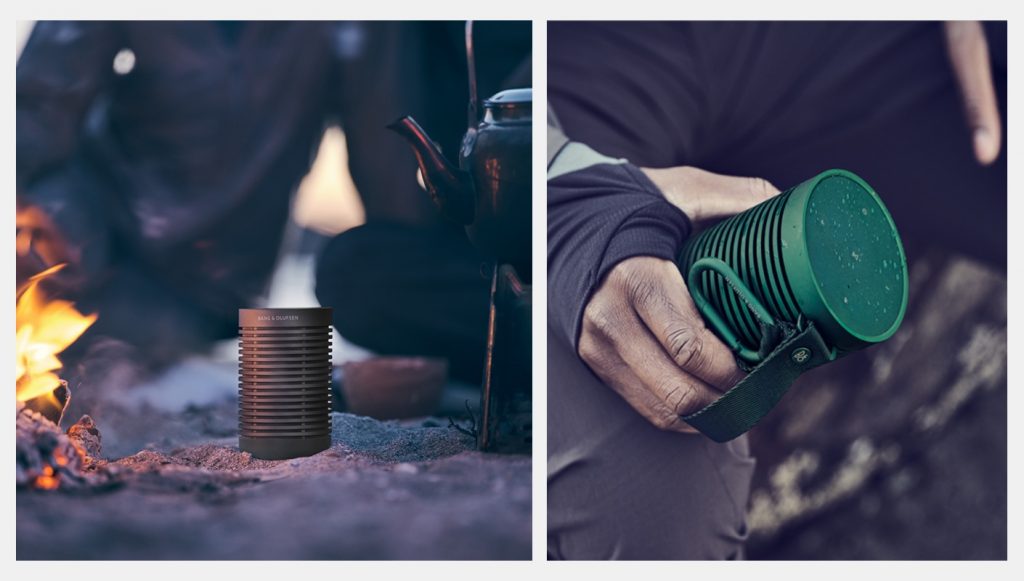 The Bang & Olufsen Beosound Explore is designed for you to just grab and go, made to be your very own exploring companion.
B&O have specifically designed this speaker to withstand all weather and terrain through its IP67 weather rating and Anodised Aluminium finish - this is definitely the 'Bear Grylls' of portable speakers.
Pros

Cons

✔️ 27 hours of playtime
✔️ Can pair two speakers together for a stereo pair


✔️ IP67 weather and dustproof


✔️ Bluetooth 5.2 standard
✔️ True 360° output
✔️ Can tweak EQ for outdoor to indoor sound
✔️ A pair of 1.8in full-range drivers


✔️ Weatherproof woven nylon strap and aluminium carabiner clip

✘  Can't pair to your smart home setup
✘  Sounds best when outdoors
This speaker is perfect for those that like to explore the great outdoors, the design is fully weatherproof and durable, the Explore has been engineered so that it sounds most powerful and clear when outside. 
If you're planning your next Ross Kemp adventure this speaker is definitely for you. 
Marshall Emberton - £129.00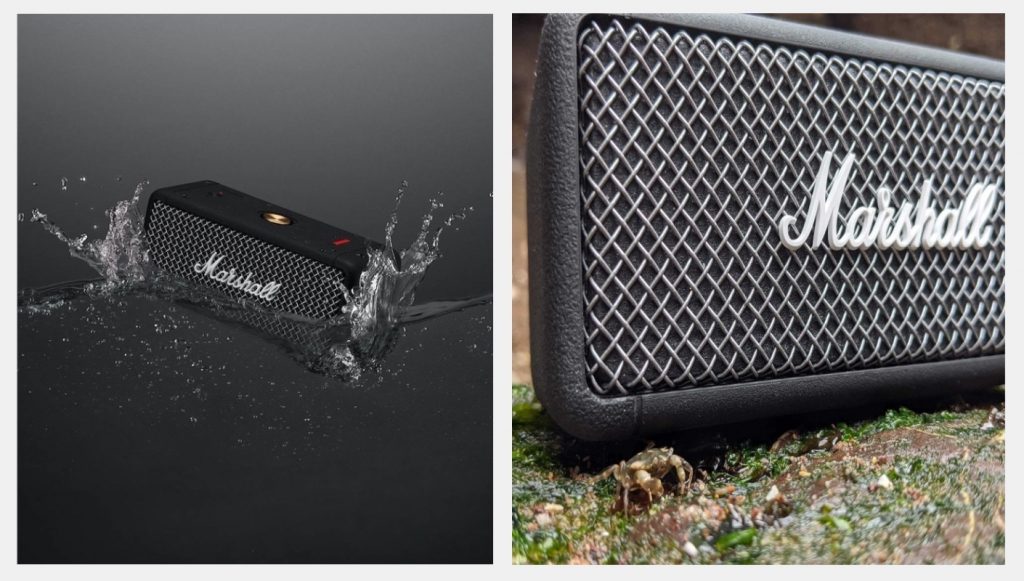 Rugged, compact, and featuring that vintage style that just makes you seem that little bit cooler. 
Pros

Cons

✔️ 20+ hours of battery life & quick charge (20 mins give extra 5 hours of battery)
✔️ Rugged design and IPX7 waterproof rating
✔️ Bluetooth 5.0 connection
✔️ Can pair 2 devices at any one time


✔️ 'True Stereophonic multi-directional, 360

°

sound 

✘  No input, wifi or mic for voice assistant
The Marshall Emberton delivers great sound and iconic style, and whilst this speaker is perfect for travelling it is also a great speaker for showing off at home.  
B&O Beosound A1 (2nd gen) - £199.00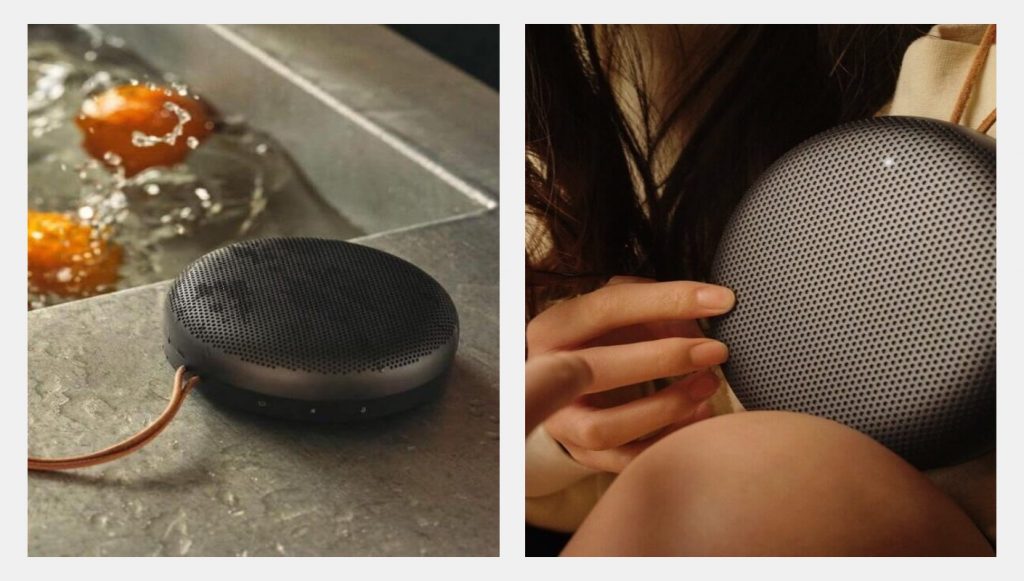 Combining premium style with the convenience of portability, the Bang & Olufsen Beosound A1 has a flat, circular design and 18 hours of battery life make it the perfect travelling companion. 
Pros:

Cons:

✔️ 3.5mm driver & silk dome tweeter for True360 omnidirectional sound
✔️ 18 hours of battery life
✔️ Waterproof and dustproof
✔️ Bluetooth 5.1 connection & Hi-Res audio streaming


✔️ Amazon Alexa 

✘ Not as lightweight as other options on the market
Durable with impressive battery life and crisp clear sound, this is definitely for people who want to invest in a speaker that will be used more than just for travelling.
JBL Charge 5 - £159.00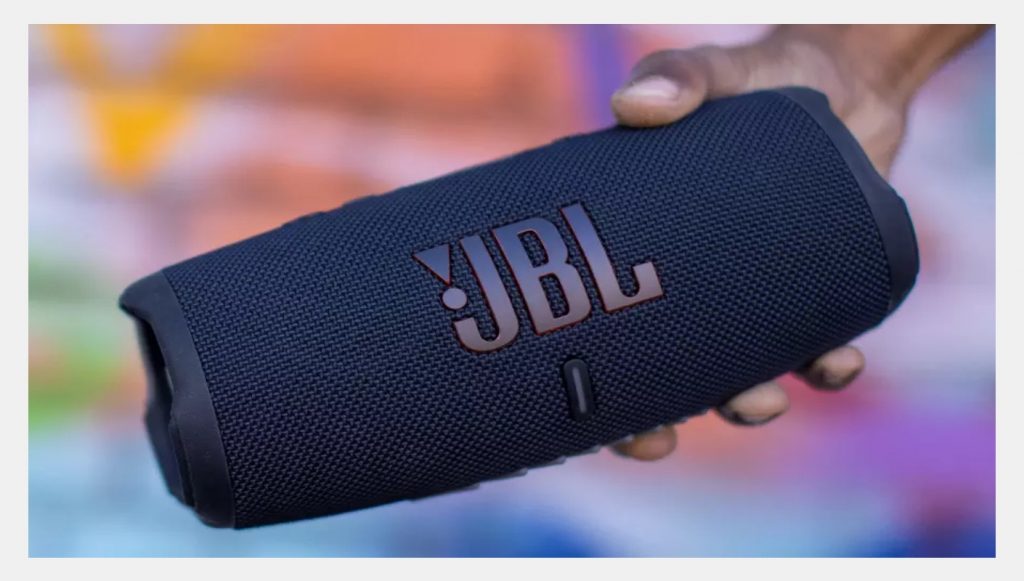 JBL Charge 5 is the epitome of a rugged, no-nonsense, portable Bluetooth speaker. Designed to be taken with you on all your great adventures, a 20 hour battery life and IP67 weather rating means you won't be caught short. 
Pros

Cons

✔️ Impressive 20-hour battery life
✔️ IP67 Dustproof and waterproof
✔️ PartyBoost compatible (can be paired with other portable JBL speakers)


✔️ Bluetooth 5.1

✘ Lacks EQ options as not compatible with an App


✘ Favours durability over aesthetics
Rugged, long-lasting, impeccable sound, there is no doubt that the JBL Charge 5 is a great Bluetooth speaker option, especially if you're an adventurer. 
UE Wonderboom 2: £89.99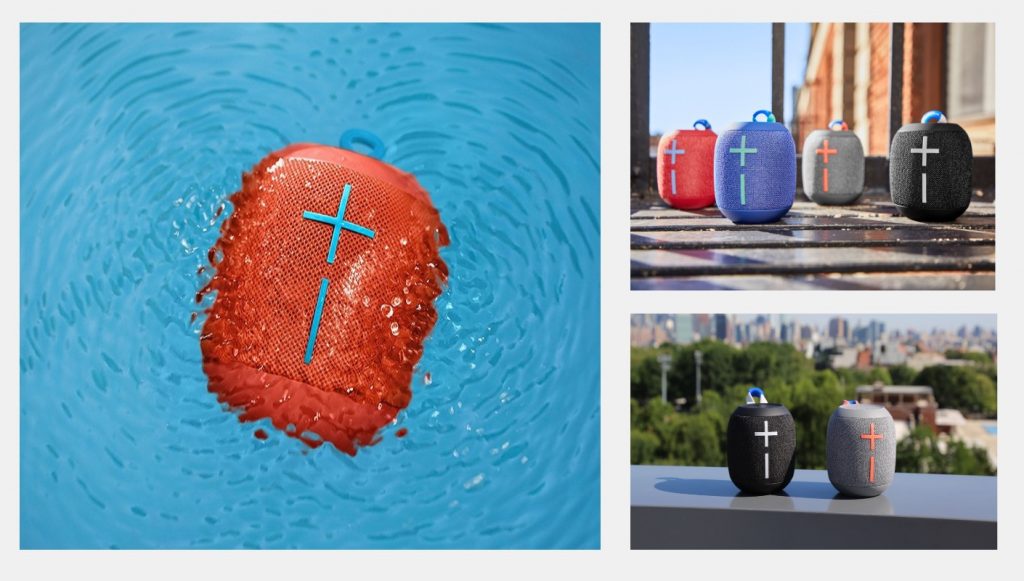 At just 10.4cm in height and coming in under the £100 mark, the UE Wonderboom 2 is a brilliant portable speaker choice that won't break the bank. 
Plus it floats, so it's ideal for spontaneous pool parties! 
Pros

Cons

✔️ IP67 dust and waterproof rating
✔️ Floats in water
✔️ Compact design
✔️ Connect to two devices simultaneously
✔️ Can be paired for stereo sound
✔️ 13 hours playtime
✔️ Wide range of colour options
✘ Distortion increases with volume


✘ Micro USB charging (prone to bending easily)
Whilst the UE Wonderboom 2 might be one of the more affordable options for portable Bluetooth speakers, it definitely doesn't scrimp on quality. 
Its compact size also makes it perfect for taking out and about and the different colourways are also a nice touch, ensuring you'll stand out when your blaring tunes on the beach.
Final thoughts:
We hope we have given you a broad range of portable Bluetooth speaker options to help you narrow down your search! Personally, I think it's a close call between the JBL Charge 5 and the Sonos Roam but any of these speakers would be a great way of taking your tunes with you wherever you go!