Bang & Olufsen Beosound Explore: Ready For Anything?
Curious about the Bang & Olufsen Beosound Explore? We take a look at the premium features housed inside this rugged, portable speaker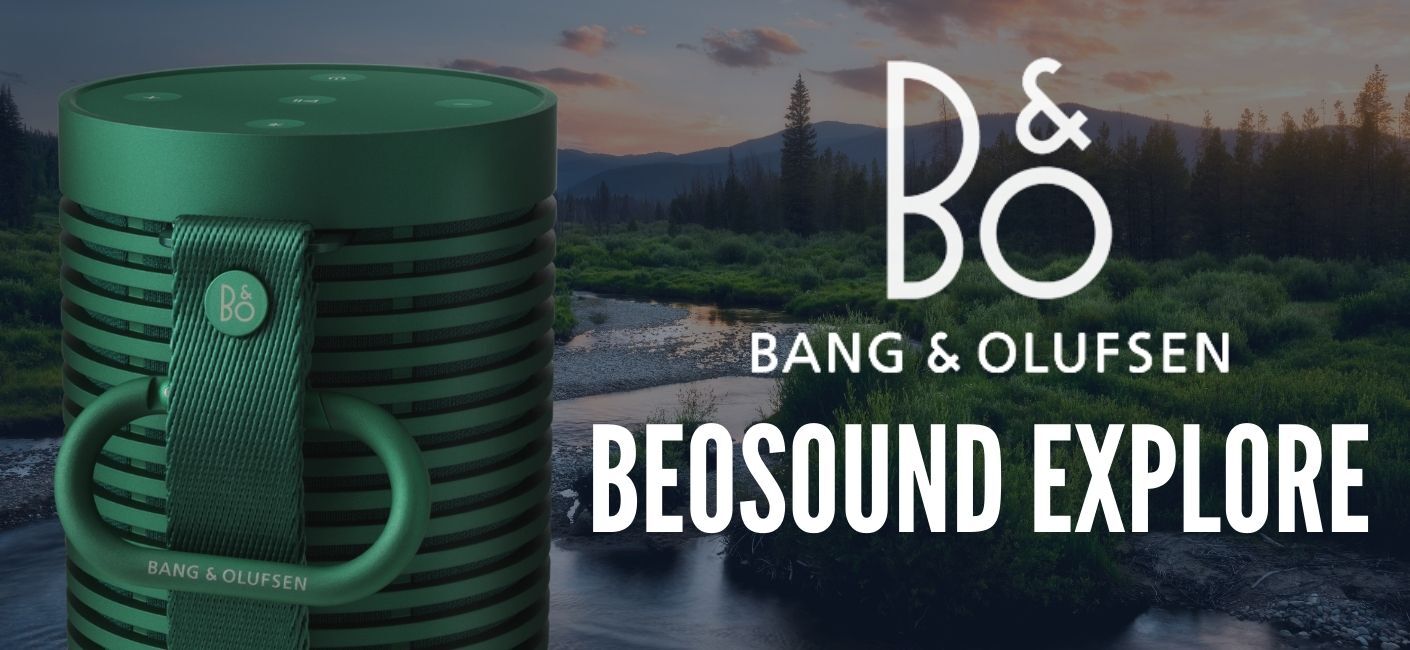 Everything you need to know about the Bang & Olufsen Beosound explore portable speaker
Released in May 2021, the Bang & Olufsen Beosound Explore has been tailored for the outdoorsy among us, boasting premium features such as a 27-hour battery life, IP67 weather-proof rating, and the latest 5.2 Bluetooth connectivity.
What we love
✔️ 27-hour battery life
✔️ IP67 weather rating for dust and water resistance
✔️ Anodised Aluminium grille for scratch-resistance
✔️  360 Degree Omnidirectional Sound
At a Glance
• Brand: Bang & Olufsen • Price: £169 • Connection Method: Bluetooth 5.2 • Battery Life: 27 hours •
Best For
The Explorers, those who don't want to worry about keeping their speaker out of harm's way and who need a reliable battery life to power them through their adventures.
---
 Other Contenders
From what we've seen so far, it's clear the Beosound Explore packs a punch when looking at the key features we'd expect an outdoor, portable speaker to have. But how does it fair when looking at other speakers on the market? Below, we've taken a look at some of Beosound Explore's key features in comparison to its heaviest competition: The Sonos Roam, Marshall Emberton, and B&O's own Beosound A1 2nd Gen.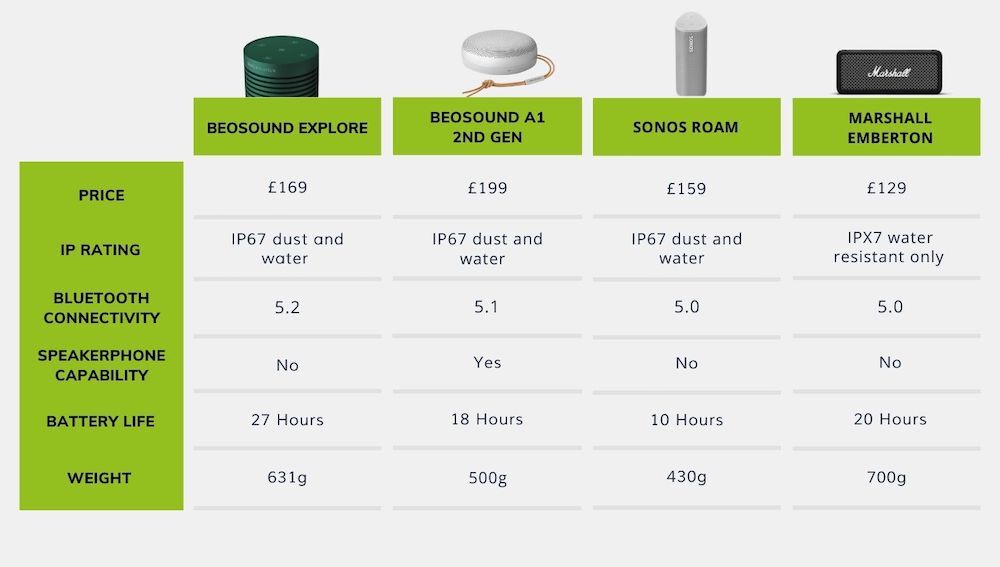 ---
 Top Features
Weather Proofing

The B&O Beosound Explore is built to last with an IP67 weather rating. This rating will protect your speaker from dust exposure and submersion in 1 meter of water for 30 minutes. You might not be planning to take your Beosound Explore for a swim, but it's reassuring to know you'll be protected should the worst happen.
Design
The Beosound's cylindrical speaker grille has been engineered from Anodised Aluminium to make it scratch and dent resistant, perfected for a bit of rough handling. Other neat touches serve outdoorsy folk, such as the included carabiner carrying clip and top panel touch controls that will work even with gloved or cold hands.
Though 631 grams may not seem like much, it is slightly heavier than some of the Beosound Explore's competitors such as the Sonos Roam (430 grams) and B&O's own Beosound A1 2nd Gen (500 grams). Bang & Olufsen put this down to the premium Anodised Aluminium material used for the outer grille. 
Audio

It's all well and good to have a speaker built for the elements, but it's got to sound great to be worthwhile taking anywhere at all. A pair of 30w Class-D Amplifiers power two 1.8" full-range drivers for a clear, crisp and even sound. Our favourite part is the 360-degree Omnidirectional soundstage and selectable EQ presets which will best suit an outdoor environment.
At this compact size and price point, we can't begrudge the Beosound Explore for their smaller internal drivers, and with B&O's promise that this will comfortably fill a room of between 5-30m², we can safely say that this speaker passes our audio test. 
Bluetooth and Connectivity

The latest Bluetooth 5.2 technology has been employed to offer strong connection with a connectivity range of approximately 30m. This longer range may seem like overkill, but if you're hiking with friends or sitting across a campsite from the speaker you might find the extra distance comes in handy.
Though we'd have liked to see speakerphone or voice assistant compatibility, it isn't unusual for this to be missing from portable speakers at this price point. Arguably the introduction of a microphone array would increase the price point as this would need to be waterproof, and for a speaker designed to be taken out of the home, this may not be worthwhile.
Battery

27 hours should last you a good number of days in real terms unless you're planning to listen to music constantly! This battery life also beats the other speakers we pitted the Beosound Explore against, which is a great feat in and of itself. A 2 hours empty-to-full recharge time is also pretty impressive and competitive with other speakers on the market - no complaints here.
Verdict

Bang & Olufsen are famous for their high-end audio products and though the Beosound Explore falls at a lower price point than we're used to seeing from them, it's certainly been designed with quality in mind and is tailored to a specific end-user. If you're into hiking, camping, lounging on the beach or anything in between the Beosound Explore could be the perfect speaker for you.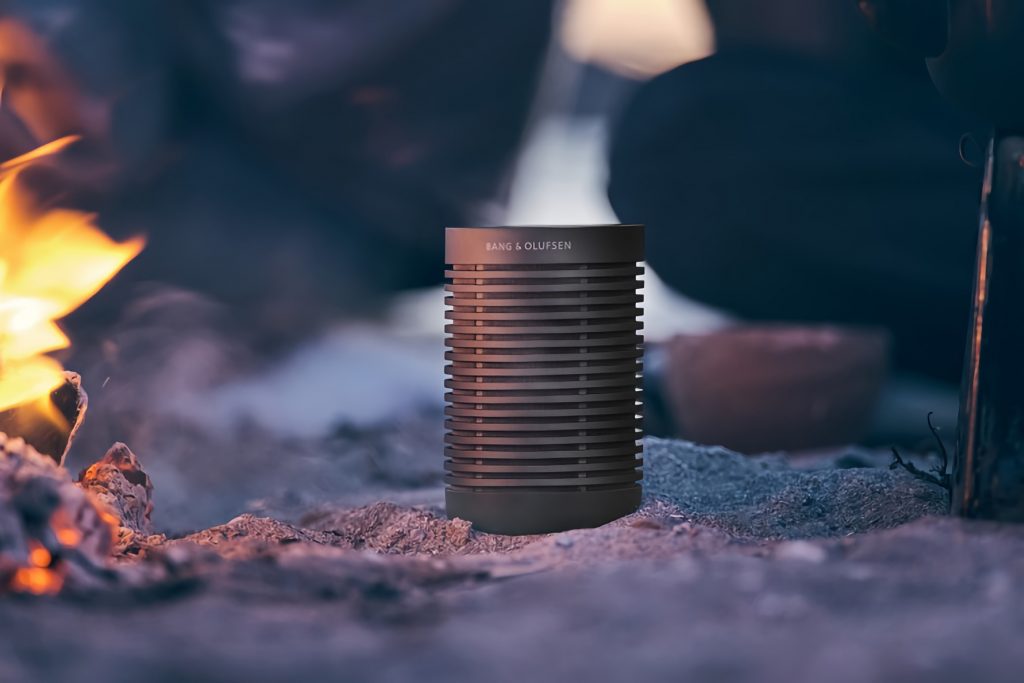 It's hard to fault the Beosound Explore at this price point and with the feature set it possesses. We particularly like that B&O have gone all-in with the Explore's outdoor-ready design, such as EQ settings that are perfectly adjusted for wider outdoor settings and the aluminium speaker grille and carabiner on hand to best serve rough handling.