Top 5 In-Ceiling Speakers for your Bathroom
Discover which ceiling speakers are great for bathrooms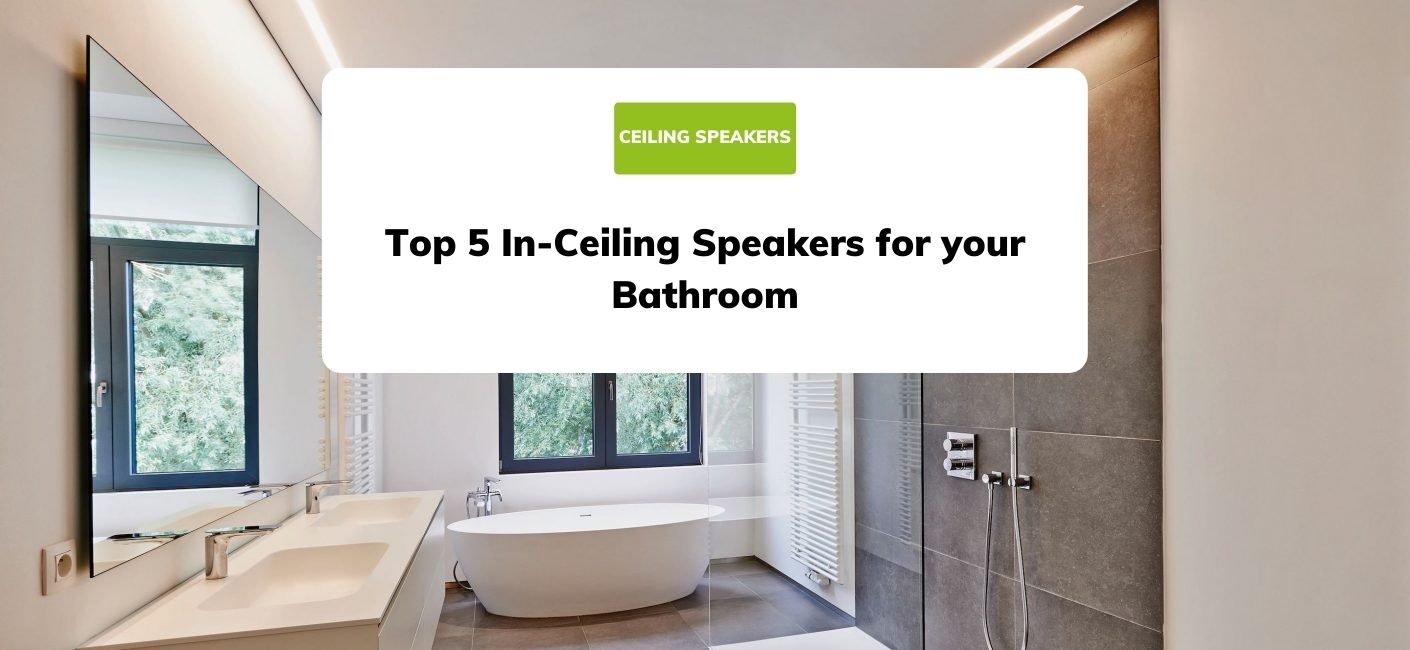 Our top ceiling speakers for your bathroom
Updated March 2022
If you've landed on this blog, you probably enjoy showering to your favourite songs as part of your morning routine. Same as us! Maybe you're looking to start from scratch or improve your existing system and wondering how to bring great quality sound to the bathroom, particularly in the form of ceiling speakers.
Some brands have created waterproof shower speakers that sit on your wall using a suction cup. While these are widely available and affordable, we believe there's a better option. As the batteries need to be replaced regularly, the sound quality is limited at louder volumes and if the wall gets too wet they have a tendency to fall off.
We believe your money is better invested with something like an in-ceiling speaker. Ceiling speakers are becoming an increasingly popular bathroom speaker solution, due to the fact it's harder to find a power source in a bathroom and there's limited space on shelves, walls and the floor.
Something important to think about when considering a bathroom ceiling speaker is what your preferred method of control is. Is it Bluetooth, Apple AirPlay 2, Spotify Connect or some other way?
This will be a big factor in the type of ceiling speaker you go for.

Single stereo or dedicated Stereo pair?
Before we get into recommending specific ceiling speakers, it's also important to understand the difference between a single stereo and dedicated left and right stereo pair.
Most ceiling speakers have 1 tweeter each meaning they are mono speakers needing to be installed as a left and right pair. This means you'll need to have space in your ceiling for two ceiling speakers.
However, as bathrooms tend to be the smallest rooms of the home, ceiling space can be limited, especially with lights and extractor fans. That's why we normally recommend single stereo ceiling speakers for a bathroom, as you get a dedicated tweeter for the left and right channels, meaning you can still benefit from a true stereo sound from a single speaker.
Voice control your ceiling speakers with alexa or google assistant
Our top tip would be to look for a speaker that has the ability to be linked with a voice assistant such as Amazon Alexa or Google Assistant. Being able to control your tracks hands-free with your voice adds a whole new level of convenience in the bathroom.
Take a look at our most popular picks below.
Best Single Stereo Ceiling Speaker Options
As Bluetooth speakers for the shower or bathroom go, This is by far our most popular in-ceiling option. The great thing about Lithe Audio is that they are active speakers that just need plugging into mains power from a socket, or via your lighting circuit. 
From this point, you can use Bluetooth from your phone for the most straightforward method of control.
Being Alexa-enabled and Google Assistant-enabled, you can add any Amazon Echo or Google Home device within 8 metres of the ceiling speaker and your music-related voice commands will be sent over Bluetooth to the speaker.
You can install just one speaker in your bathroom, or you can install a pair for true stereo sound (speaker cabling required between each ceiling speaker if installing a pair).
Being IP44-rated, it's resistant to sprays of water, moisture and humidity. While it's not fully waterproof, being in the ceiling, it's less likely to get splashed. However, we recommend positioning it away from shower enclosures and bathtubs, just in case. The sound is loud enough to be heard from anywhere in the bathroom anyway.
What's more, it also comes with an RCA input so maybe if you have a built-in waterproof TV in your bathroom, you can connect them up together, for a complete audiovisual experience in the bathroom.
Easy to install - no speaker cable and no amplifier required
Bluetooth 5.0 - the simplest method of control now updated to Bluetooth 5.0 for better range & audio quality
IP44 rated against steam, moisture and humidity
Use as a single speaker or as a pair
Great value product and highly recommended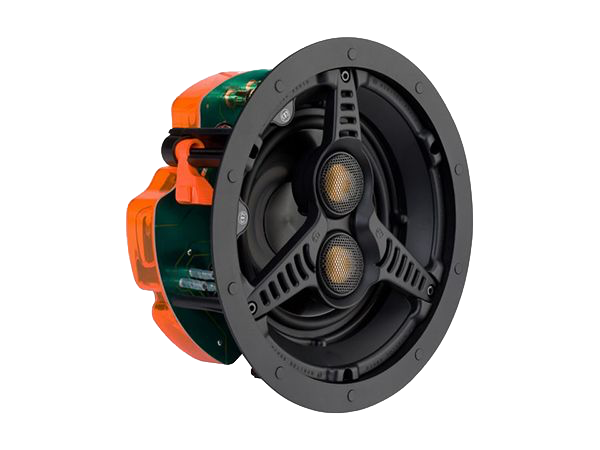 If you are looking to install ceiling speakers in multiple rooms of your home, then you may wish to consider a more robust ecosystem using passive, ceiling speakers in your bathroom such as the Monitor Audio C165-T2.
You can choose what kind of amplifier you want to power it with, however for the best experience, we recommend powering it with the WiFi-enabled Sonos Amp. If you are a Sonos user already, you'll know this unlocks the ability to stream from over 60 music streaming services, such as Spotify to TuneIn Radio. You can then group the music with the rest of your system, or have the bathroom playing something different.
Being steam and moisture resistant, it can cope in a bathroom environment, no problem at all, as long as you do not position in a shower enclosure or get it wet.
Out of all the passive ceiling speakers, the Monitor Audio range, in our opinion, provides some of the best value for money for the sound you can achieve.
Passive speakers - power with your chosen amplifier via speaker cable e.g. Sonos Amp
Steam and moisture resistant - position away from shower enclosures
Great for ambient background listening
Our preferred choice for bathroom listening on a budget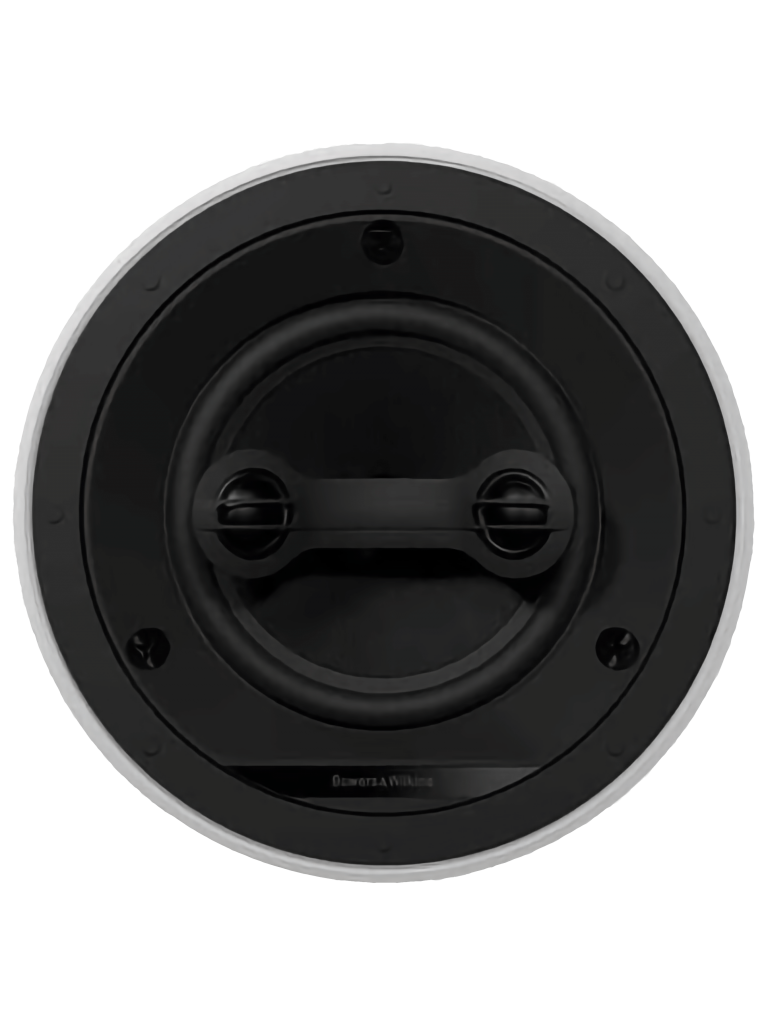 Similar to the C165-T2, the CCM664SR from British heritage brand Bowers & Wilkins is a step up, if you're looking for extra premium quality sound in your bathroom.
The CCM600 range utilises a unique quick dog clamping system for seamless installation. The speaker can be upgraded to a higher model in the CCM600 range easily by removing the speaker from the cage and replacing it with a better model - great for future proofing!
Bowers & Wilkins are known for their crystal-clear vocal clarity and tonality and if you're into many different genres of music, we feel the CCM664SR offers the complete solution.
Passive speakers - power with your chosen amplifier via speaker cable e.g. Sonos Amp
Steam and moisture resistant - position away from shower enclosures
Great for all types of listening
Bathroom In-Ceiling stereo pair options
If you are lucky enough to have enough space to fit two ceiling speakers in your bathroom, we would highly recommend a stereo pair of ceiling speakers for a true stereo sound.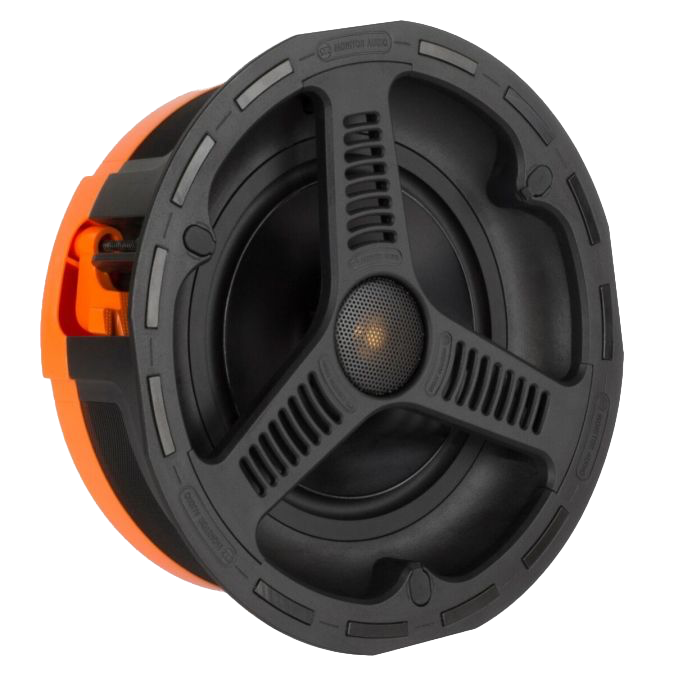 This passive, waterproof ceiling speaker sounds phenomenal when used as a pair and the quality of engineering really comes across. Again, you can power this with the Sonos Amp and benefit from the highly-regarded Sonos ecosystem.
The great thing about this model is that because it is IP55 rated, it is waterproof and can be fitted inside a shower enclosure, above a bathtub or wherever you would like in your bathroom. It's completely at home in these sorts of environments.
Being a Monitor Audio speaker, they are extremely well-built which makes for a crystal-clear sound. The 6-inch woofer drives great bass too over background noise. And you get the benefit of Monitor Audio's lifetime warranty.
There is also a single stereo version of this speaker named the AWC265T2 if you want to install a single speaker in your bathroom.
Passive speakers. Power with an amplifier via speaker cable e.g. Sonos Amp
IP55 rated. Fully waterproof. Position anywhere in your bathroom!
Designed for use as a dedicated stereo pair
Listen comfortably at loud volumes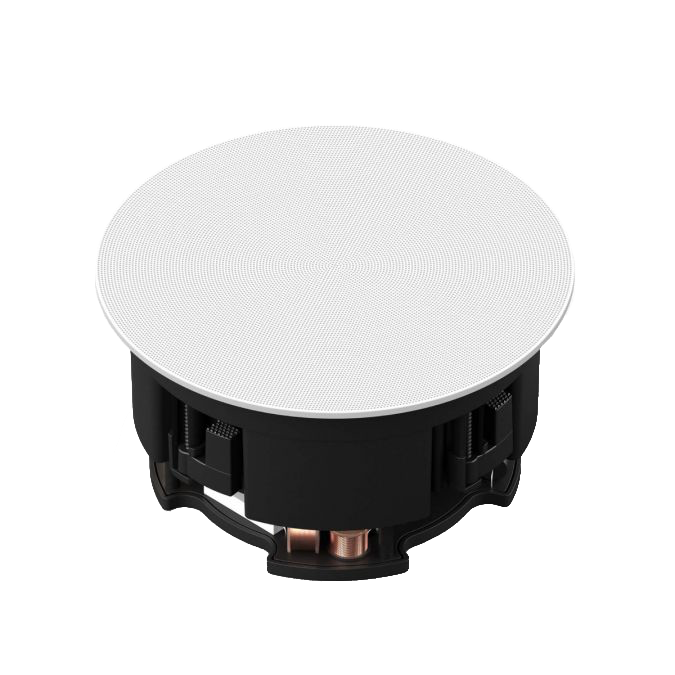 If you are passionate about powerful sound in your bathroom and have space to install a pair of ceiling speakers, these Sonos in-ceiling speakers are really anyone could ever need in a bathroom.
These have been designed by Sonos and engineered by the US' largest speaker manufacturer Sonance. Sonos and Sonance worked from the ground up to produce these speakers and the end result is an exceptionally well-round ceiling speaker.
Sold as a pair, these ceiling speakers are steam and humidity resistant so while they cannot go in a shower enclosure, they can be positioned at the edges of your bathroom ceiling for an immersive stereo experience when you're bathing or showering.
Power them with the Sonos Amp and unlock the ability to tune the ceiling speakers to your own bathroom, so they are perfectly optimised to your room's architecture.
What's more, the driver is fully pivotable so the sound can be directed to a certain position in the room.
Why not check out our video review of the Sonos in-ceiling speakers?
A premium solution for music-lovers
Perfectly partnered with the Sonos Amp
Passive speakers
Listen comfortably at high volumes
Wireless bathroom speaker options
Sometimes it's not practical to cut a hole in your bathroom ceiling and install a ceiling speaker. For those people, we've devised a list of our favourite Sonos speakers that would work well in a bathroom.
If you love Sonos, but don't want to make holes in your ceiling or don't have the budget for ceiling speakers, there's plenty of options!
Our number one choice would be the Sonos Roam portable and fully weatherproof speaker. This speaker can pump out some impressive volume and is the most portable speaker in the Sonos range, conveniently supporting both WiFi and Bluetooth, 10 hour battery and Alexa and Google Assistant built right in, making it a great option for the bathroom.
It's not only great for keeping at home, but being small and light, pack it in a rucksack and take it with you on your adventures!
WiFi & Bluetooth connectivity 
10 hour battery life 
IP67 Waterproof design
Voice control for hands free playback
Or why not consider the Sonos Move as an upgrade to the Roam? It works in a very similar fashion to the Roam but being larger in footprint, you do need to find more surface space for it but in return, it's capable of filling large bathrooms effortlessly and being listened to at much higher volumes.
It's designed to be moved around from the bathroom to other rooms or in the garden and you can charge it easily using the supplied charging case.
It's fully portable, weatherproof and you can choose to use WiFi or Bluetooth with it. It's a great solution if you want the ability to take advantage of the Sonos eco-system but not have a speaker that permanently requires mains power.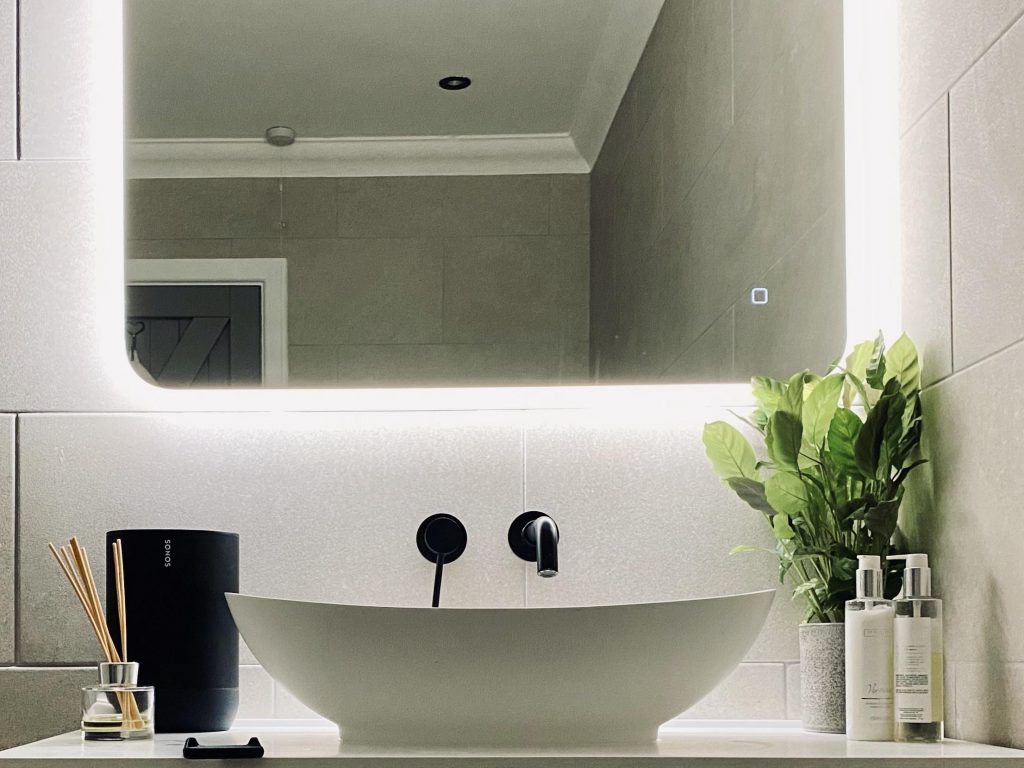 The Sonos One (Gen 2) is Sonos' most popular speaker of their whole range and is secretly a dark horse in a bathroom environment. You can position this on a shelf or the wall of your bathroom using the dedicated Flexson Sonos one wall mount to create more of a permanent audio solution in your bathroom.
It also has Amazon Alexa and Google Assistant built right into the speaker, so it's like having an Echo Dot or Google Home, but on steroids with Sonos' famous sound quality.
The difference with this one, compared with the Roam and the Move is that you will need to run mains power to it. Many customers run this from a spur in the wall leading back to a socket from an adjoining room.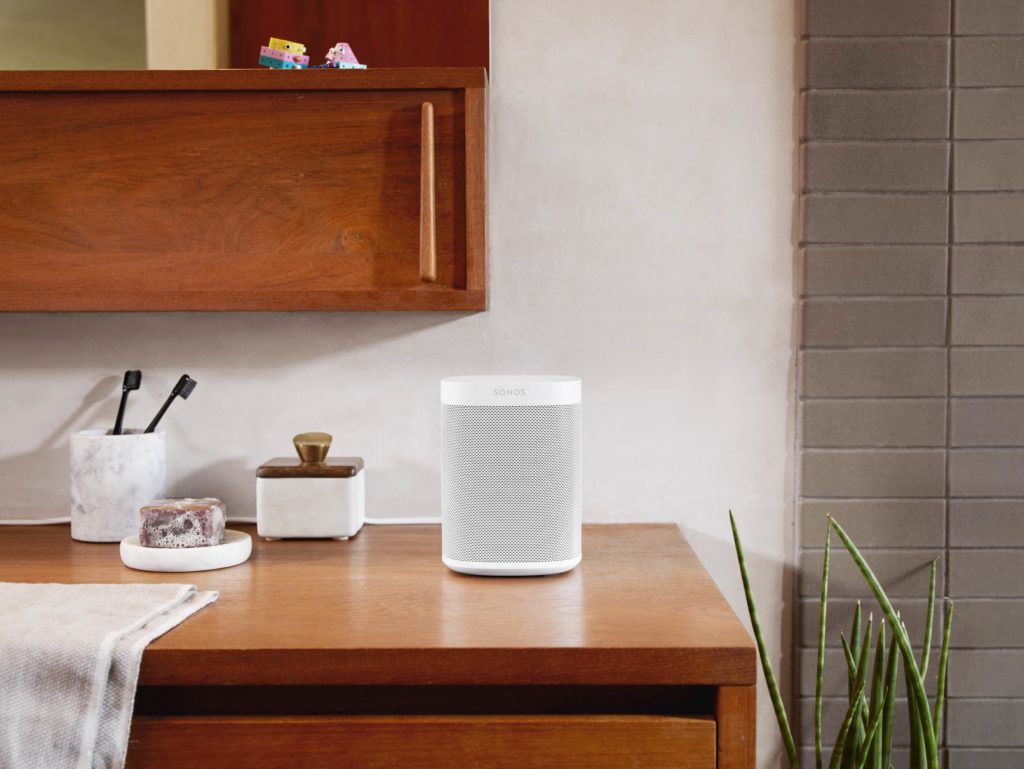 Other Portable Speaker options - great for the bathroom and the wider world!:
JBL Speakers: JBL produces a wide range of wireless Bluetooth speakers with built-in water resistance, making them perfect for use in a bathroom environment. Our top choice is the JBL Flip 6 with a race-track shaped driver and 10-hour battery life. For a more compact option, look at theJBL Clip 4 which has a full IP67 rating and could be neatly hung on a towel hook in the bathroom using the built-in carabiner clip.
Sony SRS-XB13, SRS-XB23 and SRS XB33:

Cheap and cheerful, Sony's range of wireless speakers have a built-in IP67 weather rating. We love the SRS-XB23 for its slim shape and dual X-balanced speaker drivers, making it the perfect Bluetooth bathroom speaker option.

Ultimate Ears Wonderboom 2: As the most compact speaker in their range, the Wonderboom has an IP rating of 67 and a 12 hours + battery life from a single charge making it a great bathroom Bluetooth speaker. The UE Boom 2 is another great choice for a larger bathroom.
---
Our Verdict
You can pay any price for a bathroom speaker but it's important to match your budget with how good you want your bathroom speakers to sound. 
Are you looking simply for background quality music in the bathroom? In which case, definitely consider the best-seller option, the Sonos Roam for the quickest and most convenient solution for your bathroom.
Want to retain the aesthetics in your room and install a ceiling speaker? The Lithe Audio all-in-one Bluetooth ceiling speaker offers simple installation as there's no speaker cable and no amplifier required.

Or do you take your music more seriously than the average listener? You may want to consider going for a passive ceiling speaker such as the Monitor Audio C165-T2 or Bowers & Wilkins CCM664SR powered by a separate Amp for a much more superior listening experience.