KEF LSX II vs. Sonos Five Stereo Pair: How to choose
Stuck choosing between the KEF LSX II and Sonos Five? Here's everything you need to know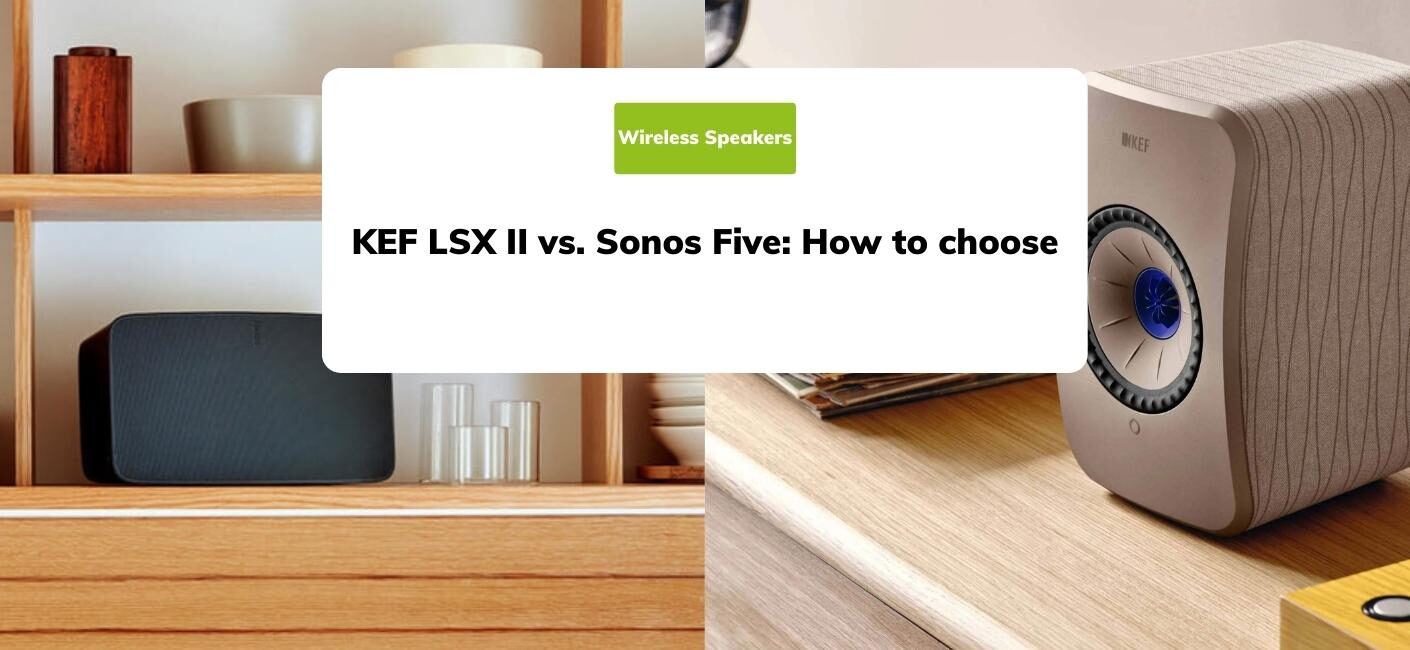 Sonos Five Stereo Pair Vs KEF LSX II
The KEF LSX II pair and the 2 x Sonos Five Bundle are two masters of their own craft but in two pretty different ways. 
Sonos have mastered the multi-room system and app-based control. Everything about Sonos is simple, reliable and intuitive and the Sonos app has been refined over a number of years. 
However, KEF has the experience with sound engineering. They've been around since 1961, and are well known for their Uni-Q driver technology which we'll talk about later but have only added WiFi support as part of their KEF Wireless range in the footsteps of other brands. 
The end product of each brand means they're going to appeal to 2 potentially quite different customers so hopefully by the end of the blog, you'll know which customer you are.
Before we get started then, let's take a brief look at the main spec differences between the two speaker options:
Key Specifications
| | | |
| --- | --- | --- |
| | | |
| | KEF LSX II (Live Pricing) | 2 x Sonos Five (Live Pricing) |
| Price (per pair) | £1199 | £998 |
| Colour Options | Mineral White, Carbon Black, Lava Red, Cobalt Blue, Soundwave | Black, White |
| Dimensions (H x W x D) | 240mm x 155mm x 180mm | 364mm x 203mm x 154mm |
| Connections | HDMI-ARC, Optical, AUX, Coax, Ethernet (1x Speaker Interlink, 1x Networking) | 3.5mm line-in jack, 1x Ethernet |
| Audio Quality | Wireless: 24bit/ 48kHz, Wired: 24bit/ 192kHz | Wireless: 24bit/ 48kHz |
| Internals (per speaker) | 1x 19mm aluminium dome tweeter, 1x 115mm aluminium midrange cone (11th Gen Uni-Q) | 3x mid woofers, 3x tweeters |
| Frequency Response | 54Hz - 28kHz | Not reported |
| Streaming Options | Spotify Connect, Tidal Connect, Airplay 2, Bluetooth 4.2, Google Chromecast, Roon Ready, KEF Connect app | Spotify Connect, Tidal Connect, Airplay 2, Roon Ready, Sonos app |
Design and Connections
Due to the size difference between them, we found the LSX visually are suited to small-medium size rooms whereas the Fives feel more at home in a larger, maybe open plan space.
Having said that, you do get dual orientation with the Fives so you can stand them up and this is what I'd recommend doing for a stereo pair to recreate the aesthetic of bookshelf speakers, or you can lay them down flat and they'll adjust their EQ to suit. 
You cannot do this with the LSX, but you do get a wider choice of colour options with the LSX II and we're big fans of the new Soundwave by Terence Conran edition who was an iconic British designer and this was actually one of his final collaborations. Overall from a design perspective, the LSX IIs are a bit more versatile in terms of placement in your room, being that little bit smaller as well as having the edge in terms of the heritage and effort that has gone into the design of these. 
Both can be placed on floor stands if that would work better in your room, giving a good amount of flexibility in terms of placement. 
We would have liked some form of touch control on the LSX II, like the Sonos Fives do have as it is peace of mind not to have to always rely on your phone for control.
Connections-wise, KEF have always been pretty generous with the variety of connections as you get an HDMI-ARC, optical in, aux in, coax, subwoofer output, and 2 ethernet ports.
If we look at the Sonos, it is a tad bare as you only get a 3.5mm line in and an ethernet.
In practical terms, you can still connect up a turntable, CD player, PC to either of these speakers, however, the addition of the HDMI-ARC on the KEFs mean these are viable with your TV and you can benefit from CEC controls where your existing TV remote will turn down the volume of the speakers. 
The other difference is that if you're looking to add a subwoofer to these speakers, you can do it wirelessly with the Sonos, so all you'd need to do is plug your Sonos Sub into mains power and you can pair it wirelessly using the Sonos app whereas you need to use the subwoofer output on the KEFs to connect it to a subwoofer. 
You can also choose to use any Sub with the KEFs, not just KEF's own (though we'd recommend the KEF Kube range -KEF KC62, Kube8b, Kube10b or Kube12b). You are limited to Sonos' own selection of Subs for use with the Sonos Five, which currently stands as the Sonos Sub Gen 3.
Control
Controlling each of these speakers is very straightforward as they both come with their own companion app which you can use to stream from directly but they both also come with support for Apple AirPlay 2, Spotify Connect, Tidal Connect and Roon support. KEF comes with Google Chromecast and the benefit of Bluetooth 4.2 built-in, in addition. 
The Sonos Fives are purely a WiFi-based system and this is how they will stay but it is nice for Bluetooth to be on board as a backup on the LSX, even if you don't think you'll be using this regularly. 
Comparing the apps, the KEF Connect app is nicely designed and usable day-to-day and there are lots of things you can do in terms of adjusting the EQ, much more than the Sonos app in fact. 
You've got wall mode to reduce the boominess if the speakers are close to a wall, you can increase the treble, phase correction and you can even customise the bass extension. You've also got balance control, you can tell KEF how many Subs you're using and even which Sub you're actually using whether it's custom or one of KEF's own. 
| | |
| --- | --- |
| | |
| Sonos App | KEF Connect App |
On the Sonos app, you get bass and treble and that's pretty much all you can change BUT a massive advantage of the Sonos is the TruePlay tuning ability. 
This is Sonos' own room correction software that you can take advantage of as long as you have an Apple device and this will play test tones and use feedback from your furniture and walls in the room to acoustically optimise the sound.
I'm sure I'm not alone when I say Sonos has one of the best, if not THE best, companion apps for speakers on the market. It just works! It's intuitively laid out, they're easy to set up and it's got consistently better over time with the support of free software updates. 
Finally, KEF gives you a basic remote control but Sonos don't. Good to know.
Sound Quality
First of all, the KEF LSX II can actually support up to 24-bit/192kHz but this is downsampled to 24-bit/48kHz if the speakers are connected to each other wirelessly, which would be equal to the Sonos Fives which offer 24-bit/48kHz. 
The benefit of the LSX is they can achieve 24-bit/96kHz if you use the supplied ethernet cable between them. 
Check our binaural recording of sound quality below:
From our testing, the Sonos Fives felt better in a larger area as they can push more air around the room and result in a larger and boomier bass response. The lower end is what Sonos does best and is what you notice first of all. 
The Sonos retains a balanced sound signature, although we would say they are more bass-forward than the LSX. 
To achieve the same level of bass on the KEF LSX II, I think you would need to add a subwoofer, something like the KEF KC62 would be more than enough.
The vocals we tend to found felt more realistic on the LSXs which is likely the result of the Uni-Q driver working its magic. 
The KEFs felt more dynamic, expressive and the stereo imaging was absolutely on point. While the stereo imaging on the Sonos is still really good and projects the music further and wider, KEF have nailed stereo imaging to the point where I don't think it gets much better than this at this price point.
As a result of that, in a practical sense, I can envisage the 2 Sonos Fives being more suitable for entertaining, having a few people round for occasions as the music can fill the room more easily. 
The KEFs I would regard more as a personal listening speaker, they are more accurate and true to the original recording which is why I think they really deserve to be listened to more attentively. 
I would also consider what music genres you listen to because more modern music like R&B, electronic, and pop does sound noticeably better on the Sonos Five because those extra woofers really help to bring the music alive and with more depth. 
The LSX IIs really excel with more relaxed music like acoustic, indie, rock, alternative and classical.
And because of that excellent stereo imaging, if you listen to older or instrumental tracks that have quite a pronounced stereo effect, you'll get a more enjoyable experience on the LSX II. 
If you love bass, and you want your music to carry lots of weight and impact, the Fives will give you what you're looking for.
Verdict
The question of KEF LSX II vs the Sonos Five is much more than just which one sounds better. 
As we enter a new age of HiFi, dominated by streaming over WiFi, it's so important to consider the user experience as a whole. Both have great apps and if you gave me either one, I'd be pretty happy, but there's no denying, the Sonos app and ultimately any Sonos product is more than just a speaker. 
Sonos offers a whole multi-room ecosystem that you can build at your own pace so if you like the idea of having a Sonos home cinema in your lounge, a Sonos One in your bedroom, a Sonos portable speaker for your travels and a pair of Sonos Fives for your main music listening area, then Sonos is going to give you all you need. 
You might be invested in the Sonos ecosystem already, in which case, this is another point in favour of the Sonos Fives I would say. If you're starting again, however, and you're looking at one zone of music, you might not be interested in building a multi-room system. Although this is theoretically possible with KEF, this isn't on the same scale as Sonos.
In this scenario, the KEF LSX IIs are an exceptional use of £1200. Without a doubt, the LSX are much more versatile speakers, there are more connections, more designs and more methods of streaming.
KEF are a bit more forgiving with those listeners that want to explore more options of music listening than simply streaming. 
So ask yourself the question, what is the purpose of these speakers? Do you want a great-sounding set of speakers for a medium size room and not have to think much more into it? Then just get the KEF LSX II. However, if you're looking to build an ecosystem in your home and you want the Fives to feature as your main music listening speakers, then these are going to give you much better value and a better user experience overall.
Here are some useful resources which might help if you need any more information:
---
If we can help any further in your decision between the KEF LSX IIs and Sonos Fives or if you were interested in any of the other products we sell please reach out below: